'19 ... 05
The split date on each side of the pediment is very stylish with its curlicues. Beneath the company name in large and small caps. We think this was a brewery company in Crinan Street, King's Cross.
[
UPDATE
1.5.13: 'Dear Sirs ROBERT PORTER & CO. LTD (Beer Bottlers), 4-14 Crinan Street, LondonN1 including Export Bottlers Ltd (Liverpool)
I worked in the accounts department for the above company from 1954- 1974. We worked five days per week plus Saturday morning until noon. To my knowledge it was never a brewery but bottled beers for other companies. Apart from supplying beer and soft drinks to off -licences and working men's clubs we also sold jeroboams of Merrydown Cider. Deposit charged for bottles and crates. Guinness for Arthur Guinness & Sons, Park Royal. Sold under the "Bulldog Brand". Young's of Wandsworth.
Beer was bottled for Harmans Brewery at Uxbridge 500doz per run for 9/3d per dozen. Ridley's at Chelmsford were charged 9/7d for a run 0f 300doz. All of these were delivered by open back lorry. Full size paper mache bulldog above the drivers cabin. The driver always had a van boy to help him. Deliveries were made as far away as Margate, Clacton and Southend Kursaal.
We were probably one of the first companies to bottle beer for Courage – Horselydown. This was sold in Sainsbury supermarkets as Sainsbury own brand. If Charrington/Whitbread or Ind Coope had problems we would help out with bottling. We also bottled Worthington Beer and Bass Pale Ale.
Beer was exported via barge to Holland and Denmark from the canal basin at the back of building. Mainly India Pale Ale. Customs and Excise were based in a small office in Wharfdale Road bay to monitor movements of such. When leaving in 1974 the company was bought over by Shaw Brewery and moved to Hackney. To my knowledge it was eventually bought by a Scottish distillery.
Hope this will fill in a few gaps as to the history of Robert Porter and Co. Ltd. –Ada Fisher.'
Our grateful thanks to Ada for getting touch with so much detail about this company.
]
[
UPDATE
9.1.2020: 'Bulldog brand has come up in my research, too. This photo is of a relative of mine who worked for the company. My relative is the man on the left, but just trying to research who it could be. But the Appleby side of my family have a long history in Kings Cross and North London for at least over 200 years. This would be a brilliant addition for your website! Many thanks, James Richard Appleby.
Many thanks to James for the excellent period photograph – it even has signs on the driver's cap ['BULL DOG'], the lorry side ('BULL DOG, GUINNESS, BASS, EXPORT BOTTLERS, Park Royal, LONDON'), faintly on the tarpaulin ('PORTER & CO.') and the buildings behind ('DAILY EXPRESS'). The solid rubber tyres must have rattled the bottles on board, one would have thought.
]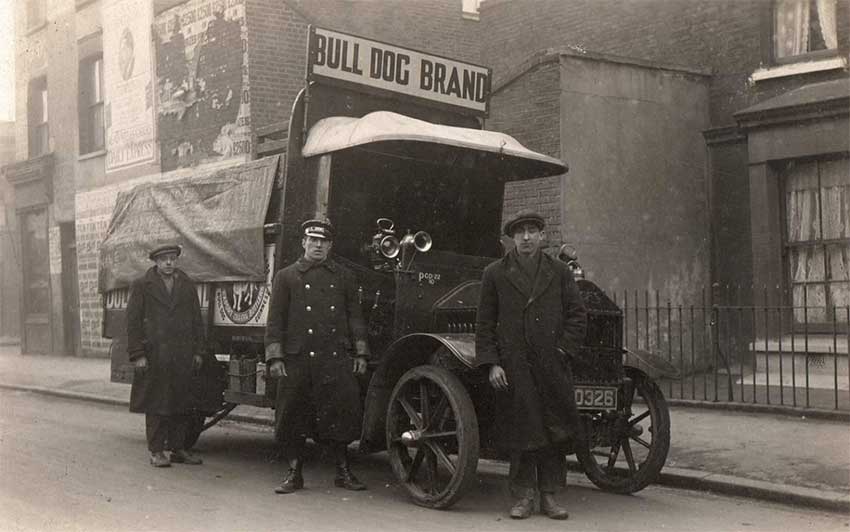 Image courtesy James Richard Appleby
Lincoln Arms
, York Way and
Caledonia Street