London: Gallery 1



London, we know, is a massive resource for public lettering from times past. We include here one of several galleries of lettering images to give a hint of these riches. If you have any information about any of the signs, do email us.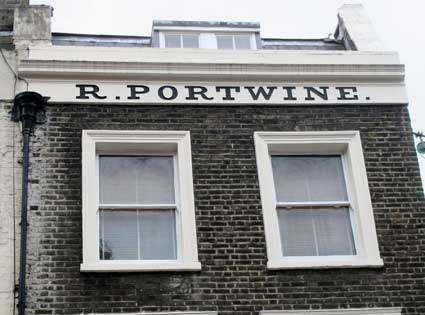 All photographs courtesy David Gaylard


'R.PORTWINE.'


with its careful full stop is painted high above the Covent Garden Bead Shop, 26 Earlham Street (on the corner with Tower Court). For information about this very Dickensian of business names, see the Update below.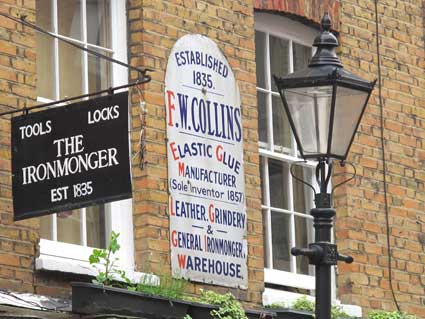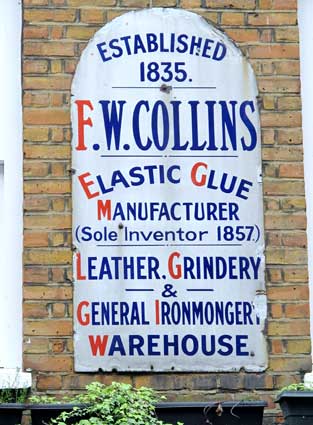 All images 2012


'ESTABLISHED
1835
F.W.COLLINS
ELASTIC GLUE
MANUFACTURER
(Sole Inventor 1857.)
LEATHER, GRINDERY
-&-
GENERAL IRONMONGERY
WAREHOUSE.'


This fine enamelled sign is at 14 Earlham Street and the ironmonger's business ran from this address until 2008. It became a clothes shop and the sign was left in place.
[

UPDATE

17.9.2014: Susan H writes:
"Saw your photograph of Portwine sign in Earlham Street. This was an amazing family butchers. I lived down the road at 12a Upper St Martin's Lane above my father's saddlery business George Parker & Sons (now gone sadly as Westminster allowed the Georgian Terrace to be knocked down for a shopping centre).

I was born in 1956 and my parents were using Portwine for at least 18 years of my life, it was an excellent quality butcher…

This ['F.W. Collins', above] was an ironmongery, run by Fred Collins. It was a wonderfully eclectic shop but you could get everything to repair your house in there. Fred was a really nice chap, and his son carried on the business when it moved nearby.

You also showed saddlery signwriting on a building in Monmouth Street. As I recall several buildings still had this sort of signwriting showing around Upper St Martins Lane on the way up to the Seven Dials.

I lived in WC2 from 1956 to 1977. Where Stringfellows was in Upper St Martin's Lane was originally a car repair shop run by Bob the mechanic! The little St Martin's Hotel which I think has now gone was run by Stratford Johns (actor) for actors/actresses most of whom seemed to live there rather than just taking a room for a few nights!...

Secondhand saddlery is well worth selling. My fathers business had two Irish gentleman who sat by gas flames, a kettle of cow gum gently boiling, they cut the leather, fashioned it, sewed it and made the whole saddle. They also sold tack, Count Toptani racing saddles and jockey's silks, tarred ropes, salt licks, sheepskin rugs. I have a letter head of my father's business and a bit of an old brochure attached just for your interest, along with a list of their Patrons! Secondhand saddlery was also sold because leather is durable. You can still find George Parker saddles today, as the company want back 150 years. We also made horse blankets, stitched and made on site on old singer footpeddle sewing machines and great great grandad made whips which were bequeathed to Her Majesty the Queen when my father died a few years ago, I believe they are on exhibit in the Queens museum at Buckingham Palace. We also sold polo sticks, and Winston Churchill purchased polo equipment from us back in the 1920's."

Our thanks to Susan for this direct connection with these traders

and for the Geo. Parker memorabilia shown below

.]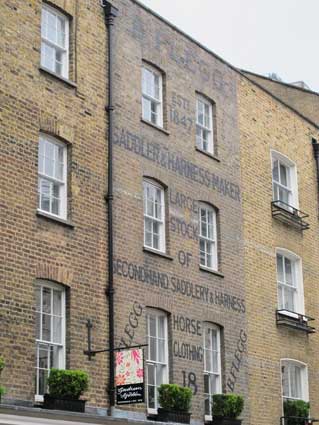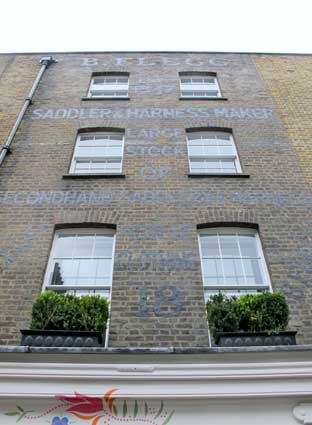 'B. FLEGG
EST.
1847
SADDLER & HARNESS MAKER
LARGE
STOCK
OF
SECONDHAND SADDLERY & HARNESS
HORSE
CLOTHING
18'


WITH 'B. FLEGG' angled at each side. A prime example of 'using every part of a building to advertise your business'. In 2012 these premises – or the shop below them – were run by a fabric designer, by the look of it. The sign has been restored and is at 18 Monmouth Street; echoes of another time when humanity relied on the horse for so many things. 'Horse Clothing' presumably refers to clothing worn by a person while riding a horse.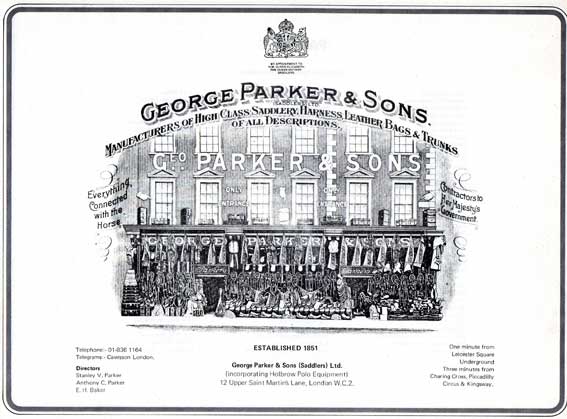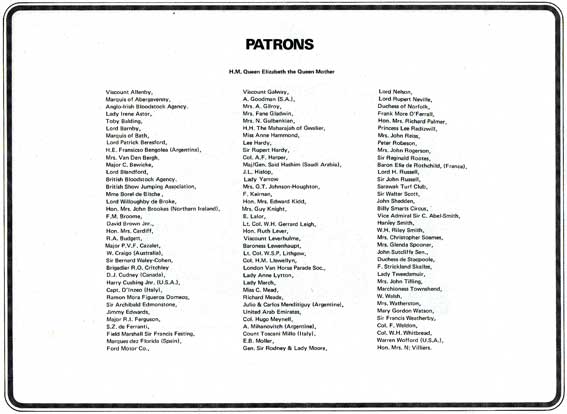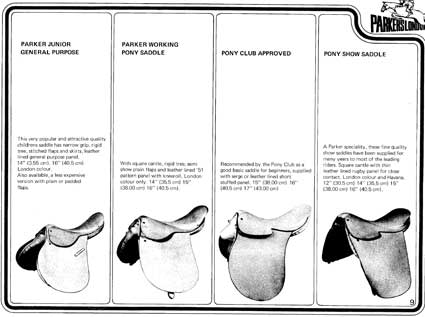 Images courtesy Susan H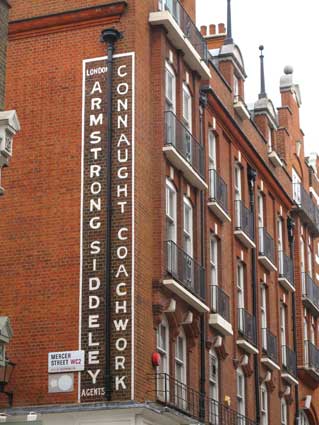 'LONDON
ARMSTRONG SIDDELEY
AGENTS
CONNAUGHT COACHWORK'


This long vertical sign with its tiny words 'London ... Agents' in the first column is in fine fettle at Long Acre, on the corner with Mercer Street. The street was completed in the early 17th century. It was once known for its coach-makers, and later for its car dealers.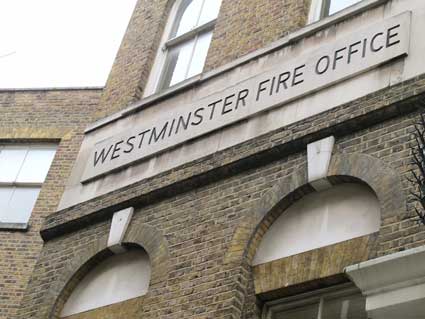 'WESTMINSTER FIRE OFFICE'


Rose Street, Covent Garden, a lane which runs from Long Acre across Floral Street to Garrick Street.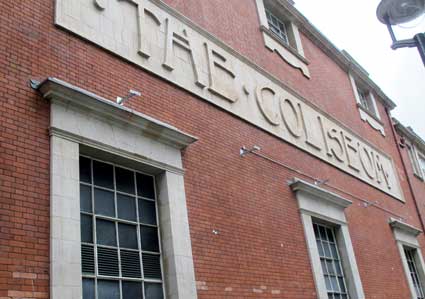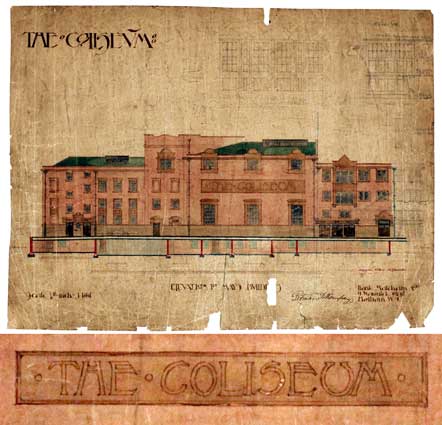 This very large, Art Nouveau-inspired relief lettering is in May's Court, running between St Martin's Lane and Bedforbury:


'THE COLISEUM'


The London Coliseum was designed by Frank Matcham for Sir Oswald Stoll with the ambition of being the largest and finest 'People's palace of entertainment' of the age. The theatre's original slogan was PRO BONO PUBLICO (For the public good). It was opened in 1904 and the inaugural performance was a variety bill on 24 December that year. With 2,359 seats it is the largest theatre in London. It underwent extensive renovations between 2000 and 2004 when an original staircase planned by Frank Matcham was finally put in to his specifications.The theatre changed its name from the London Coliseum to the Coliseum Theatre between 1931 and 1968. During the Seond World War, the Coliseum served as a canteen for Air Raid Patrol workers, and Winston Churchall gave a speech from the stage. After 1945 it was mainly used for American musicals before becoming in 1961 a cinerama or seven years. In 1968 it reopened as The London Coliseum, home of Sadler's Wells Opera. In 1974 Sadler's Wells became ENO and the Company bought the freehold of the building for £12.8 million in 1992. The London Coliseum has the widest proscenium arch in London (55 feet wide and 34 feet high – the stage is 80 feet wide, with a throw of over 115 feet from the stage to the back of the balcony) and was one of the first theatres to have electric lighting. It was built with a revolving stage although this was rarely used which consisted of three concetnric rings and was 75 feet cross in total and cost Stoll £70,000. A range of modern features included electric lifts for patrons, a roof garden and an Information Bureau in which physicians or others expecting urgent telephone calls or telegrams could leave their seat numbers and be immediately informed if required.
See also the Victoria Palace (below) for lettering on a Matcham London theatre.
In 1994 ENO acquired some 200 architectural drawings from the firm of Frank Matcham. This shows the elevation in May's Court and the panel containing the theatre name is clearly shown with the lettering accurately drawn by Matcham, as it can be seen today. May's Court was one of those lanes in the West End which was too small for modern vehicles, so became a pedestrian area with a long double line of K7 red telephone boxes, now gone.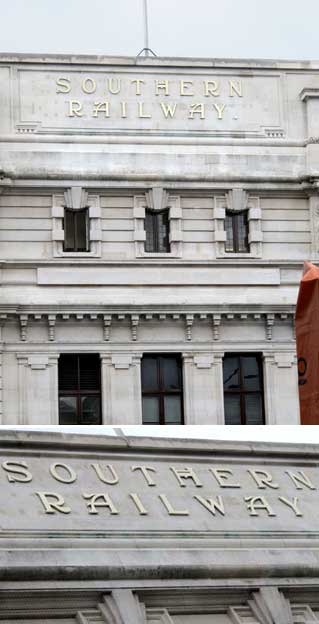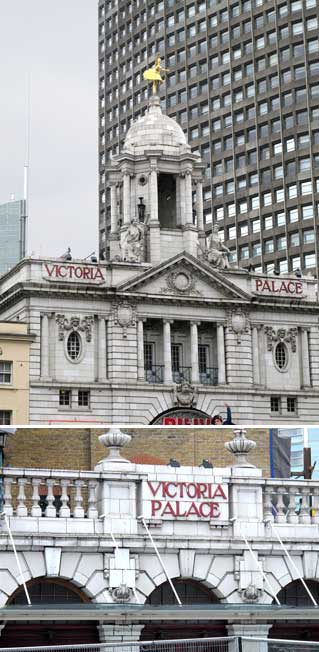 'SOUHERN
RAILWAY.'


Decorative relief capitals picked out in gold on a building adjoining the main Victoria Station. Also, opposite the station:


'VICTORIA PALACE'


The theatre began life as a small concert room above the stables of the Royal Standard Hotel, a small hotel and tavern built in 1832 at what was then 522 Stockbridge Terrace, on the site of the present theatre. The proprietor, John Moy, enlarged the building, and by 1850 it became known as Moy's Music Hall. Alfred Brown took it over in 1863, refurbished it, and renamed it the Royal Standard Music Hall. The hotel was demolished in 1886, by which time the main line terminus, Victoria Station and its new Grosvenor Hotel, had transformed the area into a major transport hub. The railways were at this time building grand hotel structures at their termini, and Victoria was one of the first. Added to this was the integration of the electric underground system and the building of Victoria Street. The owner of the music hall, Thomas Dickey, had it rebuilt along more ambitious lines in 1886 by Richard Wake, retaining the name Royal Standard Music Hall. The Royal Standard, was demolished in 1910, and in its place was built, at a cost of ₤12,000, the current theatre, The Victoria Palace. It was designed by prolific theatre architect Frank Matcham, and opened November 6, 1911.
See also The Coliseum (above) for lettering on a Matcham London theatre.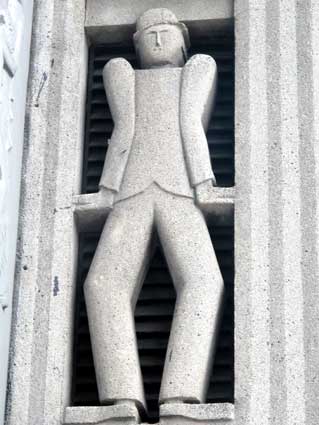 As far as we can remember, this little fellow is the end of a ventilation duct on the Victoria Palace theatre.

For further examples see our London Galleries page.