Clerkenwell was an ancient parish in central London from the mediaeval period onwards. Despite pressures to demolish and 'modernise' buildings, traces of historic lettering can still be found.
The former Hugh Myddelton School, Sans Walk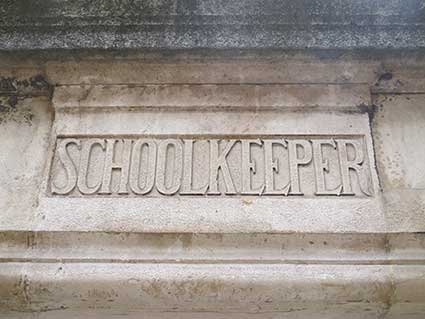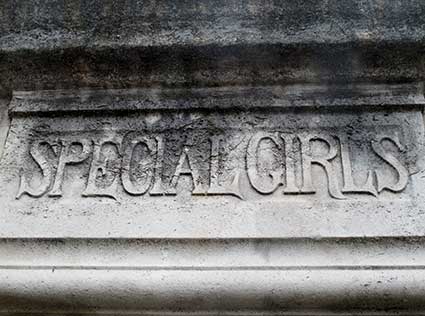 2014 photographs courtesy David Gaylard
'SCHOOLKEEPER' AND ''SPECIAL GIRLS' sign from a redundant entrance to the Hugh Myddelton School in Clerkenwell (T. J. Bailey, architect, 1891–3).
British History Online
has a fascinating page on the area and the Hugh Myddelton School, Sans Walk. It shows maps, illustrations and photographs including, in Clerkenwell Close a fine 'NEEDLEWORK DEPT.' pediment from the former London School Board stores. 'Stationery Dept.' can also be found on
A London inheritance
blog. And wat about the meaning of 'Special Girls' for the pupils of the school?...
The building is
Listed Grade II
, the description reading: 'Former Special Girls annexe of Hugh Myddelton Schools. 1902 (on the evidence of inscriptions on the nearby gate in the school wall). Yellow brick with dressings of red brick, stucco and render, tiled roof. Flat-arched entrance with decorative stone architrave in wing to north; all windows flat-arched with gauged brick heads and red brick dressings; the main building under a two-span roof and presumably originally a balanced composition to the school yard of three bays, each consisting of a tall window partly in a full dormer, a lower window under the eaves, and a stack below the ridge; extension at north end with a flat-roof; the elevation to Woodbridge Road similar but of two bays only. This building is one of those provided by the London School Board from 1892 onwards for children with learning difficulties; discipline and teaching methods were more relaxed and liberal than in the main Board Schools.' We deduce that 'Special' refers to 'special needs', as we might say today.
Sir Hugh Myddelton (1560-1631) is best remembered as the driving force behind the construction of the New River, an ambitious engineering project to bring clean water from the River Lea, near Ware, in Hertfordshire to New River Head in Clerkenwell, London. In Clerkenwell, not far from the original southern end of the New River, Myddelton Square takes its name from him, as do Myddelton Passage and Myddleton Street. Institutions nearby (some closed) that are named after him include Hugh Myddelton Primary School in Myddelton Street; the Myddelton Wing of the LSE Rosebery Hall of Residence, also on Myddelton Street; Hugh Myddelton Secondary school (which closed in the mid 1960s in Sans Walk, Islington); and Myddelton House on Pentonville Road, central office of Citizens Advice.
Former dairy on the corner of River Street and Amwell Street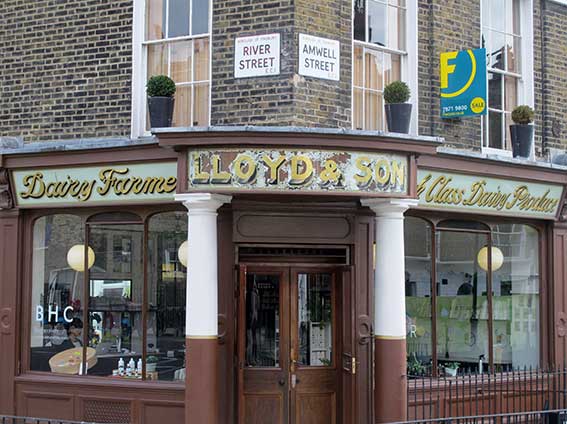 'Dairy Farmers ... [42] ... LLOYD & SON ... [42] ... High Class Dairy Produce'

The curving portico supported by faux Doric pillars is most pleasing. The Lloyd's dairy business opened in 1905 and probably closed in the early 1990s. The signs have been preserved and the business was BHC Hair in 2014. Another page on the fine blog
A London inheritance
has much more about this shop and location. This includes: 'River Street was named after the New River and Amwell Street after Amwell in Hertfordshire through which the New River ran, and where some of the springs that fed the river were located.'
Home
Return to Historic Lettering from outside Ipswich
Please email any comments and contributions by clicking here.


Search Ipswich Historic Lettering


©2004 Copyright throughout the Ipswich Historic Lettering website: Borin Van Loon
No reproduction of text or images without express written permission