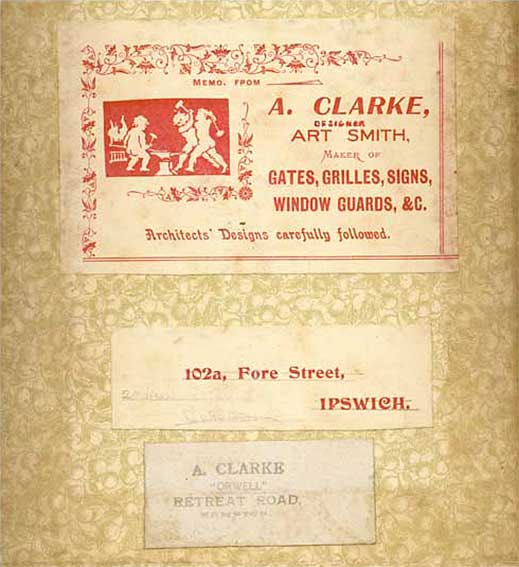 Albert Clarke: 'Art Smith'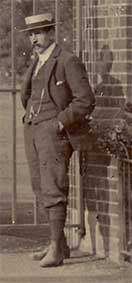 All images on this web-page courtesy Michelle Clarke

(unless shown)


One turn of the century artisan metalworker in Ipswich has been recalled by a visitor to this website in November 2021.

Albert Clarke (1868-1950)

was operating in the town in the years around 1900 and his great-great-grandaughter, Michelle Clarke, who lives in Victoria, Australia has been researching his work. She got in touch with us when she chanced upon our Scarborow page and was kind enough to send the information she has discovered and these remarkable photographs. We are indebted to her for adding a small but important piece of Ipswich history.



Scarborow shop gate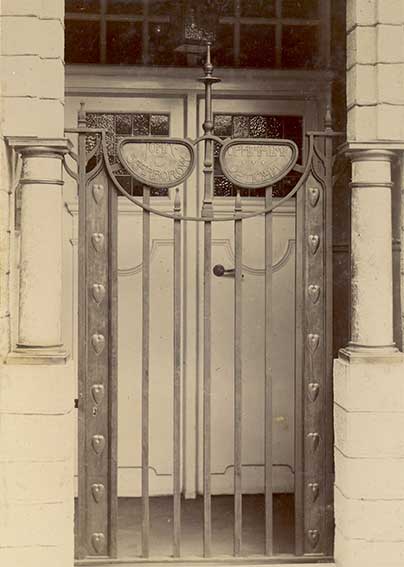 Albert's most recognised contribution to the Ipswich street scene is the bespectacled gate to the former Scarborow optician's (now Pickwick's tea shop) in Dial Lane. The Charles Rennie Mackintosh-style Art Nouveau shop frontage is one of the gems of Ipswich. The gates in iron and copper, once having lettered 'lenses' (long gone), and the fine porch have survived the years well. The design would have been provided by local architect, John Shewell Corder. (It is notable that Albert, the Designer Art Smith, states "Architects' Designs carefully followed" on his business card.)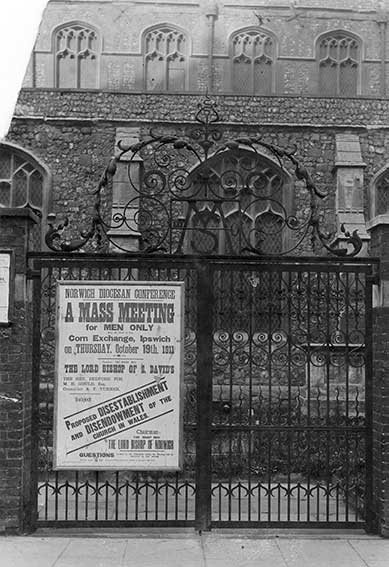 See our Scarborow page for a close-up of the integral lettering which is in keeping with the overall facade design.

Right: The wrought iron gates into the graveyard of St Mary-At-The-Quay Church are Albert's work and integrate the key motif and 'SM'; they were refurbished during the major renovation and rebuild of the church (2014-16). The poster advertises a diocesan meeting to propose the disestablishment and disendowment of the Church of Wales:-
'NORWICH DIOCESAN CONFERENCE
A MASS MEETING
for MEN ONLY
WILL BE HELD IN THE
Corn Exchange, Ipswich
on THURSDAY, OCTOBER 19TH, 1911
AT 8 P.M.
Speakers: THE RIGHT REV>
THE LORD BISHOP OF S. DAVID'S
THE REV. BEDFORD PIM,
M.H.GOULD Esq.,
Councillor A.P. TURNER.
—-
Subject:
Proposed DISESTABLISHMENT
AND DISENDOWMENT OF THE
CHURCH IN WALES.
Chairman:
THE RIGHT REV.
THE LORD BISHOP OF NORWICH
—
QUESTIONS
handed to the Chairman during the Meeting will be
answered as time permits
Doors open 7.00 p.m. Admission by tickets until 7.30 p.m. afterwards all door open to MEN ONLY'



Albert was a keen photographer, so it is almost certain he also took the photograph of the Scarborow gate and his other work.

Felix Hotel, Felixstowe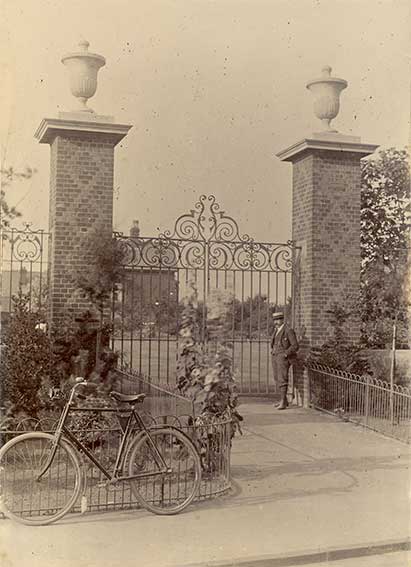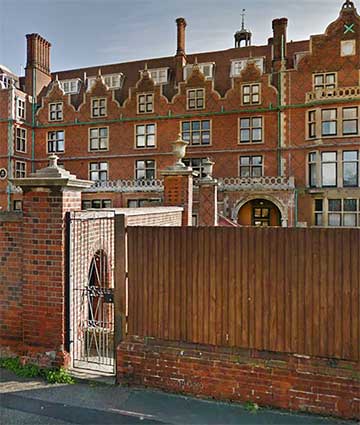 Current view of Harvest House from Cobbold Road


Above left: The gates of The Felix Hotel ('Entrance Gate Felix Hotel 13H x 12 Circular Railing') in Felixstowe, which is now Harvest House (converted into retirement apartments in 1985-6), has Albert posing near the gate. He would have carefully placed his bicycle in the shot, presumably using a shutter delay on his tripod camera. The photographic prints come from a portfolio of Albert's work which he must have compiled during his career. It was saved by a relative when the house was being cleared out; but much else may have been lost.
Above right: the view of the former Felix Hotel in the 21st century, taken from Cambridge Road. In the centre of the picture are two brick pillars with diaper-work and urn finials resembling those on Albert's photograph, but these are too far apart. Also, those shown on Albert's photograph carry double gates directly from a roadway.
The Grade II Listing reads: 'FELIXSTOWE COBBOLD ROAD TM 3034 NE 8/3 Harvest House 24.8.73 II House, divided into apartments, built 1903 by T W Cotman as the Felix Hotel; a pastiche of Holland House (London) and Hatfield House (Herts). Red brick, stone dressings, plaintile roofs. Irregular plan, entrance facade and adjoining wing forming 2 sides of a court. Asymmetrical facades. 3 storeys and 2 attic storeys. Irregular fenestration, mostly 2 and 3-light mullion and transom windows. West facade 1:7:5:1 range, the 2nd and last bays breaking forward, having shaped gables and 2 storey canted bay windows with pierced stone para- pets. The other bays have similarly detailed shaped gablets to 1st attic storey. Second attic storey of casement dormers set back against roof. Seaward (south) front flanked by two projecting wings. Round arched loggia, originally extended across full front in manner of Holland House. Multiple shaped brick stacks with moulded caps. Roof crowned by elaborate clock turret in manner of Hatfield House. Interior: Originally decorated in various period styles. Hall, largely Jacobean style. Other rooms not seen at time of resurvey, May 1985.' Designed by Cotman for the Hon. Douglas Tollemache, of the brewing family, it opened in May 1903 as The Felix Hotel, set in twelve acres of grounds – the most luxuriously appointed hotel in eastern England. It became a Great Eastern Railway hotel in 1920. In 1952it was used as the headquarters of Fisons, the fertlizer firmand was renamed Harvest House. It was converted in 1986 into retirement apartments. The name 'The Felix Hotel' can be seen in old photographs on the lintel of the main entrance on Cobbold Road; it has been replaced by 'Harvest House'.



Frasers store,

Princes Street/Museum Street
Below left: (Princes Street elevation)
in the background: '... FRASER … WATCHMAKERS'
On the hanging sign ('Copper & Iron Sign 6 x 3 ft Repoussť Letters):


'ANTIQUE
JEWELLERY
OLD SILVER
AND PLATE'


The incidental electric tram signs (fixed to the pole carrying power lines) in this photograph read:
'CARS TO STATION
'EVERY 5 MINUTES'
'CARS STOP HERE
WHEN REQUIRED'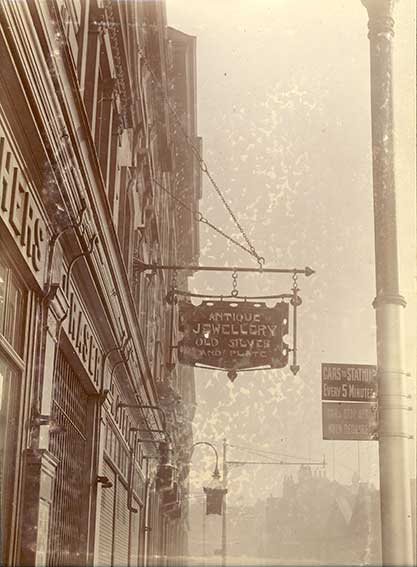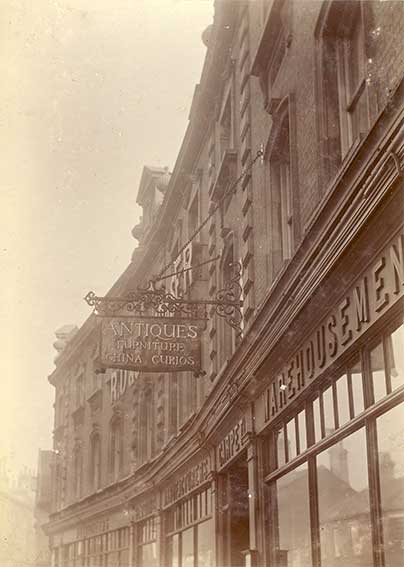 Above right: (Frasers store, Museum Street elevation)
in background: 'R.D. & [J.B.] FRASER' ... 'UPHOLSTERERS … [?] … MANUFACTURERS … CARPET[S] … WAREHOUSEMEN'
On the hanging sign ('Copper & Iron Sign 6 x 3 ft'):
'ANTIQUES
FURNITURE
CHINA CURIOS'
Frasers store, which burnt down in 1912, features on our Princes Street page with its successor building on this site.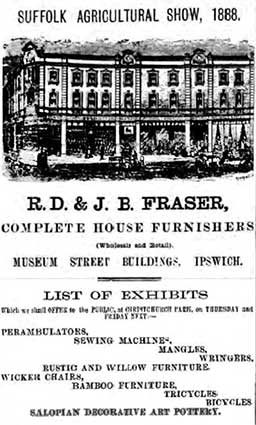 Fraser's store on a poster from 1888



F. Corder & Son, clothiers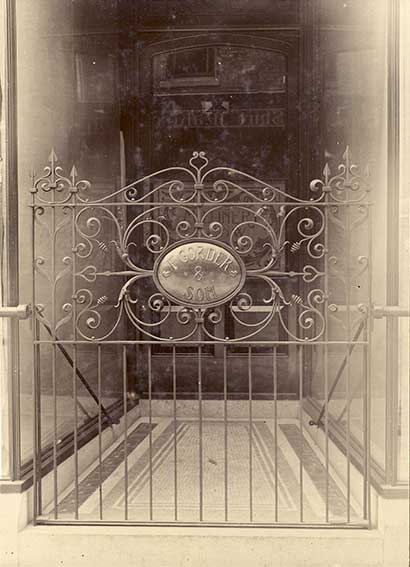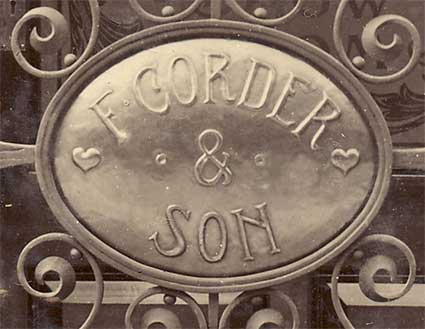 Above: 'Lobby Gate Iron & Copper' to close off a small entrance (the gate doesn't appear to open) to Corder's very large store which ran between Butter Market (today's Waterstone's book shop and Fat Face clothing – classical on first and scecond storeys) and Tavern Street (today's Superdrug – Art Deco on first and second storeys). The central boss bears the traders' names: 'F. CORDER & SON' with the heart motifs seen on the Scarborow gate. 'Millinery Show Room' is frosted into the glazed door beyond and the reflection of the shop across Butter Market reads 'Shirt Maker' in an Arts & Crafts script. Incidentally, F. Corder was the father of John Shewell Corder, noted architect, antiquarian and illustrator – who designed the Scarborow shop front, which brings us back to the top of this web-page.



Location


The image of the pasteboard with stuck-on labels shown at the top of this page reveal that Albert Clarke worked at one stage at 102a Fore Street which must have been close to Mellonie & Goulder's coal yard which backed onto Neptune Quay. Perhaps significantly, this Ipswich address on the middle label has been lightly scored through in pencil (perhaps by Albert himself) and '20 Ross St, Coburg' writteb in – this is on the outskirts of Melbourne, Victoria in Australia. Perhaps this was the site of his first business in Australia. After working in Ipswich for some years, Albert emigrated with his wife and three children to Melbourne in November 1911. He would have built up his portfolio of work to take to potential clients in Australia. He set up his business in Hampton and continued to produce a range of quality metalwork for building projects there including significant residences in that city; some of his work is now on listed properties. The third label on the top image has lettering from a rubber stamp reading: 'A. CLARKE, "ORWELL", RETREAT ROAD, HAMPTON" (so he carried the name of the Ipswich river over to his Australian house).

And finally... St Mary-Le-Tower Church

Yes, Albert Clarke left behind a long-lasting feature: the weather-cock on top of the spire. Michelle's image of this 'difficult to photograph' metalwork is appreciated.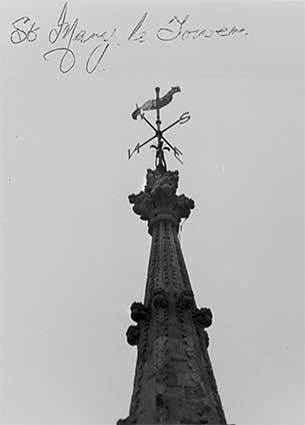 For 2022 photographs of the spire and weathercock see our
St Mary-Le-Tower Church
.

All images on this web-page courtesy Michelle Clarke
(unless shown). Many thanks to her for sending these unique images (almost all by her great-great-grandfather) from Australia.

Home
Please email any comments and contributions by clicking here.
Search Ipswich Historic Lettering
©2004
Copyright throughout the Ipswich Historic Lettering site: Borin Van Loon
No reproduction of text or images without express written permission