All Hallows Church, Landseer Road



The Church of St Augustine of Hippo (1927), on the junction of Felixstowe Road and Bucklesham Road, was designed by the diocesan architect, H. Munro Cautley, who with his partner Leslie Barefoot had a practice in Cornhill Chambers in the Thoroughfare. This was the first of three Ipswich churches designed by Cautley to be followed by St Andrew, Britannia Road (c. 1930) and All Hallows, Landseer Road. Given their dates, they fall vary somewhere between Victorian gothic, modernist, Art Deco with shades of Arts and Crafts thrown in, perhaps. Simon's Suffolk Churches (see Links) claims that All Hallows (c.1937) is the only one of Cautley's churches in Ipswich which really matters; it is:'perhaps the last Art Deco church in England. It must already have seemed old-fashioned, to be building in the late 1930s a perfect example of the Jazz Modern enthusiasm of the 1920s. I think that All Hallows is one of the most significant 1930s buildings in Suffolk.'.




Drivers along this part of Landseer Road may notice, as they pause at the pedestrian crossing, the strikingly lettered:


'ALL HALLOWS

HALL'

even if they don't even take in the church – the tower being tucked in behind the main building and screened by vegetation on Raeburn Road.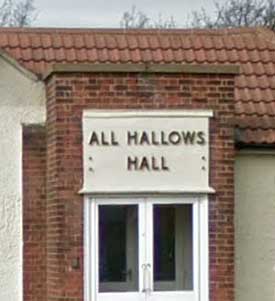 Birds-eye view


The church, church hall and, presumably, vicarage house are fitted onto a triangular site defined by Landseer Road, Raeburn Road and Reynolds Road. The names of the roads illustrate the naming scheme (Georgian/Victorian painters) adopted when this estate was developed in the 1930s:


Sir Edwin Henry Landseer

RA (1802-1873): an English painter and sculptor, well known for his paintings of animals – particularly horses, dogs, and stags. However, his best known works are the lion sculptures at the base of Nelson's Column in Trafalgar Square.


Sir Henry Raeburn

FRSE RA RSA (1756-1823): a British portrait painter and Scotland's first significant portrait painter since the Union to remain based in Scotland. He served as Portrait Painter to King George IV in Scotland.


Sir Joshua Reynolds

PRA FRS FRSA (1723-1792): an English painter, specialising in portraits. John Russell said he was one of the major European painters of the 18th century. He promoted the 'Grand Style' in painting which depended on idealization of the imperfect. He was a founder and first president of the Royal Academy of Arts, and was knighted by George III in 1769.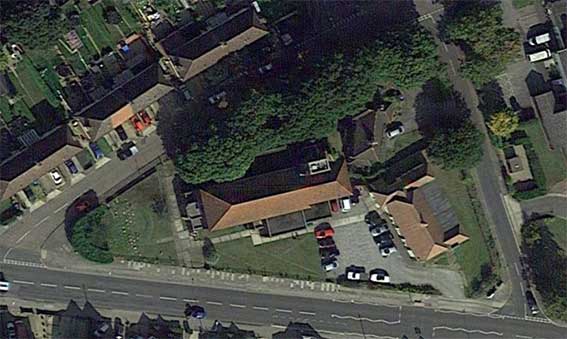 The scale of the church hall can be gauged when viewed from above: perhaps two-thirds of the size of the church. The small burial ground can be seen to the left point of the triangle.





Return to churches list
Home

Please email any comments and contributions by clicking here.

Search Ipswich Historic Lettering


©2004 Copyright throughout the Ipswich Historic Lettering site: Borin Van Loon
No reproduction of text or images without express written permission