Batley and Heckmondwike, Yorkshire





P.E. Brown & Son

, 73 Soothill Road


'P.E. BROWN
& SON
Plumbing Contractor'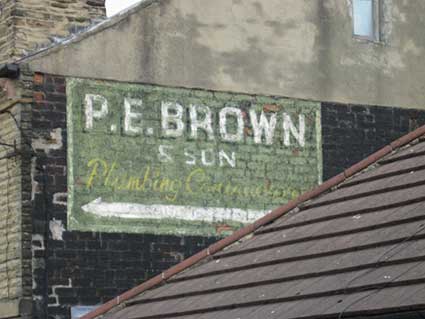 An eye-catcher sign as one travels down the Soothill Road hill towards Batley Bottoms. White capitals with a black drop-shadow on a green ground in a white frame. The large lower white arrow presumably indicated the firm's office, now housing. The bungalow built beside the houses and in front of this side wall does not obscure the sign.



Bottoms Mills

, 286 Bradford Road


'1875
BOTTOMS MILLS.'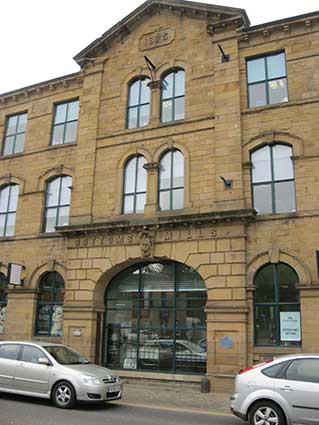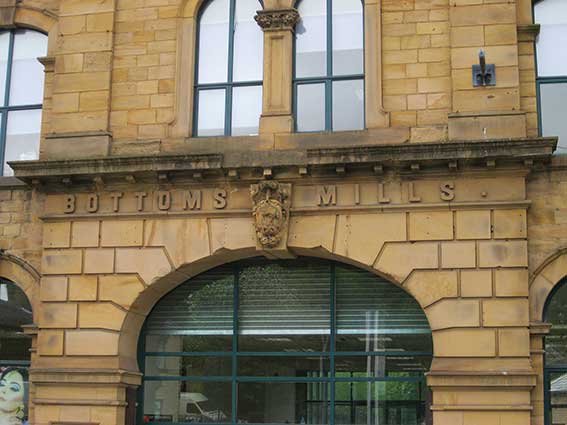 The facade features the date in a cartouche high up. Between the first and second storey windows, the stonework bears ghost lettering which might have been incised and later filled in: 'S.J. STUDLEY' (very speculative). The groundfloor compressed arch window, with its decorative keystone has suffered drilling to mount commercial signs several times and the edge of the stonework is damaged in several places. This was almost certainly a cart entrance to the mills, so some damage may have resulted from that traffic.
Around 1850 George and James Stubley set up a business of their own in a part of Batley known as The Bottoms. Initially they operated as comission spinners, said to have been working largely for the Sheards. This prospered and they started making cloth themselves, and did extremely well during the Crimean War. However, the war's end brought the cancellation of a large contract for army blankets, and the firm's survival was endangered. They were, however, able to persuade their creditors to stand by them.
The firm underwent other vicissitudes, with a major fire in 1860. In 1863 a gale took off the roof of a mill described as new, and workpeople were fortunate not to be injured. A further fire occurred in February 1866, damaging a building described as some 12 months old, and workpeople were fortunate that a prompt alarm allowed them to escape. Stubleys then rented some space in the Prospect Mill at Birstall, only to have that burn down in December of that year! Despite this, the firm continued to expand, and in 1875 the brothers took on extensive mills at Wakefield. Eventually those creditors who had stood by them in earlier days were paid out in full, and a dinner was held at the Batley Station Hotel to celebrate this. When in 1907 the firm of Messrs Michael Sheard and Son had to close, it was Stubleys, once their commission spinners, who bought their Hick Lane Mill. (Information from Vivien Tomlinson's Family History.)




Clegstyle

, 444-446 Bradford Road (between Bridge Street and Caledonia Road)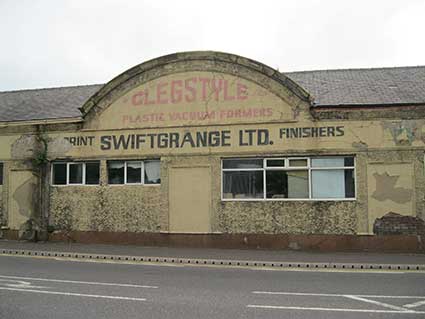 The Geograph website tells us: 'Swiftgrange Ltd. Print Finishers, Bradford Road, Batley. The name of a former occupier - Clegstyle Plastic Vacuum Formers - can still be seen above that of the present (or most recent) use. The elegant curved panel in the centre of the building suggests perhaps an art-deco influence, dating it to the early 20th century, but even larger scale old maps don't give any clue to when it was built or its original use. Behind it was the Victoria Iron Foundry.'




Park Road School

, Park Road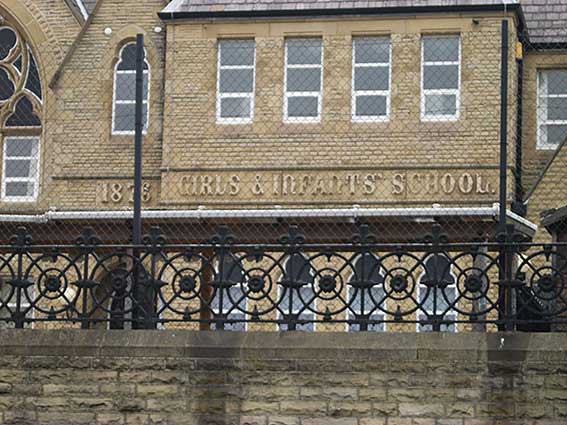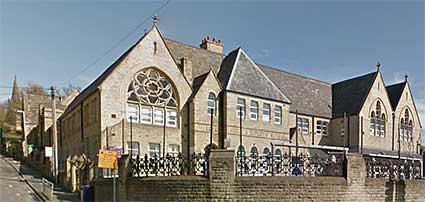 Above: The view from Bradford Road.


'1876 ... GIRLS & INFANTS' SCHOOL'

This almost florid lettering features an admirable use of the plural possessive apostrophe.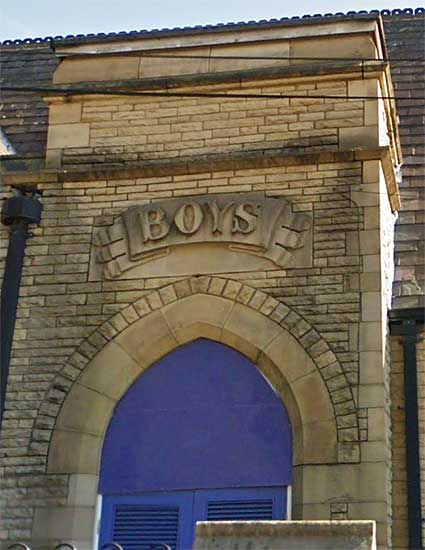 The entrance up the hill of Park Road features the 'BOYS' lettering in the same style on a tripled scroll in the local stone. Partially filled in, this entrance is now a storage area with louvres in the doors.




Freemasons Hall

, Park Road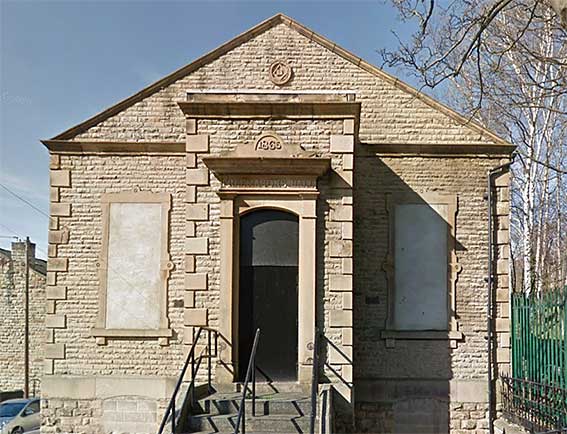 Almost opposite the boys' entrance to the school stands this lettered hall.


'1865
FREEMASONS HALL'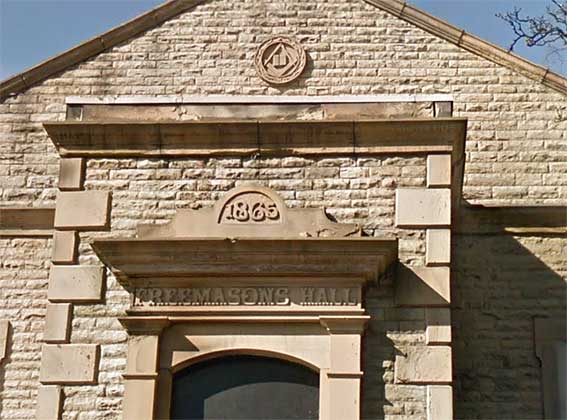 Howley Lodge started off at the Freemasons Hall, Park Road in 1928 and moved to Blenheim House, Batley in January 1935. The name Howley is taken from Howley Hall which was a predominate feature of this area in the 17th Century. Clearly it was used by others between 1865 and 1928. The circular feature contains typical masonic symbols: dividers and set-square with a book(?) in the centre, the whole surrounded by a circle of foliage.




Taylor's Blakeridge Mills

, Blakeridge Lane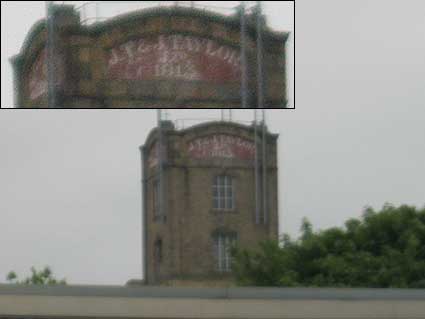 This distant view of the top of the mill from Bradford Road shows that the top remains lettered on all faces:


'J.[,]T. & J. TAYLOR LTD
1913'


Thomas Taylor, born 28th November 1778, seems to have founded the firm in the 1820s. He had a house at Crossbank, Batley with a small 3 storied mill in front and a weaving shed behind and a 2 storied press shop nearby, on the site which was to develop into Blakeridge Mills, but at the time was known locally as 'Tommy Taylor's Mills'. Thomas's use of the local beck in his business led to its pollution and a falling out with the local vicar, through whose garden it ran. The Taylors stopped attending the Church of England. Thomas was recorded as being a woollen manufacturer on the 1841 Census, but by 1851 still only employed 5 men and 2 boys. It was his sons who really developed the business from around 1845 onwards. He and his wife, Rebecca, had seven sons, three of whom continued to run the business in partnership in newly steam-powered mills. These were John, born in 1817, Thomas born 1819 and Joshua born 1821 and the company became J., T. and J. Taylor. In 1851 the three of them employed 21 men, 15 women and 13 children, but this was only the beginning. The Blakeridge works were extended, new units being added and others enlarged, eventually after even more additions, becoming known as 'Blakeridge Mill Village'.

In 1879, the year Joshua died, Theodore took over his father's role and became part designer, salesman, buyer and blender. His younger brother, Arthur, and cousins John Taylor and later Thomas Frederick Taylor joined him in running the company, the latter in 1883, but by January 1892 all had agreed to let Theodore take complete control. By now the company was operating from 3 big mills: Blakeridge, Cheapside and Branch Road, Batley and they also came to own Waterloo Mills at Bramley, Leeds. It took advantage of the new ready-to-wear clothing business which had originated in Leeds, providing all the desirable and necessary fabrics. Theodore had entered politics in 1889 being elected to the new West Riding County Council, but in 1900 was persuaded to stand for parliament, becoming a Liberal M.P. J.,T. & J. Taylor Ltd, were the largest woollen manufacturers in Batley. Most processes were carried out at the mills, from raw wool to finished cloth and, particularly in its early days, the firm was involved in rag-grinding. (Information from Kirklees Curiosities.)




Tramway Company

, Bradford Road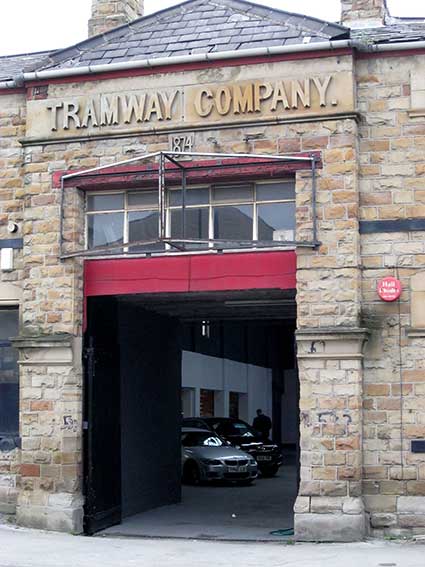 'TRAMWAY COMPANY.

1874'

The lettering here has been decorated by the removal of a triangle from each ascending and descending arm of the capitals; there is a flare on the centre of each curve, except for the 'R'. The entrance would originally have been opened to the lintel just below the carved date to accommodate tramcars running on their rails off the road way and across the pavement.



The enthusiast in setting up this company to establish a tramline in Batley was Joseph Sheard, born 1821, one of the four sons of Michael Sheard who ran Hick Lane and Hick Well Mills. Joseph was the first chairman of the company whilst his brother George was one of the directors. The company was incorporated in 1872 and shares were sold to raise the £50,000 capital needed to build the track and purchase the tramcars. A prospectus of 1873 proposed the first route should run between Batley and the Wilton Arms at Carlinghow. A headquarters and tramsheds were built on Bradford Road adjacent to that public house, and the tramway opened on Saturday 25th July 1874, with 40 horses and 7 trams. Joseph died in 1876 and his brother George, took over as chairman. That same year Merryweather Engineering Company asked permission to trial their trams pulled by steam engines on the line. George, who had built a mansion for himself, 'The Woodlands' (now Bagshaw Museum) was a tram enthusiast. He was onboard during the trial run and was so enthused that he petitioned parliament for consent to the use of steam trams on the company's lines. This took several years to achieve and in the meanwhile Leeds had installed their own steam tramway, the first in the country. The Dewsbury, Batley and Birstall Tramway Company had more trams, though, 22 in total. The system enabled workers to get to work more quickly and easily and allowed other passengers to travel the district.

The Dewsbury, Batley and Birstall Tramway Company was sold to the British Electric Traction Company on 30th June 1901 and was operated by electricity from July 1903. (Information from Kirklees Curiosities.)





National School

, Bradford Road


'1848
NATIONAL SCHOOL'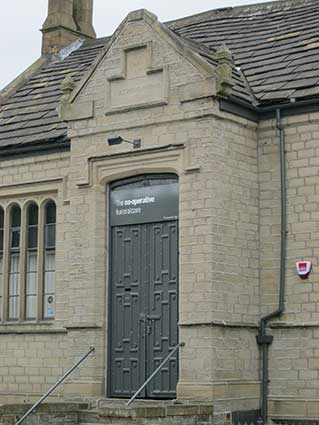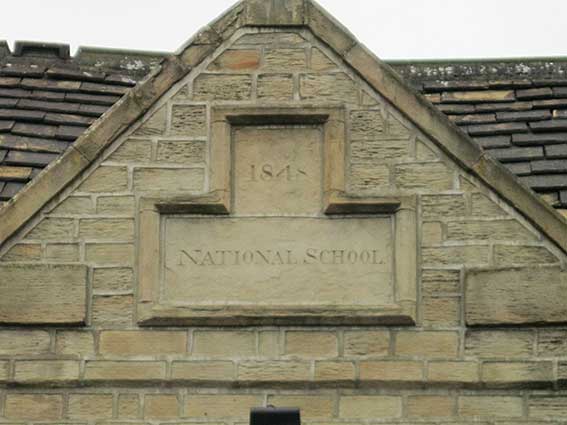 The debtors' courthouse, now on Bradford Road, was built in countryside around 1780. Although close to tracks between Batley and Birstall and off to Morley, the road itself was not built until 1832. Parliament had approved the idea of speeding up the hearing of small debt cases (under 40 shillings) by providing these small local courthouses. Previously debtors might be thrown in jail, sometimes with their families, and have to wait months, at their own expense, for a hearing at a court some distance from home, in this case at Wakefield or Pontefract. These small courts were presided over by commissioners rather than a judge, and 12 local men were appointed for Batley. To be eligible, a man had to own property fetching £60 a year in rent and hold £1,500 in assets.

They were assisted by a clerk of court who registered complaints and a Beadle who found the debtor and served him with a summons. The Beadle might also organise an auction of the debtor's belongings to pay off his debt, where deemed necessary, and he kept order in court. He had the power to have anyone threatening or abusing a commissioner arrested. At Batley his office was in the basement of the building. If the case was proved, debtors were made to pay up, perhaps in installments, or sent to jail for up to 60 days, although the commissioners could show leniency where the debtor was thought to be 'honest but unfortunate'. Such men were allowed to keep the tools of their trade and work to gradually pay off their debts. These new courts didn't hear cases involving debts due to drinking or gambling or matrimonial disputes, however. Batley's small courthouse continued to operate until 1846 when its role devolved to the new County Court in Dewsbury.

After this, in 1848, the building became a National School with the aim of providing its pupils with an elementary education whilst instilling Church of England values. After the terror of the French Revolution, fear of social revolution gripped the country. National Schools attempted to counteract any revolutionary ideas circulating amongst the young. The school at Batley had only one classroom and the teacher had his living quarters in the basement. His salary may have depended on how well his pupils performed when the inspectors called annually, so he was usually a hard taskmaster, and caning was not uncommon. The National School continued until 1870 when the Education Act ensured many more schools were established to provide free education for the majority of children.

After this, the building was used as a Sunday School until 1907, then as an Institute in which young people could meet and play games. It then stood empty for years until bought as a workshop by a local joiner and undertaker. It is presently operates as a Chapel of Rest.
(Information from Kirklees Curiosities.)




The Union Rooms

, Hick Lane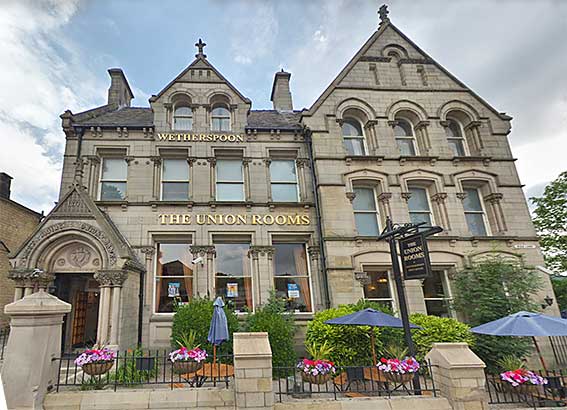 The West Riding Union Bank evolved out of private banks operating in Huddersfield, Mirfield and Dewsbury. The Mirfield bank was established in 1799 by Benjamin Wilson. He extended the business into Huddersfield and took his sons into partnership as Benjamin Wilson and Sons. Benjamin Wilson served on the provisional committee for the establishment of a joint stock company to continue the business of the private partnership. Thus, the Mirfield and Huddersfield District Banking Co was established by deed of settlement in December 1832, with the Wilsons being principal shareholders. It was decided to alter the name to the West Riding Union Banking Co. after the acquisition of Hagues, Cook and Co. of Dewsbury in 1836. After the amalgamation, the board met alternately at Huddersfield and Dewsbury. In 1874, the Bank was incorporated under the Companies Act. By 1876 the West Riding Union Bank has been trading well, building up good reserves and surplus funds sufficient to be able to build a number of new branches, and a brand new office of the West Riding Union Bank was opened in 1877 at Hick Lane, Batley. This grand, ecclesiastical-looking building was erected some twenty-six years before the absorption of the West Riding Union Bank by the Lancashire and Yorkshire Bank.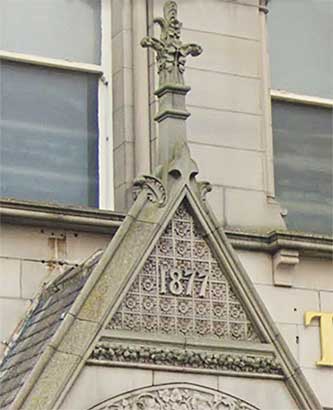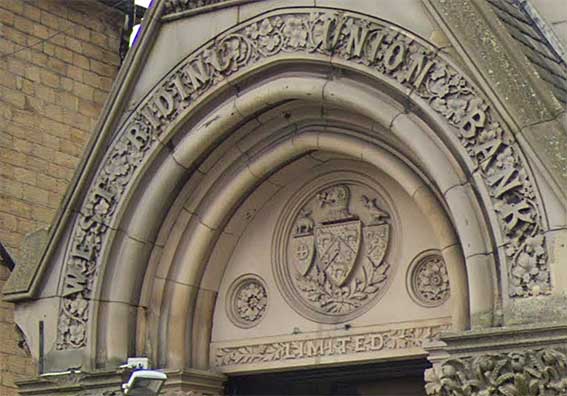 '1877
WEST RIDING UNION BANK
LIMITED'
The ornately-carved porch features decorative capitals ranged on an arch of grape vines, with the smaller 'Limited' sitting on different foliage. It is Listed Grade II:
'Detached bank building in Free Gothic style. Dated 1877. Ashlar. Steeply pitched gabled slate roof with ashlar roll top copings. Good ashlar stacks with caps. 2 carved finials. Paired moulded brackets to gutter. 3 storeys. 7 bay entrance front, the 3 bays to right breaking forward slightly with gabled roof. Windows to right are archivolted and have engaged colonnettes with richly foliated capitals. Windows to ground floor are square headed, those to lst floor have shallow segmental head, and those to 2nd floor have stilted round arch with pointed hood mould. In gable apex is blind round arched window, flanked by blind recesses, with archivolt of richly carved foliage. To left, windows are square headed with detailing as before. In small gable are 2 round headed windows. Stone entrance porch to left is elaborately carved with 3 engaged columns to each side with capitals of richly carved foliage. Round arch over doorway has inscription WEST RIDING UNION BANK LIMITED. In gable apex of porch is carved diaper work with date 1877. In tympanum is round carved plate with 3 shields, the centre one bearing the Huddersfield coat of arms. The interior has been altered. Ashlar boundary walls with iron railings which return to building. 5 square, ashlar gate piers with tapering chamfers leading to octagonal pointed cap.'
Since closure, it has been converted into a pub-restaurant.
Methodist Church
, Hick lane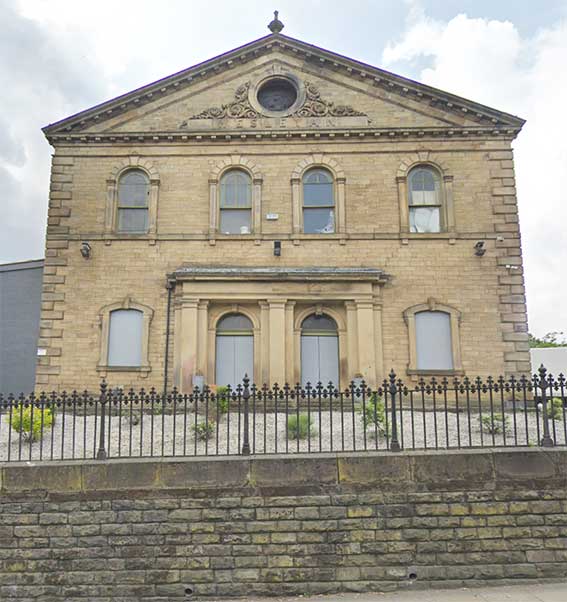 The word 'Weslyan' in capitals is easy to miss. This building is Listed Grade II:
'Methodist Chapel. Circa 1870. Dressed stone with ashlar dressings and rusticated ashlar quoins. Pitched slate roof. 6 bay hall with 4 bay pedimented gable front. 2 storeys. 1st floor sill band.
Paired entrances with plain pilaster surround and common entablature.
Single sash to each side with segmental head with deep key, and marginal glazing. 4 round arched sashes to 1st floor with plain pilaster surrounds, rusticated voussoirs and marginal glazing. Pediment has oculus with scrolled surround, and word WESLEYAN below. Vase acroterion. Windows to right elevation are detailed as before, though one is enlarged to form recent doorway. Left elevation is obscured by recent brick infill.'
It has been used by businesses in recent years.




Freemasons Hall

, Park Road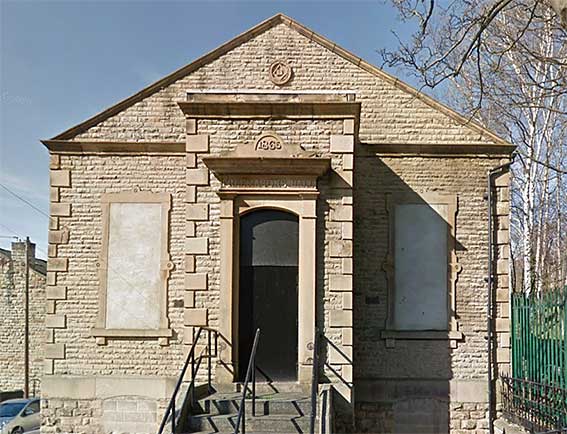 '1865
FREEMASONS HALL'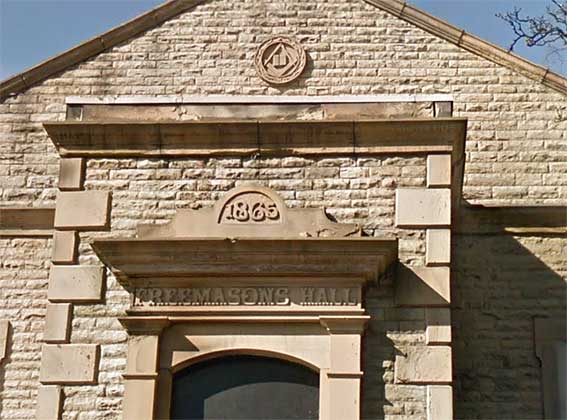 Howley Lodge started off at the Freemasons Hall, Park Road in 1928 and moved to Blenheim House, Batley in January 1935. The name Howley is taken from Howley Hall which was predominate feature of this area in the 17th Century. Clearly it was used by others since its opening and up to 1928. The circular feature contains typical masonic symbols: dividers and set-square with a book(?) in the centre, the whole surrounded by a circle of foliage.





Hick Well Mills was John Burnley's mill. It was he who is said to have set up a rag machine in his barn in around 1813, worked by donkey power, and in competition with Benjamin Law's early experiments to produce shoddy*. By the time Hick Lane Mill was built the new product was clearly viable, and he was one of those originally involved there. Some time later John set up on his own at Hick Well nearby. This venture seems to have prospered in his time, and the firm is said to have been making druggets and pilot cloths, described as Batley's special line. (Information from Vivien Tomlinson's Family History.) One wonders if the well, after which the original mill was named was owned by the Hick family (and so the lane was named)?
[*Shoddy is a well-known term in this area. Batley had its own speciality: the invention of the process for recycling rags to make new cloth is attributed to Benjamin Law of Batley. Batley and the other shoddy-producing towns of Morley, Dewsbury and Ossett were looked down on by Leeds and Bradford, producers of fine woollens and worsteds. Yet shoddy was the solution to shortages of yarn for weaving due to trade embargoes during the Napoleonic Wars. And was later used for military uniforms and blankets, along with many other types of cloth – and even manure. Fortunes were made from the production of shoddy, including that of George Sheard – see under the Tramway Company entry.]



Heckmondwike




Plumber sign

on Westgate/Greenside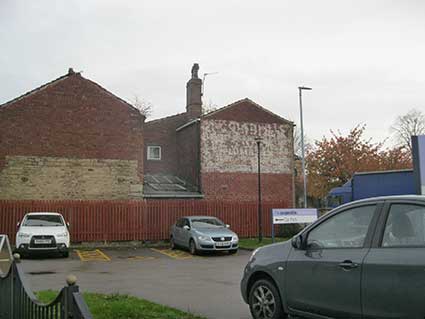 Gledhill plumbers


This sign has been overwritten but the original text refers to H. L. Gledhill and his skills as a plumber. Henry Leadbeater Gledhill was born in the town in 1852, the eldest son of Tom Gledhill and his wife Sarah. Tom was a surveyor and inspector, a respectable job, and the family must have been reasonably well off. At age 8 though, for some reason, Henry was living with his grandfather, Joseph, and great grandmother, Sarah, in High Street, Heckmondwike, but by 1871 was back home with his parents and siblings, and, aged 18, was already working as a plumber and eventually had his own business in the town. In October 1873 Henry was called as a witness in a court case, recorded in the Huddersfield Daily Chronicle, in which a local man was accused of being drunk and disorderly and assaulting a police officer.Then late in 1874 he married Jane Ann Metcalfe and the couple found a home of their own in Green Side, Heckmondwike.

Things were not going too well for the business, however, which went into liquidation in 1876, Henry being declared bankrupt in 1878. Apparently undaunted, Henry and Jane Ann simply upped sticks and by 1881 had moved to the Scarborough area on the north Yorkshire coast where Henry continued to ply his trade as a plumber. Somehow the Heckmondwike business bearing his name continued, though, even advertising in the

Huddersfield Daily Chronicle

for 'a good plumber with tools' to work for them in October 1877 with the offer of regular employment. In 1901 Henry and Jane are recorded as residing in Town Street, Filey. The couple don't appear to have had any children and Henry in fact died there in early 1904 aged only 52. (Information from Kirklees Curiosities.)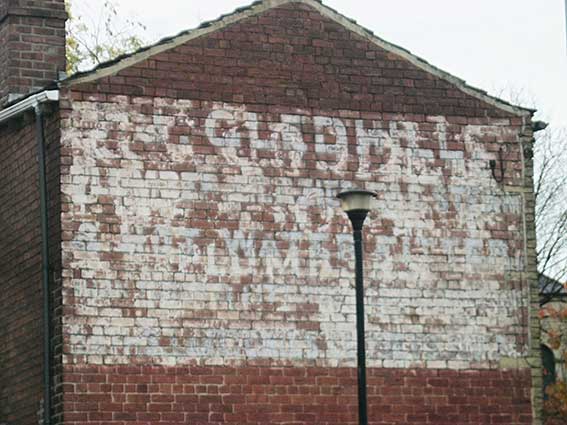 'GLEDHILL' is clearly visible at the top, with 'PLUMBERS' below.
The words '... WATER FITTER' are overpainted lower down. It looks as if the whole panel has been over-painted with whitewash (now weathering away).



Pavement cover

, Westgate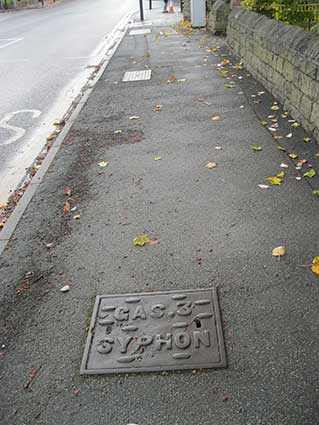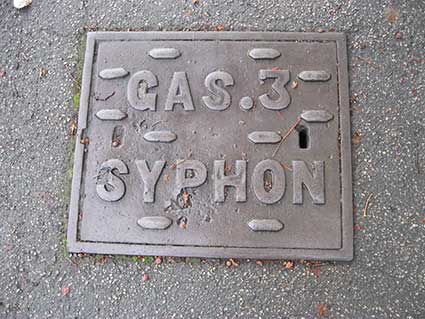 This chunky cast iron cover sits in the middle of the pavement by Algernon Firth* Park and play area on the edge of Heckmondwike. Perhaps larger than expected and with large capitals (with slightly wonky 'S's) , it includes non-slip lozenges. One assumes that the utilty cover relates to the public gas supply, although we haven't been able to find a similar example.
[* Sir Algernon Firth was a man ahead of his time, whose philanthropy provided hope to cancer sufferers around the world. When he died in 1936, he left behind a laboratory (now Listed Grade II, but used as student accommodation) which provided inspiration for the finest medical minds.']





Home
Return to Historic Lettering from outside Ipswich
Please email any comments and contributions by clicking here


Search Ipswich Historic Lettering


©2004 Copyright throughout the Ipswich Historic Lettering website: Borin Van Loon
No reproduction of text or images without express written permission