Castle Hill Community Centre


Heritage Open Days 2018 on September 15/16 2018 gave us the chance to revisit this building on Highfield Road, to the west of the town. Surrounded by suburban housing estates, this Woolpit white brick building has remarkable original features. The first which strikes the visitor are the date monograms on the entrance portico.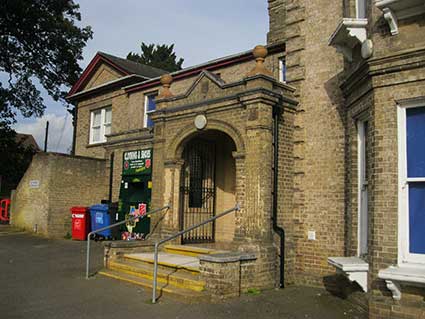 2018 images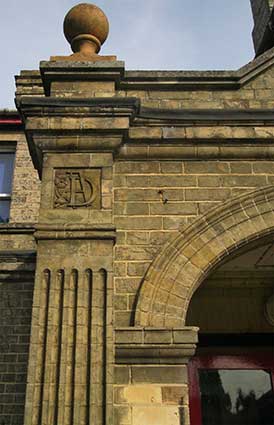 Topped by terra cotta ball finials the structure bears 'AD' and 1893' intertwined with foliage, a flower and fruit. An identical configuration can be seen at Morpeth House in Lacey Street (there in red terra cotta). The figure '1' in the date pierces the lower left curve of the figure '8'.


Similar examples can be found on the Co-op stores in Cauldwell Hall Road (1896) and Surbiton Road (1904), on Aldeburgh seafront (1898), Sudbury Masonic Hall (1886) and the Fludyer's Arms in Felixstowe (1904).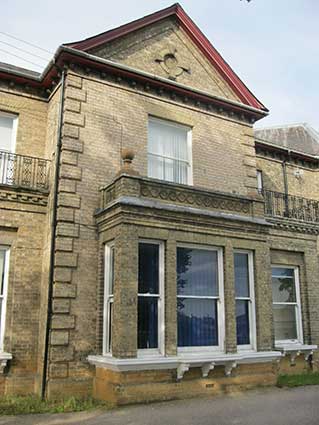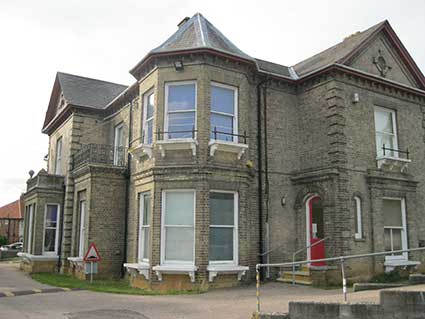 Above: the bay window below the gable is missing one of its finials; the brackets below very deep external window-sills along with surviving wrought ironwork are of interest.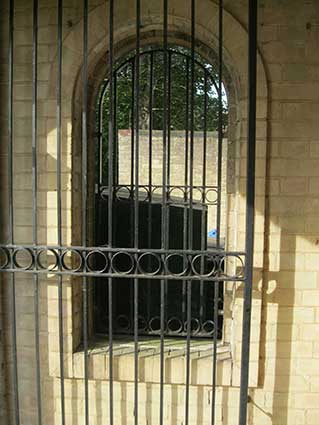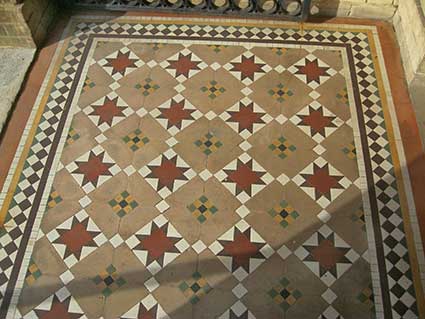 Inside the porch a round-topped, unglazed window brings in light; ironwork here is a later addition for security. The attractive, polychrome tiled mosaic floor has survived well.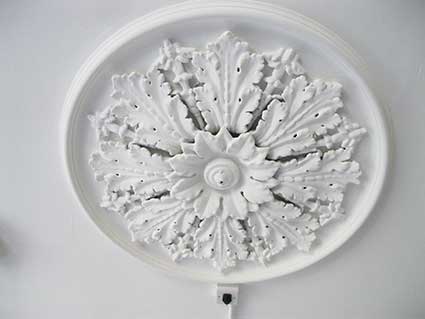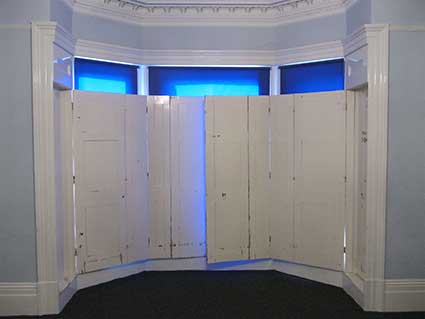 The interior retains plaster ceiling roses and fine, deep cut plaster cornices; the fold-out internal shutters are, perhaps, surprising survivors.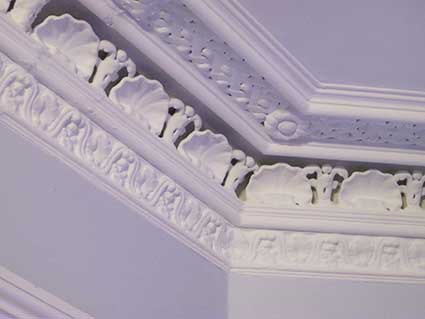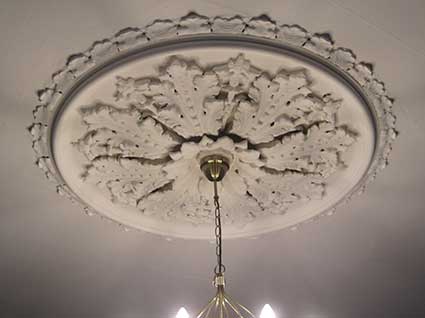 The staircase is the star of the show with acorn bannister post finials, staggered rectangular timber patterning and a large staggered window.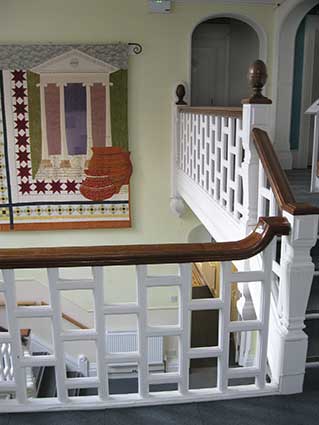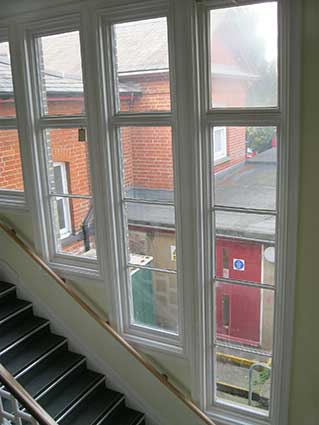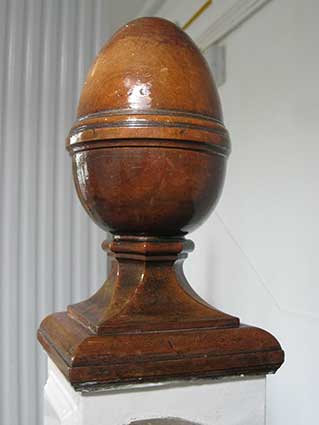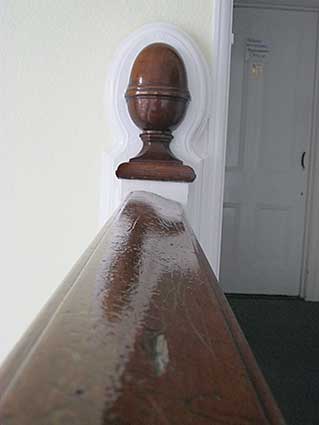 'Originally an eight bedroom Gentleman's residence, built in 1893 by Henry Orford on the site of a Roman villa.
The house was gifted to East Suffolk County Council in 1947 by the farmer George Jennings who had bought the property in 1911 from the Orford's estate.
The house has been many things to many people over the years including a Doctor's surgery and a school. Today the building is managedby Castle Hill Community Centre IMG, a community-based organisation.'

[Heritage Open Days 2018 booket published by the Ipswich Society]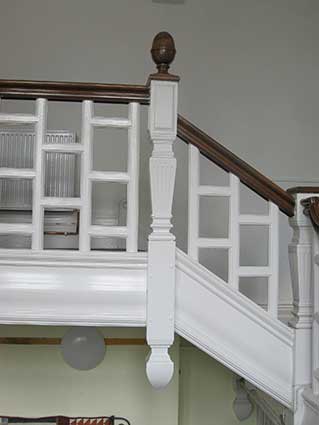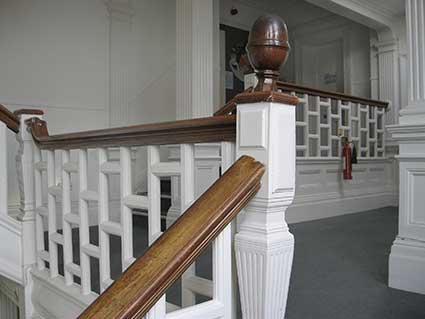 One can imagine this house, on a rise above the Gipping valley, largely surrounded by open fields. Presumably a carriage driveway led down to today's Norwich Road.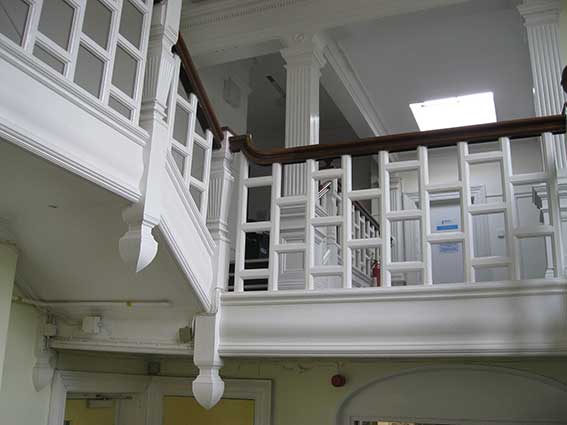 Home

Please email any comments and contributions by clicking here.

Search Ipswich Historic Lettering


©2004 Copyright throughout the Ipswich Historic Lettering site: Borin Van Loon
No reproduction of text or images without express written permission