YEAR 1791.
POOR WIDOWS. WHOSE HUSBAND
but overturns the Way of the Wicked Ps. CXLVI. 9.
Honour Widows, that are Widows indeed. Now.
She that is a Widow indeed. and defolate.
OF J. &[?] A. KENDALL.
HIM AGAIN PROV. XIX 17.
THE WIDOWS. IS GOD IN HIS HOLY
HABITATION. PS. LXVII. 5.
RIGHTEOUSNESS. PROV. XVI. 31.'
Winnock's Almshouses, Military Road
On the other side of Military Road at 1-6 are Winnock's Almshouses themselves.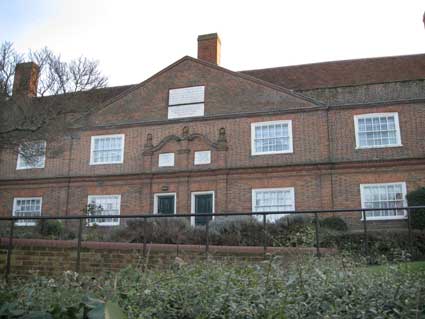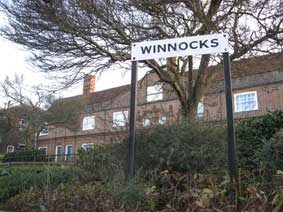 'THESE ALMSHOUSES
Were Built & Endow'd by M
r
JOHN WINNOCK.1678
M
r
SIMPSON added a benefaetion of L200.1760
M
rs
NUTHALL Bequeathed by will L500.1779
M
r
DOBBY bequeath'd by Will £180.1786
M
rs
POYNER bequeath'd by Will £100.1810[?]
M
rs
BARFIELD added a donation of £200.1825
a second donation of £320 and a third of £480.
HANNAH GUSTERSON. Spinster.
Bequeath'd 200L.~1848.
Restored 1990'
Below the main plaques are two square tablets: 'WIM' and '1678' in decorative characters.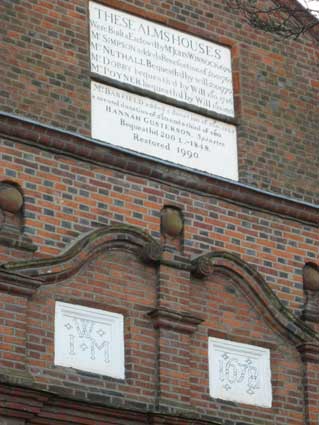 Built in 1678 by John Winnock, this long range of 6 tenements in red brick is Listed Grade 1. The 2 centre doorways combine into one architectural composition by 3 pilasters topped by half balls and a broken voluted pediment. In the main pediment are also the two large sunk inscription panels: within the west pediment are 2 sunk panels, one with the initials [W]I M and the other with the date 1678. John Winnock was a clothier or baymaker of Colchester, and derived his wealth from the cloth trade - his wealth was created by the labour and depended on the poverty of the cloth-workers, so his philanthropy in building these almshouses with some of that wealth was appropriate.
Opposite is a neglected building with brick arched windows bearing the crest:
'BOROUGH
OF
COLCHESTER
19 ... 06'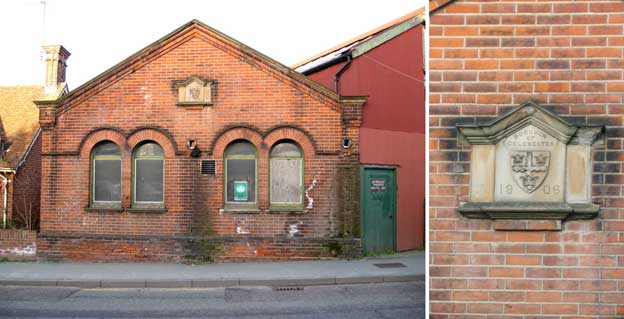 Further down this road is the small Colchester Town station with its canopy supports bearing cast iron insignia in a quatrefoil: we think this must be 'GER' (Great Eastern Railway).
It is located on the Colchester to Clacton line and is one of only a small number of drive in/reverse out stations on the British network. The station is better situated for access to the town centre than the mainline station (known locally as Colchester North). The station was opened on 1 March 1866 by the Tendring Hundred Railway, a subsidiary of the Great Eastern Railway, hence the insignia. Originally named St Botolph's after the large church nearby, the station was renamed Colchester Town on 8 July 1991.
Right next door to the Town Station is a large impressive public house with, of all things, a period 'Guiness Time' advertisement placed high up, with all those unnerving faces smiling from the foaming tops of the beverages. 'Guinness time' dates, as an advertising phrase, to the late 1940s. The clock forms the top circle of the pyramid on the side of the Judge & Jury. Previously Molly Malone's, the pub changed its name when the new Magistrates Court was built a few yards away on the site of the old Colchester Town Railway station car park.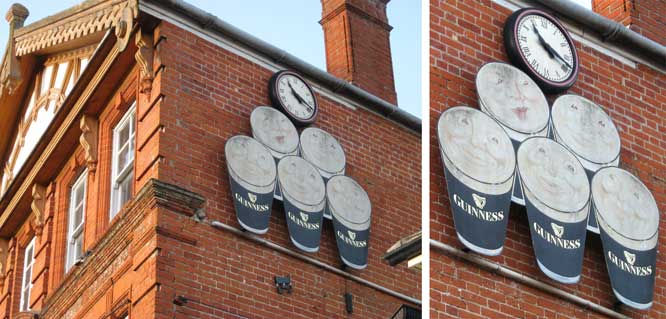 Stead & Simpson former shop, (4?) St Botolphs Street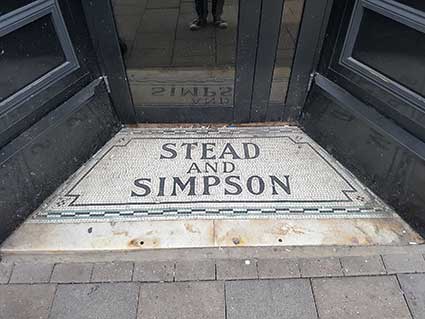 Photograph courtesy
Mark Sommers
[
UPDATE
8.5.2019: 'Nice bit of mosaic in St Botolphs Street, Colchester. I don't know anything about it except that its where my Mum would take me for shoes in the late 1960s. Was there a branch in Ipswich? Feel free to use if you wish. Kind regards, Mark Sommers.'
Thanks, Mark: nice post-modern reflected shoes of the photographer... Stead & Simpson certainly made a visitation to Ipswich, but never left their trace, however there's a painted sign celebrating the company on London Road South in
Lowestoft
.] The buildings in St Botolphs Street appear to have eccentric numbering; from odd numbers across the jaws of Vinyard Street, The Silk Road Lounge (which includes the Stead & Simpson step) is listed as no. 4 and Hollywood nails is no. 7. Then the numbering pick up at no. 7...
Nick Wiggin sent this period photograph of a
The former Co-op
,
Long Wyre Street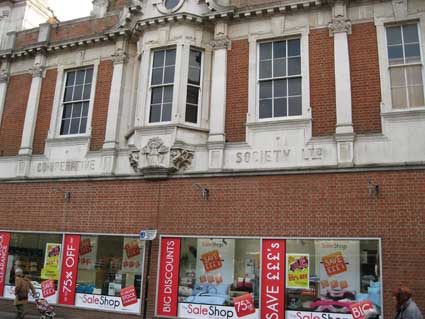 As so often in our 21st Century high streets, buildings are passed by without a glance, they change and mutate and few notice. This building in... was once the Colchester Co-operative store (see the
Ipswich Co-op
page for a similar tale of woe). Here the shop is at least still used for retail, in this case by 'The Sale Shop'. The frontage still bears the lettering:
'CO-OPERATIVE ... SOCIETY L
TD
'
and an attractive harvest motif.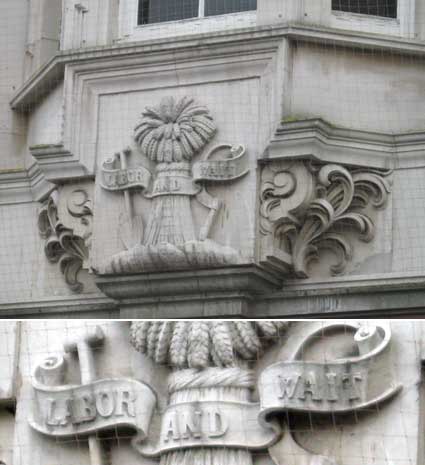 The motto on the furled banner across the wheatsheaf is:
'LABOR AND WAIT'
which is interesting on at least two counts. The addage contrasts with the
Ipswich Co-op
's "Each for all, and all for each" (which seems to make a little more sense). Also the spelling of the word 'Labor' appears to be an Americanism on this most English of institutions. The same motto appears on the
Old Harwich
Co-op branch.
We learn that the Co-operative movement chose the motto 'Labor and wait', deliberately using the American spelling of labour to express support for those fighting slavery in the United States. The wheatsheaf was used as it was a symbol of cooperation as 'one stalk cannot stand alone'. This motto can be found in Co-operative societies as far away as Toxteth in Liverpool.
[N.B. A modern retro emporium in Shoreditch is called 'Labour and Wait', from them we discover that the (Anglicised) name comes from a Henry Wadsworth Longfellow poem: 'A Psalm of Life'. Its conclusion is a mantra to taking action:
"Let us, then, be up and doing,
With a heart for any fate;
Still achieving, still pursuing,
Learn to labor and wait."]
The local press tells us more about the premises:
"A family-owned shop chain has taken over an empty department store. Townrow, which sells everything from women's fashion to cooking equipment, has moved into the former Co-op site in Long Wyre Street, Colchester. The store, empty since June last year, has been rebranded the Sale Shop and will offer many discounted goods. Several former Co-op staff have been taken on and a further 20 jobs could become available as the individual departments open over the coming weeks."
(Daily Gazette, Wednesday 13th July 2011)
And more Colchester Co-op...
Just down Long Wyre Street from the old Co-op wheatsheaf (opposite Greggs the bakers) we find:
'UNITY IS STRENGTH
FOUNDED 1861 ... REBUILT 1998'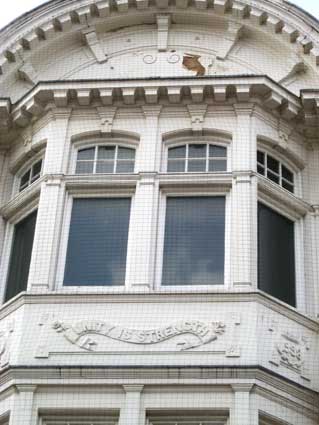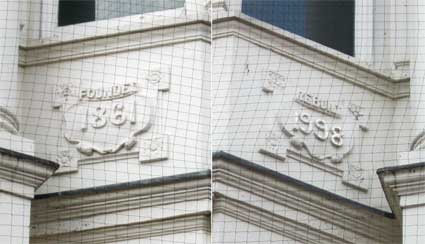 The main motto in sans serif capitals curls in a scroll which sits within a rectangualr frame. Similar frames are found on the angled faces of the 2nd Floor bay window showing the dates. The derivation of the motto is random. 'Unity Makes Strength' appears on Belgian flags and crests, as well as those from Haiti. 'Unity Is Strength' is the motto of the Prison Officers' Association in the UK and can be found on the coat of arms of Malaysia. It took a bit of digging but we eventually found a fine website called the Colchester Historic Buildings Forum (see
Links
) and this building appears described as follows:
"Retained facade and front part of commercial premises, originally for the Co-Operative Society. Red brick with painted stucco dressings. Three storeys. Five bays, of which the outer bays are emphasised by quoins and have within them four-bay windows rising to triangular pediments. The centre bay contains a two-storey canted oriel, flanked by Ionic columns at second-floor level, and has a segmental pediment. Inscription 'Founded 1861' referring to the Colchester Co-Operative Society. Dentilled cornice. First-floor windows of Venetian type. [JB] Opened in 1905. Goodey and Cressall (architects), G. Dobson (builder)."
They do not refer to the 'Rebuilt 1998' lettering.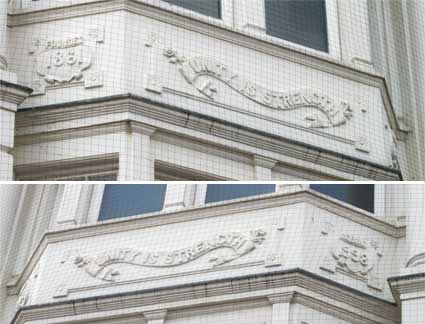 J.W. Haylock boot and shoe shop, 8 Long Wyre Street
From an undated Colchester Trade Directory (probably Edwardian):-
"Hawkins Alan George B.A. solicitor, & deputy coroner for the borough, see Elwes, Turner & Hawkins
Haydon Francis Emanuel, butcher, see Scragg & Haydon
Haylock J. W. Ltd. boot & shoe dlrs. 8 Long Wyre st
Haynes Frederick Owen, beer retailer, 2 Castle road
Hayward A. J. & Son (established -over a quarter of a century), coal & coke merchants & factors & colliery agents, general carmen & hauliers, furniture removers & depositories, contractors & insurance agents, 61 King. Stephen road; St. Botolph's station & Myland road. T N 169. See advertisement"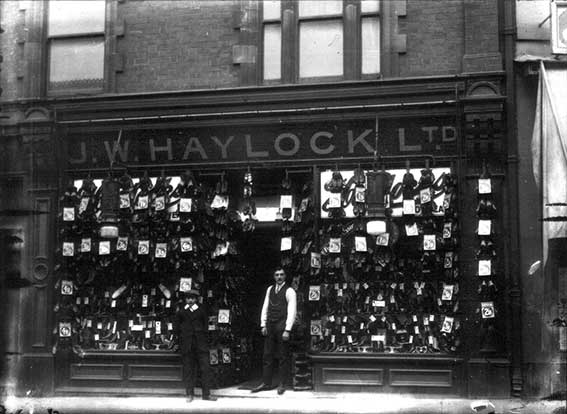 Photograph courtesy Nick Wiggin
The packed shop window display of footwear, exterior gas lamps and period dress suggests that this might have been around 1910. We have been unable to trace this building, so presumably it is one of many in Long Wyre Street to have been demolished and replaced.
Abbey Gates
Opposite Scheregate Steps (Scheregate is a product of the Norman period, cut through the Roman wall to provide a thoroughfare for workers travelling to and from St. John's Abbey; 'Schere' meaning narrow, this 'gateway' was never used for vehicular access) is a short road called:
'ABBEY GATE St.
FORMERLY
LODDER LANE'

in the characteristic dark blue ceramic tiles set into the wall. These classy street signs are used extensively in the town centre and beyond.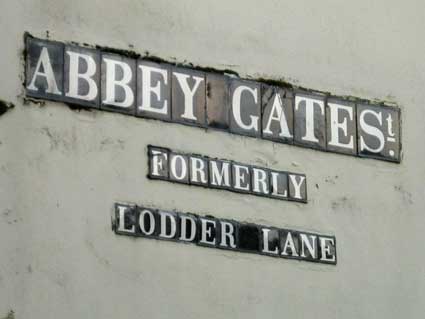 2013 images
Across the road is the public house the 'BREWERS ARMS':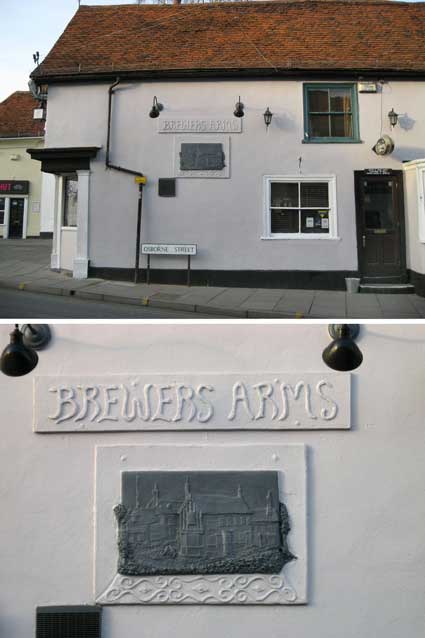 North Hill
56 North Hill has a gold on black panel above the old cart entrance:

'COCK & PYE COURT'
The Cock and Pye inn was apparently three doors down from Cock and Pye Yard. Innkeepers include Henry Mason (brandy merchant), in 1765-1781, and Robert Wright, in 1768-1820. A cricket match was held at the inn in 1770 although the hill must have made things a bit difficult.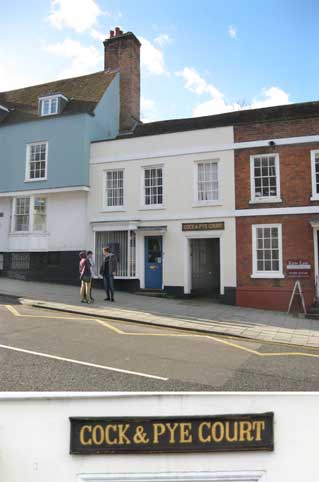 Over the road is a house bearing a shaped rose feature and the date '1809'.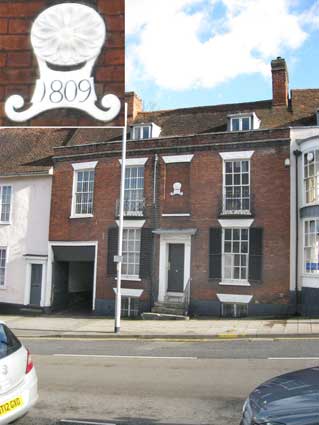 St Peter's Church towards the top of East Hill has a large, decorative, stonework clock bracketted above the west door. On both faces, this bears the legend:
'REDEEM : THE : TIME'
We need to be "redeeming the time, because the days are evil" (Ephesians 5:16).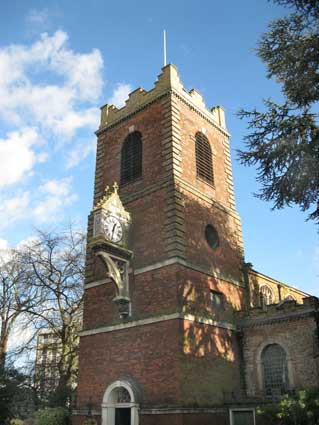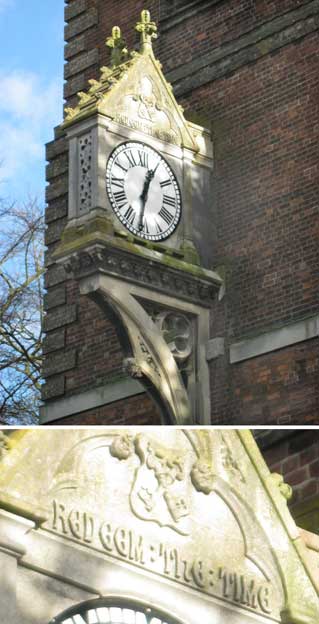 High Street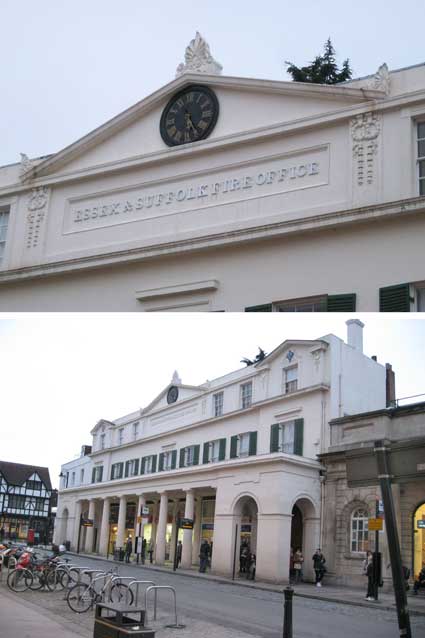 'ESSEX & SUFFOLK FIRE OFFICE'
This Grade II* Listed buildingat 157 High Street is a fine early 19th century neo-classical facade with projecting colonnade built in 1820 by David Laing. It was built as a Corn Exchange and was originally two storeys with central pediment, a third storey was added later. It is not clear whether this building was actually what we think of as a 'fire station' housing emergency vehicles.
'GRAND
THEATRE'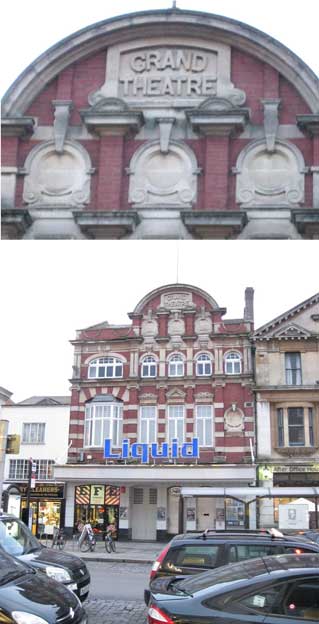 Built in 1905 by local architect J.W. Start, this is referred to as The Hippodrome, Colchester at 131 High Street. Despite later alterations as a cinema, a mixed-use leisure centre and in 1995 a startling redecoration as a club, including much intrusive lighting, the building survives as an exceptionally fine example of a medium sized Edwardian theatre. The busy Edwardian Baroque façade makes a pleasing contribution to the varied frontages of the fine High Street. It is in red brick with ample stone dressings and of an oddly asymmetrical design - three main bays and three storeys, with a centrepiece surmounted by a curved pediment with the name 'Grand Theatre' (in capitals, the first word curving slightly over the second) in the tympanum, above three blind oeil-de-boeuf openings.
The Town Hall in the High Street is Listed Grade I. Built in 1898 by John Belcher, it is of exceptionally rich design in free classical style: red brick and Portland stone. Three storeys, the lowest one stone-faced with central entrance, carved brackets to porch support balcony above. Three pairs of engaged Corinthian columns rise through the first and second storeys to support two segmental and one triangular pediments. There is a large coat of arms above latter, breaking balustrade to roof. Statues in high relief between second storey windows. Victoria tower, on return, rises above pair of bay windows. 162 ft high topped by statue of St Helena, patron saint of Colchester, facing Jerusalem (although the Council website says it's actually the Virgin Mary!). Lower stage of brick, upper part of stone: very elaborate with 4 bronze ravens and 4 stone figures: Fishery, Engineering, Military Defence, Agriculture. The brickwork tower has a large decorative stone tablet with a royal crown and 'VR' (Victoria Regina) in serif capitals.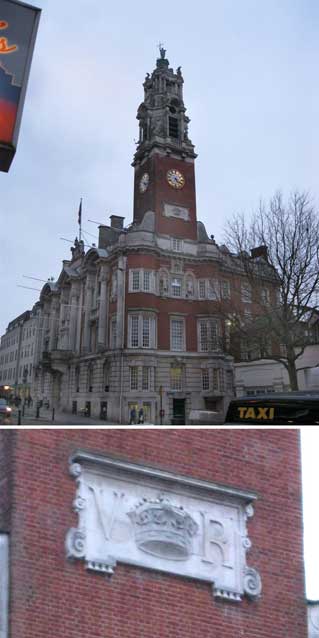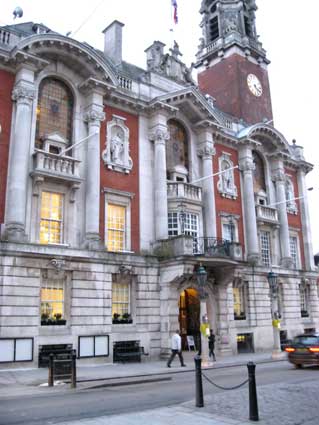 The triangular pediment obscures the inscription below the central crest. We think it says:
'ANNO VICT. LXIVO. EDW. SEPT[?].IO. MDCCCCI' (1901)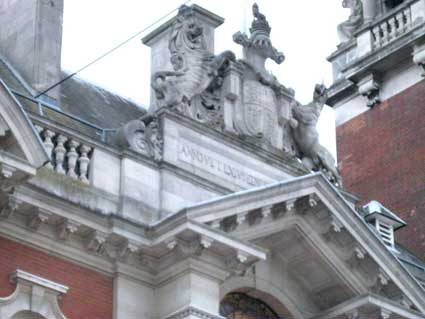 The crest itself, supported by lion and unicorn rampant has running around the central emblems:
'HONI SOIT QUI MAL Y PENSE'
and on a scroll below:

'DIEU ET MON DROIT'
It's worth recording a couple of the features of this building. First the grotesques above the ground floor windows; secondly one of the portrait figures inscribed 'AUDLEY' at second storey level.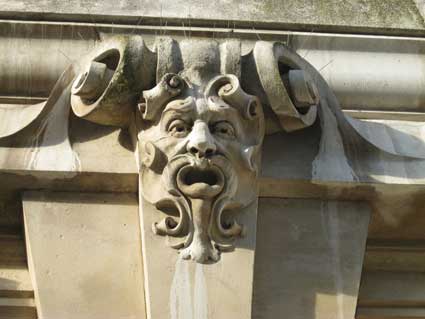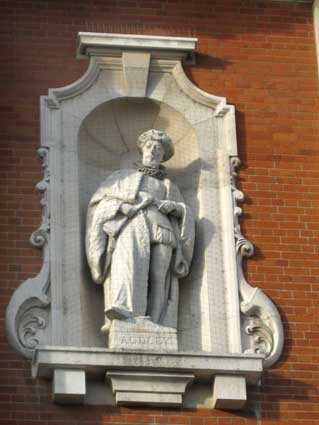 Lord Thomas Audley was Colchester's Town Clerk for a period but went on to become Lord Chancellor in King Henry VIII's time, being instrumental with laws concerning the dissolution of the monasteries and the king's marital difficulties. His family came from Colchester and a substantial number of memorials to the family exist in a chapel at nearby Berechurch.
A quick detour to Trinity Street
One of the portrait figures on the Town Hall is inscribed 'Gilberd'. William Gilberd was the son of a Recorder of Colchester and became the most eminent English man of science of his day. He made the important discovery of electromagnetics, carrying out some very important early studies on this subject. He was also physician to the court of Queen Elizabeth I. Part of his huge house survives today as Tymperleys in Holy Trinity parish. The high archway to the left of the Art Café in Trinity Street has a plaque above it reading:
'PORTION OF
TYMPERLEYS
THE BIRTHPACE AND RESIDENCE OF
WILLIAM GILBERD
AUTHOR OF "DE MAGNETE" AND FOUNDER
OF ELECTRICAL SCIENCE. B. 1544 - D.1603'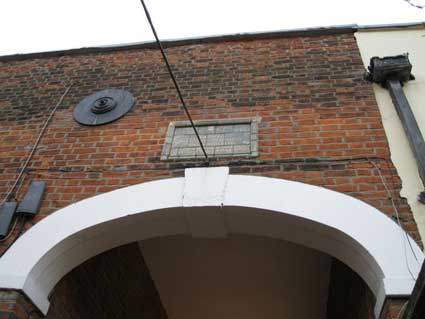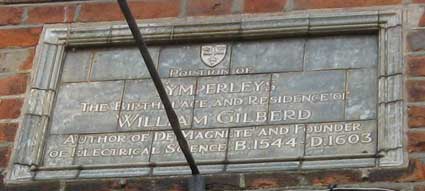 This fine-looking house, glimpsed through the gate past an ugly bin, has been the subject of cuts by the local council since it was left the building and its collection of clocks as a public museum by a benefactor in 1980. Apparently, the clock collection has been removed and the premises put up for sale, the last only being thwarted by a right-of-way dispute.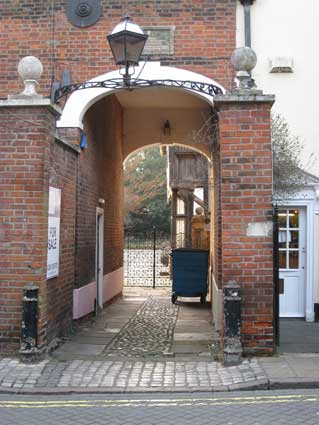 Back at High Street...
93-94 High Street is the premises of W.H. Shepard and they proclaim their trade in deco-style white glass characters in the windows to the right of the door:
'FUNERAL
DIRECTOR'
with the company name at an angle:
'WH SHEPHARD'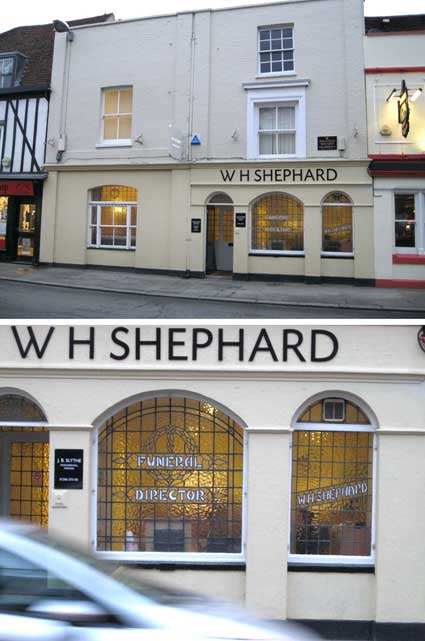 East Hill
This 18th century wall, extending to St James' churchyard, to the east of East Hill House is on the south side of 76 East Hill. The red brick wall with stone rustications and incribed drinking fountain is Grade II Listed and probably built by James Deane. The condition has deteriorated over theyears and the remains of the central metal water spout from which the water flowed into the shallow drained basin below have disappeared. There is a stone step to allow a small child to access the water and an arched recess at ground level which may have housed a dog bowl(?).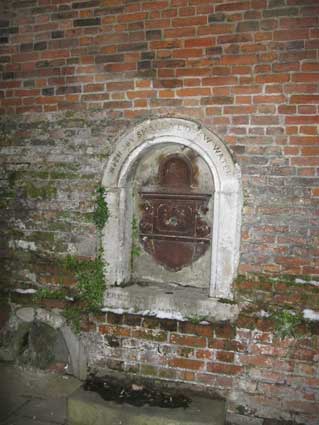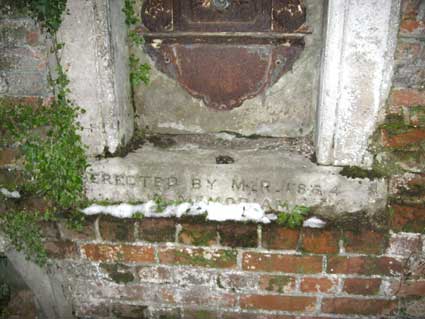 Over the arched top, a quotation from Isaiah 12.3:
'WITH JOY SHALL YE DRAW WATER'

and below;
'ERECTED BY M.R. 1864
IN MEMORIAM'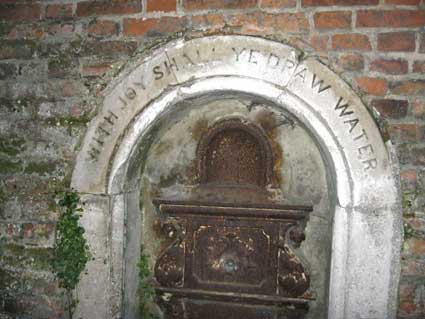 90 East Hill bears a plaque:
'EAST GATE
FELL DOWN 1651
REMAINS REMOVED
1675.'

It stands opposite where the Roman East Gate of Colchester town stood. Across the road, there is no obvious evidence of the Roman wall, although its remains are there, the higher ground that is 'inside the wall' being occupied by the magnificent St. James the Great Church. Indeed, the height of the church is a clue to how this section of the wall once was. East Hill has been cut away to make the gradient easier, where once would have been a much steeper section, around three metres higher, to suit the gate that once stood here. The Roman Camulodunum, having been sacked by Boudicca's Iceni rabble from Suffolk along with estranged Trinovantes from the Essex area, regained the town, killed Boudicca and built a defence wall around Colchester.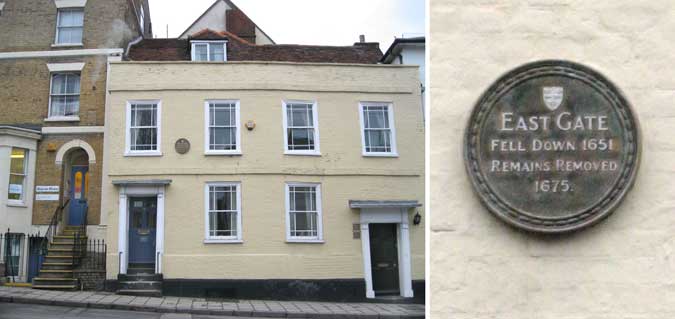 The former Ind Coope brewery at 74-75 East Hill is Listed Grade II: 'The Eagle Brewery' or, more recently, 'Eaglegate'. The main entrance block is by H Stopes, 1888.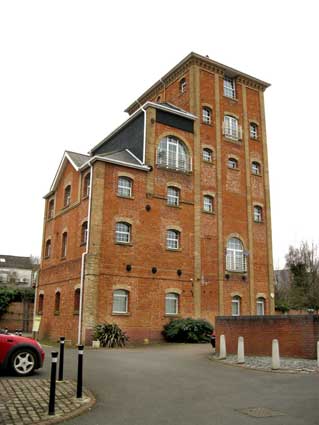 The entrance arch situated to the right leads to another attractive building to the rear: the brewing tower (shown above), rising to six storeys in an interesting configuration.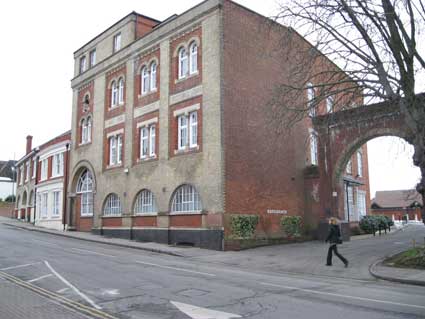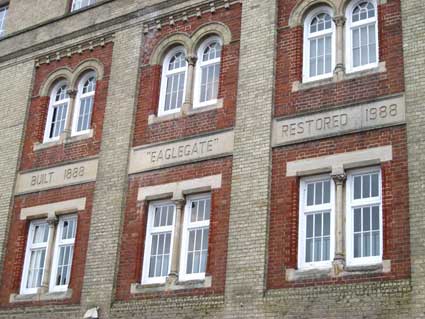 On the frontage between first and second storeys, what we think must all be modern 20th century lettering:
'BUILT 1888 ... "EAGLEGATE" ... RESTORED 1988'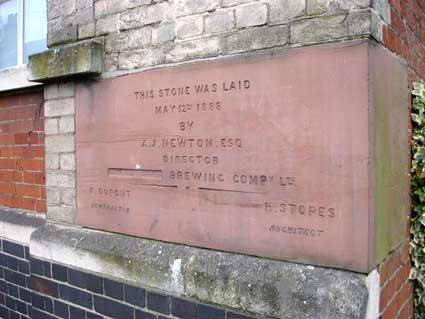 At the bottom right of the frontage is a redstone tablet which reads:
'THIS STONE WAS LAID
MAY 12
TH
1888
BY
A.J. NEWTON. ESQ
DIRECTOR
********** BREWING COMP
Y
. L
TD
.
F. DUPONT
CONTRACTOR
H. STOPES
ARCHITECT
'
The asterisks indicate that the word 'Colchester' has been cut away.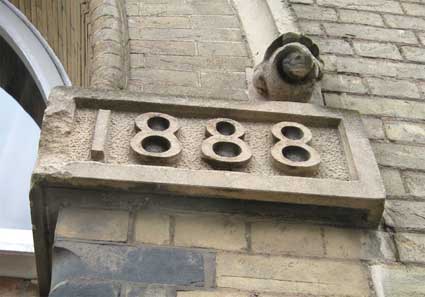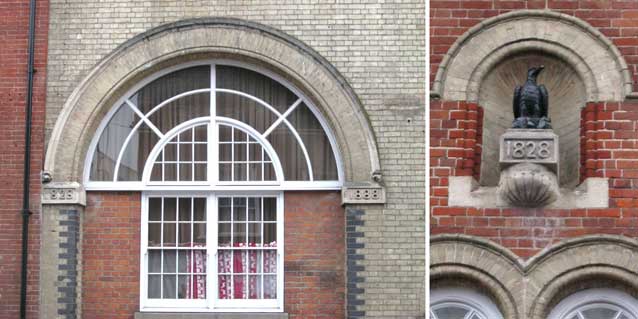 The former coaching entrance to the left is filled in with windows, but the impost blocks of the arch bear two dates: '1828' and '1888'. This suggests that the Eagle Brewery building was built on the site of an earlier (1828) structure. High above this is a wonderful arched niche with a black eagle perched on a block bearing the date '1828'.
The Colchester Brewing Co. Ltd, Eagle Brewery, East Hill was founded in 1828 by Christopher Stopes and Robert Hurnard. Christopher Stopes & Sons were acquired in January 1887 by the Norfolk & Suffolk Brewery Co. Ltd who then changed their title to Colchester Brewing Co. Ltd in September 1887. Also at Langham until 1887. It was acquired by Ind Coope Ltd in 1925 and was closed. Some of their 225 tied houses were sold to Lacon & Co. Ltd in 1926. (
Information from the Brewery History Society website, see
Links
.)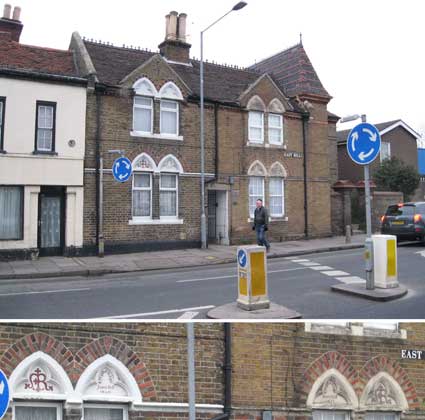 At 55, 55a and 55b East Hill (right by the traffic roundabout where East Hill becomes East Street) is a former orphanage built in 1871, now private housing. Built in stock brick with red brick and stone dressings, there is a steep-pitched roof with decorative tiles including ridge tilesall in the High Victorian Gothic style. It was built as an orphanage for the Church of St James the Great which stands further up and ont eh other side of East Hill, which at this time was being restored by S.S. Teulon. Although no evidence has yet come to light, it would not be surprising to learn that Teulon also designed the orphanage, which would make it a building of national and not just local importance. The gothic lettering can be found above the ground floor windows:
'MR'[*** monogram]
'Orphanage. [this word curving sharply up into the gothic-style arch]
founded
1868'
The windows to the right have not been restored:
'Orphange. [this word curving sharply up into the gothic-style arch]
Erected
1871'
'MR'
***As this was built at the height of Victoria's reign, perhaps this monogram with its trefoils is actually 'VR'?
East Street
At thebottom of East Hill, East Street runs over East Bridge which crosses the River Colne at the site of a huge building, East Mill (now 'The Mill') the 19th century former corn mill of E. Marriage & Son, now converted to accomodation. The metal plaque on the bridge pillaster reads:
'BOROUGH OF COLCHESTER
EAST BRIDGE
BUILT 1802
WIDENED FROM 29 FT. TO 46 FT.
1928
ERNEST H. TURNER.J.P. MAYOR
E. ALEC. BLAXILL.J.P.
CHAIRMAN OF THE
ROADS & DRAINAGE COMMITTEE
HAROLD COLLINS. ASSOC. M.INST.C.E.
BOROUGH ENGINEER'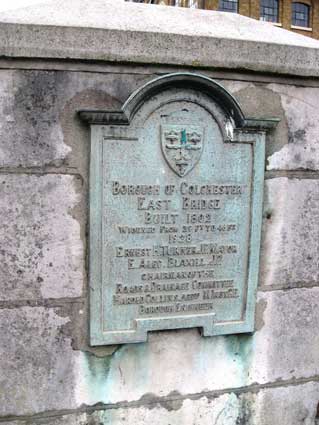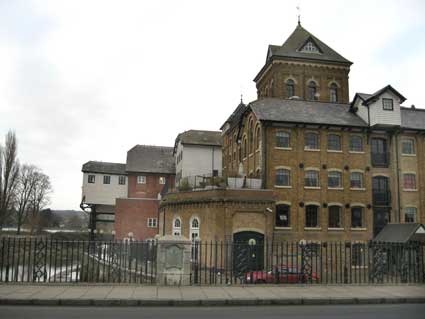 And the nearby Old Siege House is worth a look, even though any lettering is probably modern. It was built in the late 15th Century and it has seen many historic events over the years. In 1648 it witnessed one of the most important events of Colchester's historic paste – the Siege of Colchester. The Siege took place during the reign of Charles 1, and was part of the war between the Royalists and Parliamentarians. The Old Siege House is in close proximity to the castle and at the time of the Siege this restaurant was actually on the road which was once used in the main route to the castle. The building was actually situated next to the bridge which crossed the river that surrounded the town and castle. At the beginning of the Siege of Colchester the Royalists occupied the castle and ruled Colchester. However, this was not to last, since the Parliamentarians used some clever tactics and soon realised if they could capture the road leading to the town and castle that they could gain control. The Royalists, after losing the East Bridge side of the castle, become desperate to gain possession of the route to the castle and town again. They went into battle once more with Parliamentarians and won the Siege. Two days later the Parliamentarians took back control of the East Bridge when they stormed the castle, killing the Royalist Commanders by firing squad. Interestingly, most of the fighting took place on the East Bridge and East Hill. Evidence of the battle can still be seen here today in the Old Siege House, the timber frame of the west side and south front of the building contains many bullet holes from the fighting. Today they are highlighted with red circles. The building still has its original oak panels, fireplaces, tiles and the beautiful stained glass windows which it had at the of the Siege.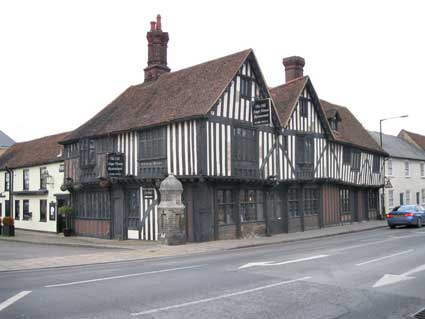 'Formerly
CHARLES BROWN & SONS
AGENTS FOR
SOMERLITE VAPORISING OIL
SOMERLITE LAMP OIL
Restored by Harding Homes, and in association with Colchester Borough
Council, Essex County Council and the Heritage Lottery Fund
Architect: Roy Grimwade RIBA
2004.'

This sign is on the end wall of 62-64 East Street (north side) and faces the roundabout junction with Ipswich Road. It is clear that the distressed background colour with its rather modern drop shadow large and small capitals is a recently-made sign dressed as an old one. The original framed sign on this site can be seen below. The question of whether signs should be retouched or completely repainted is redundant here: presumably refurbishment of this timber-framed building probably involved strengthening of the gable wall and replastering (or re-rendering), so the original, degraded sign would have been lost in the process. Somerlite were oil importers based in Cambridge, and Corgi toys made a model of their delivery tanker which is highly sought-after by collectors. Apparently there is a local history reference to 'W. C. Brown (Somerlite) of Sturton Street, Cambridge'. Perhaps this indicates a Brown family connection.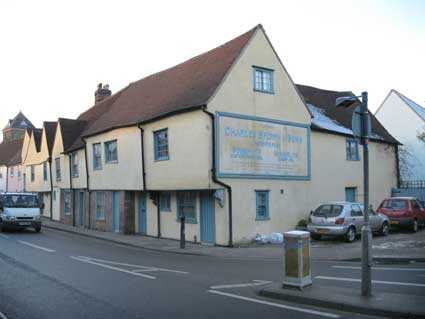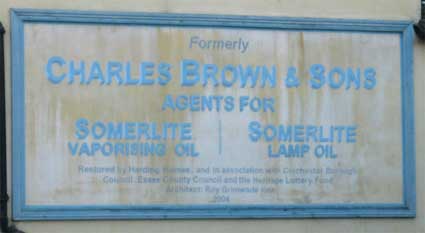 The original sign (below) reads:
'CHARLES BROWN & SONS
AGENTS FOR
SOMERLITE VAPORISING OIL
SOMERLITE LAMP OIL' [with vertical rule dividing the two]
The shop sign 'CHARLES BROWN & SONS' ran above at least two shop entrances (probably a few doors down from the end sign, next to the high coaching entrance) on East Street. The two photographs below were taken by Alan Brignull in 1995 when the hardware business was still trading. Our thanks to him and apologies for not crediting him sooner.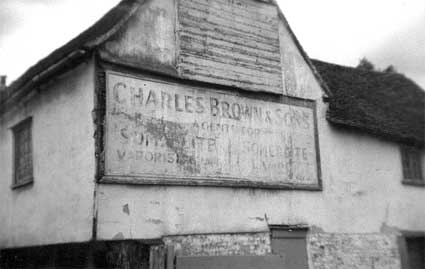 Photographs courtesy Alan Brignull
It is Listed Grade II. The description reads:
"Range of shops and houses. Mid C14 (No. 63), late C15 (Nos. 64 and 65), early C17 (No. 62). Properties amalgamated into one premises late C19 and early C20 and altered. Rendered and colourwashed timber frames; plaintile roofs. PLAN: each part represents a fragment of a once larger house; none retain its original plan form.
EXTERIOR: 2 storeys; 5-window range. Central element consists of a triple-gabled range with underbuilt first-floor jetties. No. 62 (to right) with brick underbuilding pierced by one 5-panelled door, the upper panel glazed, to right of one 2/2 horned sash. Ground-floor of remainder with 2 early C20 glazed shop display windows, each with one double-leaf half-glazed door. First floor lit through 4 2/2 horned sashes, that to right with 6 panes to lower sash leaf. Stack to right of centre on rear roof slope. No. 65 with early C20 ground-floor display window and one glazed door to right. Upper floor with full-height glazing with glazing bars. Rear with 4 gables to roofline. One- and 2-storey C20 extensions, random placement of C20 metal windows, and a first-floor loading door.
INTERIOR: No. 62 with mid C19 stick-baluster staircase with turned newel and ramped handrail. 4-panelled internal doors. East ground-floor room with plank wall lining to 2 walls. Rear room extended to north under a rolled steel joist. First-floor frame with large arched braces to rear wall. The 3 rooms with plank doors. Butt purlin roof (one tier) with straight windbraces. Nos. 63 and 64 comprise the present sales area, the interiors opened into single spaces, leaving side studwork remaining. Winder staircase in west wall. Roof of No. 63 with a 2-bay mid C14 crown post roof, the central post missing. Fragments of crown purlin carried on arched braces. No. 64 with 2-bay late C15 crown post roof. Chamfered square crown posts with crown purlin supported on arched braces. Cambered main tie beam on knuckle braces. No. 65 formerly with ground-floor carriageway with central and end studs terminating with solid arched braces. Roof is a 2-bay crown post type, the posts of square section with slight upper and lower chamfers, supporting a crown purlin on arched braces."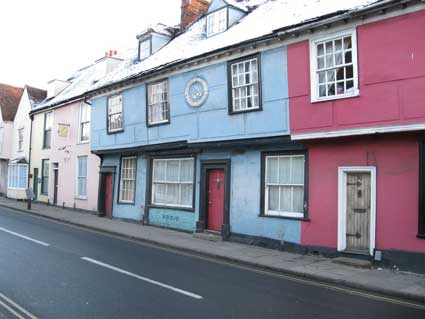 On the south side of East Street, just past the roundabout is an ancient group of buildings with some interesting lettering: two-in-one, indeed. 32 East Street has a floral oval on on its front:
'WRA
1692'
and on turquoise ceramic tiles below the shop window:

'R.B. EVE'
This is also Listed Grade II. "A good C16 building, with additions circa 1700. 2 storeys and attics, 4 dormers (central 2 gabled and 2 hipped), the roofs tiled. Cellars. The upper storey projects on the whole front and is plastered in panels. At the east end of the projecting upper storey is an original carved bracket. 6-window range of double hung sashes with glazing bars, in flush cased frames, some original. Late C17 wood modillioned eaves, cornice. The ground floor has some small Cl9 add?? modern shop windows. Near the middle of upper storey is a plaster oval wreath enclosing initials and date [W]RA 1692." The descriptions quoted here are from Colchester Historic Buildings Forum (see
Links
).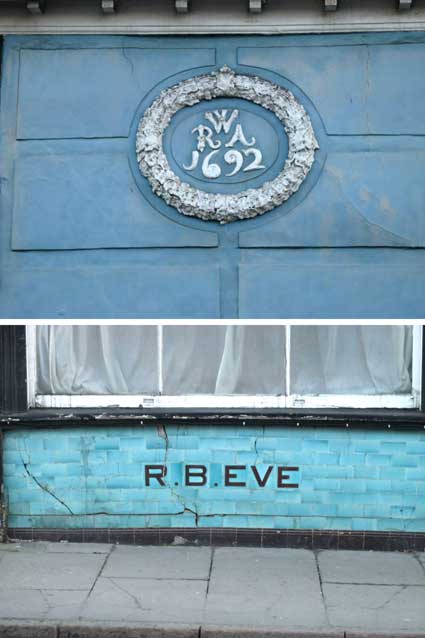 There are pages for
Manningtree
, not far up the railway line from Colchester also
Harwich
(also boasting a similar Co-op 'Labor & Wait' motto).
Lexden Road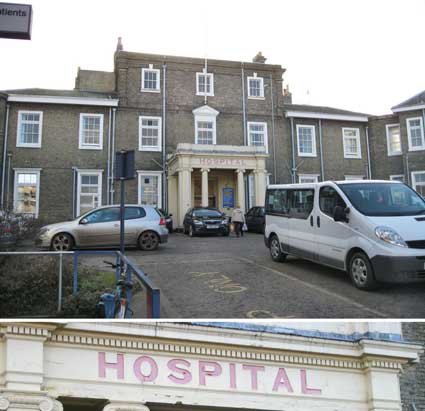 2013 images
Colchester Hospital still operates, quite close to the town centre. It has 'HOSPITAL' cut into the portico (and painted pink...).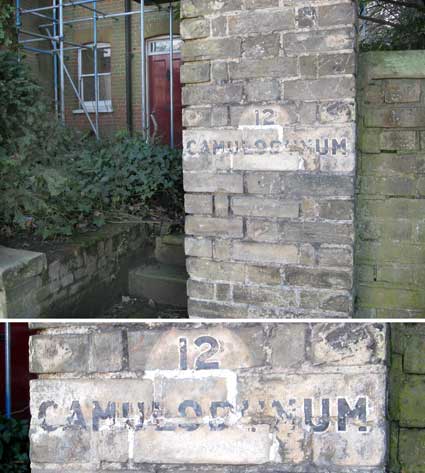 A little further out of town is a private house which was undergoing building work in February 2013. The white brick gatepost has the characters:
'12
CAMULODUNUM'

on it, although it looks as though this was once covered by a shaped metal plate (see recent occupants below). Built in 1876 for the Nunn family and known as "Camulodunum" from the beginning. It was later used as a nurses' home. It was occupied by the Colchester Archaeological Trust from 1981 till 2012. The name is that of Roman Colchester. One website says that the local council did not step in to save the house as a public building.