Collage of lost signs
Title image:

''W. RUSH, WEST END, FISH, GAME & POULTRY MART, ICE IMPORTER' (46 Norwich Road, a dated building – now The Maharani Restaurant, see the surviving illustrated game/hunting ceramic murals inside.)

From the bygone age of 'words on buildings' a selection of Ipswich's long-lost lettering samples. Spot the odd-one out.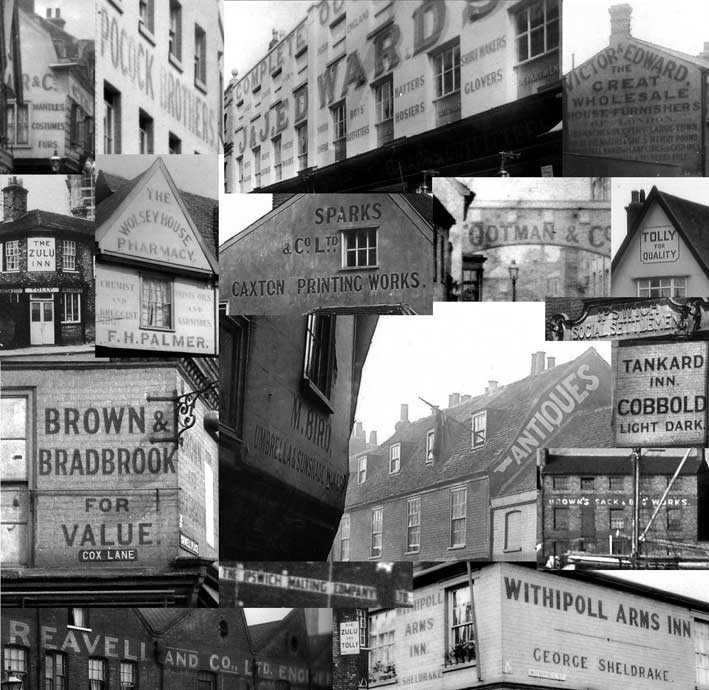 From left to right:


'...R&Co. MANTLES, COSTUMES, FURS' (corner of Dial Lane and Tavern Street)
'POCOCK BROTHERS' (Tavern Street)
'COMPLETE OU[TFITTERS] J&J. EDWARDS; LARGEST STOCKS IN EASTERN ENGLAND; MEN'S TAILORS, MEN'S CLOTHES[?], YOUTHS' TAILORS, YOUTHS' CLOTHES[?], BOYS' OUTFITTERS, HATTERS HOSIERS, SHIRT MAKERS GLOVERS' (Tavern Street, next to Great White Horse)
'VICTOR & EDWARD. THE GREAT WHOLESALE HOUSE FURNISHERS OF LONDON. BRANCHES IN EVERY LARGE TOWN. etc.' (Queen Street)
'THE ZULU INN ... TOLY'' (see below)
'THE WOLSEY HOUSE PHARMACY. CHEMIST AND DRUGGIST, PAINTS OILS AND VARNISHES, F.H.PALMER.' [interesting combination of trades...] (corner of St Nicholas Street and Silent Street)
'SPARKS & CO. LTD. CAXTON PRINTING WORKS.' (corner of Cutler Street and St Nicholas Street)
'FOOTMAN & CO.' (bridge over Tower Ramparts, opposite rear of Debenhams, fomerly Footman Pretty & Nicolson's store 'Waterloo House')
'TOLLY FOR QUALITY' (The Ostrich, Wherstead)
'IPSWICH SOCIAL SETTLEMENT' (Fore Street), demolished 1961 as part of the tidying-up of Fore Street, prior to the Queen's visit on 21 July. It also bore the legends: 'For God and the People', 'Club Entrance', 'Hall Entrance'
'TANKARD INN COBBOLD LIGHT DARK' (Tacket Street)
'BROWN & BRADBROOK FOR VALUE.' (corner of Cox Lane and Orwell Place)
'M. BIRD. UMBRELLA & SUNSHADE MAKER' 'ANTIQUES' ( both St Nicholas Street)
'BROWN'S SACK & BAG WORKS' (later John Good & Sons, Wet Dock, Wherry Quay)
'THE IPSWICH MALTING COMPANY LTD.' (Wet Dock, New Cut West)
'REAVELL AND CO. LTD. ENGINEERING' (Ranelagh Road)
'THE ZULU INN TOLLY ALES & STOUT'[?]' (Wolsey Street)
'WITHIPOLL ARMS INN, G. SHELDRAKE; WITHIPOLL ARMS INN, GEORGE SHELDRAKE' (corner of St Margaret's Green and Cobbold Street – now an antique furniture shop; this was the site of Jacob Garrett's foundry, responsible for casting many milestones)

All are trade signs except

the odd one out

: the Ipswich Social Settlement sign; it stood on Fore Street opposite where the new university building now stands. It opened in the late 1890s as a community centre for the thousands of residents who lived in the town's very poorest area around Fore Street. After closure, the main hall of the settlement was converted into the Empire Cinema ('The Tuppeny Rush' in the local vernacular) and the building eventually came down in the 1950s.

See also our page of Ipswich lost trade signs.



Home

Please email any comments and contributions by clicking here.
©2004 Copyright throughout the Ipswich Historic Lettering site: Borin Van Loon
No reproduction of text or images without express written permission