Crane Engineering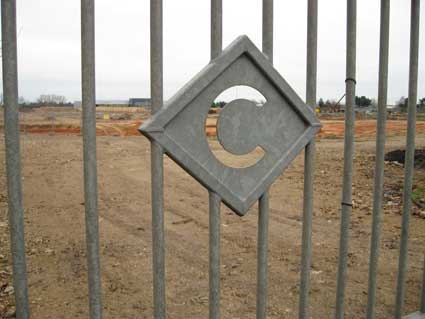 2013 images
Founded in Chicago in 1855 by Richard Teller Crane, Crane Company is a diversified manufacturer of highly engineered industrial products under five business segments: Aerospace & Electronics, Fluid Handling, Engineered Materials, Merchandising Systems, and Controls with approximately 12,000 employees worldwide.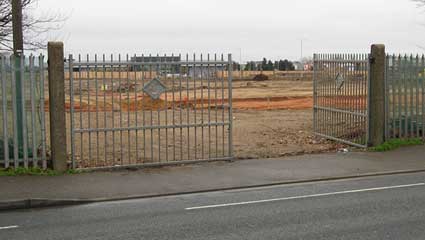 The site in Nacto Road is 44 acres in area and was cleared in 2011/12. There were two pairs of gates on Nacton Road, but by the time of these images in January 2013 the pair nearest to The Thrasher public house had been removed and a service road cut through.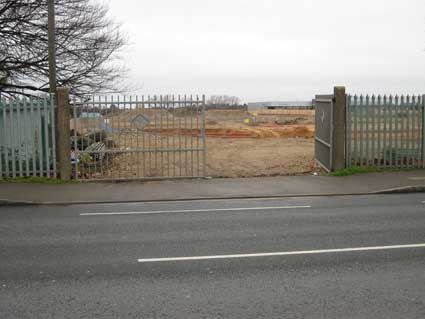 In the distance can be seen the grey Waitrose supermarket block. This area has been dubbed Futura Park although we can't see any obvious connection with the sans-serif Futura typeface designed in 1927 by Paul Renner, which was based on geometric shapes that became representative of visual elements of the Bauhaus design style of 1919–1933. The official opening of the development site on Thursday November 1 2012 of James Bennett Avenue and Crane Boulevard showed that the names of the roads were chosen as a nod to the site's history. Crane Boulevard, which connects with Nacton Road, is named after Crane Co of Chicago, by that time a global concern. It was the engineering company that bought the site in 1919 and operated a foundry there for 83 years. James Bennett Avenue, which links with Ransomes Way, is named after the engineer who established Crane Co's UK operations during the 1920s. The foundry closed in 2008 when production was moved to China.

[

UPDATE

11.4.2016:

John Barbrook

spent the majority of his professional life with Crane in Ipswich:
"During the peak years of their size during the late 60s to early 80s they produced not only hundreds of thousands of bronze, iron and steel fluid flow control valves over a very wide range of sizes, but also equally large numbers of heating boilers and radiators. However, the tonnage of even this massive output was dwarfed by the 1½ million or so iron pipe fittings which they cast and machined each week.

Like most manufactured goods, the majority of the products had the CRANE name on them somewhere. But in the case of the iron pipe fittings, they had traditionally always had the letter C contained in a diamond-shaped lozenge cast into them (and in most cases also the BS kite mark).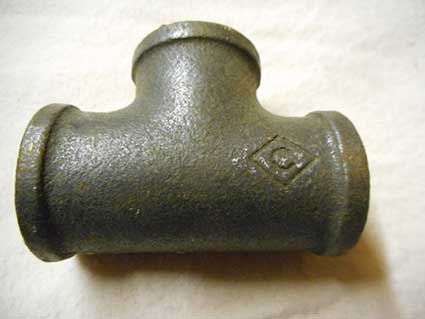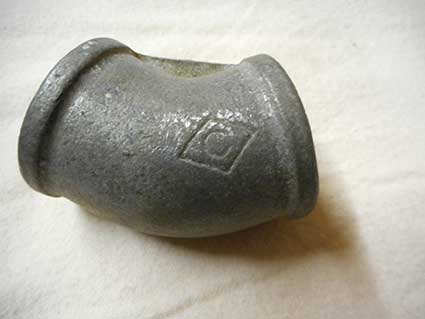 Photographs courtesy John Barbrook



Over our years of holiday travel around Europe, America and Canada, often much to the annoyance of my wife, whenever I spotted any exposed pipe-work, I triumphantly looked for the Crane 'C'. I found them 2000 feet down in a Derbyshire coalmine, and in 'dry-riser' pipe work at both the top of the spire of Salisbury cathedral and the top of the Eiffel tower in Paris.

The front of the premises in Nacton Road – unlike any other engineering plant I knew – always had well manicured lawns and flower beds in front, with a line of mature flowering cherry trees, a sight worth seeing when they were in bloom. However, for security reasons, there had to be a substantial fence – pity. Around 30 years ago (I think), the ageing steel mesh fence was replaced by a more business-like spike-topped one, sadly making the place look more like Colditz. I was unable to persuade them to place the new fence on the factory side of the gardens. The Nacton Road area was not renowned for strict civil obedience in those days by some sections of the population, and I think there were fears of vandalism.

Touchingly, however, the Crane diamond C lozenge was set in the centre of the new gates. Two of these gates are still there in the remaining section of fence [as shown above] which the site developers have not yet managed to rip down. All the gardens and trees were of course swept away (along with the original foundation stone laid by in 1921 which I asked them to save).

I have attached a shot of just two pipe fittings of the many hundreds of types and sizes."

Many thanks to John for this "horse's mouth" account of Crane Company.

]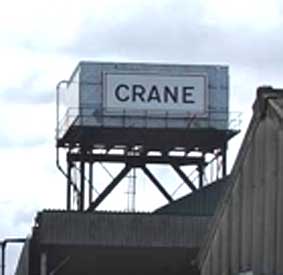 For many years the Crane sign was visible from the road high up on a water tower. Never the most attractive of industrial complexes, it has all gone now. For a photographic tour of the abandoned site before demolition, try the Derelict Places website (see Links).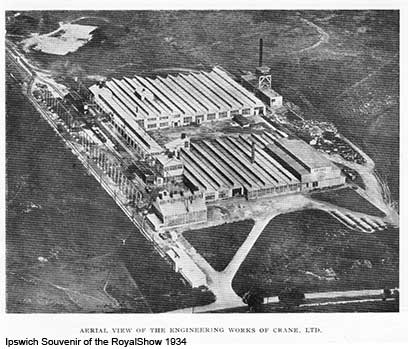 Above, the Crane engineering works in 1934 from the air – the Ipswich airport was nearby; it was virtually a greenfield site, by the look of things.

The other place in Ipswich where Crane Co is commemorated is the small garden at the top of Upper Orwell Street.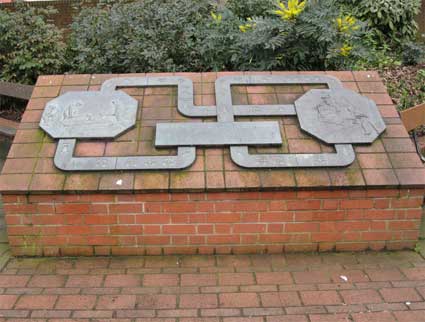 The central plaque reads:


'THIS GARDEN WAS OPENED ON 30 MARCH 1977 BY THE MAYOR OF IPSWICH
COUNCILLOR H.R. DAVIS
IT WAS PRESENTED TO IPSWICH BY CRANE LIMITED MANUFACTURERS OF
MALLEABLE IRON PIPE FITTINGS AND BRONZE AND STEEL VALVES
IT MARKS THE FIFTIETH ANNIVERSARY OF THE FIRST METAL POURED
IN THE MALLEABLE FOUNDRY OF THEIR IPSWICH FACTORY
AND IS IN APPRECIATION OF THE SUPPORT GIVEN BY THE
TOWNSPEOPLE TO THE COMPANY OVER THE YEARS.'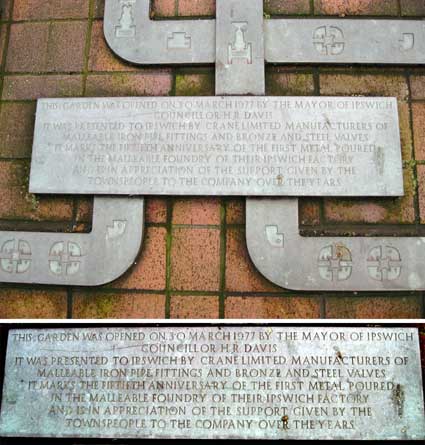 The octagonal reliefs on either side show molten metal being poured and the lettering:
'DISA
MATIC'
in the right hand background.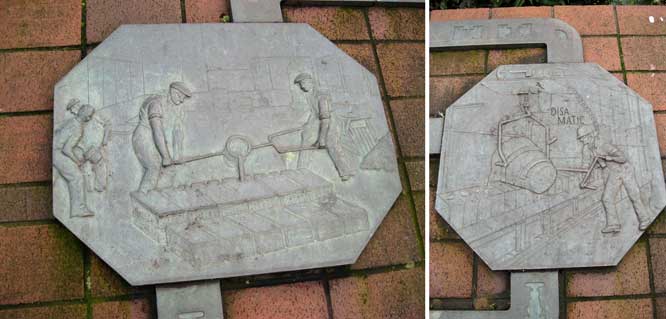 John A Green was born in Ipswich in 1932, son of a Master Mason. He gained his Master Mason Certificate in 1951. He studied at Ipswich School of Art (1951-54) and the Royal College of Art (1954-57) where he was encouraged by Prof. John Skeaping. From 1957 until 1959 John was assistant to Jacob Epstein. His main run of work is the restoration of church monuments. His work in Ipswich is this bronze panel on a brick plinth, symbolising the technical development in foundry methods during the fifty years since the firm Crane's came to Ipswich.

Crane Co history
The 'Crane' name continues in the name of the hill on London Road coming out of the town towards Colchester just after it crosses the railway line. This stretch of road is known to locals as 'Crane Hill' (although no signs are visible, the name is certainly there on street maps – it's the home of a milepost) which relates to Crane Hall, home of the engineering family. The Victorian brick encasement completely hides the original 16th century timber framed structure. Later development of the site for residentail use resulted in the rendering and painting of Crane Hall as well as intenal modernisation as offices. British Listed Buildings (see Links) shows Crane Hall as a Grade II structure standing close to Kelly Road on the north-west of London Road (the Dickens Road side) and we recall that Thompson & Morgan occupied these offices. This famous seedsman's company started in the mid-19th century in a small garden behind a baker's shop in Tavern Street, Ipswich, tended by William Thompson, the baker's son, who specialised in raising rare plant species. That company still trades today from Poplar Lane on the western edge of Ipswich.

Cranes in Suffolk can be traced back to the Norman Conquest and ensuing settlements in East Anglia; by the 15th centry it was a wealthy family with extensive estates. Some members of the Crane family emigrated to Massachusetts in eastern America in 1636 accompanying John Winthrop. Winthrop became the first governor and Timothy and Maria Crane (née Ryerson) is recorded in New Jersey at around 1730. They appear to be descendants of the Ipswich family. In 1732 they had a son, Richard Teller Crane. He eventually founded what was to become Crane Co in 1855 in Chicago. In 1855 he founded the R.T. Crane Brass & Bell Foundry in Chicago. Crane produced valves, fittings, and specialty castings for a growing industrial America.

The site on Nacton Road in Ipswich was bought in 1919 by Crane Co of Chicago, then owned and run by Richard Teller Crane Junior (who also became a philanthropist to our town) and a massive factory initially using American machinery and know-how was set up. Richard Teller Crane Jnr and his father before him lived in Ipswich, Massachusetts in the USA, where the family built a large mansion which stands today. It would seem that the Ipswich, Suffolk factory site location was acquired mostly due to an acknowledgement of the family ancestry. During its 90 years in Ipswich it employed thousands of local people and during the 1970s became the largest manufacturing employer (around 3,000) in Ipswich, alongside other more locally established companies like Ransomes Sims & Jefferies, Ransomes & Rapier and Reavells. Similar Crane subsidiaries were established in most European countries and in Australia.

[

UPDATE

15.8.2013: "Dear Sirs, I don't know if this is any interest to you but my Great grandfather James Henry Moore, married in Ipswich in 1865, had his marriage certificate witnessed by George Joseph Crane and Harriet Crane. Given that g. grandfather was an architect surveyor I wonder if he was engaged by the Cranes. If you know of any way of looking more deeply into this possibility I would be keen to know. Thanks for your patience, David Moore."]

See also our Lettered castings index page.






Home

Please email any comments and contributions by clicking here.
©2004 Copyright throughout the Ipswich Historic Lettering site: Borin Van Loon
No reproduction of text or images without express written permission