Elliott Street Bakery
Elliott Street is one of the modest streets of small terraced houses which survive between Handford Road and London Road. The importance of the neighbourhood bakery in times past is symbolised by the sign at the corner with Gibbons Street. The corner shop doorway and the shop window to the right would welcome customers; both of these have been bricked in; it is not certain whether the upstairs window would have been bricked in when the bakery was in operation.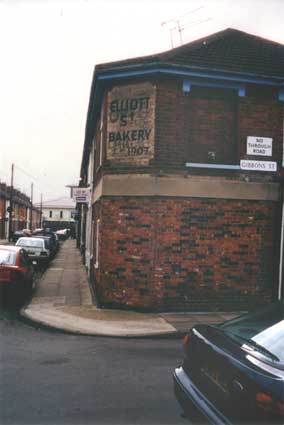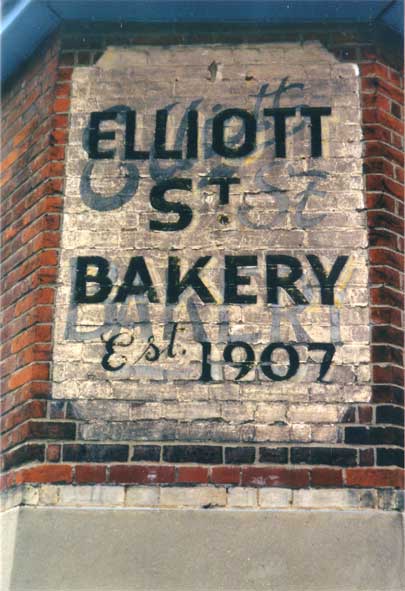 2001 images


This remarkable survivor is one of the finest examples of trade lettering we have found in Ipswich. Time has caused the layers of paint to weather and the bold block capitals in black with a cream coloured drop shadow (close inspection reveals that this element was originally yellow), plus date:


'

ELLIOTT

S

T.

BAKERY

Est. 1907'

can now be seen floating on earlier cursive lettering, minus the date. All this on a traditional cream-white painted cartouche. The signwriter of the original lettering certainly left a more personal touch. The serpentine cross on the double-'t', the flourish underlining 'Elliott' springing from the final 't', the unusual flourish from the top of the capital 'S' of 'St', the uncomfortable inter-character spacing of the first two serif'd capitals of 'BAKERY' and two curly underlines running behind the later date at the bottom.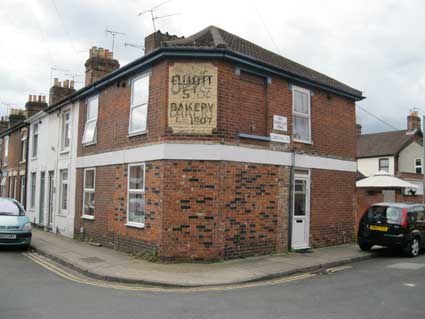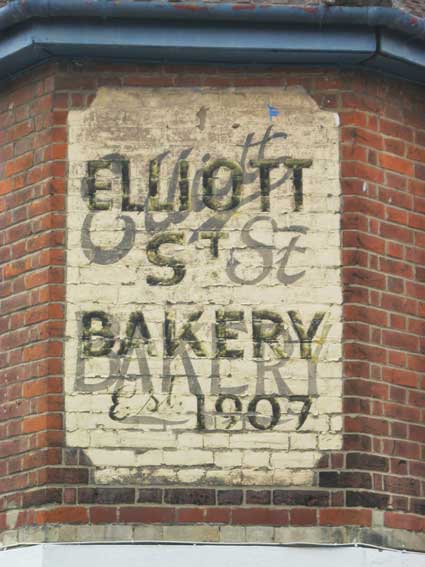 2014 images





The naming of the street


Borin Van Loon gave a talk on this website project to the annual Recorders' Day in October, 2004 organised by Suffolk Local History Council which exists to encourage, promote and assist the study and research of local history in the county of Suffolk. An audience member said that she recalled regular visits to the bakery in Elliott Street when she was young and lived in the area. The name of the street is said to commemorate a slavery abolitionist as does Gibbons Street; however, the spelling of 'Eliot' differs. See that page for an 1867 map of the area.

Chris Rudland wites: "My Nan has recently shown me a photograph of my Great Grandfather in full WWI uniform sat on a horse outside his shop Rudland & Sons, Elliott Street Stores. There are signs up advertising Bovril and Soap amongst others and a prominent sign showing our family name and Elliott Street Stores. It is on a corner and looks remarkably similar to the Bakery. There is a woman shop worker and 2 small children in the doorway in the photo but we do not know who they are.
So far my limited Google searches have not come up with anything apart from the picture of the bakery on your website. I believe that this Bakery once was my Great Grandfather's shop. We don't know the date range when he was owner of it but we know he served in WWI and the last use of the shop must have been as a Bakery as the lettering is still on the wall dated 1907.
So its safe to assume he owned it up until 1907."





Home

Please email any comments and contributions by clicking here.


©2004 Copyright throughout the Ipswich Historic Lettering site: Borin Van Loon
No reproduction of text or images without express written permission