'BANK ... The Capital & Counties'
The Capital and Counties Bank group was taken over by Lloyds Bank in 1918.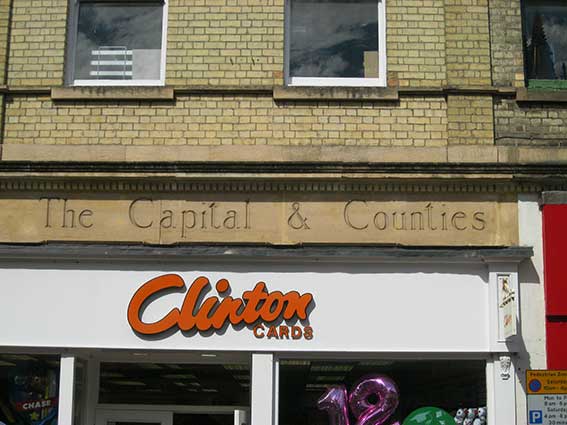 The letterforms chosen for this section of the sign – very different from the deeply incised 'BANK' in is cartouche at the corner entrance – show style and flair. It looks as if it came from the Letraset catalogue around 1970: the condensed characters with the 't' having a very highup cross-bar and a rather wonderful ampersand.
The Hampshire Banking Company was established in Southampton in 1834. It quickly expanded, rescuing a number of failing firms, and became the first English bank to establish a presence in the Channel Islands. The North Wilts Banking Company was established in Melksham in 1835, from the private bank of Moule & Co. established in 1792. The Hampshire & North Wilts Banking Company, as Capital & Counties Bank was originally known, was formed in 1877. It was a result of a merger between two already well-established joint-stock banks, the Hampshire Banking Company and the North Wilts Banking Company. The new bank was renamed Capital & Counties in 1878, the directors having decided that they wanted a less provincial title.
The newly merged bank had its head office in Southampton and 56 branches throughout the south and south-west of England. The next half century saw further expansion, mainly under the direction of Edward Merriman. He was the bank's chairman between 1885 and 1915. In 1878, in an attempt to gain entry into the London Bankers Clearing House, Capital & Counties purchased City of London bank Willis, Percival & Co. Membership of the Clearing House was deemed important as it was an acknowledgement that a bank had really arrived in London. Several of Capital & Counties' applications failed, but it was eventually accepted as a member a few years later. Soon after, it moved its head office to Threadneedle Street in London. The Bank continued to expand through a series of takeovers and branch openings; at the start of the 1890s it had emerged as one of the few banks to have a truly nationwide network. By 1918 it had 473 branches when it was taken over by Lloyds Bank in 1918.
26 High Street