The Golf Hotel and the 'Tolly Follies'



Standing on the outer reaches of Foxhall Road is one of a collection of 1920s/1930s

'Tolly Follies'

: large, mock-baronial, eyecatcher public houses designed by the architect John Shewell Corder to emmulate the style of Helmingham Hall*, home of the Tollemache family, located around ten miles to the north of Ipswich.


Tolly Follies

:-
The Golf Hotel, 748 Foxhall Road,
The Haven, 346 Felixstowe Road – much later renamed The Crown and converted into flats,
The Golden Hind' 470 Nacton Road,
The Cricketers – once the Town House – 51 Crown Street,
The Suffolk Punch, 3 Deben Road (corner with Norwich Road),
The Waveney Arms on Bramford Road closed in 1994 and stood empty for a number of years, before being shamefully demolished for housing.
The Safe Harbour, which stood on the corner of Highfield & Meredith Roads on the Whitton estate, closed for business in 1995 & was (ditto) demolished two years later.
The Golden Hind in Cambridge is the only Tolly Folly outside of Ipswich; it is the twin of The Golden Hind in Nacton Road.

N.B. Some sources quote the following as Tolly Follies:
The Margaret Catchpole, Listed Grade II*, on Cliff Lane, a large public house built in 1936 designed by Harold Ridley Hooper of Ipswich, for the Cobbold Brewery; intended as a rival to the Tolly Folies. By the look of the frontage, the same could be said of:
The Royal George at the junction on Colchester Road (the last named two are substantial buildings but lack the mock-grandeur of the Tolly Follies).
(*Helmingham Hall is a moated manor house in Helmingham, north of Ipswich. It was begun by John Tollemache in 1480 and has been owned by the Tollemache family ever since. The house is built around a courtyard in typical late medieval/Tudor style. It is not open to the public, although the grounds are.)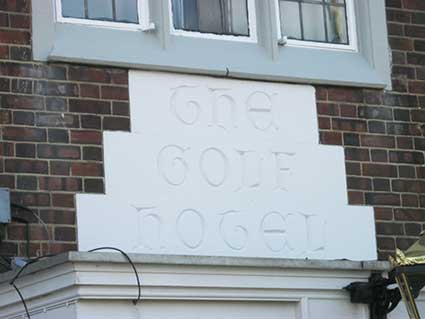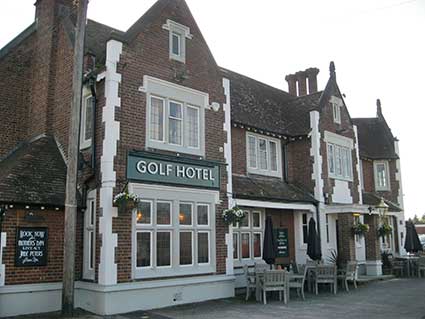 2017 images
The frontage on Foxhall Road bears, above the main entrance, a stepped panel bearing the decorative, incised words:


'THE
GOLF
HOTEL'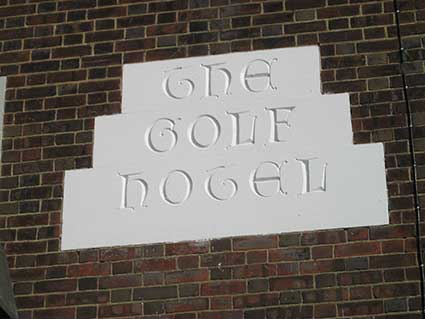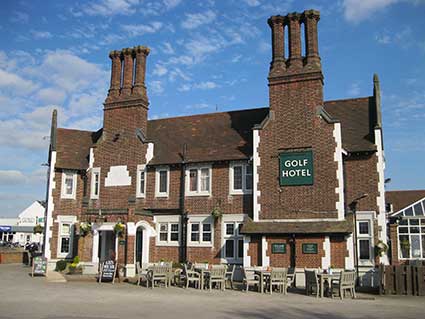 Above: the panel is repeated quite high up on a chimney breast above the west side entrance – much sharper in the spring sunshine on this elevation.

Inside the building the vintage golf imagery which once decorated the walls has largely gone, to be replaced by 'olde worlde' framed prints including this hammed-up version of the Borough coat of arms. The odd, asymmetrical red adornments above the coat of arms enclose an exclamation mark, for some reason. It is as if the upper lion is astonished to find himself holding a galleon – as well he might be. This is taken from the "Ja-Ja" Heraldic Series.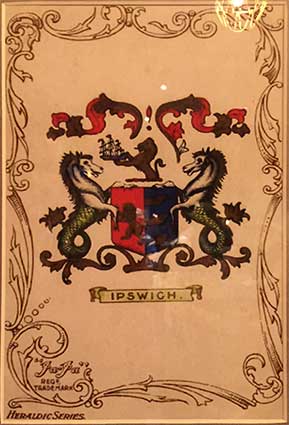 2017 image
Heraldic postcards (and presumably larger prints, as shown above) for authorities all over the country, using the trade mark "Ja-Ja", were issued by Stoddart & Co, Halifax, West Yorkshire, England. The company was established in 1905, but had ceased publishing postcards by 1917.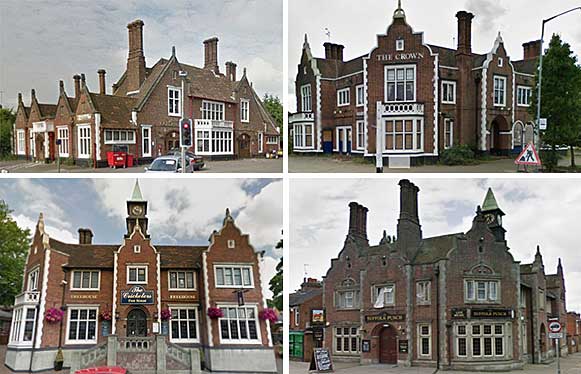 Above the other 'Tolly Follies': The Golden Hind, The Crown (Haven), The Cricketers, The Suffolk Punch. See our page on Public clocks in Ipswich for a 2018 view of The Cricketers and its clock.
Below: the Tudor inspiration for the pubs.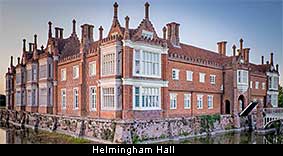 Below: the only Tolly Folly outside of Ipswich.


Ipswich architect John Shewell Corder is commemorated on a plaque in Tooley's & Smart's Almshouses courtyard garden. He was the architect of the Scarborow shop in Dial Lane. He was a prolific illustrator of Ipswich architecture and street scenes:

The Corner Posts of Ipswich

(1890) and

Christchurch or Withepole House: A Brief Memorial

(1893) – the latter quoted on our page about the Withypoll memorials. He was a man who loved his home town and, architecturally, left his mark on Ipswich.

See also our Pubs & off-licences page.





Home

Please email any comments and contributions by clicking here.

Search Ipswich Historic Lettering


©2004 Copyright throughout the Ipswich Historic Lettering site: Borin Van Loon
No reproduction of text or images without express written permission