Harold Withers' business/religious-meeting premises in Carr Street at the turn of the 19th/20th century





HAROLD HULCUPP WITHERS


In 1891, at the age of 17, Harold was living with his stepfather William Rapley and mother Decima in Surbiton Cottage, Fisherton Anger, Salisbury, with employment as a "Grocer's Assistant", and at the time of Decima's death in 1893 he was a Railway Clerk. He moved to Ipswich in 1896 to work in his sister Lydia's dairy at 32 Orford Street. In that same year he became proprietor of the East Anglian Cycle Works at 60 Carr Street. Harold had been a Wesleyan Methodist and secretary to the Wesleyan Mutual Improvement Society, but formally converted to the Christadelphian faith on 1st February 1896, at the age of 23, shortly before his relocation from Salisbury to Ipswich. He was the sole Christadelphian in Ipswich (of a population of 60,000) until two others (Mr & Mrs E A Parsons) moved there from Salisbury several months later, they having also converted from Methodism. In 1896, Harold and the Parsons took up residence above a shop at 60 Carr Street, Ipswich, and the Christadelphian meetings were held there. It was recorded in the Christadelphian magazine in 1897 that 60 Carr St was no longer being lived in but was still in use for meetings, and it continued to be used for that purpose for several years after. Some history of the property follows:

60 Carr Street, a brick building with tiled roof, had been auctioned in 1858 from the estate of a Mr Tovell. The auctioneers described the property as a "commodious family house" with a "spacious pleasure garden". No part of the property was in use as a shop at that time, the ground floor comprising living quarters including "handsome entrance hall and vestibule" and six rooms. The first floor had "five airy sleeping rooms, with spacious landing, and water closet". On the second floor was a "servants' sleeping room". The garden was walled in, with an entrance from Union Street forming a public right of way. By 1865, at least part of the ground floor had been converted into a greengrocer's shop in the name of Samuel Hedges.

The census of 1881 recorded the head of household at No. 60 as Frederick Barker, occupation Accountant, and an 1881 rate book records the owner of the "House and Garden" as S. P. Closson, with Frederick Barker as the occupant. A directory for that same year recorded the shop as vacant. In 1882 the property came into the ownership of William Joseph Webster.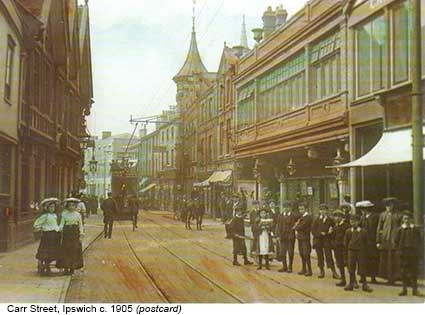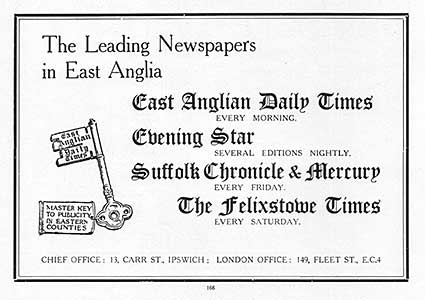 1932 advertisement
[Above: the 1905 postcard shows a much narrower Carr Street than we are used to today. At the right behind the young people is the Lyceum Theatre: opened in 1891, it later became a cinema, then closed down and reopened as a department store. Remarkably the theatre remained in use as a department store until the late 1980s when it was finally demolished and the Carr Street shopping precinct was built on the site. This misbegotten venture also saw the demolition of the rather fine

East Anglian Daily Times

building with its recognisable turret and spirelet at the corner of Little Colman Street in 1966; the newpaper publishers had been in the building at 13 Carr Street since 21 June, 1887. The Cross Keys Hotel on the left of the street closed in 1938. Don't forget: '

East Anglian Daily Times

: master key to publicity in eastern counties'. See our Symonds for Kodaks page for more about this area.]


By 1885, the property had divided into two, Nos. 60 and 60a, with the former occupied by Baker & Co, London Supply Company, and the latter by pork butcher, poulterer and dairyman George Norton. In 1890 they were occupied by Baker & Raynham (as Tea Dealers, Grocers and Provision Merchants) and George Norton respectively; and in 1894 by a dairy in the name of George Baldwin and still by George Norton. [We might surmise that dairy owner Lydia had some influence upon Harold's move into No. 60 if, as seems likely, the commercial part was still being used for dairy purposes upon his move thereinto in 1896.] In 1898, whilst still at 60A Carr Street, Harold became a member of the Suffolk Fat Cattle Club ('fat cattle' being a class of beef cattle judged ready for slaughter to provide prime cuts of beef), thus it is possible that he had a connection with the meat business in addition to his cycle business.

By 1910, 60 & 60a Carr Street had become a warehouse for domestic machinery and a general and fancy draper, the latter in the name of Mr. A. E. Reynold. The owner of the properties was William John Barker Webster, he having inherited them from William Joseph Webster who had died in the March of that year.

Both properties were sold in June 1910 to the Ipswich Industrial Co-operative Society Limited for £1270. At the time of the sale, the ground floor comprised two double-fronted shops with a showroom, a dining room, a kitchen and a "passage with China pantry". On the first floor were the five bedrooms, approached by a double staircase and landing. At the rear was an enclosed paved area with several outbuildings including water closet and "fowlhouse", and the walled garden. In 1914 the properties were demolished for rebuilding as the Co-op's central grocery department. The Co-op building still stands but is vacant (February 2013). From 1903, Harold was reporting to the Christadelphian from 11 Great Colman Street, thus indicating this as their new meeting place. Harold and his wife may have lived in this fairly substantial property, which still stands and was recently converted into four leasehold flats (as at February 2013).

In 1912, Harold wrote from 110 Alan Road (a still-extant end-of-terrace house built in 1876) to declare that he was retiring as the Ipswich ecclesia's reporter to the Christadelphian, however he commenced reporting from Haverhill upon his move to that town in 1917 and he continued until his death in 1958. In 1954 he was reporting from Hampshire House (34 High Street, Haverhill, which he'd recently bought together with No. 32A) having moved there from No. 32 and wherein he set a room aside for Christadelphian meetings.

Harold married his first wife (Agatha) Grace Garrood, also a Christadelphian at the time of their marriage, on 23rd November 1899, the marriage certificate recording that he was a 26 year old Cycle Manufacturer and that she was a 27 year old Dressmaker though she was in fact aged 30 (note: the 1901 census shows Harold as 27 and Grace as 28. It also shows Harold as a "Cycle maker and agent" of Ipswich, St. Margaret.). His address is given on the marriage certificate as 32 Orford Street, Ipswich (this was his sister's dairy; she lived in a wooden bungalow in Spring Road, Ipswich, where now stands a housing estate built in the 1960s). Grace's address was given as 4 Star Lane, Foundation Street, Ipswich. Both fathers were deceased at the time of the marriage.

Grace's father Joseph Wallis Garrood (b. 28.6.1842 Burnham; d. 7.2.1894 Bow) was a Master Mariner, i.e. a Sea Captain, and her mother Fanny (nee Taylor; b. 24.4.1841 Ipswich; d. 11.9.1927 Ipswich) was the daughter of a Butcher who owned his own shop in Quay Street, Ipswich. Their children were Alice (b. c1864; m. William Mills – b. c 1862 Ipswich), Ada (b. c1867; m. Henry Sutton – b. c1866), Mary (b. c1868; m. George Mee – b. c1861 Bramford), Agatha [Grace] ( b. 1869, d. 1913 Ipswich; m. Harold H. Withers), Adela (b. c1871; m. Maurice Hayward – b. c1874), Harriett (b. between 1873 & 1883 Ipswich) and Joseph (b. between 1873 & 1893 Ipswich).

Grace's grandfather John Joseph Garrood (b. 14.12.1812 Burnham; d. 3.11.1872 Bow) was a Baker, firstly in Burnham, then in Ipswich and eventually in Bow, East London. He married Ann Wallis (b. 1815 Mundon, Essex; d. 4.2.1853) on 3.11.1835 Burnham.

Grace's great-grandfather John Garrood ( b. c1783 Brundish, Suffolk) was a Blacksmith by trade but ventured into the coal trade and, along with his son John Joseph, owned two colliers that plied between Burnham-on-Crouch and Sunderland. He also had a couple of coal yards, one in Burnham and another in Kelvedon, where he sold coal brought from the north of England. He also owned many shops and houses in Burnham. John married Betsy Jerrold (b. c1816 Blyburgh; d. 18.9.1864 Burnham, Essex) 21.11.1805 Blyburgh.

The 1911 census shows Harold and Grace living at 5 Redan Street, Ipswich, with children Grace Doris (10), Vera Joyce (9), Harold Roy (5), Ivan Joseph (4), Eileen (2) and Keith (4 months). They also had a servant Ellen Stone (14). Grace died on 29th March 1913, aged 41, in the East Suffolk Hospital in Ipswich of Operation Exhaustion, with Intestinal Stasis. Harold was present at the death. Their address at the time was 5 Alpe Street, Ipswich, which was just around the corner from Lydia's dairy, and Grace's occupation had been Dairyman's Assistant. Keith died aged 3 on November 13th in the same year as his mother.

Following the death of Grace, in 1916 Harold married Lily Violet Driver and started a totally new life with her. Lily had also worked at Lydia's dairy in Ipswich so it is probable that they first met there. It is believed that she became his housekeeper prior to their marriage. They were in Colchester, Essex, for a short time before moving to 7 Hamlet Road, Haverhill, Suffolk in 1917. Harold and Lily operated a shop at their Hamlet Road address, their newspaper advertisement in 1922 extolling the Centaur bicycle as being "Famous since 1876" and "The world's lightest and best".

The children of Harold's first marriage went with them to Haverhill but then moved to Croydon where Roy and Ivan started their own cycle business. In Haverhill, Harold's activities included driving an ambulance and a mailvan and he later bought and ran his own mailvan, the first Ford 'Model T' in the town, operating between Colchester and Haverhill via Kelvedon. He also ran a bus service to places including Chelmsford in around 1929. His bus interests were sold to a Mr C. A. Harrison of Steeple Bumpstead in 1932, later going to Mr G. F. Burgoin and run as "Grey Pullman"and being sold again to Premier Travel in 1949.

As well as being a cycle agent, Harold also manufactured cycles himself under the brand name "Redwing". I recall my 'Nanna' (Lily) telling me how the first bicycle sale was made from their Hamlet Road shop when she was on her own:
"A man well under the influence of drink came into the shop. He could hardly stand up. He said: "I want a new bike!". I was very frightened but I stood my ground. "Let's see the colour of your money first" I said. I took the money and he took the bike and he rode it away faster than I've seen anyone ride, before or since".

Harold was listed in Kelly's Directory for 1925-1926 as "Cycle Agent, 7 Hamlet Road, Haverhill". He and Lily also sold records and other popular items of the day from the Hamlet Road shop. He then moved to 32 High Street, Haverhill, and commenced the repair and sale of motorcycles (ref: Kelly's Directory for 1929: "Motor Cycle Agent and Dealer, 32 High Street") and followed this with a car repair, retail and rental business at the same premises.

No. 32 had previously been a Cycle and Motorcycle Works in the name of A. Mason, a newspaper advertisement of 1922 stating that Mr Mason also dealt in Scientific Instrument Making and Repairs, Gas and Electric Fittings and Electric Bell Work, and that he kept Raleigh Bicycles In Stock.

The following advertisement appeared in the Haverhill Echo of 28th May 1932:

---
A.1. Motor Trips
Apply for particulars of Bus Services at Withers Garage, Haverhill.
Saloon Cars and Bus available for Private Hire.
Main District Agents for Raleigh Cycles, Cash or Easy Terms.
Also Renting Cycles from 2/- per week.
Cycle Covers from 2/11, Inner Tubes from 1/3.
All Repairs executed on our premises at High Street, Haverhill.
Withers for Safety and Satisfaction.
---
Losses in his motor bus business led Harold to face bankruptcy proceedings in 1932, with liabilities of £625 and assets calculated to provide £192.16s (per Bury Free Press of 8th October 1932). The case was adjourned, and it appears that he was subsequently rescued by his sister Lydia. The title deeds held in the Suffolk Records Office (Bury St Edmunds branch) show No. 32 as "tenement and shop with workshop and other buildings, purchased by Lydia Mary Withers of Ipswich, spinster, from an Official Receiver in Bankruptcy (for Harold Hulcupp Withers), 24 May 1933".

Until Harold and Lily moved into No. 34, the house had been gas lit and the defunct gas fittings were left on the walls after electrical fittings were introduced. The house and garage business at No. 32 was taken over by their son Terry who, as foreman of Haverhill Ford Agent 'Cleales Garage', had the experience to operate a motor trade business. The garage telephone number was Haverhill 15 (pronounced "one-five").

Nos. 32, 32A and 34, and the adjacent properties, were made subject of a Compulsory Purchase Order in the early 1960s and knocked down as part of the London Overspill project. Terry used the CPO compensation to build a new Vauxhall dealership in Duddery Hill.

Harold was quite short at just under 5 feet and was a rather fast driver. One of his cars was a big American Chrysler in which he overshot a road junction and ran into the side of an Austin 7. The Austin rolled over but landed on its wheels and was still drivable whereas the Chrysler was a write-off. On another occasion, Harold was said by Lily to have used the stock of his beloved brandy for fuel when he needed to make an important journey during the Second World War and had used up his petrol coupons. His last car was a Rover 10 to the pedals of which were fitted wooden blocks so that he could reach them, with several cushions placed upon the seat so that he could see over the steering wheel.

Harold's obituary was published in the

Bury Free Press

on 2 May 1958.



By David Withers





Search Ipswich Historic Lettering

©2004

Copyright throughout the Ipswich Historic Lettering site: Borin Van Loon No reproduction of text or images without express written permission