Guide to Ipswich 1906

John Field has kindly lent us a tiny publication for this website. We think that this is a September 1906 publication. This file copy (162mm x 95mm, 40 pages) was obviously kept by the publisher, Samuel Warren of 13 Tavern Street* (note the sticker on the front cover), and all the hand-written notes and rubber stamps dated 1913 inside relate to an updated edition to follow. It includes a fold-out street map of Ipswich in 1906.
[*in 2021 this is the site of the Pandora jewellery shop beside the Tavern Street entrance to Tower Ramparts – sorry, Sailmakers – Shopping Centre.]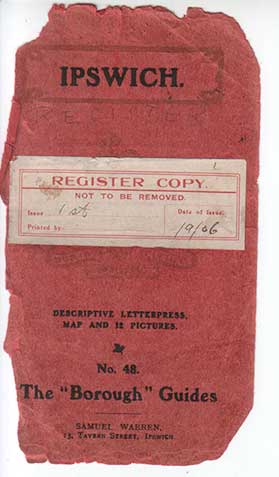 1906 cover
Click the above cover image to download the
PDF file
of the book.
Home

Please email any comments and contributions by clicking here.

Search Ipswich Historic Lettering


©2004 Copyright throughout the Ipswich Historic Lettering site: Borin Van Loon
No reproduction of text or images without express written permission