Ipswich labour exchange sign


"It's Ipswich historic lettering, Jim, but not in Ipswich..."

'Saw this in on the wall of the "Three Pigeons" in Oxfordshire. Having lived in Ipswich until my 20s I couldn't resist. Just came across your website whilst helping my son with geography homework (!) and thought you might like a picture. Bridget Appleby.'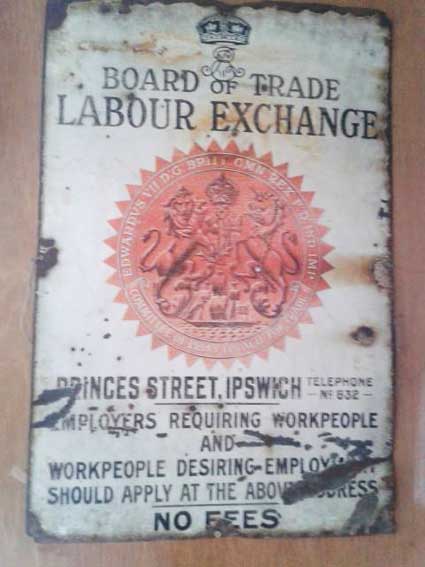 Photograph courtesy Bridget Appleby
Our thanks to Bridget for spotting this sign, a long way from home. There is a market in all sorts of official and trade signs, mainly appealing to collectors and interior decorators of 'vintage' pubs, bars and restaurants, so that is probably how it turned up in a pub in Oxford. The Labour Exchanges Act of 1909 brought about the creation of a national system of public employment agencies, initially known as Labour Exchanges and later rebranded to Employment Exchanges. Here is an Edwardian enamelled metal sign:


'ER VII [monogram]

BOARD OF TRADE

LABOUR EXCHANGE

PRINCES STREET, IPSWICH

TELEPHONE N

O.

832

–

EMPLOYERS REQUIRING WORKPEOPLE

AND

WORKPEOPLE DESIRING EMPLOYMENT

SHOULD APPLY AT THE ABOVE ADDRESS

–

NO FEES

'

The red 'seal' contains the royal coat of arms with the lettering running round:


'EDWARDUS VII D:G: BRIT: OMN: REX F:D: IND IMP:

[and in a scroll:]

COMMITTEE OF PRIVY COUNCIL FOR TRADE.'


Edward VII was King of the United Kingdom and the British Dominions and Emperor of India from 22 January 1901 until his death on 6 May, 1910. So, this sign must date from 1909 (the date of the Act) or later. The three-figure telephone number is particularly pleasing.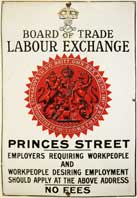 There is an example of a similar metal sign in very good condition in Ipswich Transport Museum (see Links) advertising the same Labour Exchange in Princes Street, but in a different style.





Home

Please email any comments and contributions by clicking here.

Search Ipswich Historic Lettering


©2004 Copyright throughout the Ipswich Historic Lettering site: Borin Van Loon
No reproduction of text or images without express written permission