Called "England's finest market town" by many (in our view nearby Bridgnorth runs it close), Ludlow boasts a large marketplace in High Street – still used for thriving markets – and a fine castle, both set high on a hill. So many buildings (nearly 500 are of listed status) and streets bear plaques of information about their history.
9 and 10 King Street
Approaching the High Street from King Street one sees a piece of trade lettering high up on a hipped gable:
'SMITH A C
O
'
The cream-coloured bricks form straight letters, but the 'S' and ampersand are hand-painted (see update below).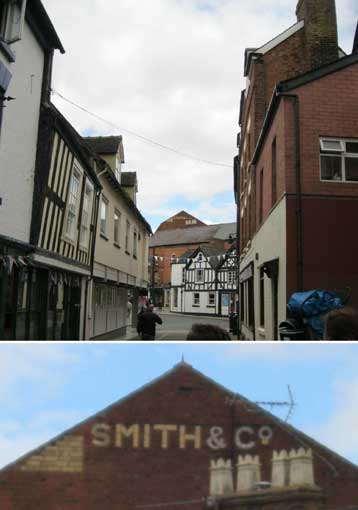 [
UPDATE
13.10.2019: 'With reference to your Ludlow page item - the name 'Smith & Co' on the gable end of a building in town - this refers to an old company by the name of Gaius Smith. Paul Bernard.'
Thanks, Paul. The Geograph page which Paul indicates gives a little more information.
'Bull Ring and King Street rooftops. "Smith & Co" refers to the grocery business of Gaius Smith, who in the late 1800s had shops at both 42 Bull Ring and 6 King Street, before moving to nos 9 and 10 King Street, the gable of which is what is seen here with his company name. He also served as Mayor of Ludlow from 1898-99 and was one of the founding Trustees of the Zion Methodist Chapel in New Road.']
15 King Street
Also in King Street, at number 15, we find the clothing shop Mistral which occupies premises once belonging to a shop called 'MAYPOLE' as displayed in a decorative ceramic mosaic doorstep. Maypole grocers (the shop still boasts preserved tiles inside) once traded from here. One online reviewer comments: "Remember them well in the 60s: supermarkets under the Lipton banner. They had meat counters for the first time & some of my friends at Dewhurst left & worked for them & were fast tracked to Area managers, They didn't have centralised buying in those days & were buying from the same suppliers as ourselves & with the cost of packaging & no small goods made in-house, They could only compete on convenience & cleanliness. But as they upped their game, supermarkets won the day."
Maypole dairies/grocery was a national chain. Branches have been traced in Tavern Street, Ipswich and there is a surviving 'MAYPOLE' step in
Hamilton Road, Felixstowe
.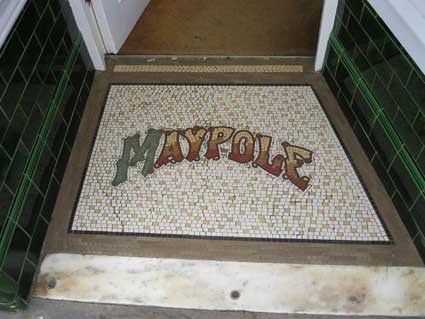 The Buttercross stands at the junction of King Street, High Street and Broad Street.
Lower Broad Street
Just a few doors down the hill of Broad Street on the left, there is an old shop which still has its gold lettering on what must have been the inner front door to the premises. Some parts are obscured by the shelving unit.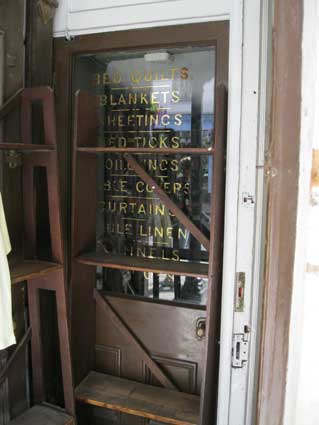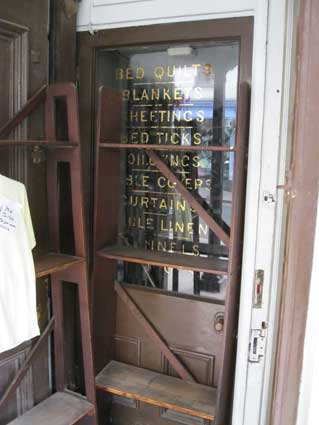 'BED QUILTS
BLANKETS
SHEETINGS
BED TICKS
OIL[?]INGS
TABLE COVERS
CURTAINS
TABLE LINEN
FLANNELS
G[?]'

4-6 Upper Galdeford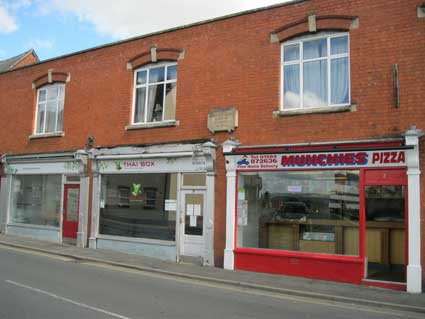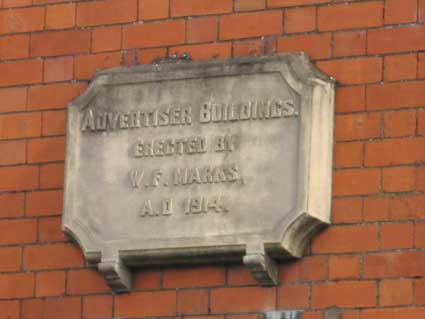 In Upper Galdeford there is a plaque:

'ADVERTISER BUILDINGS.
ERECTED BY
W.F. MARKS,
A.D 1914.'
The map marks nos. 4 to 6 Upper Galdeford as 'Advertiser Buildings'. W. F. Marks was proprietor of the Ludlow Advertiser in the late nineteenth and early twentieth centuries; the building was presumably originally built as the newspaper's offices. Now rather mundane fast food businesse

Portcullis Lane
The railway came to the town in 1853 when Ludlow Railway Station was connected to the Shrewsbury and Hereford line. Many new buildings were built by the station to service the railway as well as other developments which made use of the easy access to markets which the railway offered. The most obvious – and much lettered – of these today is Marston's Mill (as seen from Tesco's car park).
Marston's Mill, Portcullis Lane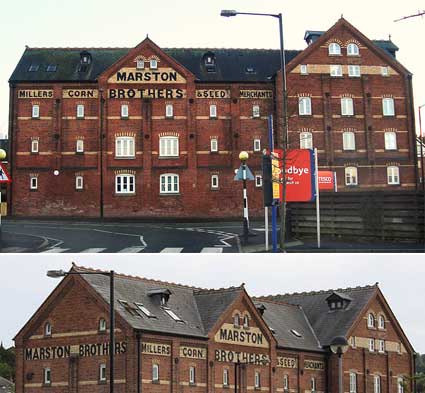 'MARSTON BROTHERS [twice]
MILLERS ... CORN ... & SEED ... MERCHANTS'

Ludlow Foyer provides accommodation and training for homeless young people in the Ludlow area. Marston's Mill, a long disused grain store and well-known Ludlow landmark has been totally refurbished. New floors were inserted below the roofs, which necessitated cutting through the Victorian roof trusses and inserting new steel structures without affecting the external appearance of the building.
14 Upper Linney
In the narrow hill called Upper Linney there is a sign with characters in deep relief (and a little higgledy-piggledy in alignment) on a house wall:
'COOPER & BLUCK'S
NAIL
MANUFACTORY
1854'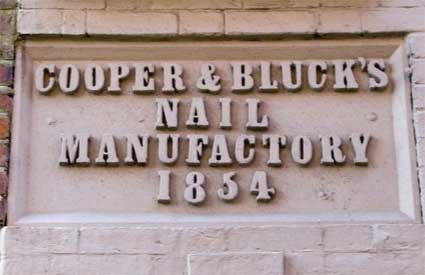 The date numerals are particularly appealing.
See also
Bridgnorth
(includes the Severn Valley Railway) and
Ironbridge
.
Home
Return to Historic Lettering from outside Ipswich
Please email any comments and contributions by clicking here.


Search Ipswich Historic Lettering




©2004 Copyright throughout the Ipswich Historic Lettering website: Borin Van Loon
No reproduction of text or images without express written permission