Mile End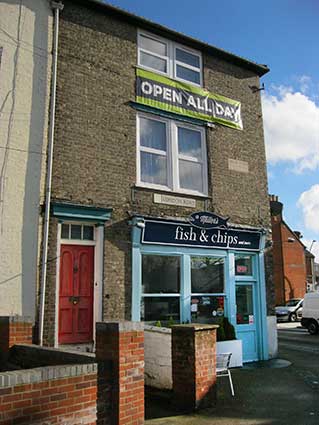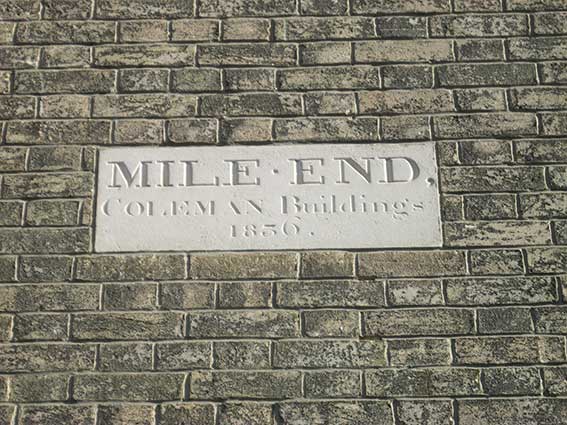 2016 images


At the junction of Handford Road and London Road there is a row of buildings bearing a curious stone name plaque on a level with the middle of the first storey windows. A name which we hadn't heard of before:


'MILE . END,
COLEMAN Buildings
1836.'


Muriel Clegg (see Reading list) judges this to be (probably) the earliest named and dated house plaque in the town.

This sits above a shop-front of 137 London Road (a sub-Post Office, closed in recent years and now a chippy) and residential front doors. There is a central stop between 'Mile' and 'End', but also a comma after the name.

Very poor 2001 photograph

So, a conjecture about the derivation. There is a milestone not far from this site up London Road on the left, which may or may not be significant. It is quite possible that this junction of a once important arterial road into Ipswich, London Road which now only serves as access to residential streets, lies one mile from the centre of Ipswich (notionally Cornhill). The name of the terrace is also of interest. We learn from our Street Names page that:
'Colman Street: cut across the garden of Dr Colman in 1821. His house and garden at the comer of Northgate Street are marked on the Pennington map of 1778.'
Perhaps Dr Colman, or one of his relatives, owned property here when the houses were completed in 1830. However, the different spelling ('Coleman') suggests another derivation.

There is a large, faint trade sign ('Corn, Hay... etc.') only a few yards away from here on the corner of Handford Road and Cullingham Road.





Home

Please email any comments and contributions by clicking here.
©2004 Copyright throughout the Ipswich Historic Lettering site: Borin Van Loon
No reproduction of text or images without express written permission