5 Woodbridge Road


Life plays some tricks, doesn't it? No sooner had we heard that the oft-renamed public house The Mulberry Tree at the very start of Woodbridge Road was reverting to its original name and being refurbished, than we noticed that the removal of the upper central sign panel 'The Beerhouse' had revealed a very old pub sign. The photograph was taken during a rare period of sunshine on a bitter cold January day (unfortunate about the shadows of the branches) and by the time we passed the pub two hours later, the new nameboard was in place. So a lucky inclusion on this website. Directly below the sign is the cast iron milepost which was moved from the pavementside in 2003 and is now standing against the exterior wall of the building to give its name to an earlier incarnation: The Milestone. This is often overlooked because of all the bench tables which clutter the area during warmer months.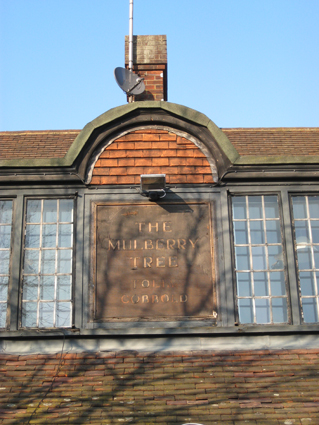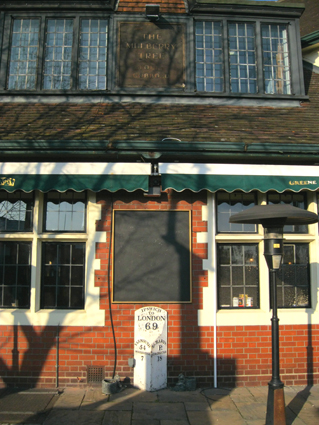 2012 images


Suffolk CAMRA (see Links) has got there before us, needless to say, and picture the old sign on their site:
"In 1865 it was listed at 1 Woodbridge Rd.
The current building dates from the 1930s, when it was built to replace the original Mulberry Tree pub which stood just in front of it.
A report in the

Ipswich Journal

on December 7h, 1878 when Mr Last was the landlord states that :
"The Ipswich & Suffolk Licenced Victuallers Association banquet was held at the Waggon & Horses, Old Butter Market (used to be next door to The Ancient House). The banquet was well served by George Wright: Waggon & Horses, Mr Last: the Mulberry Tree and Mr J Richardson of the Tankard."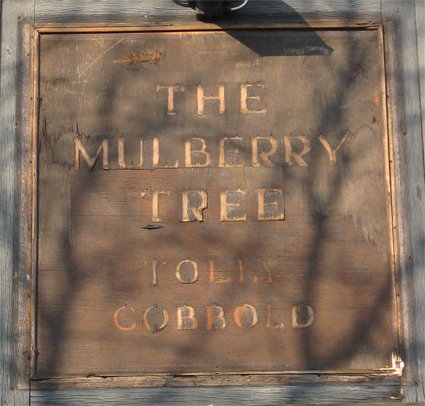 '

THE

MULBERRY

TREE

TOLLY

COBBOLD'

The sign in gold serif'd capitals on a dark or black background shows evidence of great age and/or weathering. The fabric of the wood/plywood is in evidence with the characters lifting away in places.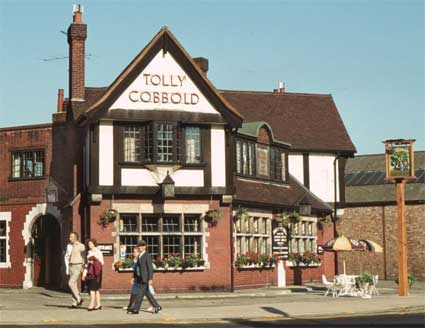 Photograph courtesy The Ipswich Society


This 1978 view of the former coaching inn shows it pre-walling/seating (apart from the white plastic patio furniture). The milestone at this date was sited against the pub wall. Cars were often parked in the concrete forecourt. Tolly Cobbold lettering featured in the gable and the old, wall mounted pub sign shown at the top of this page can be spotted between the first storey windows, facing the newer, very seventies-style hanging sign.

See our pages about the Tolly Cobbold House and Cliff Quay Brewery. See also our Pubs & off-licences page.





Home

Please email any comments and contributions by clicking here.

Search Ipswich Historic Lettering


©2004 Copyright throughout the Ipswich Historic Lettering site: Borin Van Loon
No reproduction of text or images without express written permission