52o North


Street furniture, public sculpture or climbing frame? Whatever you call the (slightly forlorn-looking) winged horse on Ravenswood, it does provide Ipswich with some new lettering. Raised on the feathers (ribs) of its wings are the place-names shown below in smart serif'd capitals.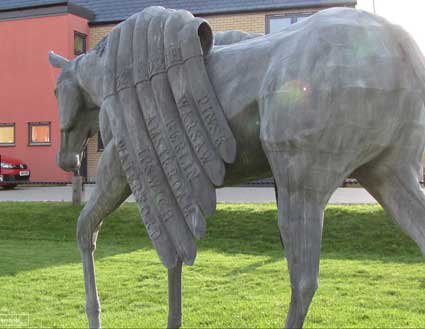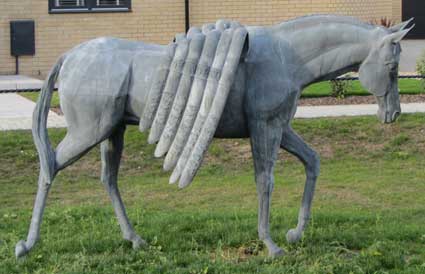 '52o NORTH

PINSK [Pinsk: city in Belarus, in the Polesia region, traversed by the river Pina.]
WARSAW [Warsaw: capital and largest city of Poland.]
BERLIN [Berlin: capital city of Germany and one of the 16 states of Germany.]
AMSTERDAM [Amsterdam: capital city of and the most populous within the Kingdom of the Netherlands.]
IPSWICH [here!]
WATERFORD [Waterford: city in Ireland.]

SASKATOON [Saskatoon: city in central Saskatchewan, Canada, on the South Saskatchewan River.]
IRKUTSK [Irkutsk: a city and administrative centre of Irkutsk Oblast (region), Russia, and one of the largest cities in Siberia.]
PAVLODAR [Pavlodar: city in northeastern Kazakhstan and the capital of Pavlodar Province.]
LIPETSK [Lipetsk: city and administrative centre of Lipetsk Oblast, Russia, on the Voronezh River.]
ORYOL [Oryol or Orel: city and the administrative centre, Oryol Oblast on the Oka River.]
HOMYEL' [Homyel, also spelled Homel or Gomel: city and administrative centre, Homyel Oblast, Belarus, on the Sozh River.]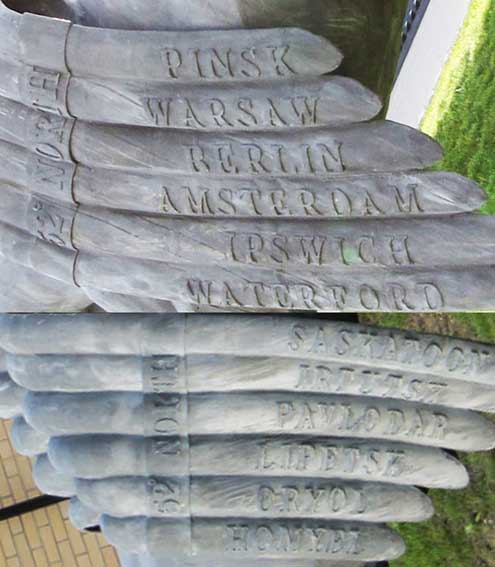 Photographs courtesy The Ipswich Society
All the places listed are to be found on the latitude 52 degrees North.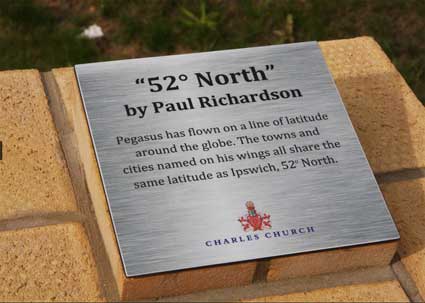 Please email any comments and contributions by clicking here.
©2004 Copyright throughout the Ipswich Historic Lettering site: Borin Van Loon
No reproduction of text or images without express written permission