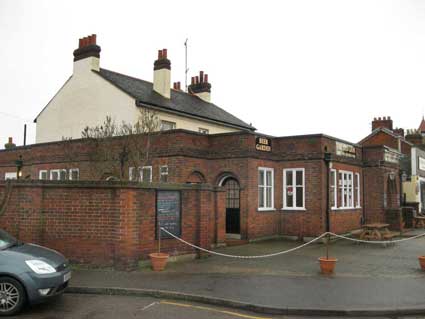 2013 images
The Red Lion public house stands at 284 Bramford Road. The Suffolk CAMRA website (see
Links
) lists licencees from 1871 to 1956, but also boasts some a nice 2007 picture with the original sign in place (see below). Given that Suffolk CAMRA say that the current building opened in the 1930s, we wonder if this only refers to the red brick, single storey frontage; the more traditionally-shaped, pitched roof building behind may be the original pub.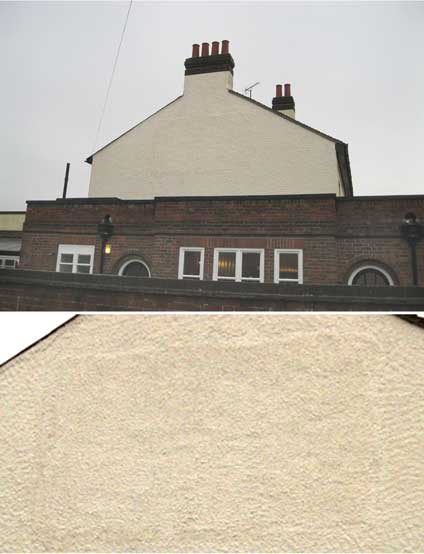 This ghostly shape indicates that a sign once occupied the space. We are indebted to Simon Knott of Simon's Suffolk Churches website (see
Links
) for this photograph of the somewhat degraded sign:
'TOLLY
ALES'
as it appeared on the end wall on 17 February 2007. It appears to be an embossed metal sign with raised, black-painted capitals which are outlined in the same pale blue as the background in a black-bordered cartouche. We know of no similar signs. The use of the preremptory 'Tolly Ales' suggests that this was an advertisement for Tollemache products, rather than those of Tolly Cobbold. So it pre-dates the merger of the companies in 1957.
[
UPDATE
13.10.2015: Having looked agina at the old sign (below), it becomes clear that the lower right part of the sign and render have broken away to reveal the red brick wall inderneath. This suggests that the sign was in raised plasterwork, then painted. Whether it was made separately, painted, then raised and fixed in position on the render somehow is conjecture. Does anyone recall this?]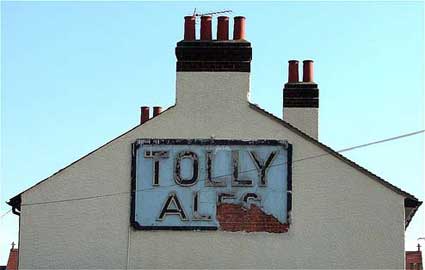 2007 photograph courtesy Simon Knott
This public house is a few hundred yards away from the
off-licence lettering
at No. 238 Bramford Road. See our
Pubs & Off-licences
page for other examples.
Home

Please email any comments and contributions by clicking here.

Search Ipswich Historic Lettering


©2004 Copyright throughout the Ipswich Historic Lettering site: Borin Van Loon
No reproduction of text or images without express written permission