Stamford, Lincs.
A public bath house was established at 16 Bath Row, Stamford, by four local surgeons in 1722 in response to dire sanitary conditions in the town. The present Gothic style building was erected by the Marquis of Exeter in 1823. In 2013 it was occupied by a marketing and design company.
'BATHS'

is painted in huge characters inside a cartouche with cream background on the wall facing the River Welland.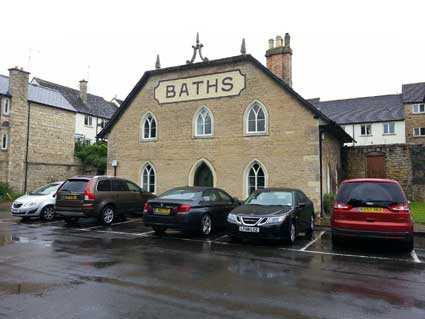 This listed 1823 public bath house is two storeys in height and is built of course rubble with a slate roof. Although it is now a residence/office, the interior still retains baths and date. The bathing room has a high barrel-vaulted plaster ceiling and probably had a plunge pool, now filled in. To the north is a possible changing room, and to the east is accommodation for the baths attendant. The first floor rooms also have barrel-vaulted plaster ceilings. There is a date stone of 1823 in the south interior wall. The building was extended to the rear in the late 19th century.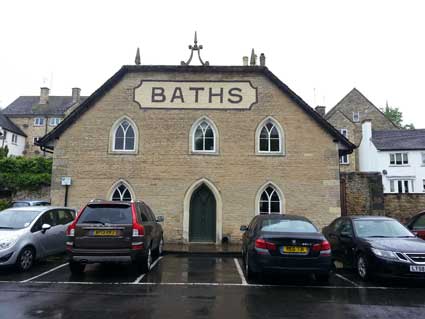 Home
Return to Historic Lettering from outside Ipswich
Please email any comments and contributions by clicking here.


Search Ipswich Historic Lettering




©2004 Copyright throughout the Ipswich Historic Lettering website: Borin Van Loon
No reproduction of text or images without express written permission