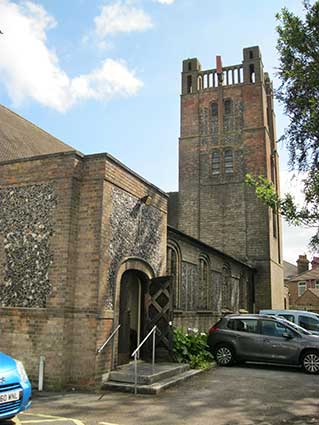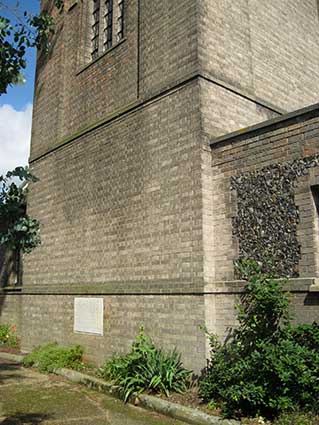 2016 images
This church in Bramford Lane, on the west side of the railway bridge, has a fairly plain brick and flint exterior by the architect N.F. Cachemaille Day. It was Listed Grade II in 2011:-
ARCHITECTURE - It displays an accomplished architectural design that uses modern materials and construction techniques to interpret traditional forms in a sophisticated and highly individual manner.
DESIGNER - It was designed by Nugent Francis Cachemaille-Day, one of the most prolific and influential church architects of the C20 and a leading figure in the development of the Liturgical Movement in Britain.
MATERIALS - A well-chosen palette of material gives the building sharp detailing, a crisp expression, and neatly refers to the vernacular traditions of the region.
INTERIOR - The church has a spacious, light and uncluttered interior with an elegant, sculptural use of contcrete and contrasting materials. Many contemporary fittings and fixtures remain.
HISTORY - It is an early example in Britain of experimentation of liturgical ideas, which became popular in church architecture during the post-war years.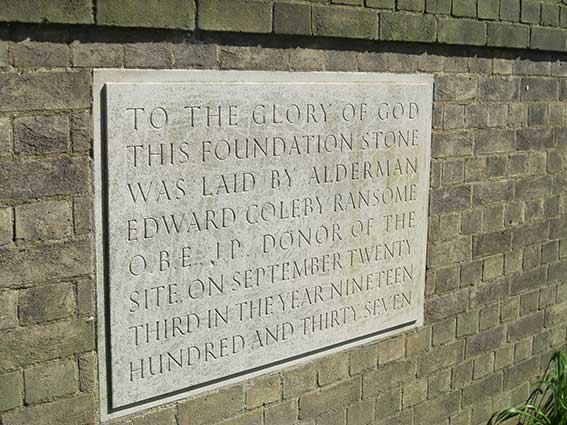 The Church of St Thomas was completed in 1938 and consecrated in April of the same year. A new church room was added to the north-east corner in the late 1950s and a new church hall opened next door in 1967. A new vicarage was built to the south of the church in 1983.
It is known to be 'high Anglican'.
The foundation stone at the base of the tower has either been restored or replaced by the look of things:
'TO THE GLORY OF GOD
THIS FOUNDATION STONE
WAS LAID BY ALDERMAN
EDWARD COLEBY RANSOME
O.B.E., J.P., DONOROF THE
SITE, ON SEPTEMBER TWENTY
THIRD IN THE YEAR NINETEEN
HUNDRED AND THIRTY SEVEN.'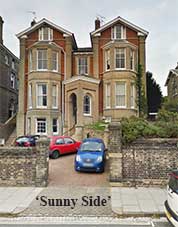 Edward Coleby Ransome (1864 - 1939)
Born at Ipswich in 1864, son of James Edward Ransome (1839-1905), agricultural engineer, and his wife Alice née Gross (1837-1929), who married at Alderton, Suffolk in 1863 and in 1871 were living at 'Sunny Side', 20 Fonnereau Road, Ipswich.
Educated at Haileybury, Great Amwell after which Edward became a mechanical engineer in the family firm of Ransomes, Sims of Ipswich, becoming Chairman of the Board there; in 1891 was living at 'Holmwood' (the large house in the grounds of St Mary's Convent) , Woodbridge Road, Ipswich. He married at Helston, Cornwall in 1893, Florence Mitford Smith (1857-1948) and in 1901 a 38 year old mechanical engineer living at Uppton Lodge, Warwick Road, Ipswich wi
th his 43 year old wife, who was born at Loddon, Norfolk and ten years later living at 'Highwood', Constitution Hill, Ipswich. He was awarded the OBE in 1919 for services in the supply agricultural machinery during World War I and was a Life Member of the Ipswich Art Club 1913-1938. He was Mayor of Ipswich twice: 1912-1913 and 1918-1919. He died at Ipswich in 1939.