Swilland



This small, attractive Suffolk village close to Witnesham boasts a surviving country public house which bears the ghost of the brewery name on its front gable.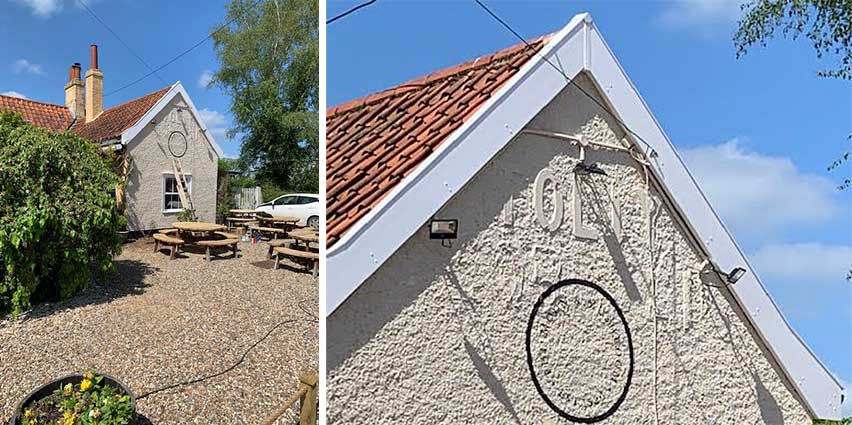 2022 images


'TOLLY
COBBOLD'


is discernible, particularly the first word in the apex. The removal of the relief lettering, probably by hammer and chisel, and covering with masonry paint has not removed every trace of the Tolly Cobbold Ipswich brewery name. The gable fascia has been replaced in modern times so that the upper right arm of the 'Y' is partially covered. Perhaps ironically, when these photographs were taken in May 2022, a sign-writer was working on a circular motif and lettering which partiall runs over the 'COBBOLD' area. If the sun hadn't provided raking light, we would have missed this remnant of a once dominant brewer's tied house.

The indispensible Suffolk CAMRA website (see Links) dates the pub to 1620 or earlier. 'Originally a Cobbold beer house ... It is shown as the Half Moon on a farm map of 1809. The pub was owned by Tolly Cobbold until 1992. It was renamed the The Moon & Mushroom in 1996. The name came about because the new owners wanted to mark the change of ownership and they were keen hunters of wild fungi.One previous landlord was transported to Australia for stealing a pig and two ducks.'

There are other traces of the Cobbold and Tolly Cobbold brands on buildings on this website; see our Pubs & Off licences page.