Wells-Next-The-Sea
Wells-next-the-Sea is located on the North Norfolk Coast. Its prime location meant that in the late 16th Century, Wells (as it was known) was the major port for the area, with up to 19 ships trading corn. Several of the old buildings can be found down the back streets. Well's status as a port carried on well into the early 20th Century, with the Granary and loading gantry built in 1903. This has now been turned into luxury flats with a Quayside view. The name Wells comes from the many spring wells that were around the town. Wells became known as Wells-next-the-Sea in the 1800s when the increase in travel meant it was needed to distinguish between similarly named towns. The name was chosen as the town's official title by Wells Urban District Council in 1956.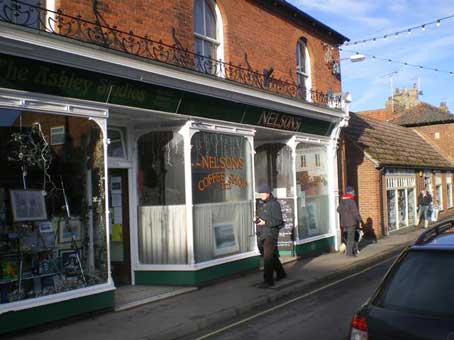 2009 images


Nelson's Coffee Shop. 21 Staithe Street, Wells-Next-The-Sea, Norfolk stands towards the top of the gently sloping hill down to the harbour in the main shopping street of Wells. The art materials shop next door is a separate business now but, clearly from the excellent mosaic doorsteps to the two shops, they were once one business owned by a proprietor called:


'ROLL'


The tapering shape, the marble leading edge of the step and curling metal kick plate on the bottom of the door is the same in each entrance. So far we've been unable to track down the previous business, so proudly proclaimed (twice) to this day (Christmas 2009).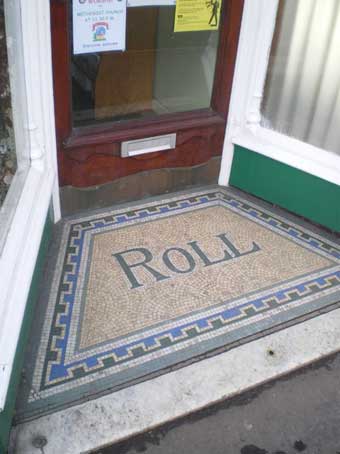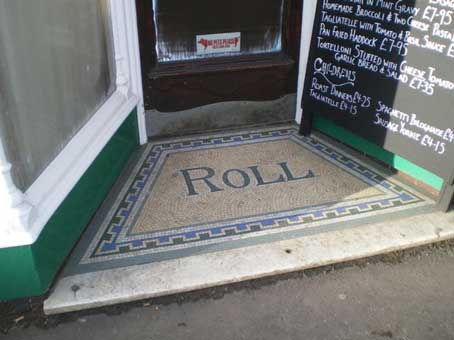 For more tiled doorsteps: 'E.Smith' (excellent) in Woodbridge, Hales Chemist Ipswich, 'Smith', Harwich, and Ann Williams' fine collection (see Links).