'Saw this and thought of you!! -Jen Greatrex' This fine example of a small shop advertising its wares comes from Harbour Street in Whitstable on the northern coast of Kent. Our thanks to Jen for sending this.



Lawson's Stores

, 65 Harbour Street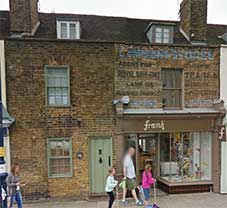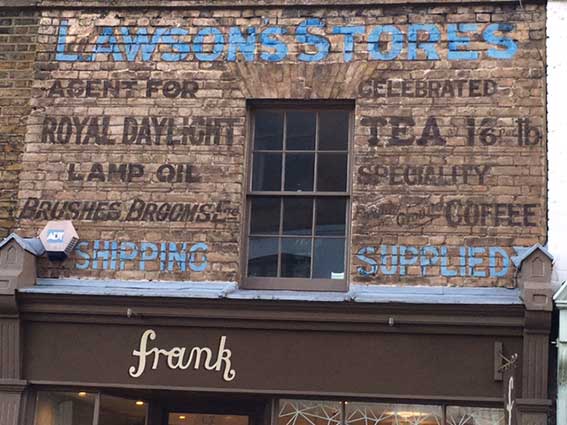 2015 image


'LAWSON'S STORES

AGENT FOR

ROYAL DAYLIGHT

LAMP OIL

BRUSHES, BROOMS

ETC.

CELEBRATED

TEA

at 1'6 Per lb

SPECIALITY

Freshly Ground

COFFEE

SHIPPING ... SUPPLIED'


The prominence of the advertisement for 'Royal Daylight Lamp Oil' sheds a light (!) on the importance of such products before the development of electricity supplies in the latter part of the 19th century. The upper and lower lettering has been retouched in blue, which may or may not be a Good Thing.



The Duke of Cumberland Hotel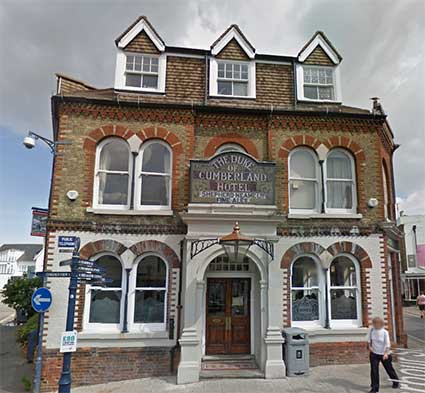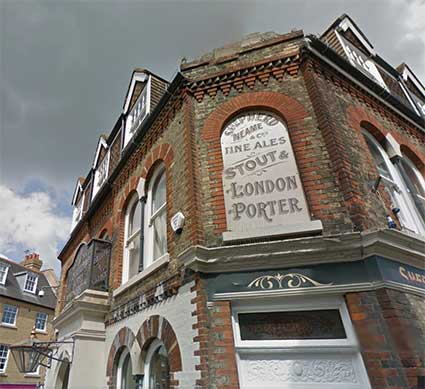 Situated at the junction of Horsebridge Road and Harbour Street (with an elevation extending down the latter, featuring a arched, ceramic-tiled entrance and polychrome brickwork), The Duke of Cumberland features a stained, leaded glass lantern situated in front of a window above the central front door, which faces High Street. This is lettered:


'THE DUKE
OF
CUMBERLAND
HOTEL
SHEPHERD NEAME LTD.
FINE ALES'



A Grade II Listed building, there has been an inn on this site for more than 300 years. Known as the Noah's Ark until 1747, landlord Robert Chandler renamed it Duke William in honour of the Duke of Cumberland who, a year earlier, had crushed the Scottish rebellion at Culloden. In 1748 it became 'The Duke of Cumberland' and was used as the headquarters for the oyster and dredgermen. Fire swept through the building in 1866. The Duke was rebuilt immediately and in 1867 William Lester applied for a license at the Petty sessions for 'The Duke of Cumberland, recently burnt down but now rebuilt'. Note that there is a rather nice blue and white enamelled metal sign 'Public Telephone' on the front wall to the left.


Interestingly, the sides of the lantern are also lettered:


'BILLIARDS

AND

CARACE'

Whilst the advertising of the attraction of a billiard table is understandable, we are unsure of 'Carace' (and it

is

'carace', not 'garage'). In the history of the game

of carombole billiards

, a "carom" is the act of hitting two object balls with the cue ball in one stroke (these days it would be called a 'cannon', presumably). Perhaps the word 'Carace' relates to this? Or is it a separate bar game?

The blind window to the right of the frontage carries the sign:

'SHEPHERD

NEAME & CO.

FINE ALES

STOUT &

LONDON

PORTER'

but it is unlettered in a 2009 photograph of the pub, so this is a typical – and rather admirable – example of modern, 'Victorianised' display advertising. Shepherd Neame claim to be Britain's oldest brewer and have been based a short distance away in Faversham, Kent, since 1698.





1 Oxford Street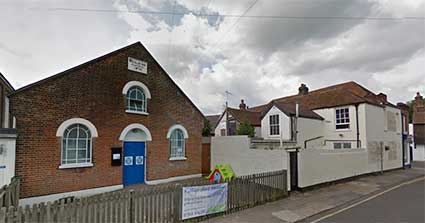 Above: 'Wesleyan School 1874' and a wallful of advertisements to the right.
On the corner of no. 1 Oxford Street and Argyle Road is a side-wall where earlier tobacconist and sweet shop advertisements have been picked out when the wall was painted.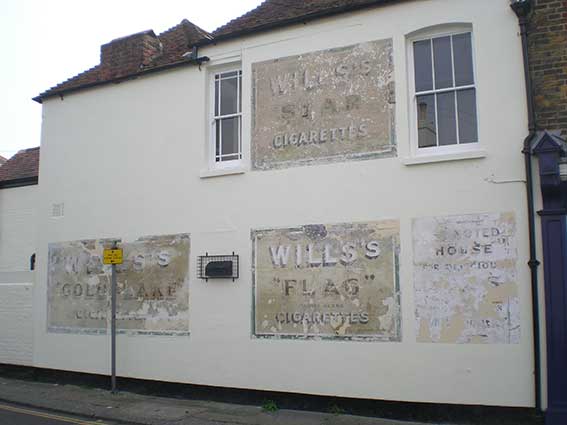 2014 image


'WILLS'S
"GOLD FLAKE"
CIGARETTES'
'WILLS'S
"STAR"
CIGARETTES'
'WILLS'S
"FLAG"
EMPIRE BLEND
CIGARETTES'
'A NOTED
HOUSE
FOR DELICIOUS
...
CONFECTIONERY[?]'







Home
Return to Historic Lettering from outside Ipswich
Please email any comments and contributions by clicking here.


Search Ipswich Historic Lettering




©2004 Copyright throughout the Ipswich Historic Lettering website: Borin Van Loon
No reproduction of text or images without express written permission