Willis monolith



Standing in a railing alcove on the pavement between the Unitarian Meeting House (1700) and Willis Building (1975), both Listed Grade I, is this Millennium obelisk.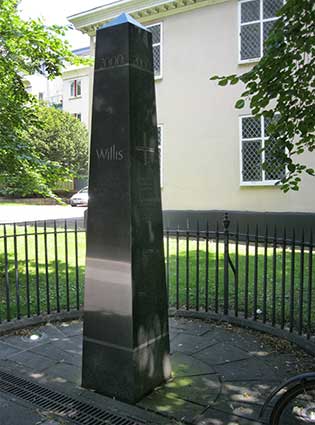 2016 images
'2000' is inscribed on all four sides at the top.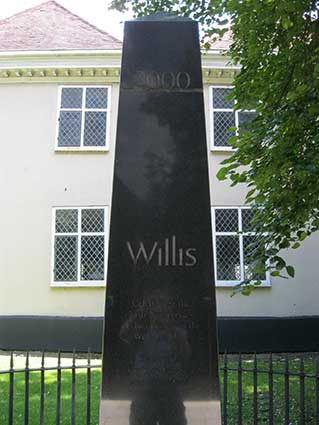 Facing the Willis building:


'2000
Willis
Celebrating the
25th Anniversary
of the opening of the
Willis building
Serving the
World of Industry
and Commerce'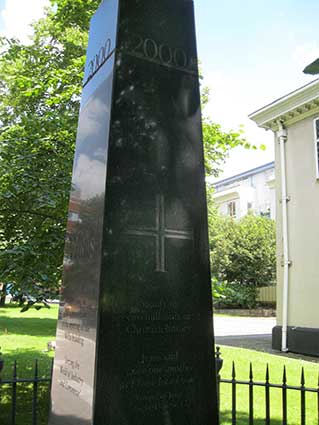 South face:


+ [Latin cross]

'Signifying

two millennia of

Christian history

Jesus said

Love one another

as I have loved you

Gospel of John

Chapter 15 verse 12'

At the rear under chalice:


'Celebrating the

300th Anniversary

of the Opening of

The Unitarian

Meeting House

'Where we meet not

only one with another

but all with God.'

Reverend John Fairfax.

April 26th 1700'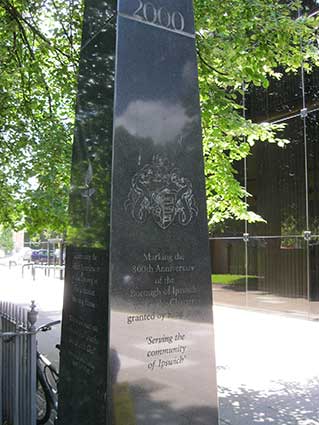 On the north side under Borough coat of arms:


'Marking the
800th Anniversary
of the
Borough of Ipswich
under the Charter
granted by King John
'Serving the
community
of Ipswich'



Each side commemorates an event: the 2000th birthday of Christ, the 300th birthday of the Unitarian Meeting Chapel, the 800 years since the granting of the Charter to Ipswich, sent by King John from France in June 1200, and 25 years of trading at Willis. Norman Foster's Willis building was listed as Grade I in 1991, an exceptional honour for a contemporary building matching the Unitarian Meeting House opposite. [Information taken from
the Public Sculpture in Norfolk and Suffolk database (see Links).]

For an information and maps of the effect of the Willis building on the surrounding roads, see our Lost trade signs page.
For views from the Willis roof garden see our Princes Street page.