with the sixes hardly more than inverted commas. 40 Bolton Lane stands between
St Margaret's Church
and the Woolpack public house. The small oval plaque on the side wall, photographed in May 2010, gives some of the building's pedigree and the restorer's website (see
Links
) tells us more.
This was the Ipswich Historic Buildings Trust's first project, as indicated by the plaque near the corner: a pair of small derelict 17th Century Grade 2 Listed cottages in Ipswich's Central Conservation Area. These were renovated and converted to a single family house. The property known as "The Wrestlers" (40 Bolton Lane, presumably once an inn) may date from the reign of Charles II and bears the date 1667 as part of the first floor pargetted plaster panel decoration. The building stood outside the mediaeval core of Ipswich in the parish of St Margaret and when constructed would have been on the fringes of open countryside on the lane leading to Tuddenham and Westerfield as shown on
Pennington's map
of 1778 map of the area. The architect for the Trust's scheme was Adam Gordon of Peter Barefoot & Partners, Ipswich. Here's a period image of The Wrestlers in a somewhat more dilapidated condition.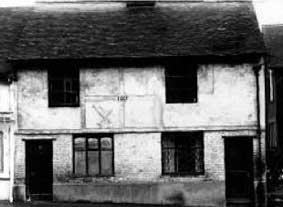 It's only a few yards down
Bolton Lane
before one passes a dated house and the Garratt Memorial Hall with an even earlier date than The Wrestlers.
For more IBPT projects see the links on our
Blue plaques
below the 'Beecholme' entry.
Home

Please email any comments and contributions by clicking here.

Search Ipswich Historic Lettering


©2004 Copyright throughout the Ipswich Historic Lettering site: Borin Van Loon
No reproduction of text or images without express written permission