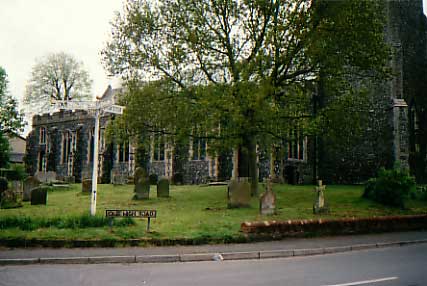 On the corner of the main street and Old High Road in Yoxford stands the magnificent cast iron signpost. Close by the church, this was clearly an important meeting of roads in times gone by; not so perhaps nowadays with the A12 trunk road more or less by-passing the village within a few hundred yards.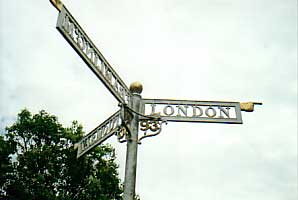 'LONDON 93 [pointing up Old London Road which curves round to join the present A12 at the Saxmundham end of the village]
YARMOUTH 30 [pointing towards the present day junction with the A12 at the Darsham end of the village]
FRAMLING'M [pointing towards Peasenhall, Sibton and Framlingham]'
Repleat with central ball finial and pointing hands picked out in gold and with the mileage numerals suspended below the main sign rectangles in curlicue brackets with supports, this pierced lettering is quite elaborate. This testifies to the fact that this was once the main highway between London and Great Yarmouth, at the junction with the present road to Peasenhall and Framingham. Nice that the craftsman who made the sign included the cast apostrophe in "Framling'm".