Serjeants paints & wallpapers

&

Collins's Agency,

Palmers Bakery, Shelley's barber shop

Collins's Agency, 6 Norwich Road
One interesting shop-front at the beginning of Norwich Road, only noticed at the end of 2020, features a remarkable mosaic doorstep in front of the recessed entrance to the right of the photograph below.


'COLLINS'S AGENCY'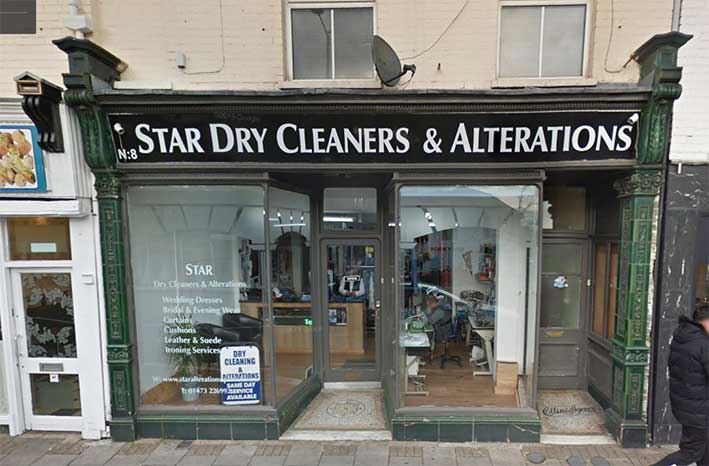 The recessed entrance to the left (no. 8) has a decorative doorstep with no lettering. The green ceramic surrounds suggest that this was initially one business (possibly a pub?). The entrance to the right with the mosaic sign is the access to the upper floor, presumably offices from where the agency business was conducted. Today it appears to be accommodation.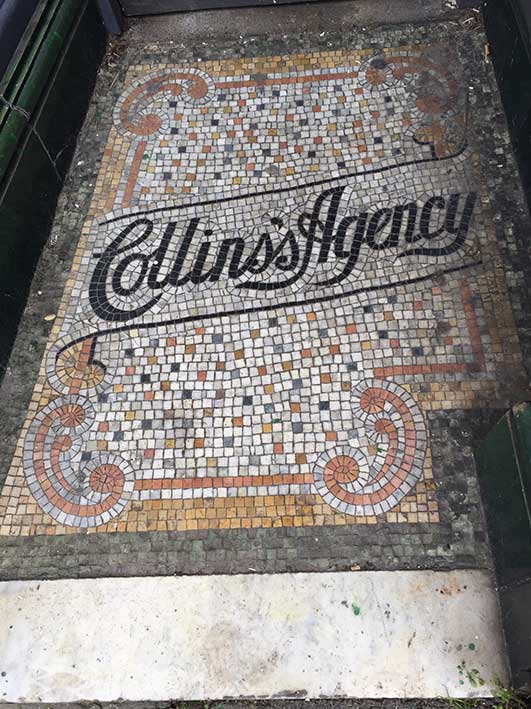 2021 images

courtesy Mandy Gaylard


'COLLINS'S AGENCY'


This is a very narrow doorway, so it is surprising that an 's-apostrophe-s' has been employed, rather than 'Collins' Agency' which today is perfectly acceptable. It is a fine piece of work, The lettering sits on a scroll, with paisley curlicues in the corners – the front section is truncated by the pillaster. The variety of coloured tesserae spread throughout the white background acts in the same way as the painting

Broadway boogie woogie

by Piet Mondrian (1942-43) which caused the eye to move all over the surface.
Below left: the impressive bottle green ceramic upright to the right of the doorstep shows deep cracks, perhaps due to movement of the building over time.

The big question, of course, is: what sort of agency is this? Detective, nursing, employment? Our money is on the last of these – more research required.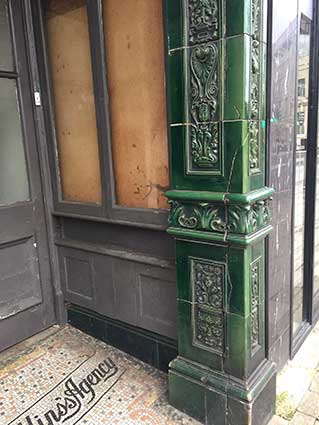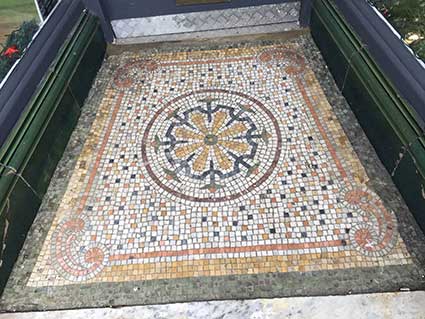 Above right: the decorative mosaic doorstep to the shop at no. 8 Norwich Road. Definitely laid at the same time as the lettered step, but was it originally a separate business?

Serjeants paints & wallpapers, 37 Norwich Road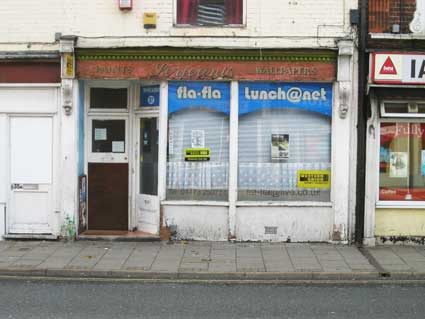 2014 images
Every now and then we get a glimpse of a sign from a previous shopfront, easy to cover up with modern wood, plastics, neon and so on. See also:
'the laughing onion' in Tacket Street,
E. Brand & Sons in Tacket Street,
F.C. Hunnibell & Son in Butter Market,
C.J. Hawes in Wherstead Road,
H.T. Ablett on the seafront at Felixstowe.
See our Old shop names and signs page for a full list.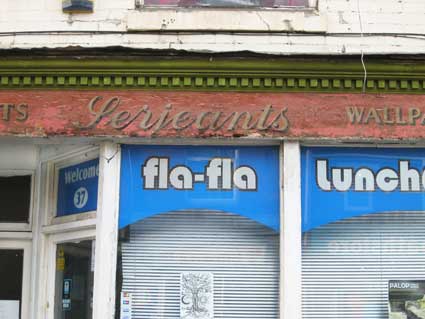 This one seems to have lost its single strip of plastic (see the foot of this page) in November 2014. Thanks to Janette Robinson for the tip-off.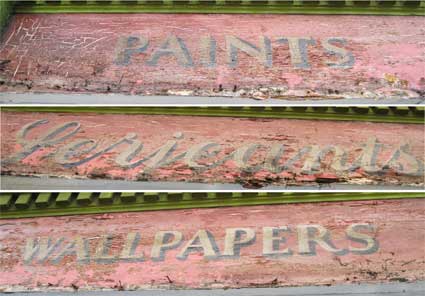 The serif'd drop-shadow capitals of 'PAINTS' and 'WALLPAPERS' either side of the cursive drop-shadow treatment of the proprietors: 'Serjeants' (no possessive apostrophe): it all takes us back to a time when a small shop could stock these products and not be squeezed out of the market by warehouse DIY stores on the edges of towns. At the time that these photographs were taken, these huge emporia are themselves seeking ways in which their stores can be reduced in size/changed to other uses.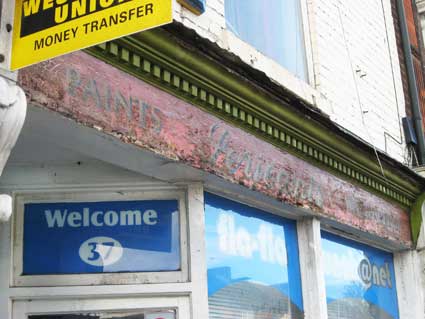 A glimpse of the shop as it was before the sign came off: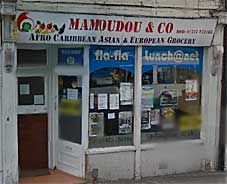 Directly opposite this shop is the Maharani Restaurant.
[

UPDATE

4.5.2018: 'Lovely photos, this was my parents' shop,; they went to NZ in 1952 but I believe the company was well established for many years before this. We still run a family business in Bury St Edmunds: Excell Building Services Ltd. I would love to get hold of the signage if it's still in existence , what a thing to have. Mum was friends with Winny Rivett of the motorcycle shop and pink Sneezums the jeweller's shop in the same road. Do you have photos I can have I might be able to have them reproduced, you never know. Anyway you made my year with the photos and information. We had a lot of family in Ipswich we were also related to the Bolton's who has a brickyard on Norwich road near the Ferodo bridge. My Grandfather "Lee Whatling" was a builder in Ipswich and built a lot of the council homes between the wars; he was a carpenter like myself and also a bit of an inventor. Martin Leonard Serjeant. Thanks to Martin for getting in touch. See our Brickyards page (Yard number 5)for more on Bolton's yard.]

The Stradbroke Bakery, 5A Norwich Road
[

UPDATE

April 2016: Sadly the tiny Palmers Bakery shop a little towards the town on Norwich Road has closed down.]

'PALMERS BAKERY
TAKEAWAY – BREAD – SNACKS – CONFECTIONERY
Palmers of Haughley Est. 1869'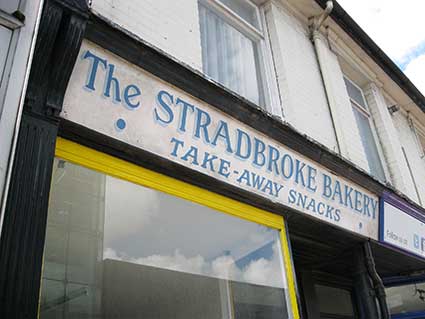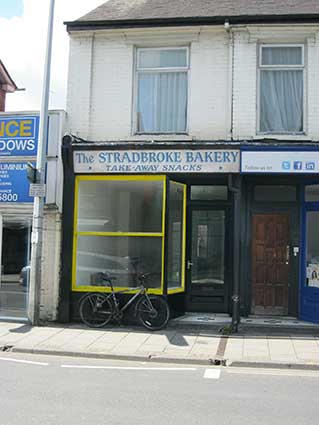 The signs have been removed to reveal 'The STRADBROKE BAKERY,

TAKE-AWAY SNACKS'

. The Stradbroke Bakery still operates from Eye in Suffolk, supplying local retailers.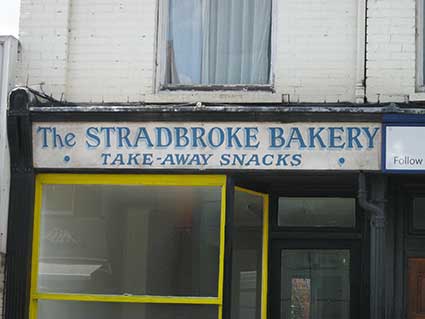 Palmers Bakery


Palmers still have a retail outlet in Meredith Road. The following information is taken from and

EADT

article, 23 August 2013, by James Marston.



"Haughley is a picture perfect Suffolk village and since 1869 the Palmer family have ensured that the village has its daily bread.




Today the Suffolk-wide family business is run by father and son team Kenneth and Kieron Palmer and still maintains the traditional baking methods that were used by their forefathers. Keiron, 39, said: "We bought it as a going concern in 1869 but there has been baking on the site since about 1750. It was bought by my great-great-grandfather William James Palmer. The business passed to his son William Ewart Gladstone Palmer who developed the business by buying a farm and a mill and property. It passed to my grandfather ,Roy, who died in 1989 and is now run by my father ,Kenneth, and me."





It is a rich heritage and one that the business is hugely proud of. Kieron said that over the years, as lifestyles have changed, the business has changed and developed to meet people's needs. "We stopped home deliveries in the 1980s. No one is at home during the day anymore, everyone works." Today from the Haughley bake house, Palmers supplies eight of its own shops in Haughley, Stanton, Woolpit, Stowmarket, Ipswich, Needham Market and Claydon.





Keiron said: "The mill is now closed and the farmland is contracted but the company still has a portfolio of about 200 residential and commercial properties across the UK." Originally the site of Norman market stalls when Haughley was a bustling town, the bake house itself dates from Tudor times. Inside the ceilings are low and timbered as the bakers tidy up from the night's baking shift. Kieron, who learnt his skills as a baker from his father and grandfather, said the company still uses 200-year-old brick ovens to bake around 5,000 loaves of bread a week as well as a variety of artisan breads, cakes and pastries. He added: "We are short staffed at the moment so I started work at 2am. The first shift starts at 1am to 9am, the next shift works from 5am to 1pm and the final shift works from 1pm to about 6pm. Everything is made on site and we transport the goods ourselves to our bakeries and customers."




As the consumer becomes ever more discerning following food production issues such as the recent horsemeat scandal, Palmers has noticed an increase in trade.





"We have survived two World Wars and the Great Depression. Business is good at the moment. Businesses have been through difficult times in recent years and though people still need to eat they do cut back. We have noticed an increase in demand recently." Tourists have also boosted trade in the bakeries. He added: "Tourism seems to be increasing and more and more people are staying at home and holidaying in the UK." Using simple ingredients - flour, butter, sugar, eggs, salt, yeast – Palmers aims to source ingredients locally. Kieron said the family business also benefits from loyal and long serving staff. He said: "There is a sense of community here in Haughley and it is a very pretty village.




"As much as we can we maintain those traditional values of personal service and high quality products." And what's it like working with other family members? Kieron is diplomatic. He said: "Its fine. Though we do enjoy the odd lively discussion."



Presumably there is no connection to the Palmers Door Mats sign in Upper Orwell Street.



Butcher's sign

, 39 Norwich Road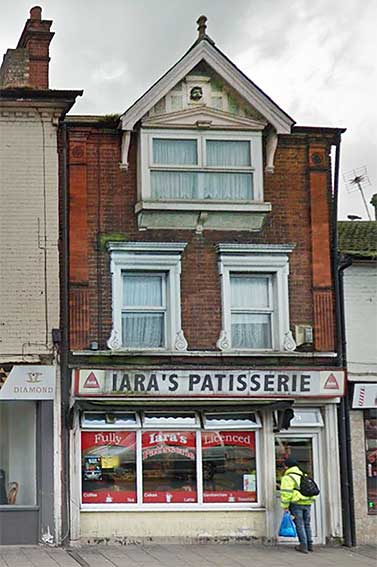 2019 images


Although it is not lettered, this striking sign is situated high up on the gable above the shop.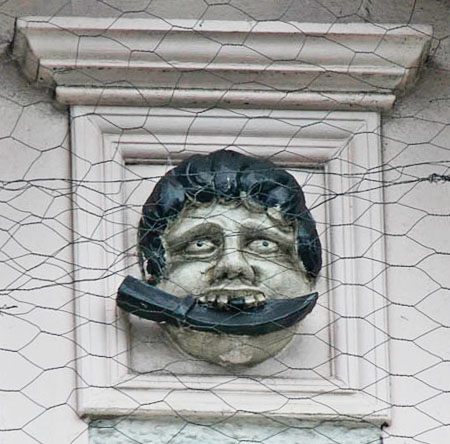 2021 image
'A man stares out from under curly black hair with prominent eyes with a curved knife between bad teeth teeth. The head is set on a panel under the pediment at the top of the house, above a pedimented second storey window. The upper storeys of the house, now a fast food outlet, are framed by elegant capitals, suggesting a date from around the 1890s. The head is surprising, suggesting an assassin rather than a trade sign, but

Kelly's Suffolk Directory

of 1908 p.226 lists William Orford as a butcher at no. 39 Norwich Road, Ipswich. He may well have commissioned both the elegant shop and the sign.'

The public sculpture of Norfolk & Suffolk

website.
One wonders if the nearby Orford Street is named after the butcher – or the Suffolk port.



Shelley's barber shop,

86 Norwich Road


2016 images

courtesy Fraser Yates


'An old sign recently appeared for just a few hours when refurbishment was taking place in Norwich Road and I happened to be passing. I have attached in case it is of interest for the website. Many will remember their visits to Shelley's; part off the fabric of Ipswich (and beyond). Shelleys was a traditional mens' barbers and had been going since before the 1930s. In the 1950s I remember going there and all 4 (or 5) chairs being attended; it was a busy place. In the later years it was run by Chris from Stowmarket with just one chair being used, but all the fittings being virtually as they were in the 1950s. Regards, Fraser Yates.' Many thanks to Fraser for the photographs and information.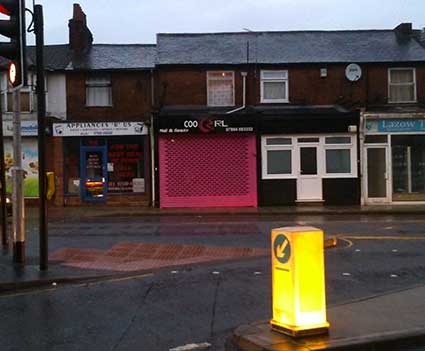 Related pages
Also in Norwich Road: the Maharani Restaurant.
For other shop proprietor signs, see C.J. Hawes, Shortis Motorist Discount Store, Brunswick Road Post Office.
Old shop names and signs for a full list.





Search Ipswich Historic Lettering

©2004

Copyright throughout the Ipswich Historic Lettering site: Borin Van Loon No reproduction of text or images without express written permission