The largest house number in Ipswich?

At the corner of Sirdar Road and Bramford Road is a bakery with a newsgaents next door at number 111 Bramford Road. Somebody, spotting that one would need only one stencil for the job, decided to paint the building number nicely spaced on the red brick. It worked so well, they repeated the trick on the other side of the window.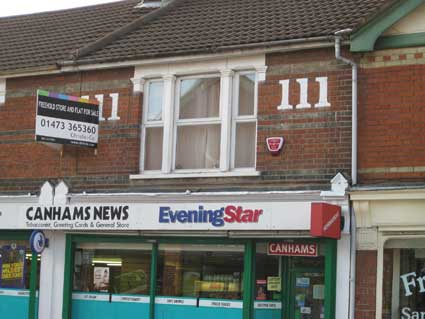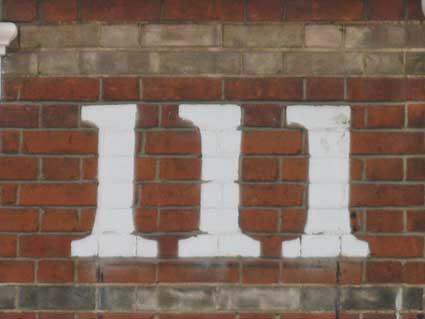 Typical. We make a special trip down to Bramford Road
(not far from the W. B. Kerridge sign) and they've covered up part of it with an estate agent's board. For another example see Woottons).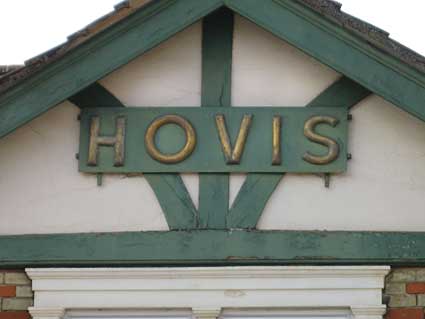 Ipswich was once served by a whole string of small bakery shops owned by Newstead's, served by bread baked in their own factory on Whitehouse Road.
When the business collapsed (late 1980s?), the bakery shops closed and, eventually, the facory was demolished and still stands beside Norwich Road as a range of condrete platforms. A handful of the shops reopened as independent bakeries and this is one of them. It's nice that it retains its gable Hovis advertisement with gold lettering standing out in relief. A familar sign for decades throughout Britain in different configurations, although I never really liked the taste of this mass-produced 'wholemeal' sliced bread.
Also in Bramford Road, possible traces of the early cable television system British Relay.
See our
Street furniture
page for images.
Home
Please email any comments and contributions by clicking
here
.
Search Ipswich Historic Lettering
©2004
Copyright throughout the Ipswich Historic Lettering site: Borin Van Loon
No reproduction of text or images without express written permission