'HONI SOIT ... QUI MAL Y PENSE'
(French for 'Evil be to him that evil thinks', alternatively 'Shamed be he who thinks evil of it'.)
and in three sections across the lower scroll:
'DIEU ... ET MON ... DROIT'

(French for 'God and my right')
This former statement supposedly originated when King Edward III was dancing with his first cousin and daughter-in-law, Joan of Kent. Her garter slipped down to her ankle, causing those around her to snigger at her humiliation. In an act of chivalry Edward placed the garter around his own leg, saying "Honi soit qui mal y pense", and the phrase later became the motto of the Order (of the Garter). The oval strip on which the axiom is displayed – and which surrounds the symbols for England, Northern Ireland, Scotland and Wales – represents the Garter.
The latter is the motto of the British monarchy (a fuller version is "God and my right shall me defend") and is said to have first been adopted as the royal motto of England by King Henry V in the 15th century.
[
UPDATE
August 2012: this building has been razed to the ground. Park your car with pride.]
The new Drill Hall
Here is a 1911 postcard of the building, then called The Drill Hall: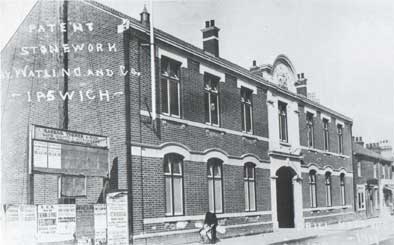 The building was opened on the 13th of May, 1911. The first occupants were the men of the 6th (Cyclist) Battalion of the Suffolk Regiment. Watling & Company supplied the stonework for the building and, with clumsy hand-lettering added, used this image as a promotional card; they traded from Derby Road station. The hoarding to the left belonged to Garrod, Turner & Son, Land Agents & Auctioneers. It was replaced by garage/motor works with a semi-classical frontage which was demolished in recent years.
Home
Please email any comments and contributions by clicking here.
©2004 Copyright throughout the Ipswich Historic Lettering site: Borin Van Loon
No reproduction of text or images without express written permission