At 230-232 Bramford Lane is a particularly unusual and pictorial house name plaque. We were not aware of this piece until Richard Cocke, author of
Public sculpture of Norfolk & Suffolk
(see
Reading List
) showed it during his talk to the Ipswich Society in October 2013.
'BADEN POWELL COTTAGES'

is emblazoned across the upper scroll which has suitably scout-like flag endings. The top of the plaque has suffered some damage at the centre-right edge, but has been well-painted in white fairly recently to accentuate the details.
The portrait of Baden-Powell is rather cartoonish and perhaps stands half-way between classical sculptural correctness and primitive/naive art.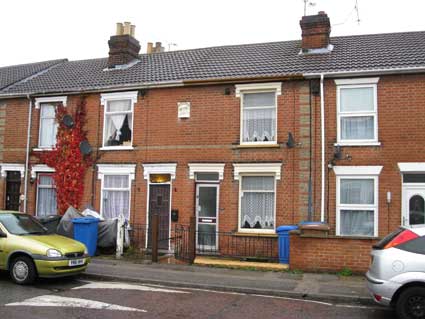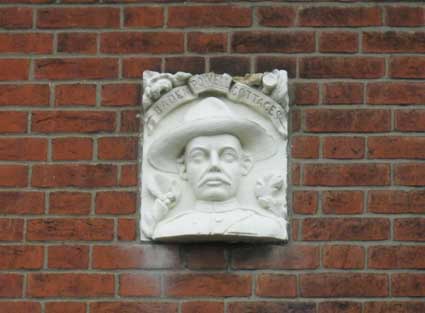 2013 images
On the related website for
Public sculpture of Norfolk & Suffolk
, Richard writes:
"Baden-Powell is shown bust-length, under a cartouche decorated with flowers, continued at the bottom with an olive leaf on the left. He wears a trim moustache, looks out sternly in his military uniform from under his characteristic stetson campaign hat.
Robert Baden-Powell, 1st Baron (1857- 1941) became a national hero following his exploits at the siege of Mafeking, even before founding the Boy Scout movement in 1908. When the siege was lifted on 16 May 1900 Baden-Powell became a national hero, celebrated on patriotic postcards of that year, the probable source of the image on the roundel
[sic]
. The elegant if simple brick of the cottages, diminished by replacement doors and windows, is consistent with a date around 1900, when Baden-Powell first achieved national fame, a date underlined by their position besides Kitchener Road." Viscount Herbert Kitchener of Khartoum (1850-1916), famous from the 'Your Country Needs You!' poster, became High Steward of Ipswich in 1909.
Nearby Kitchener Road sign
On the corner of Bramford Lane and Kitchener Road is
Springfield Junior School
.
'The Norfolk Road angel
', 22 Norfolk Road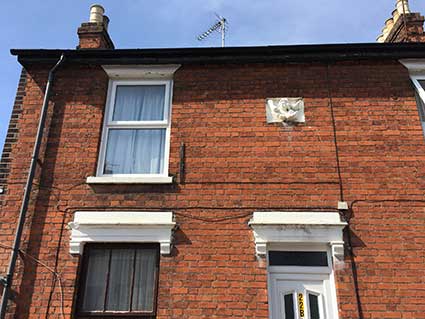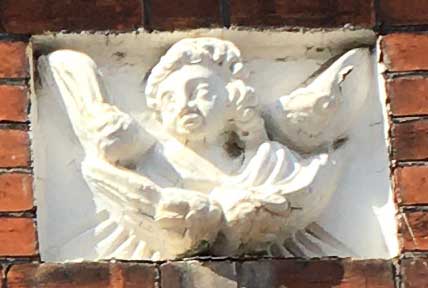 Courtesy Ed Broom
29.4.2020 – Ed Broom writes: 'Are you familiar with the angel on Norfolk Street? Come up Hervey Street, turn right into Norfolk Street and it's the first house on the left. No obvious lettering but very pronounced like that Baden-Powell feature on Bramford Lane. He/she is high up above the front door. Most odd.' This must, like the Baden-Powell relief above, be an original feature of the house (Cumberland Terrace on the same side of the road has a plaque dated 1888). The double fronted, end-of-terrace dwelling may have originally been called Angel House by the builder or original owner, who knows? There is no lettering.
Thanks to Ed for spotting it.
More from Bramford Lane
196-198 Bramford Lane
UPDATE
26.5.2020: Ed Broom writes again (this time with a very 2020-specific refererence): 'With a slow-moving socially distanced queue outside my local Tesco, I walked a little further to my local Co-op. En route I spotted Persevering Terrace (1878) on Bramford Lane, a row of about a dozen small houses between Springfield Junior School and Richmond Road. Name plate is between 196-198 Bramford Lane and in the shadow of a satellite dish. Great name, don't you think? -Ed.'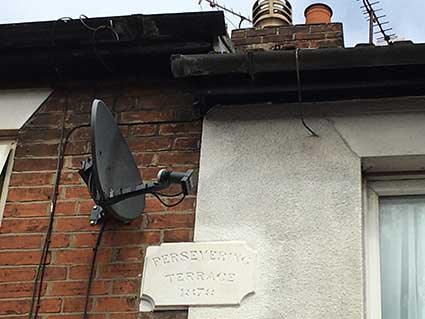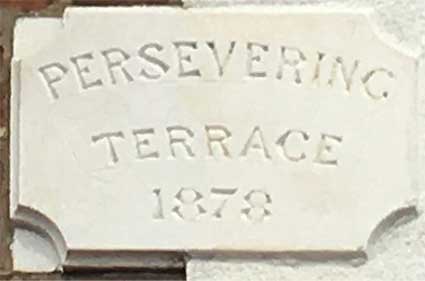 Courtesy Ed Broom
The name plaque is shown as an enhanced image above right. The 'ING' has filled up somewhat with paint over the years, so it's easy to glance at this and read it as 'PERSEVERANCE TERRACE' which would be, perhaps, a more expected name. The name may have been chosen by the builder; one likes to imagine that he might have experienced financial or structural problems during this development – however, the Victorian taste for uplifting qualities such as fortitude, endeavour, loyalty and so on is probably more the ticket. One comparitor in Ipswich is 'Vigilant Villas' on our
Dated buildings page
. Thanks to Ed for sending this in.
216-218 Bramford Lane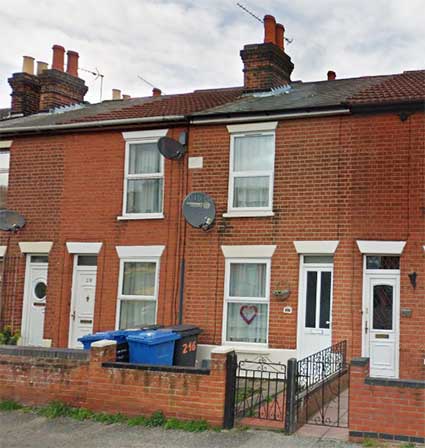 Ed completes the hat-trick:
[
UPDATE
23.6.2020: 'One more thing: at 216-218 Bramford Lane, a few doors down from Baden-Powell Cottages, can be found a white name plaque reading (I think) Omdurman Cottages 1899. I'd imagine that the Battle of Omdurman was very big news at that time. Again that ties in with nearby Kitchener Road [five doors down].' Well done, that man – although it looks as if clinging ivy has been pulled away from the facade, making this plaque obscure.]

Courtesy Ed Broom
The Battle of Omdurman was fought on 2 September 1898. An army commanded by the British General Sir Herbert Kitchener defeated the army of Abdullah al-Taashi, the successor to the self-proclaimed Mahdi, Muhammad Ahmad. Kitchener was seeking revenge for the 1885 death of General Gordon; it marked the success of British efforts to reconquer the Sudan. However, it was not until the 1899 Battle of Umm Diwaykarat that the final Mahdist forces were defeated. Omdurman is today a suburb of Khartoum in central Sudan.
Notable events in history sometimes sparked the naming of buildings. See our
Bramford Road
page for 'Tel El Kebir Cottage' and 'Zagazig House'.
Other things in Bramford Lane:
Bramford Lane rail bridge
Bramford Lane (St Thomas Church foundation stone)
135 Bramford Lane ('Claydon Hall Dairy'
- corner with Hampton Road
)
203 Bramford Lane (Co-op 'BUILT 1904')
Home

Please email any comments and contributions by clicking here.

Search Ipswich Historic Lettering


©2004 Copyright throughout the Ipswich Historic Lettering site: Borin Van Loon
No reproduction of text or images without express written permission