At 230-232 Bramford Lane is a particularly unusual and pictorial house name plaque. We were not aware of this piece until Richard Cocke, author of
Public sculpture of Norfolk & Suffolk
(see
Reading List
) showed it during his talk to the Ipswich Society in October 2013.
'BADEN POWELL COTTAGES'

is emblazoned across the upper scroll which has suitably scout-like flag endings. The top of the plaque has suffered some damage at the centre-right edge, but has been well-painted in white fairly recently to accentuate the details.
The portrait of Baden-Powell is rather cartoonish and perhaps stand half-way between classical sculptural correctness and primitive/naive art.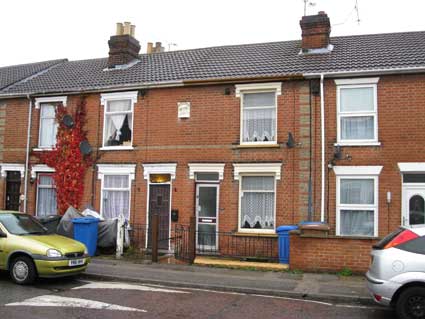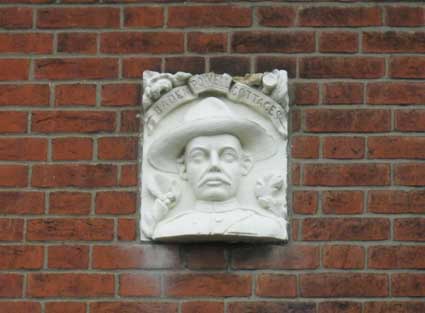 2013 images
On the related website for
Public sculpture of Norfolk & Suffolk
, Richard writes:
"Baden-Powell is shown bust-length, under a cartouche decorated with flowers, continued at the bottom with an olive leaf on the left. He wears a trim moustache, looks out sternly in his military uniform from under his characteristic stetson campaign hat.
Robert Baden-Powell, 1st Baron (1857- 1941) became a national hero following his exploits at the siege of Mafeking, even before founding the Boy Scout movement in 1908. When the siege was lifted on 16 May 1900 Baden-Powell became a national hero, celebrated on patriotic postcards of that year, the probable source of the image on the roundel
[sic]
. The elegant if simple brick of the cottages, diminished by replacement doors and windows, is consistent with a date around 1900, when Baden-Powell first achieved national fame, a date underlined by their position besides Kitchener Road." Viscount Herbert Kitchener of Khartoum (1850-1916), famous from the 'Your Country Needs You!' poster, became High Steward of Ipswich in 1909.
Home

Please email any comments and contributions by clicking here.

Search Ipswich Historic Lettering


©2004 Copyright throughout the Ipswich Historic Lettering site: Borin Van Loon
No reproduction of text or images without express written permission