Bostock Road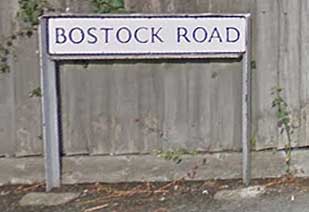 2014 image


A small and often overlooked residential cul-de-sac on the edge of Ipswich, Bostock Road lies opposite the southern entrance to the Port of Ipswich West Bank Terminal on Wherstead Road. The name may come from Edward Bostock who founded Ipswich's Hippodrome Theatre in St Nicholas Street (opened in March 1905 and closed as a live venue in 1957; demolished 1985). We are unsure whether these 1920s houses qualify as 'railway cottages', but we certainly knew a railwayman who lived there, his garden backing on to the Norwich to London main line which rises on an embakment here.

Our thanks to Ed Broom for engendering this page:
22.7.2020: 'Out on two wheels along Wherstead Road, I was delighted to find Ostrich Terrace, then slightly gutted when I saw you already had it on your site. Thought you should know that the block of houses on the town side of Bostock Road has the comforting name of Teddy's Terrace, also from 1925.'



542-544 Wherstead Road


Before entering the road itself, the jaws of the junction (now on an elongated roundabout) are bookended – if we can mix our metaphors – by Ostrich Terrace 1925 (shown on our Bourne Park page). As Ed points out, on the north side of the juction is, rather appealingly: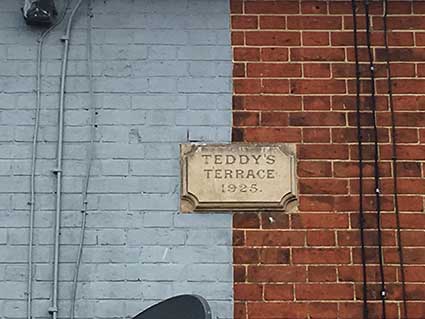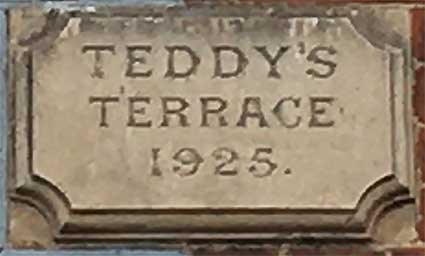 'TEDDY'S
TERRACE
1925'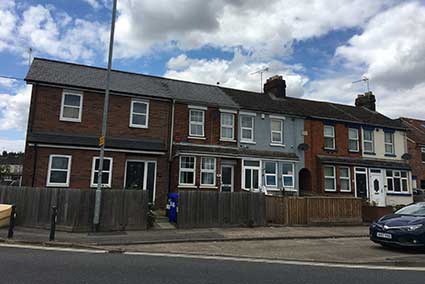 2020 images courtesy Ed Broom


Both of these 1925 terraces have had modern houses added on, thereby closing in the entrance to Bostock Road; presumably these plots would have been part of the end-of-terrace gardens.



5-7 Bostock Road


The terrace of six houses on the left of Bostock Road is named:




'BLOOMFIELD'S
VILLAS'


Perhaps there is a connection with Bloomfield Terrace, as shown on our Rosehill Houses page.

15-17 Bostock Road
The last four houses on the left are: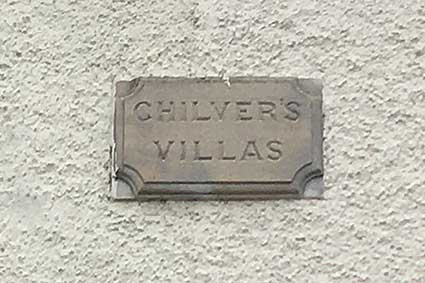 'CHILVER'S
VILLAS'





14-16 Bostock Road


On the north side of the road, the furthest four houses are: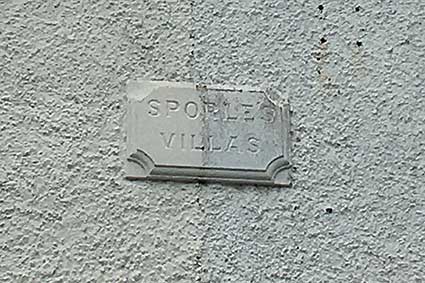 'SPORLE'S
VILLAS'
The Sporle's Villas plaque suffers a little from the masonry paint applied in somewhat different colours to each house; the caking up of paint across the centre impedes readability.
6-8 Bostock Road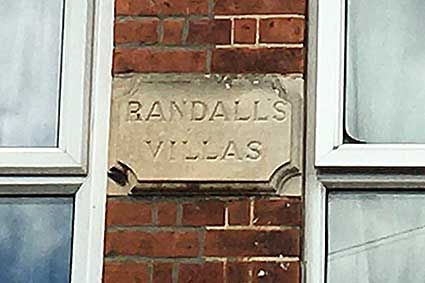 'RANDALL'S
VILLAS'
27-28
Bostock Road
At the far end of Bostock Road, running parallel to the railway are three groups of similar houses. At the left, two larger semi-detached houses (unnamed); in the centre, a terrace of six houses ('DASHWOOD'S VILLAS'); at the right, a terrace of four houses (unnamed). Ed reminds us that Charles Edmund Dashwood (1857–1935) was only six years old when he inherited
Wherstead Park
; he assumed responsibility for the estate when he came of age.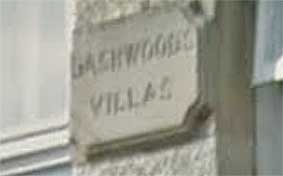 2014 image
The possessive apostrophe on each of these plaques suggests that the buildings were owned by the named people. It would be interesting to hear the derivations.
Home

Please email any comments and contributions by clicking here.

Search Ipswich Historic Lettering


©2004 Copyright throughout the Ipswich Historic Lettering site: Borin Van Loon
No reproduction of text or images without express written permission