Burroughes Bros revealed!
Corn, Flour & Meal



The weathering of this obliterated cartouche painted on the rear wall of The Lamden Gallery at 137-143 Felixstowe Road (several shops knocked into one) has raised it from our Vestiges page, where its unreadable state can be seen, to its own page in our Trade lettering section.

As of 12.12.12, we are indebted to Simon Knott and his indefatigable band of snappers-up of unconsidered trifles around Ipswich:


'BURROUGHES BROS.
CORN
FLOUR & MEAL
...............'



The letterforms curve and swell to occupy the space. Burroughes Brothers' mill was apparently at Shelfanger, just over the Norfolk border, and it was thought that this was the lost writing at the bottom. Simon writes that by 1966 this building at the corner of Felixstowe Road and York Road was a branch of Tooks the Bakers, and it is not impossible that it was a bakery during the time this advert was made.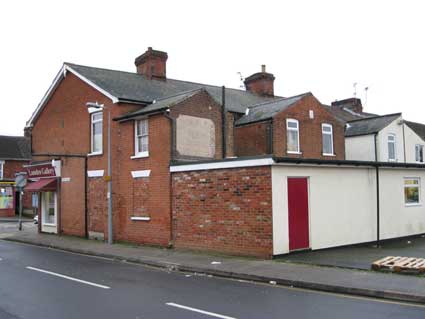 2013 images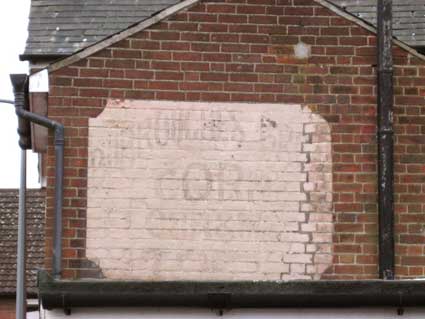 The slightly enhanced image below gives the best opportunity of decoding the lettering below the buff paint and repointed brickwork to the right of the cartouche. We have traced the outlines of the visible characters and the only degree of extrapolation relates to the 's' of 'Bros' (which is self-explanatory – however the full stop is an assumption), the 'al' of 'Meal' and the word 'Stores', of which we're pretty confident. This results in the retouched version of the sign below.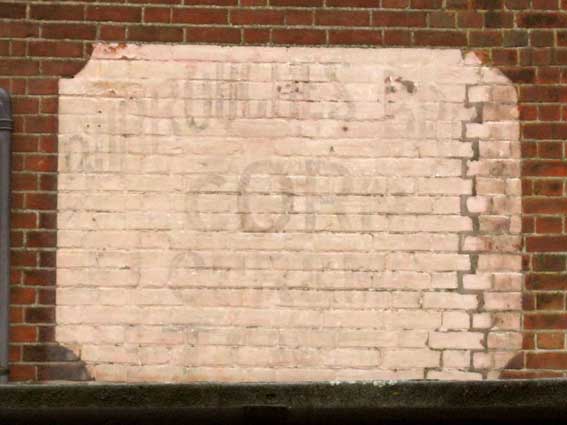 We assume that the flat roof extension which runs along the rear of the premises is fairly recent and would not have obscured the sign in its heyday. The letterforms are somewhat eccentric in their shape, skew and sizing. After the arching, condensed capitals at the top of the sign – difficult to pull off, the 'OR' in 'CORN' is enlarged to fill the arc and the inter-word spacing of "Flour & Meal' seems uncomfortably close.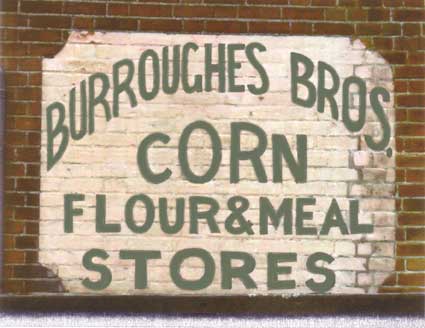 Burroughes Brothers were a Norfolk milling and cereal products company, appearing in the records for Cley-Next-The-Sea towermill. In 1892 Stephen Barnabas Burroughs also had a baking business in Langham and a coal & corn merchant business in Holt. In 1912, Kelly's directory only lists the Burroughs Brothers as bakers in Cley and Stephen Barnabas Burroughs as agent to Lt. Col. T. F. A. Watson Kennedy JP & farmer. However, Sydney Stephen Burroughes was also running a large milling business from Holt towermill. The Burroughes Brothers company is still listed in the 1920s, but we don't know when the company ceased to trade.

More Felixstowe Road lettering.



Please email any comments and contributions by clicking here.
©2004 Copyright throughout the Ipswich Historic Lettering site: Borin Van Loon
No reproduction of text or images without express written permission