London: Gallery 3



London, we know, is a massive resource for public lettering from times past. We include here one of several galleries of lettering images to give a hint of these riches. If you have any information about any of the signs, do email us. These images come from a walk from the area around King's Cross (in 2012 the centre of a huge rebuilding of the area including the relocation of Central St Martin's College of Art into a period granary) towards Bloomsbury.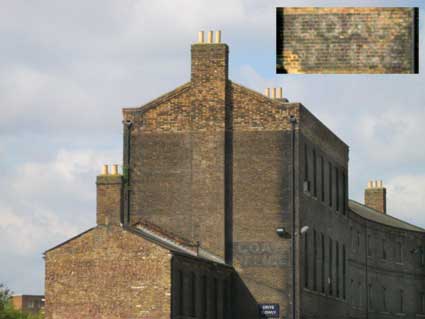 'COAL
OFFICE'
The canal system lying behind King's Cross and St Pancras stations had a major role in the industrial development of the area in the 19th century. The nearby coal office (ghostly sign, just above the blue and white enamelled 'Drive slowly' sign) built on a curve and looks as if it will be saved and refurbished.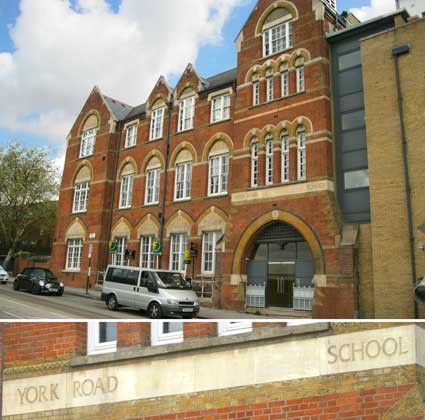 'YORK ROAD ... SCHOOL'
in York Way (formerly York Road), N1. This attractive building with its large arched entrance has been converted into flats.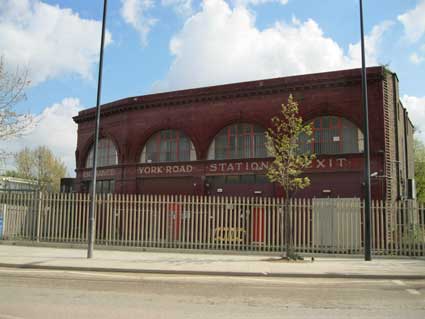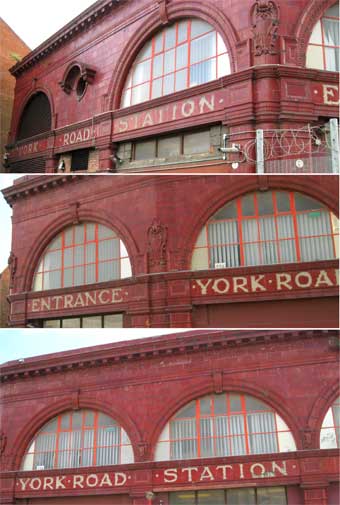 'YORK ROAD STATION ... ENTRANCE ... YORK ROAD STATION ...EXIT'


This corner site was refurbished at some recent date and the maroon livery is quite striking, albeit hemmed around with fencing and barbed wire when these photographs were taken. The lettering at first glance seems original, but it becomes obvious that the shapes are where the characters once stood. Comparison with the finish of the similar style and colour of station at Russell Square (below) suggests that the characters have been ripped off a background, though how this works with what appears to be ceramic tiling, we don't know.
York Road tube station (corner of Bingfield Street and York Way) is a disused station on the London Underground. It opened on 15 December 1906 and was one of the original stations on the Great Northern, Piccadilly and Brompton Railway (GNP&BR), now the Piccadilly line. It is located between King's Cross St Pancras and Caledonian Road, and had its entrance at the corner of York Road (now York Way) and Bingfield Street. Unlike most other GNP&BR stations, the lifts descended directly to platform level. Being in a poor industrial area, the station saw little use, and Sunday services were withdrawn from 5 May 1918. The station remained open for weekday traffic until 19 September 1932 when it closed permanently. One of London's largest redevelopment projects, King's Cross Central, began construction in 2008 across the road from the station. Islington Council and Transport for London commissioned a study in 2005 to consider the possible reopening of the station. In 2005 a business case was prepared to reopen the station, to serve the Kings Cross Central development and help relieve congestion at King's Cross St Pancras. However, this scheme has not so far been taken up.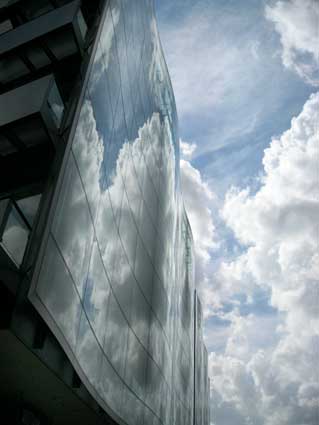 Nearby is the building in which

The Guardian

and

The Observer

newspapers now reside: King's Place, 90 York Way. The rippling fascia gave a wonderful reflected skyscape.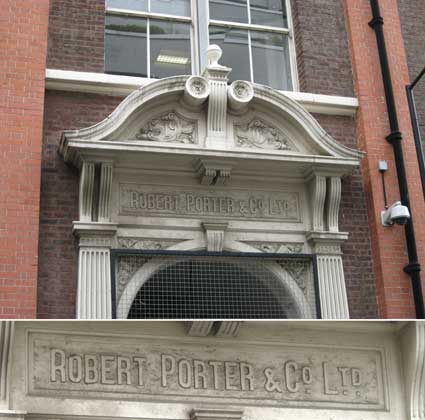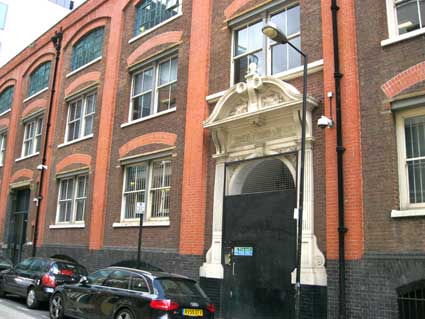 '19 ... 05
ROBERT PORTER & C
O
. L
TD
.'
The split date on each side of the pediment is very stylish with its curlicues. Beneath the company name in large and small caps. We think this was a brewery company in Crinan Street, King's Cross.
[
UPDATE
1.5.13: "Dear Sirs
ROBERT PORTER & CO. LTD (Beer Bottlers), 4-14 Crinan Street, LondonN1 including Export Bottlers Ltd (Liverpool)
I worked in the accounts department for the above company from 1954- 1974. We worked five days per week plus Saturday morning until noon. To my knowledge it was never a brewery but bottled beers for other companies. Apart from supplying beer and soft drinks to off -licences and working men's clubs we also sold jeroboams of Merrydown Cider. Deposit charged for bottles and crates. Guinness for Arthur Guinness &Sons Park Royal. Sold under the "Bulldog Brand". Young's of Wandsworth.
Beer was bottled for Harmans Brewery at Uxbridge 500doz per run for 9/3d per dozen. Ridley's at Chelmsford were charged 9/7d for a run 0f 300doz. All of these were delivered by open back lorry. Full size paper mache bulldog above the drivers cabin. The driver always had a van boy to help him. Deliveries were made as far away as Margate, Clacton and Southend Kursaal.
We were probably one of the first companies to bottle beer for Courage – Horselydown. This was sold in Sainsbury supermarkets as Sainsbury own brand. If Charrington/ Whitbread or Ind Coope had problems we would help out with bottling. We also bottled Worthington Beer and Bass Pale Ale.
Beer was exported via barge to Holland and Denmark from the canal basin at the back of building.Mainly India Pale Ale. Customs and Excise were based in a small office in Wharfdale Road bay to monitor movements of such. When leaving in 1974 the company was bought over by Shaw Brewery and moved to Hackney. To my knowledge it was eventually bought by a Scottish distillery.
Hope this will fill in a few gaps as to the history of Robert Porter and Co. Ltd. –Ada Fisher"
Our grateful thanks to Ada for getting touch with so much detail about this company.
]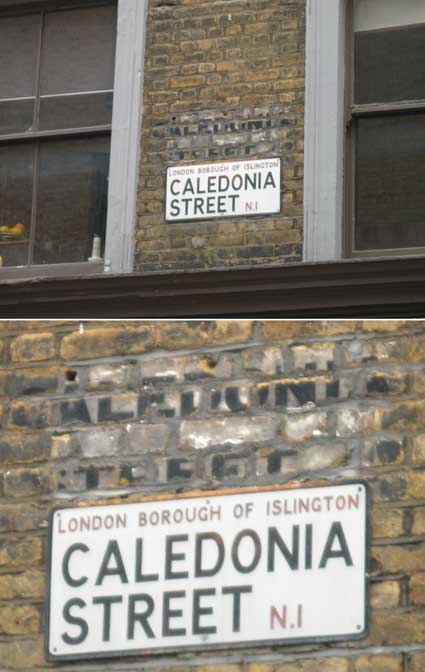 'LINCOLN ARMS'


rather a nice piece of pierced metalwork, still in place above the door; the hostelry has now inexplicably changed to the 'Lincoln Lounge', 52 York Way. Also, in a nearby street, the metal plate of Caledonia Street sits beneath an earlier ghostly painted street sign.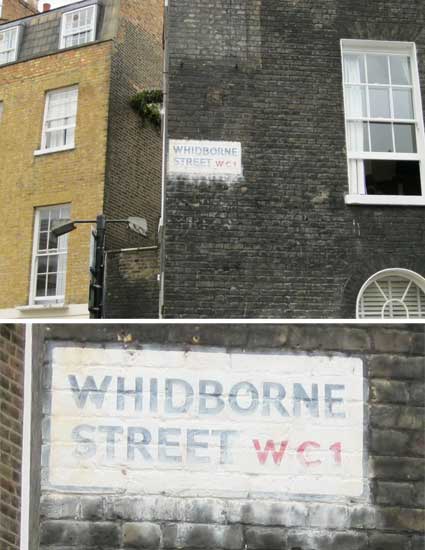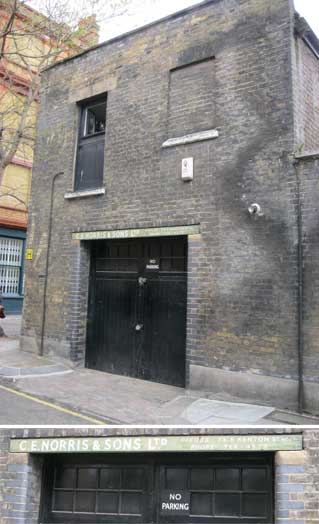 'WHIDBORNE STREET

WC1'
(apparently whitewashed over, now weathering back into view) with some of the buildings therein.
'C.E. NORRIS & SONS LTD
OFFICES -
73/5 KENTON ST. W.C.1
PHONE -
TER. 4577'
with the obligatory, 'No Parking' sign indicating that this is probably a private garage. The three-letter telephone exchange code 'TER' stood for 'Terminus' (i.e. King's Cross).
Another narrow building is shown below which bears a cast iron street sign (once covered by ivy by the traces on it); the 'W.C.' adds a splash of colour in the grey. The Whidborne Street sign is distinct from others shown here because of the absence of a postal district number. This dates the nameplate to before the First World War...
The division of London into Postal Districts in 1857-8 effectively divided the capital into smaller and semi-independent postal towns. Sir Rowland Hill. the designer of the first stamp and the man who introduced the uniform postal rate for the whole country, carved up London into eight such Districts. These were denoted by letters representing compass points.,The original 10 districts were EC (Eastern Central), WC (Western Central), and then NW, N, NE, E, SE, S, SW, and W. Towards the end of the nineteenth century in London – then the world's largest city – the situation became clogged again. Initially as a war-time labour-saving device, a suffix on the Postal District denoting the Sub-District was introduced formally in 1917. The allocation of the numbering was alphabetical. In each district, the sub-district nearest the centre of London was given the number 1. Others were numbered in alphabetical order of the main delivery office in each district. Thus the inner part of Eastern District became E1 whilst Bethnal Green Sub-District became E2 and Bow became E3. Numbers at the end of each alphabetical sequence are later additions. Subsequently the original Postal Districts in London became Areas and the Sub-Districts became full Districts in modern terminology.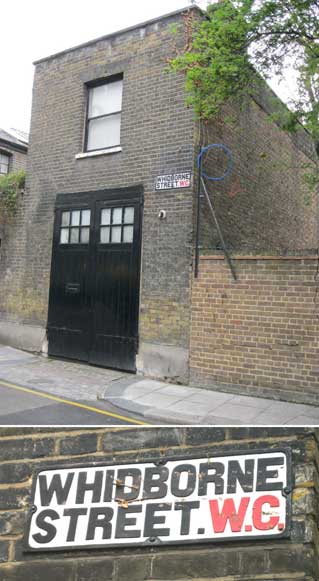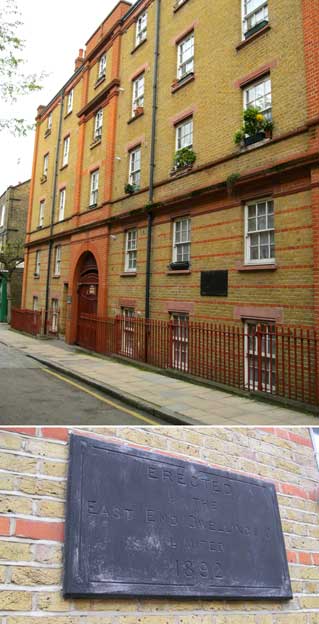 'ERECTED
BY THE
EAST END DWELLINGS CO.
LIMITED
1892'


Whidborne House tenements. The East End Dwellings Company was a Victorian philanthropic model dwellings company, operating in the East End of London in the latter part of the 19th century. The company was founded in principle in 1882 by, among others, Samuel Augustus Barnett, vicar of St Jude's Church, Whitechapel; it was finally incorporated in 1884. Its aim was to "house the very poor while realizing some profit", "their particular purpose being to erect blocks of dwellings, to be let by the room, so that the poorest class of labourers could be accommodated".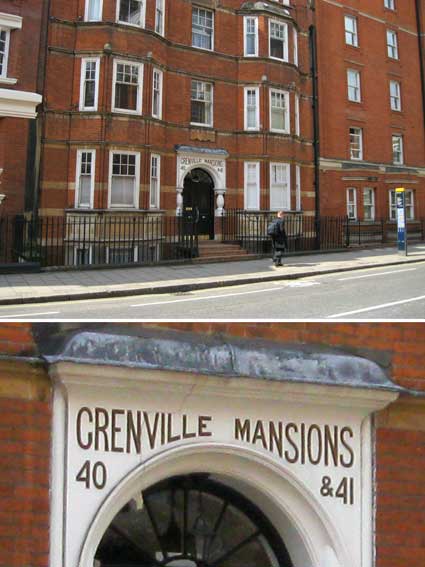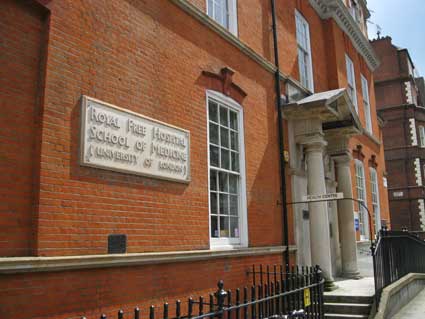 'GRENVILLE MANSIONS ... 40 & 41'
Grenville Mansions, Hunter Street, WC1.
'ROYAL FREE HOSPITAL
SCHOOL OF MEDICINE
(UNIVERSITY OF LONDON)'

London (Royal Free Hospital) School of Medicine for Women founded on this site (also in Hunter Street, WC1) as the London School of Medicine for Women (LSMW) in 1874, rebuilt 1898 after becoming part of the Royal Free Hospital. Notable graduates include future suffragettes Louisa Garrett Anderson (her mother Elizabeth Garrett Anderson was the Dean) and Flora Murray, who went on to found the Women's Hospital Corps during the First World War.



'RUSSELL SQUARE STATION'


on Bernard Street in a downpour. The station was opened by the Great Northern, Piccadilly and Brompton Railway on 15 December 1906 and was designed by Leslie Green. See the old York Road Station above.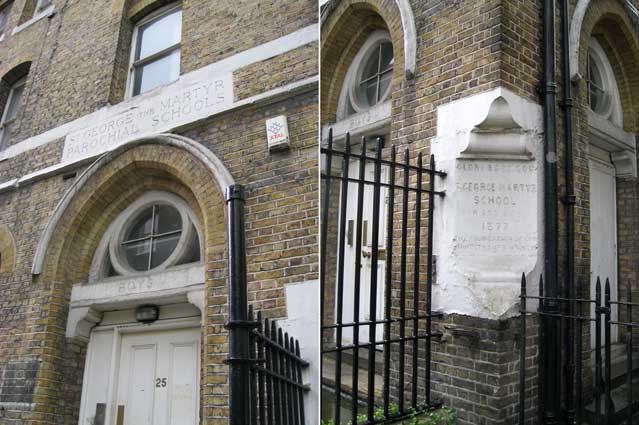 And off Queen Square, in Old Gloucester Street, a lettered doorway:


'ST GEORGE THE MARTYR

PAROCHIAL SCHOOLS'

and above the door to number 25:


'BOYS'

'GLORY BE TO GOD

ST GEORGE MARTYR

SCHOOL

FOR 200 BOYS

1877

THE FOUNDATION OF GOD

STANDETH SURE II TIM 2.19'


This is an appropriate quotation for a foundation stone with the attribution, in the King James bible, to II Timothy 2.19; although the last digit looks a bit like a zero.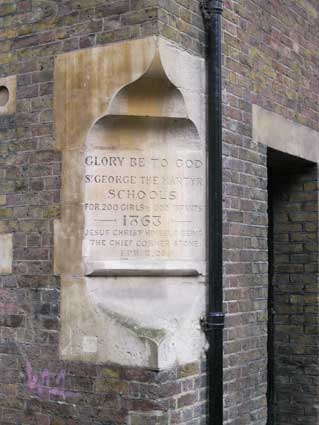 They turned the same trick on the Girls' School over the road with a suitable quotations from Ephesians 2.20. The carving here, although dated earlier, is more sophisticated and in much better condition and readability than the Boys' School stone:


'GLORY BE TO GOD
ST. GEORGE THE MARTYR
SCHOOLS
FOR 200 GIRLS & 200 INFANTS
- 1863 -
JESUS CHRIST HIMSELF BEING THE CHIEF CORNER STONE
EPH. II 20.'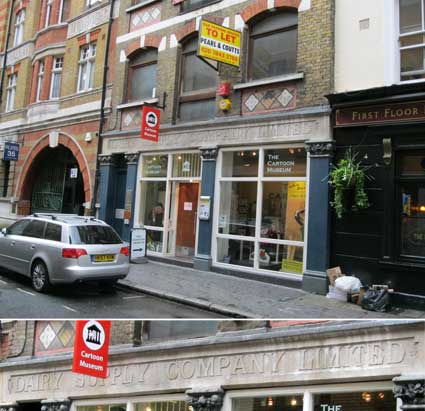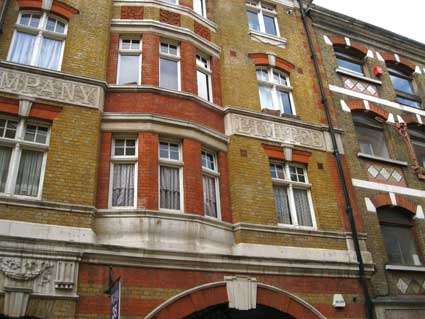 The end of the walk from King's Cross brings us to The Cartoon Museum in Little Russell Street, Bloomsbury. The sign running over the frontage is:


'DAIRY SUPPLY COMPANY LIMITED'

The polychrome brick and stonework runs round the corner into Coptic Street and reveals a wealth of lettering.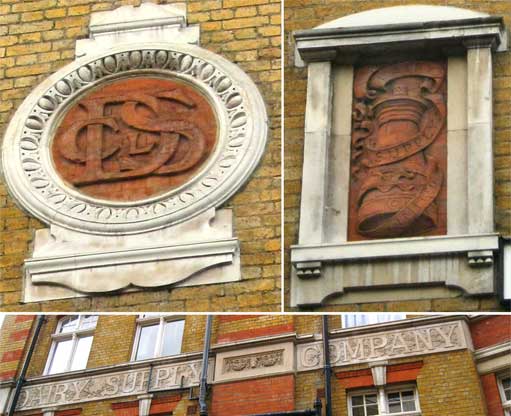 Above the Coptic Street sign are a roundel in terra cotta and stone: 'DSCL' and a similar rectangular feature beneath it showing a milk churn encircled by a scroll reading: 'DAIRY SUPPLY COMPANY' (just readable on our image). The lettered frieze running between the two runs right round both faces of the building and features a leaf and berry motif upon which the relief serif capitals sit, stating the company name on each side:


'DAIRY SUPPLY COMPANY LIMITED'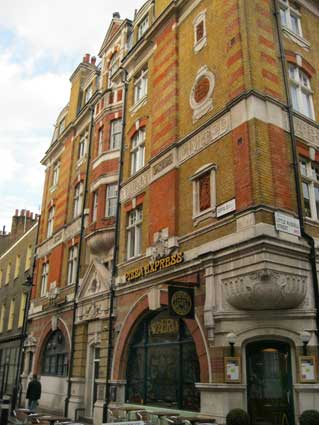 'A 1888 D

DIRECTORS
VISCOUNT COMBERMERE
J.C.LAWRANCE, Q.C., M.P.
GEORGE BARHAM
SECRETARY. R.W. SHACKLETON'
'DSCL' [on each side]



The crest with date and panel featuring 'Directors' are above a rather grand entrance to the offices above. This building was designed in 1888 by R. P. Whellock. One writer has said: "Those directors turn out to be surprisingly interesting bunch: one invented the milk churn, one was a laughably bad High Court Judge and the third was photographed as a ghost." This building at the corner of Coptic Street and Little Russell Street was apparently the second restaurant to open in the Pizza Express chain. In the dairy on Coptic Street, Whellock put in big, round-arched windows on the ground floor; these were apparently typical of the architecture favoured by the Dairy Supply Company. Original diary tiles are preserved inside, too, we hear.

For further examples see our London Galleries page.