HUDDERSFIELD, BIRMINGHAM, MANCHESTER, WARRINGTON, BRADFORD.
LINCOLN, BLACKBURN, CAMBRIDGE, DONCASTER.
Freeman, Hardy & Willis was set up in Leicester in the mid 1870s, when Edward Wood sold his boot and shoe manufacturing business, E. Wood & Co., to three of his associates. Soon after the company changed its name, and Freeman, Hardy & Willis embarked on an ambitious expansion plan which saw its number of retail outlets increase dramatically. Freeman, Hardy & Willis was one of the first firms which in the last quarter of the 19th century opened shops in many towns, thus selling directly to the public and cutting out the middle man. By 1890 it owned more than 100 outlets, an expansion explained by their taking-over of other shoe companies and their retail premises. The photograph above is certainly pre-1931, when Lloyds (then, Cobbold's) Bank, Arch and Avenue were built to the left of this view.
Looking at the image, below, of the Cornhill in 1960 when it was a throughway to two-way traffic and a bus station, at the top right is the same building. Still a shoe shop: Timpson's at this time, but shorn of its upper shaped wall and all its lettering.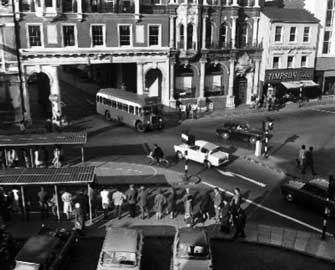 Cornhill 1960 (courtesy The Ipswich Society)
An Ipswich chimney sweep's trade sign, painted in oils on slate.
The sign features a naive depiction of the Cornhill with the Market Cross (demolished c. 1812) and the Town Hall (with its external covered staircase) which stood on the site of St Mildred's Church and incorporated some of its structure. This sign was displayed outside a chimney sweep's business at 82 Norwich Road and later outside the premises opposite at number 59 (now a shoe repairer), catering to all the new, large houses which had been built in the neighbourhood at this time.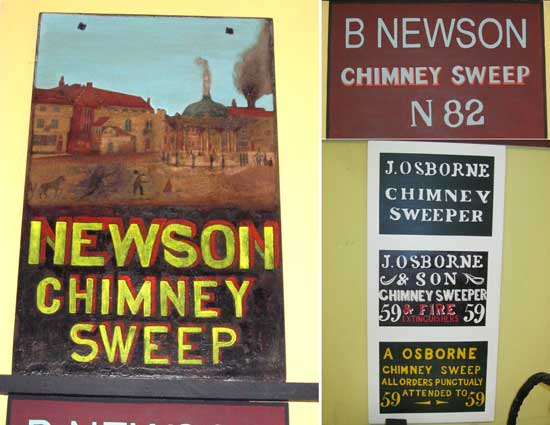 at left: No. 3; then (from top) 1, 4, 5, 6.
It has been repainted at least seven times and was obscured by a very thick layer of blackened varnish. During its careful cleaning and conservation all the different changes to the firm's title were carefully recovered and plotted. Between them they show the changes in the styles and colours of fashionable sign writing throughout the century albeit with a vernacular approach. Copies of all these layers are shown here:
1. The earliest layer reads: 'B. Newson Chimney Sweep N 82' (B. Newson cannot be traced in the trade directories, but this layer must date from c. 1812 or earlier)
2. Fragmentary but it read: 'H.Newson Chiney Sweep N.82'
3. 'Newson Chimney Sweep' (references can be found to a sweep and china dealer of that name in 1868 and 1869). Clearly this letterer, while aiming at sophistication with it red drop-shadow – in reality, raised shadow – had trouble with the letter 'S' and in particular the 'N's which take on the aspect of the impossible object.
4. 'J. Osborne chimney sweeper' (this appears in trade directories from 1874-1891).
5. 'J. Osborne and Son chimney sweeper & fire extinguisher 59 ' (this appears in trade directories from 1891-1894).
6. 'A. Osborne chimney sweep; all orders punctually attended to 59' (this appears in trade directories from 1894-1910; the business was in fact carried on until the 1920s by his widow, but this was not recorded on the sign).
Churchman's cigarettes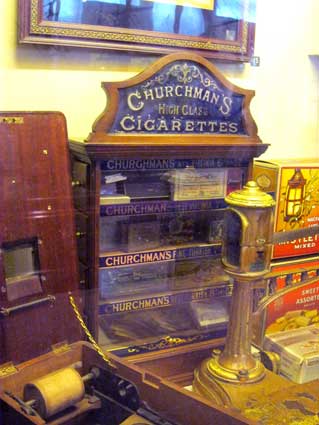 'CHURCHMAN'S
HIGH CLASS
CIGARETTES
CHURCHMAN'S N
O
1 VIRGINIA 6
D
PER OZ
CHURCHMAN'S BEST VIRGINIA 7
D
PER OZ
CHURCHMAN'S FINE TURKISH 7
D
PER OZ
CHURCHMAN'S BEST TURKISH 8
D
PER OZ'
This fine display cabinet would once have stood on a tobacconist's counter, rich in cast, gold-on black, relief lettering shaped varnished wood and glass. The types of product are labelled on the edges of the four shelves. The National Archives website gives a good summary of Churchman's tobacco company in Ipswich starting from a modest tallow-chandling business to become a major employer in the town:-
"The firm of W.A. and A.C. Churchman was founded in Ipswich by William Churchman in 1790, beginning as a small pipe tobacco manufacturer with a shop at Hyde Park Corner
[this is the name given to
the junction of Westgate Street and Crown Street]
. In 1888 William Alfred (later Sir William) and Arthur Charles Churchman (later Lord Woodbridge and a director of the British American Tobacco Company from 1904 to 1923), grandsons of the founder, succeeded their father, Henry, in the business. It was from them that the Company derived its title. At that time output was mainly shag, snuff and tobacco. By 1890 the Company was also making 'white cigarettes', and six years later installed one of the first cigarette-making machines, producing 20,000 cigarettes an hour; the famous 'Churchman's No. 1' brand dates from this period. In 1891 Churchmans opened a new factory in Portman Road, Ipswich. In 1890 James Buchanan Duke of North Carolina merged his family tobacco business, W. Duke Sons & Co., with four of the largest American manufacturers to form the American Tobacco Company, which by 1901 had amassed capital to the equivalent of £150 million sterling. An aggressive assault was launched on the British cigarette market, Duke making no secret of his authority to spend up to £6 million of American Tobacco Company money on the acquisition of British and European tobacco companies. To counter this threat, W.D. & H.O. Wills, John Player & Sons, Lambert & Butler, Hignett Brothers (with their associated firms) and Stephen Mitchell & Son, with six other firms, joined forces to found the Imperial Tobacco Company (of Great Britain and Ireland) Ltd in 1901. The following year Churchmans joined the new company. Churchmans' Portman Road factory was extended several times during the inter-war years. From at least as early as 1918 to at least as late as 1944 they also had a small branch in Norwich, of which very little documentation appears to have survived. In 1961 W.A. & A.C. Churchman amalgamated with Lambert & Butler and Edwards, Ringer & Bigg, to become first Churchman, Lambert & Ringer, then renamed Churchmans in 1965. By now production was concentrated on the manufacturing of cigars, and in August 1966 Churchmans acquired the firm of Herbert Merchant, the main UK agents for the Dutch cigar producers Henri Wintermans. With a work force of over 1,000, the Ipswich factory produced more than 1,000,000 cigars a day. But in 1972 the company ceased to be a separate brand of Imperial Tobacco; the cigar business was integrated with John Player & Sons, and the tobacco interests with Ogdens of Liverpool. Finally, in May 1992, in order to streamline operations, the parent company moved all production to Bristol, and Churchmans closed with the loss of over four hundred jobs."
See our
Chantry Park
page for more on the legacy of A.C. Churchman, Lord Woodbridge.
Ransome Sims & Jeffries clock, 1849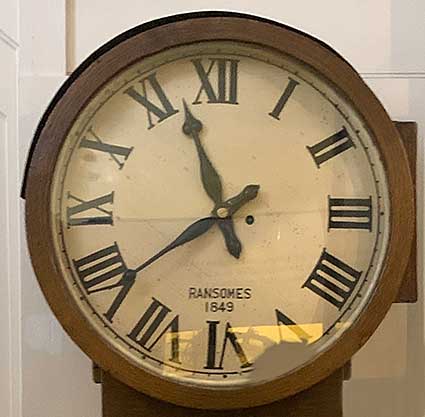 This large timepiece was presumably in the main offices of the heavy engineering firm,
Ransomes Sims & Jefferies
.
Ipswich Isolation Hospital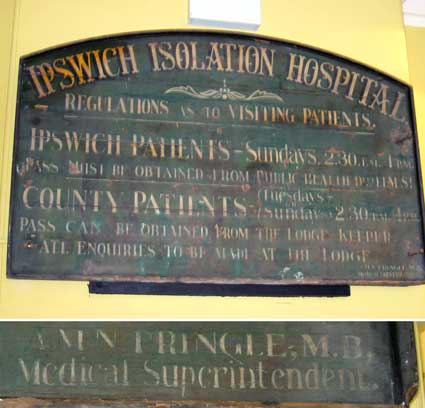 'IPSWICH ISOLATION HOSPITAL
REGULATIONS AS TO VISITING PATIENTS.
IPSWICH PATIENTS – Sundays, 2.30 P.M. 4 P.M.
PASS MUST BE OBTAINED FROM PUBLIC HEALTH D
EPT
. ELM S
T
.
COUNTY PATIENTS – (Tuesdays
OR
(Sundays, 2.30 P.M. 4 P.M.
PASS CAN BE OBTAINED FROM THE LODGE KEEPER
ALL ENQUIRIES TO BE MADE AT THE LODGE.
A.M.N. PRINGLE, M.B,
Medical Superintendent.'
This sign-board comes from an isolation hospital sited near to the buildings opposite
St Clements Hospital
in Foxhall Road, still known to many as 'The Nurses' Home'. Another isolation hospital was situated outside the town a mile or two further up the road on the edge of woods at Foxhall (not to be confused with "Ipswich Sanatorium", later Foxhall Hospital, situated close to the present-day speedway track). This one is labelled 'Hospital (Infectious diseases)' on our
1930 Map
of Ipswich.
Salute Cannon / Truncheons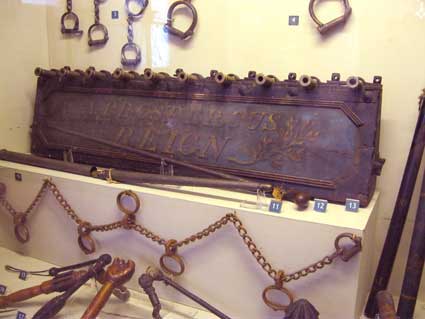 This set of miniature salute cannon (mounted along the top edge of the sign) was made by the inmates of Ipswich prison to fire a salute at the coronation of Queen Victoria on 28 June 1838. The italic, drop-shadow, serif lettering – rather murky in this photograph – reads:
'A PROSPEROUS REIGN'

On the theme of law enforcement, the Ipswich Museum has a collection of cudgels and truncheons many of which bear lettering. These require more research; of particular interest is the lettering running in a spiral down the length of the example second from the left.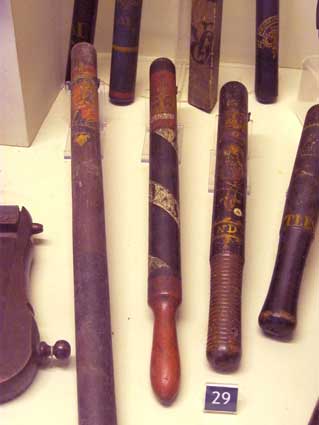 Wartime signs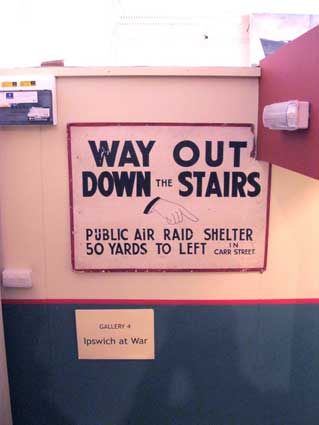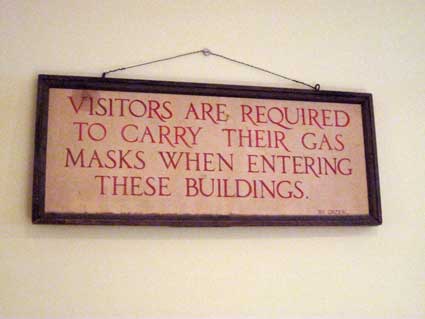 This nicely-placed original (?) card sign reads:
'WAY OUT
DOWN THE STAIRS
PUBLIC AIR RAID SHELTER
50 YARDS TO LEFT
IN CARR STREET'
To the right is a framed sign displaying a refined taste in choice of font (note the sweeping kerns on the letters 'R' and 'Q'), colour and layout:
'VISITORS ARE REQUIRED
TO CARRY THEIR GAS
MASKS WHEN ENTERING
THESE BUILDINGS.
BY ORDER'

The downward pointing hand with its white shirt cuff and suit sleeve is particularly satisfying. The Second World War in particular is well represented in the 'Ipswich at War' gallery.
'A.R.P.
SHELTER'

Some people seem to think that 'A.R.P.' stands for 'Auxilliary Reserve Police' or something similar. In September 1935, the British prime minister, Stanley Baldwin, published a circular entitled
Air Raid Precautions
, inviting local authorities to make plans to protect their people in event of a war. Some towns responded by arranging the building of public air raid shelters. These shelters were built of brick with roofs of reinforced concrete. However, some local authorities ignored the circular and in April 1937 the government decided to create an Air Raid Wardens' Service and during the next year recruited around 200,000 volunteers. Apart from the official issue shelters for individual households (those lucky enough to have a garden in which to install it), public shelters were built in Ipswich as it was a target for Nazi bombing raids. The Ipswich Museum displays some fascinating maps created by German intelligence, based on pre-war Ordnance Survey maps of Britain with targets (engineering/munitions works, docks telephone exchanges etc.) clearly marked. These were seized by British intelligence at the end of the war. Fortunately for the war effort the bombers' aim was not accurate however, this meant that stray bombs fell on housing and other civilian buildings in the town and surrounding area. Two notable mass air-raid shelters existed at (a) Clifford Road School and Stoke Hall Vaults.
(a) The shelter was built beneath the school playground during the first three months of the war, and was unusually robust compared to other public provisions. This was partly due to the efforts of the controversial local MP, Richard Stokes, who campaigned for massive public air-raid shelters to be built by excavating under the hill of Alexandra Park. Perhaps the local authority felt they had to offer the Clifford Road facility in order to put the MP off his 'ambitious' Alexandra Park pet project. There were thirteen separate entrance during the war, to acomodate different years and classes. After the war, the shelter was sealed up and largely forgotten. It was re-discovered in 1989, when workmen excavating a small pond for the school found one of the original entrances. To everyone's surprise the tunnels were in first class condition and a museum was created which includes a section of London Underground train carraige. This is still open to the public by appointment.
(b) In 1740 Thomas Cartwright, winemerchant, built Stoke Hall – roughly where Stoke Hall Road now stands. In 1747 he excavated beneath the hall a vast series of wine cellars on three levels, 18 in all and a total of 180 feet in length. The house itself later decayed and was pulled down in 1915, but the cellars remained and still exist in the 21st century. They are Listed (Grade 2) buildings. The 2nd level was rendered during World War II for use as an air raid shelter. Having no idea as to their origin, people began making up tales about these underground workings. A tunnel was said to lead from there to the 'folly' called
Freston Tower
, on the banks of the Orwell. Probably built between 1550-1560 by Edmund Latymer, this red bricked six-storey building was perhaps a 'standing' or look-out tower of some kind.
Below is a selection of wartime lettering examples.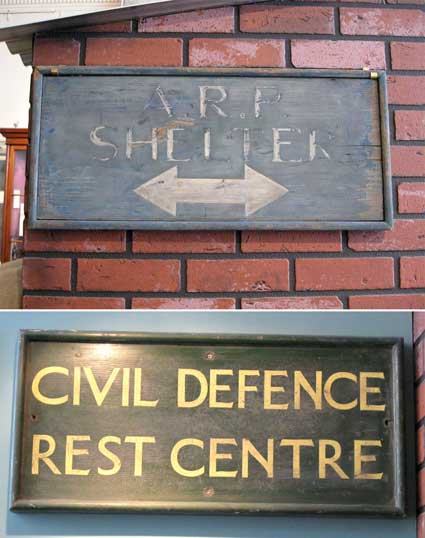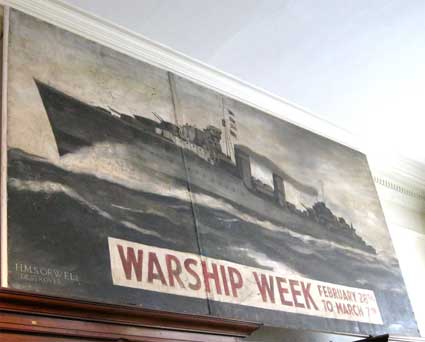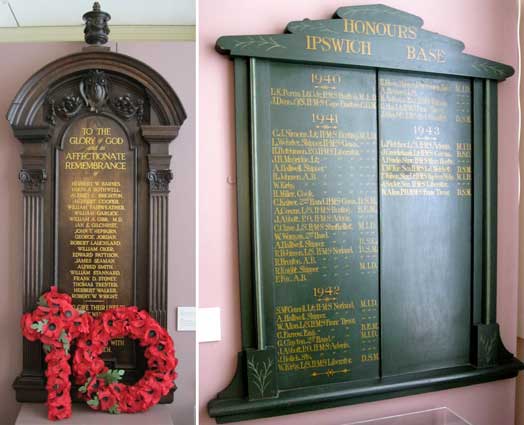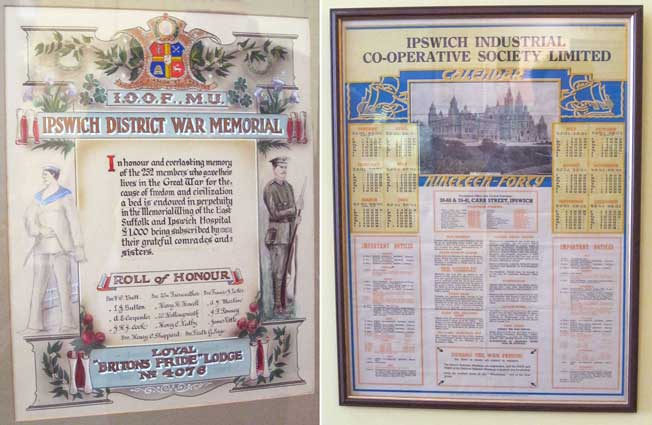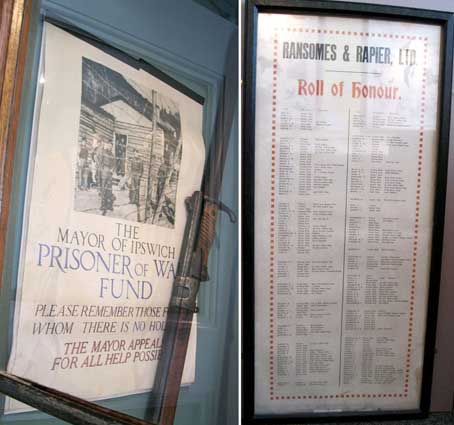 The penultimate example is a poster showing a prisoner-of-war camp displayed with weapons in a glass cabinet:
'THE
MAYOR OF IPSWICH
PRISONER OF WAR
FUND
PLEASE REMEMBER THOSE FOR
WHOM THERE IS NO HOLIDAY.
THE MAYOR APPEAL
FOR ALL HELP POSSIBLE.'

The Hippodrome stood at the top of St Peter's Street which is now occupied by the chartered accountant Ensor's block (they are custodians of a unique collection of ephemera relating to the theatre). It reopened in 1940 to provide entertainment for the troops and local people worn down by bombing raids and rationing.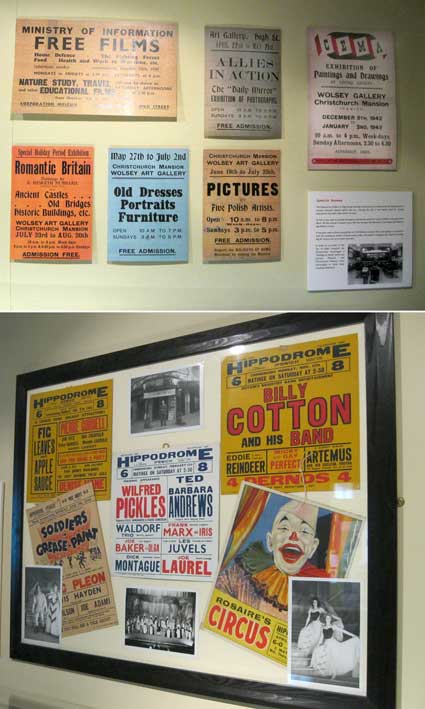 Back to the
Ipswich Museum
page.
Home

Please email any comments and contributions by clicking here.

Search Ipswich Historic Lettering


©2004 Copyright throughout the Ipswich Historic Lettering site: Borin Van Loon
No reproduction of text or images without express written permission