Pershore is a market town on the River Avon about ten miles from Worcester and six miles from Evesham. It is famed for its elegant Georgian architecture and magnificent Abbey.
Pershore Baptist Church, Broad Street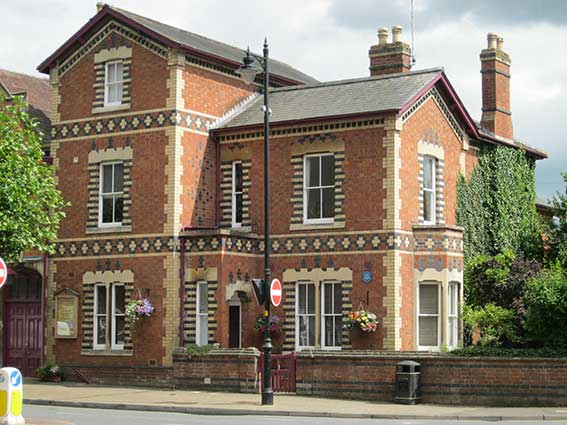 2013 images
One of the oldest Baptist Churches in England – founded in 1658 – the present early Victorian Manse is a wonder of polychrome brickwork and Cotswold stone dressings.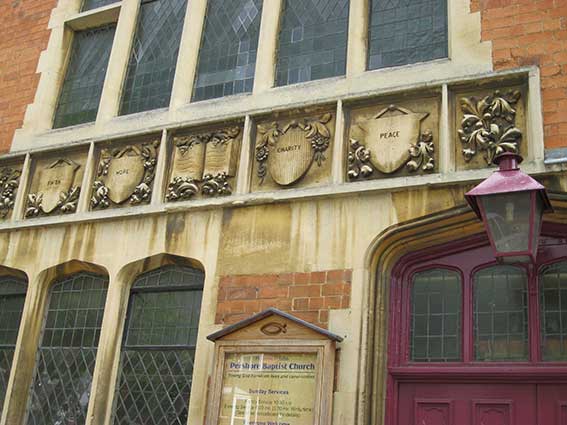 The church facade boasts a row of shields ('FAITH, HOPE, CHARITY, PEACE'), a book and scrolled vegetation in stone. The detail below shows the open pages of a volume with imitation printed text. The
shield bears the word 'CHARITY'.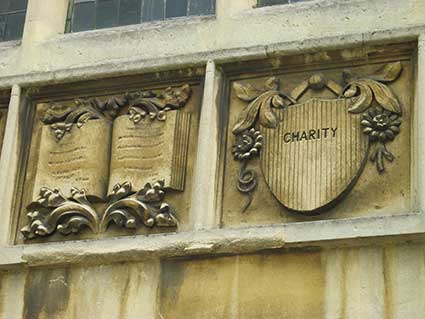 Below: the worn emblems of a castle and three scimitars.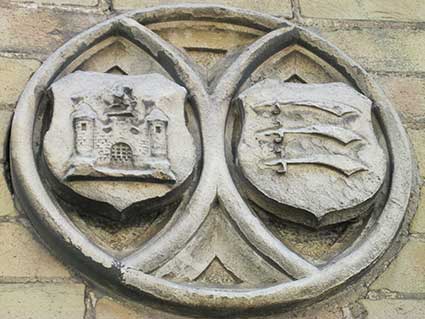 The New Inn, High Street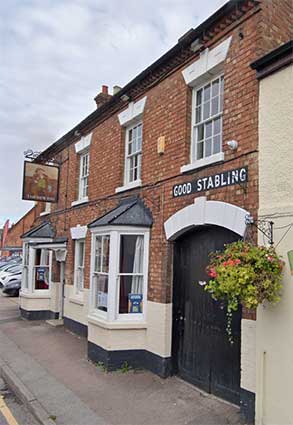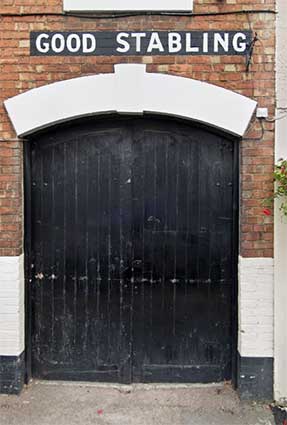 2018 images


This building is Listed Grade II: 'Inn. Early C19 with later alterations. Red and yellow brick in Flemish bond. Welsh-slate roof with brick dogtooth eaves and brick stacks, 2 in front roof pitch, one to rear, and lateral stack to left end.
EXTERIOR: 2 storeys and cellar. 4-window range of 8/8 sashes with painted channelled voussoirs, keystones and sills; inn sign with decorative wrought-iron brackets between left-hand windows. Ground floor: 1st and 3rd bays have canted bay-windows with pitched leaded roofs, horned 1/1:2/2:1/1 sashes, and painted sills; 2nd bay has doorway and 2/1 sash, each with painted channelled voussoirs and keystones, the doorway with leaded bracketed hood, the window with projecting sill; some panes of etched glass to all windows; 4th bay has segmental-arched carriage-entrance with painted rusticated voussoirs and keystone, double plank door with inserted 4-panel pedestrian door, and painted "good stabling" sign over; painted plinth with cellar grilles. Rear: segmental-headed 6/6 sashes.
'
150 High Street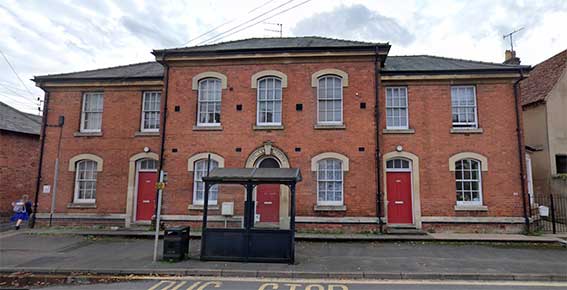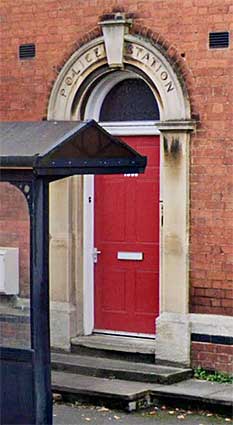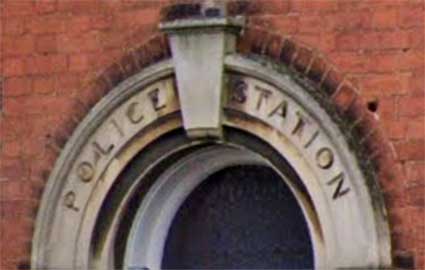 The attractive arched entrance has lettering which belies the large building's new use as accommodation.
See
Tewkesbury
, also on the Avon.
Home
Return to Historic Lettering from outside Ipswich
Please email any comments and contributions by clicking here.


Search Ipswich Historic Lettering


©2004 Copyright throughout the Ipswich Historic Lettering site: Borin Van Loon
No reproduction of text or images without express written permission