This relates to the source of the name 'Rosehill' in Ipswich (see our
Rosehill Library case study
). The invaluable Cobbold Family History website (see
Links
) provided the initial information about the Chapel of St Andrew, Darmsden final resting place of both the owner of the farm, Owen Roe and his daughter Anne Roe, who married into the Cobbold family of Ipswich.
On a walk from Needham Market skirting the chalk quarry behind the Lion pub, we came across the small church on a remote lane on the edge of the sttlement of Darmsden. Darmsden lies between Barking and Baylham. Approaching from the fields, the chapel provides quite a distinctive landmark over the undulating fields of oil seed rape, barley and wheat. This small place of worship was closed by the dioscese and rescued by local people who formed a trust to buy back the building, the bell and reopen the church. There is a full description on Simon's Suffolk Churches (see
Links
). Here is some information gleaned from the Barking Parish Council website (http://barking.onesuffolk.net/home/church-and-chapel/):-
"A church has stood on the present site since mediaeval times but due to subsidence had to be rebuilt in 1880. The church and rectory were united with Barking which was also the mother church for Needham Market. Since the latter did not have a graveyard until the early 1900s many of its more wealthy inhabitants purchased burial plots in Darmsden.
The cost of re-building the present church, £1500, was paid for by James Kemplay, QC whose father in law lived at Darmsden Hall. It was dedicated on the 5 August 1880 and is built in the Decorated style using whole flints, some of the mediaeval stones can been seen around the windows. There is a circular window above the west gable made up of four quatrefoils. The bell which hangs in the bell-cot at the west gable and weighs 140 pounds, is inscribed 'Sancta Maria 1710. Founder, John Goldsmith of Redgrave'. There is a circular font, behind which there is a bench-cum-seat incorporating much older woodwork. The beautifully carved screen depicts Saint Peter with his keys, Jesus as the Good Shepherd and the Patron Saint, Saint Andrew with the cross saltire."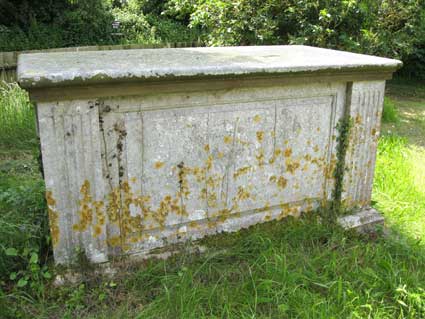 For such a small village churchyard, Darmsden contains a surprising number of substantial tombs, which is explained in the preceding passage. The Roe tomb lies in the churchyard near the main gate. It is in reasonable condition with some lichen and ivy cover, however some of the incised lettering is difficult to decipher. We think that a raking light and careful camera-work might reveal much of the detail. This is a shame as the side of the tomb which mentions both generations of the Roe family (all four sides are lettered) is in the poorest state. The image below is enhanced to show their names: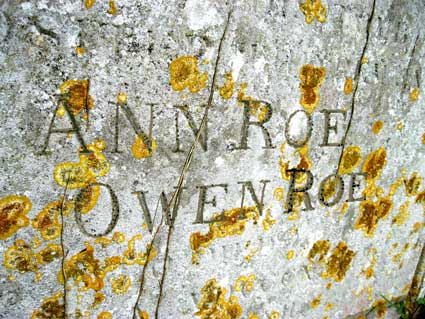 'ANN ROE
OWEN ROE'
The inscription is unclear but suggests that Ann Roe's date of death might have been 1859 (although it is listed as 1851 elsewhere).
On the opposite side, closest to the gate, we find a clearer set of characters (all traditional serifed large-and-small capitals):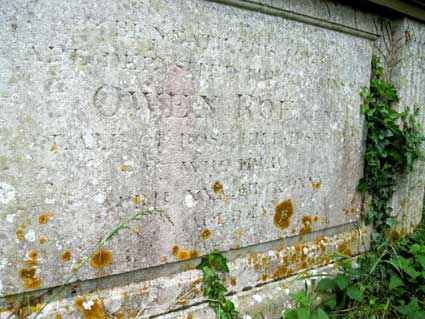 'BENEATH THIS TOMB
ARE DEPOSITED THE REMAINS OF
OWEN ROE. GENT
LATE OF ROSE HILL IPSWICH
WHO DIED
APRIL XX? MDCCCXXV
AGED LV'
Owen Roe's dates are confirmed as 1770-1825, so was aged 55 at his death. The appellation 'Gent' (rather than, say, 'Rev.', 'Esquire' or a noble title) indicates that Owen Roe was a gentleman farmer, presumably successful given the rather grand (and not inexpensive) nature of his final resting place. One imagines that he and his family would have been able to mix socially with the Cobbold family in Ipswich (also 'new money' gentry, their wealth being based on the successful brewing business at Cliff Quay in Ipswich). At a time when class, wealth and social status were deemed to be of great importance, this would explain how his daughter, Ann Roe, was in a position to meet her future husband, Charles Cobbold, at his mother's Valentine party in 1811.

The smaller panels at each end of the tomb are (below left):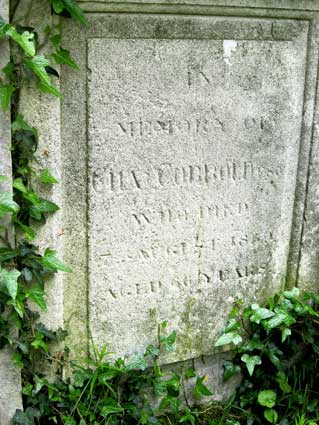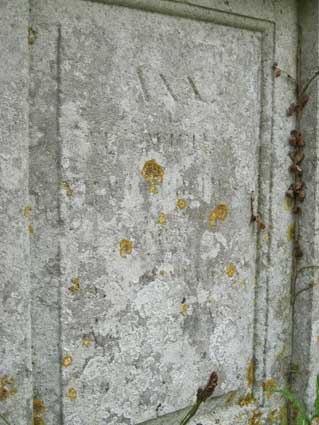 'IN
MEMORY OF
CHA
S
. COBBOLD ESQ.
WHO DIED
7? AUGUST 1859
AGED 66 YEARS'
The dates for Charles Cobbold, Ann's husband, are confirmed as 1793-1859, so he was aged 66 at his death. It is not entirely clear that Charles Cobbold was actually interred in the Roe tomb, merely that as Ann's husband who survived her by a few years, the inscription remembers him. We suspect that he would have been interred in a Cobbold family vault or tomb.

Above right is a far more indecipherable description, but we are sure that, at the top, we can make out the words:

'ANN
OF IPSWICH'
We learn that Ann's daughter (Georgiana Cobbold) is buried in this large tomb with her mother (formerly Ann Roe), her sister (Ann Elizabeth Roe Cobbold) and her grandfather (Owen Roe). The sequence of births and deaths shown below indicates the following: Owen Roe (d.1825), Georgiana (d.1837), Ann Elizabeth Roe Cobbold (d.1837), Charles Owen Cobbold (d. 1837), Ann Cobbold (nee Roe) (d.1851?), to which we can add Ann's husband Charles Cobbold (d. 1859). We think that is most likely that the smaller panel at the opposite end to the Chas. Cobbold Esq. inscription might include the young daughters Georgiana and Ann Elizabeth and probably their brother Charles Owen who died in India, as it is stated that there is a memorial inscription to him on this tomb.


Here is the date sequence for

Ann Roe

on the Cobbold Family History Trust website:-
? Born
1815 Married Charles COBBOLD in St Clements Church, Ipswich
1818 Birth of son Charles Owen COBBOLD
1825 Birth of daughter Ann Elizabeth Roe COBBOLD
1825 Death of father Owen ROE
1828 Birth of daughter Georgiana COBBOLD
1830 Birth of son Alan Brooksby COBBOLD
1837 Death of son Charles Owen COBBOLD
1837 Death of daughter Ann Elizabeth Roe COBBOLD
1837 Death of daughter Georgiana COBBOLD
1851 Died
[
UPDATE 12.6.12
: Anthony Cobbold writes: "It was a cruel stroke of fate which robbed them (Ann and Charles) of 3 of their 4 children in the same year, 1837. Charles Owen died in Calcutta on 4th September and was presumably buried there. Ann Elizabeth died 4th February and Georgiana 13th March. Was there a 'flu' epidemic in Ipswich that winter do you know?"
There was a
'flu pandemic which spread from China to the Phillipines, India, Russia, then Europe 1830-1833
, killing just under a million people worldwide.
]
Why Darmsden?
Many Suffolk people will not be aware of Darmsden, this handful of dwellings, its Hall and its chapel surrounded by rolling fields. Darmsden Hall (Listed Grade II) is described as a farmhouse dating to c.1830, but with a wing dating to c.1600, so it is a place of some antiquity. An SCC archaeological project in this location identifies habitation in the Early Iron Age and Roman period. We also know that a medieval church stood on the site of the present one. We assume that the Roes are buried in the graveyard because Darmsden is the place whence they originally came. One clue is that, between the chapel and the Hall stands Rose Farm and Rose Farm Cottage (and nearby – perhaps a bit of a stretch – 'Roebuck Farm'), the names of which may well have the same familial root as 'Rose Hill' in east Ipswich.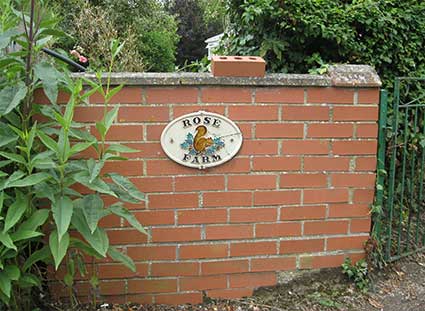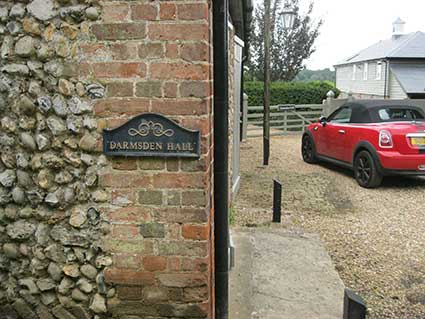 2018 images
[
UPDATE
: 1.7.2019: 'Roe family of Darmsden. I have just read your article about the Roe tomb at Darmsden. I was born at Darmsden in 1950, and as a child my father always told me that Rose Farm and Rose Cottage should really have been spelt Roe's Farm and Roe's Cottage. He would then point out the tombstone in the Churchyard. Ro[e]buck Farm, however, was a name made up in 1964, as the farm was a pig enterprise set up by two people with the surnames Roper and Buckmaster, so is not relevant to the history of the Roe family. I enjoyed the article. Thank you! Sally Lyne.'
Many thanks to Sally for the information – just the sort of first-hand evidence we thrive on.
Sally continues: 'Dear Borin, A Suffolkite who has lived in Wales for over thirty years, I sometimes just idly google Darmsden. Your article came up very quickly, as not much is written about it! I have always thought of Darmsden as a hamlet. The Church was just a Chapel of Ease to Barking Church, so it might still qualify for the term hamlet? One could never be married there. Baptisms and funerals only. The Church was actually deconsecrated in the 60s, but probably now has a more faithful Christian congregation than it had in the mid C20. It has been kept so perfectly, that it hasn't changed inside since I was a child. I know little about the Roe family, but if ever you needed more info about Darmsden, or you knew more about the Roe family in Darmsden, do come back to me. My father died there in 2004, so my links are now tenuous, but my interest is still there! I had a magical childhood. Cheers! Sally'.
Sally's reference to a chapel, rather than a church, brings up the definition of a hamlet as 'a settlement without a church', so it seems that the tiny Darmsden is indeed a hamlet.
]
[
UPDATE
: 1.9.2021: 'We lived at Darmsden. My Dad was the manager of Roebuck farms; the contributor is right: it was surnames put together to make the name 'roebuck'. Mr Buckmaster's grandmother was the famous actress Gladys Cooper. We moved there when my brother was about 2. We lived in the oast house. First I wanted my bedroom in the round top but Dad couldn't get my bed up there so I had the bedroom facing the road. We were picked up by a van and taken to school. Sometimes we were snowed in so, no school. Then we moved to Bridge Cottages and then moved to Roebucks in a new bungalow that was especially built for Dad. My brother and I were Christened in the church. We went to school in Needham Market. We moved from there in late 1973. Very happy memories. Lynda Cressy.'
Many thanks to Lynda for these family memories of Darmsden – particularly the bit about the great Gladys Cooper.
]
Our
Rosehill Library case study
page has more on the connection of this family to the area and further information about the locale and the development of the public library branch in Tomline Road at the turn of the 19th/20th century.
See also
Margaret Hancock's research
on the history of the Rosehill area.
Home

Please email any comments and contributions by clicking here.

Search Ipswich Historic Lettering


©2004 Copyright throughout the Ipswich Historic Lettering site: Borin Van Loon
No reproduction of text or images without express written permission