Rose Hill, Ipswich – the growth of a suburb
by Margaret Hancock





Introduction


Rose Hill is a fairly typical residential suburb of Ipswich. It lies at the top of a hill to the east of the town between the Felixstowe and Foxhall Roads, bordered by Derby Road. This study attempts to trace the history of ownership of the land; to explain how and when it changed from farm to building land, and to 'repopulate' the area by reference to Census material, directories and Rate Book.

From part of the Ordnance Survey Map of 1905, we can see that by that date the area had already been almost completely developed into the suburb that is still in existence. Rose Hill was then, and is today, a collection of houses, two churches, a school, a scattering of small "corner" shops, and a railway station. The majority of the houses are either in terraces or semi-detached, and are of the type that an Estate Agent would describe as 'suitable for first time buyers', a description that I think would please members of the organisation that might be regarded as being responsible for the building of those houses about 100 years ago – the Ipswich and Suffolk Freehold Land Society.

In a study of this kind it is difficult to know at which period to commence, but it seems most logical to start with the man who probably gave his name to our suburb: Owen Roe.



Farmer, Owen Roe, and Roe's Hill


Owen Roe was, according to a short obituary in the

Ipswich Journal

of May 7th 1825, one of the Contractors for the Barracks who died 'possessed of a very considerable property'. Part of this property was farm land in the parish of Saint Clement and the Manor of Wickes Bishop which we now know as Rosehill (Rose Hill), but should perhaps more accurately call 'Roe's Hill'. Owen Roe had purchased this estate, a total of 236 acres, in 1812. It seems likely that he had a quite substantial house built for his own use on the Estate. This later became known as Rose Hill House, and is still in existence, although now converted into flats. It stands sedately at the end of the quiet Sandhurst Avenue which was originally its carriage-way. The house is very close to the walls that surround Holywells, which was occupied at that time by the Cobbold family. In 1815 Roe's only daughter and heir, Ann, was married to Charles Cobbold at St Clement Church. It seems from his will that Roe had no great liking for his son-in-law. His estate was left under the control of Trustees; the income from it to be paid to his widow and to Ann, his daughter, but Roe stipulated that his daughter's income was "for her sole and separate use" exclusive of her husband, Charles Cobbold, who should not "intermeddle therewith, neither shall the same be subject to his disposition, control, debts or engagements".

From the Tithe Map of 1844, we can see that the area was split into three parts:

14 Rose Hill House and 5 acres of grounds.
13 Little Allins Field – just over 14 acres of arable land.
12 Great Allins Field – 36 acres of arable land with 7 farmworkers' cottages – 5 at the North-East corner, and 2 at the North-West corner.

The Apportionment that accompanies this Map confirms the owners of the farm as "The Trustees of Owen Roe", and indicates that Roe had once owned a very large part of the land between what is now Fore Hamlet and Back Hamlet, and stretching out between Felixstowe and Foxhall Roads as far as the line of the present By-pass. Thus, in his day, Roe had owned one sixth of the land in St Clement's Parish, and was the third largest landowner in that Parish.



Later owners


The Occupier of Rose Hill House and Farm in 1844 was William Cooper, a Farmer. Cooper and his family had lived in Rose Hill House since at least the time of the Census in 1841, and possibly since 1839, when an advertisement in the

Ipswich Journal

shows the House to be let with 260 acres of land. A later advertisement suggests that Cooper had leased the House unfurnished and the Farm unstocked, as Charles Cobbold (Roe's unpopular son-in-law, who evidently did manage to 'intermeddle' in the Estate despite Roe's wishes), had given instructions for the auction of Household Furniture and Farming Stock from the Estate. This included 'Choice dairy cows, sheep and lambs, Carriages, Agricultural implements, Household Furniture, a superior collection of old Foreign China, Paintings and prints, about 20 dozen Port Wine of the vintage of 1812, as well as a beautiful variety of greenhouse plants and flower stands.

By the end of 1851 a few minor changes had taken place. The House was now occupied by John King, the Editor of the

Suffolk Chronicle

, and the Farm was apparently being managed by a Farm Bailiff. The ownership of the land was also undergoing changes at this time.

Reverend Edward Constable Alston
Roe's widow had died in 1846 and on the death of his daughter in November 1851, Roe's will determined that the Estate be shared amongst her surviving children. It is sad to think that, of Ann Cobbold's five children, only her youngest son outlived her. Alan Brooksby Cobbold, who was then living in Edinburgh, was only 21 years of age when he inherited his grandfather's entire estate. Cobbold owned the Estate for 12 years, but in April 1864 he sold it to the Reverend Edward Constable Alston, a Clerk in Holy Orders, of Dennington, Suffolk, and it was this sale that was to herald really major changes in the area.

Part of Edward White's map of 1867, shows the beginnings of those changes. Rose Hill House and grounds, still occupied by John King and his family, and Great Allins Field remain largely unaltered, but development of Little Allins Field is taking place with Alan Road, Newton Road, and the town end of Rose Hill Road having been formed. We can see that Alan Road follows approximately the line between Great Allins and Little Allins Fields from which it undoubtedly derived its name.***



The

Ipswich & Suffolk Freehold Land Society
Freehold Land Allotments extend along both sides of Newton Road, and the Land on the east side of Alan Road is divided into plots, 5 of which have already had houses erected on them. From Planning Office records and the Census of 1871, we discover that many of the earliest houses on Alan Road were built for owner occupation by highly skilled men employed in the Agricultural Engineering Industry. The major firm in this industry in Ipswich at the time was Ransomes. Robert Ransome had set up his foundry in 1799 on St Margaret's Plain, but soon found that his business had outgrown his original premises, and by 1859 he had moved out of the town centre to the Orwell Works, with 800 feet of quay space on the new Wet Dock. Industry such as this encouraged large numbers of workers into the town, not only from the surrounding countryside, but also from further afield. These men and their families needed homes close to the new factory, but the parish of St Clements was crowded with poor quality housing, and one imagines the more philanthropic men seeking accommodation away from the overcrowded town, but within easy walking distance of their place of employment, as this was long before the days of public transport. Where better than at the top of Bishops Hill where the air was clean and they were able to build their own houses? It was men such as these who may well have been among the members of the Ipswich and Suffolk Freehold Land Society which had a tremendous influence in the subsequent development of Rose Hill and in the formation of many other suburbs.

The Freehold Land Society movement was started in the late 1840s by Radicals ['The Rochdale pioneers'] who believed that if more working-class men were enfranchised they would return a greater proportion of Liberal candidates to Parliament who could then repeal the Corn Laws and encourage Free Trade. Freehold Land Societies enabled their members to gain, by co-operative methods, the necessary property to take advantage of the 40/- franchise rule which gave the vote to all men owning property with an annual value of £2.

The Ipswich and Suffolk Freehold Land Society, formed in December 1849, was one of the first Societies. It was led by many prominent Ipswich men and in its early days was one of the most successful Societies in the country.



The Rose Hill Estate


With the changes in franchise brought about by the Reform Act of 1867 the creation of votes became of secondary importance, nevertheless, the Society continued to flourish under the guidance of its Committees, and we can see from the I&SFLS map of 1899, that the organisation was responsible for the development of a large part of Rose Hill between 1869 and 1879. The part marked 'A' was purchased from Alston by Robert Johnson and Joseph Pearce in October 1869; the Society itself was not legally allowed to purchase land so it was necessary for certain members of the Committee to enter into the agreement in their own names, acting purely on trust. The 9 acres purchased for 1,296 pounds 15 shillings became known to the I&SFLS as the 'Rose Hill Estate'. The land was split into 51 plots ranging in size from 20 to 28½ rods, and these were balloted to the Society's members at a cost of between £40 and £60 per plot. The Society was bound by its agreement (via Johnson and Pearce) with Revd Alston to lay out and make up three roadways each 30 feet wide and dedicate them for public use. These roads became sections of York Road, Derby Road and Rose Hill Road.

In July 1873 an auction took place at the Golden Lion [Inn on the Cornhill] which was to completely change the remainder of the original Estate. Alston had died in 1870 and his Trustees put up for sale 16 lots of 'Accommodation lands and building plots'. This sale evidently marked the end of the farm and the beginning of the residential suburb, as one Condition of the Sale was that 'the purchaser shall pay for the seed sowing and hoeing the root crop' of the outgoing tenant. Other Conditions related to the standard of houses to be built and the materials to be used in their construction. Building lines were set, responsibility for the maintenance of roads defined and public houses banned! Representatives of the I&SFLS purchased 12 acres of land at this auction. (Plot B on the 1899 map).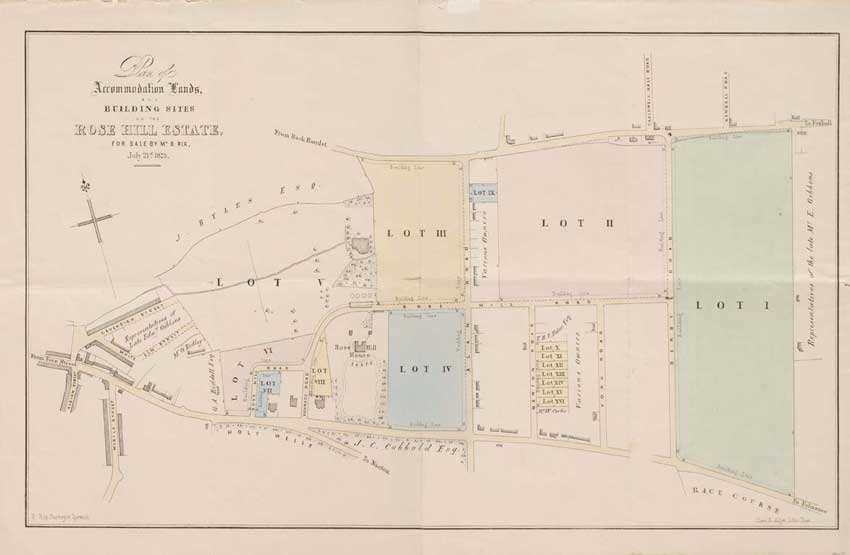 'Plan of Accomodation Lands, and BUILDING SITES on the ROSE HILL ESTATE. For sale by Mr B. Rix, July 21st 1873.'

The Rose Hill Estate

No. 2, The Vale Estate, the Derby Road Estate


Rose Hill Estate No. 2, as it was called, was again split into lots and balloted to Society members as were two other portions of land in this area that were later purchased by the Society. The Vale Estate (marked 'C') in 1875 and 'The Derby Road Estate' (marked 'D') in 1879. Some Society members who were lucky enough to be balloted a plot of land simply sold it, others used it to build one, two or, in some cases, three houses. One of these became the home of the member and his family, the remaining one or two were rented out, providing an income to help with the repayments to the Society.



The first Residents of Rose Hill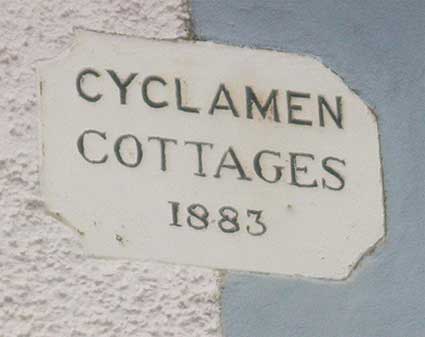 2017 images
89-91 York Road


'CYCLAMEN

COTTAGES

1883'

[An interesting mix of sans serif and serif characters.]


From the Census and Directories of the time it is possible to build up quite a clear picture of the people who were among the first 'Residents of Rose Hill'. The vast majority of families were perfectly 'ordinary' with the head of the house employed as a sailor, carpenter, bricklayer, in the engineering industries or on the railway. One example is Benjamin Whymark. Born at Cornard, he was, at the time of the 1881 Census, aged 47, employed as an engine model maker and living at the corner of York Road and Rose Hill Road. He was married and had a son, David, who was an apprentice in his father's trade, and two daughters, Kate and Emily. The family moved in the next few years to another house in York Road called

Cyclamen Cottages

[nos. 89-91], and in April 1886 Benjamin Whymark applied for permission to build his own house, now 83 York Road, but originally called

Emmeline Cottage

[double-fronted, no plaque], perhaps named after his youngest daughter.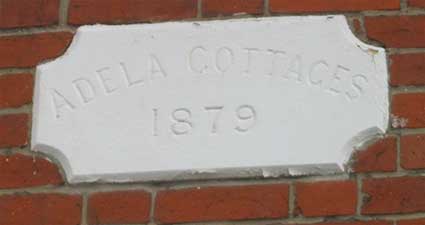 38-40 York Road


'ADELA COTTAGES
1879'


Also living in York Road was James Manthorp, an engine smith born at Rendlesham. From the Census details it is possible to build up a touching picture of his family, although it is pure conjecture. His wife had died, perhaps in childbirth, as his youngest daughter was only three years old. This left him, in his early thirties, with five children under the age of 10. One imagines his parents rallying round in this time of trouble, bringing with them their three unmarried teenage children. We know, at least, that in 1881 they were all living together in a small terraced house: 38-40 York Road, named

Adela Cottages

, built in 1879 and owned by Charles Last. However, later years were brighter for James Manthorp as, in 1889, he too applied for permission to build his own house, which he extended in 1897.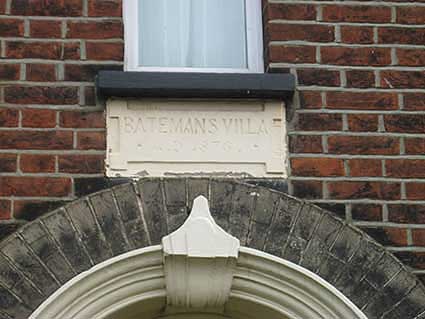 103 Newton Road


'BATEMANS VILLA
A.D. 1876'


A rather less typical house in Newton Road proudly bears the inscription '

Bateman's Villa AD 1876

' [no. 103]. This was built by Thomas Hope in the year that his son, whose Christian name was Bateman, was born. By 1881 Hope, a 33 year old milk seller, had four children under the age of 8, and was the only person in the area, except Rose Hill House, that had a resident female servant. Incidentally, Bateman Hope was not the only son to be given a rather unusual name – his younger brother was called Lancelot!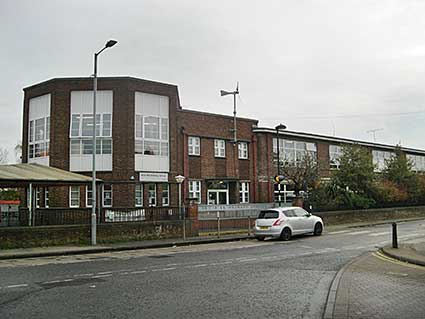 [Above: Rose Hill School, which retains the separation of 'Rose' and 'Hill' in its name.]
It was people such as these that saw the beginnings of the Rose Hill that we know today. Perhaps they travelled, as we still do, on the train to Felixstowe from Derby Road Station after it was opened in May 1877, or used the horse-drawn tram service from the Station yard to Majors Corner, that was started in the summer of 1883. They may have been early members of the congregation at Alan Road Methodist Chapel when it was opened in 1878, or they may have attended worship at the much more imposing Anglican Church of St Bartholomew when it was built in 1895. Their children may have been educated at Rose Hill School [shown above] after its opening in 1885, as our children are being taught in its modern counterpart in the 1980s. Although Rose Hill has changed from Farm to Suburb, and life styles have changed, we still share a great deal with the families that lived in our houses 100 years ago.

[***See Street name derivations for an alternative derivation of Alan Road.]
See our Rosehill house names page for examples of house name plaques.

SUMMARY TIMELINE OF OWNERSHIP, ROSE HILL ESTATE


July 1811

. Margaret Holford of Bath, Widow of Frances Holford of Bath, Spinster sold land to Owen Roe. The 19th century name Rose Hill derived from this purchase; originally known as Roe's Hill.

Margaret Holford apparently inherited a large estate in Ipswich & elsewhere on the death of her father. Mrs Holford also owned plantations & slaves in Barbados. Part of the Ipswich land was owned copyhold from Manor of Wickes Bishop (hence 'Bishop's Hill').



1812-1825

. Owen Roe owned the Rose Hill Farm Estate and around 1812 probably built himself the substantial house ['Rose Hill House'] still in existence at the end of Sandhurst Avenue. This is very close to the Cobbold family's Holywells estate and in 1815 Roe's only child, a daughter Ann was married to Charles Cobbold – one of the 23 children of John & Elizabeth Cobbold.



1825-1859

. Trustees of Owen Roe
Owen Roe died in May 1825 and in his Will & Codicil (dated 5th & 24th April 1825) he left his estate in the control of Trustees for the benefit of his daughter, Ann Cobbold. After her death in 1851 and that of her husband, Charles, in 1859 the Estate passed to their only surviving child, 21 year-old Alan Brooksby Cobbold, then living in Edinburgh. A formal declaration by his uncle, Revd Richard Cobbold1 of Wortham confirms that the couple's other four children had all predeceased them:-

Charles was born in 1816 and died on the same day,
Ann & Georgina died within 2 months of each other in February/March 1837, aged 12 & 9 respectively,
Charles Owen also died in September 1837 at the age of 19, and was buried in Calcutta.
1859-1864

. Alan Brooksby Cobbold (Owen Roe's grandson).



1864

. Alan Brooksby Cobbold sold Estate to Revd Edward Constable Alston of Dennington.



9th October 1869

. Revd Alston sold Great Allen's Field on the Estate to Robert Johnson (I & S F.L.S.).
Robert Johnson was, in fact, purchasing the 9 acres of land on behalf of Ipswich & Suffolk Freehold Land Society2 (I & S FLS). This is confirmed by an entry in the Society's minute book for 30th July 1869: 'the Committee are willing to recommend Mr Johnson to purchase the land on the South side of Rose Hill Road

viz

between the Rose Hill Road and the Felixstowe Road at £140 per acre'.



1870

. FLS Rose Hill Estate.
Minute book entries record work of a sub-committee to develop Great Allen's Field with sub-contractors appointed to construct roads and fences between the plots. At a special meeting held on 11th January 1870 it was resolved 'that the East Road be called the Derby Road and the other, the York Road'. There was some concern that by February 1870 only 30 applications had been received for the 51 plots and further advertising was undertaken to recruit new members promising they would be eligible for plots of land if they joined before 14th March. The ballot arranged to take place on 12th April was, on this occasion, unnecessary. Fifty plots were simply allocated to applicants as marked on the plan, and an application for the remaining plot was accepted four days later.



Note

: A handwritten list headed 'Rose Hill Estate – Pay up or Mortgage' confirms all but one of the names entered on the Estate plan.



11th October 1873

. Trustees of the Will of Revd E. C. Alston's Trustees to Robert Cade (I & S FLS).
In July 1873 an auction took place at the Golden Lion (Inn on the Cornhill] which was to completely change the remainder of the original Estate. Alston had died in 1870 and his Trustees put up for sale 16 lots of 'Accommodation lands and building plots'. This sale evidently marked the end of the farm and the beginning of the residential suburb, as one Condition of the Sale was that 'the purchaser shall pay for the seed-sowing and hoeing the root crop' of the outgoing tenant. Other Conditions related to the standard of houses to be built and the materials to be used in their construction. Building lines were set, responsibility for the maintenance of roads defined and public houses banned! Robert Cade, on behalf of the I & SFLS, purchased 12 acres of land at this auction (Lots III & IV) on which its Rose Hill Estate (No 2) was developed.3

The FLS worked quickly to pass these plots of land on to its members. An organising sub-committee was appointed on 18th October and, by 31st October, an Estate plan showing 63 plots was agreed, with '3 feet in width along the Foxhall Road frontage given up to the public for the purpose of widening the road there'. Tenders for roads – one of which was named Alston Road – and fencing were agreed, and circulars about the Estate sent to every unadvanced Shareholder in the Ipswich District. As a result 272 applications were received prior to balloting, which occurred only 6 weeks after the land was purchased.



24th November 1873

. FLS Rose Hill Estate No 2.
The ballot took place at the Public Hall after the Chairman had explained the process and given a reminder of restrictions on the land use, e.g. no house for sale of beer, wines & spirits to be erected.4 Successful members were each required to sign a purchase contract (with Robert Cade), printed with the terms and conditions. The land was legally conveyed from Cade to individual purchasers around 30th January 1874.



Conclusion


Some Society members who were lucky enough to be balloted a plot of land simply sold it, others used it to build one, two or, in some cases, three houses. One of these became the home of the member and his family, the remaining one or two were rented out, providing an income to help with the repayments to the Society.

1 Revd Richard Cobbold is best remembered as the author of the romanticised account of Margaret Catchpole & for a series of colourful sketches of his Wortham parishioners now in the Ipswich branch of Suffolk Record Office.
2At the time it was not legally possible for the Society to purchase land in its own right. Transactions were carried out by individual Committee members on trust. Robert Johnson acted in this capacity for many years but was forced to resign due to ill health in December 1872.
3 The Society later purchased part of Lot I for the development of its Derby Road Estate in 1879.


4

This was a restriction imposed by Alston's trustees from whom FLS purchased the land

Related pages:
House name plaque examples: Alston Road; Bramford Road; Cauldwell Hall Road; Cavendish Street; Marlborough Road; Broom Hill Road; Rosehill area house names;
Rosehill Library case study; Rosehill churches;
Ipswich & Suffolk Freehold Land Society (F.L.S.); California;

Street index; Origins of street names in Ipswich; Streets named after slavery abolitionists;
Dated buildings list; Dated buildings examples;
Named buildings list; Named (& sometimes dated) buildings examples;
Street nameplate examples; Brickyards.





Home

Please email any comments and contributions by clicking here.

Search Ipswich Historic Lettering


©2004 Copyright throughout the Ipswich Historic Lettering site: Borin Van Loon
No reproduction of text or images without express written permission