California Estate





The Cauldwell Hall Estate


The development of the Cauldwell Hall Estate for housing started in the early days of the Ipswich & Suffolk Freehold Land Society (F.L.S.) which was formed in 1849: the year of the Californa gold rush – hence the nickname of the area. The extensive farm lands belonging to Cauldwell Hall, which in its Victorianised version still stands off Caldwell Avenue overlooking Spring Road, came up for sale in 1848. The land was sold off to various buyers. On of these was William Dilwyn Sims who became Vice-President of the F.L.S. and acted as agent in the purchase of ninety-eight and a half acres of the Estate. He made the land over to the F.L.S. some time during 1850. The price was £4,992 – at over £50 per acre.

The land between Woodbridge Road and Foxhall Road was divided up into 282 plots, each of which was offered to senior members of the F.L.S. at £21.10 shillings each. Among expenses were £26 for staking out and £480 for making roads, which were laid out in a grid pattern. New roads named Cauldwell Hall Road and Britannia Road formed the western and eastern boundaries respectively, with Freehold Road bisecting the area from west to east between the two. Howard Street, Milton Street and Kirby Street were laid out between Woodbridge Road and Spring Road. Crabbe Street, Cowper Street and Bloomfield Street were laid out between Spring Road and Freehold Road, also Parliament Road between Freehold Road and Foxhall Road.

Kemball Street and Henslow Road drop down from Freehold Road between Cauldwell Hall Road and Parliament Road. Two parallel, east-west roads were planned between Kemball and Henslow, but were never built. See our Street name derivations for the sources of these last two thoroughfares.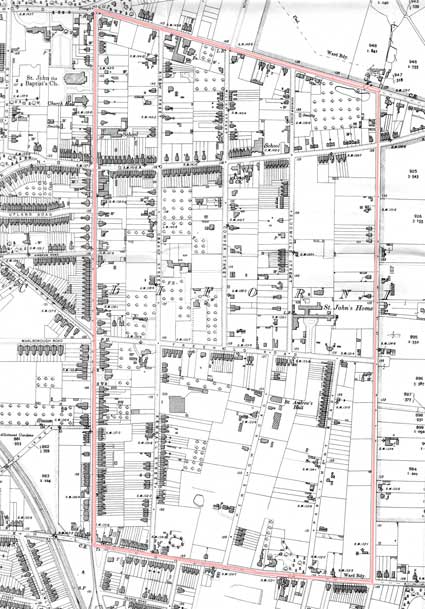 The boundaries of the California estate marked in pink on a 1902 map. Note the lack of housing development at this time.
A brickyard existed to the east of Bloomfield Street, (see our Wherstead red brick page for more on this and other brickyards) and the public house The Brickmakers Arms survives near to the north of the street.



Sources of California street names


Apart from Kemball and Henslow (mentioned above), we feel reasonably secure in allocating the great and good, mainly poets, to the naming of these streets as follows:-


George Crabbe

(1754-1832) was born in Aldeburgh, Suffolk. He was an English poet, surgeon, and clergyman. He is best known for his early use of the realistic narrative form and his descriptions of middle and working-class life and people.


John Milton

(1608-1674) was an English poet, polemicist, man of letters, and a civil servant for the Commonwealth of England under Oliver Cromwell. He wrote at a time of religious flux and political upheaval, and is best known for his epic poem Paradise Lost (1667), written in blank verse.


John Kirby

(1690-1753) was an English land surveyor and topographer. His book The Suffolk Traveller, first published in 1735, was the first single county road-book. Kirby lived in Wickham Market, Suffolk and spent three years between 1732 and 1734 surveying the entire county. For part of this project he was accompanied by Nathaniel Bacon. In 1736 he published a large-scale map of Suffolk. Subscribers to this received a copy of his book as a free gift. A further large scale map was published the following year. He was the father of John Joshua Kirby (born in Wickham Market 1716-1774), landscape painter, engraver, and writer, topographical draughtsman and architect, famed for his pamphlet on linear perspective based on Brook Taylor's mathematics.


Robert Bloomfield

(1766-1823) was born of a poor family in the village of Honington, Suffolk. He was an English labouring class poet whose work is appreciated in the context of other self-educated writers such as Stephen Duck, Mary Collier and John Clare.


William Cowper

(1731-1800) was an English poet and hymnodist. One of the most popular poets of his time, Cowper (, more correctly pronounced 'Cooper') changed the direction of 18th century nature poetry by writing of everyday life and scenes of the English countryside. A Hertfordshire boy, there doesn't appear to be any link to Suffolk.


Henry Howard

, Earl of Surrey, KG (1517-1547) was an English aristocrat, and one of the founders of English Renaissance poetry. He was a first cousin of Catherine Howard, the fifth wife of King Henry VIII. He was the eldest son of Thomas Howard, 3rd Duke of Norfolk.

Building
In 1850 building started straight away. By Census day, 30 March 1851, some 27 houses had been erected: 21 of them occupied. They were scattered over the estate and are difficult to locate exactly on the Census returns. Roads had not then been named and the area was simply known as The Cauldwell Hall Estate.

Until October 1850 there was a levy on building bricks, making them expensive. Early houses were therefore built of flint rubble, using bricks for the corners , window and door dressings and chimneys. A few such houses remain including short terraces at 173-177 Cauldwell Hall Road (shown below) and nos. 9-13 Cowper Street.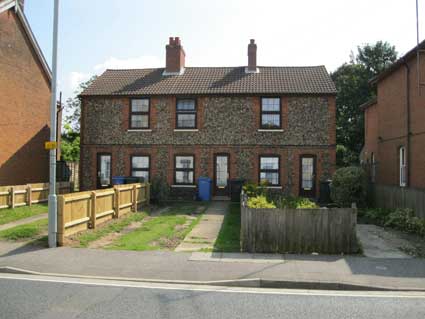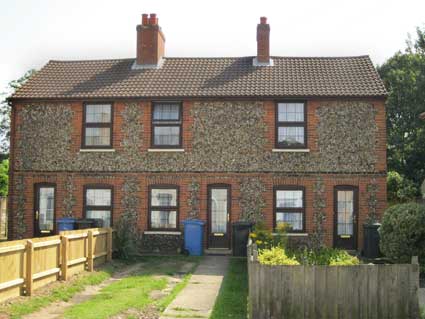 Set back from the building line of surrounding houses, these cottages use the cheapest unknapped flint construction materials with red brick quoins and door and window detailing. Because of the 'cobble' shapes, these flint walls require regular maintenence as without it they can weaken and collapse.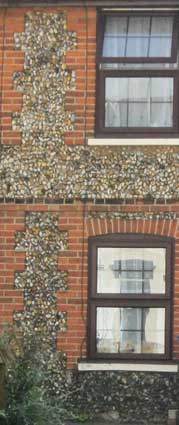 2014 images



Kossuth Cottage, Gothic House
In Freehold Road on the corner of Kemball Street is a larger, flint-built house – now a pair – originally called Kossuth Cottage. Most other flint-built houses have been replaced by modern buildings. The size of Kossuth Cottage is an indication of both the 'non-standard' and piecemeal nature of building which took place on the state. Another example can be found in St Johns Road: Gothic House, which is today number 5. The builder was Henry Righam to the design of an architect working for Phipson. Henry Ringham was a noted wood-carver who did much restoration work in Suffolk churches. He was self-taught in reading, writing, drawing and carving. As a builder in 1861, he had forty men and two boys working for him. However, having cash-flow problems, he was forced to sell Gothic House in 1863 to Abednigo Chaplin, whose elder brother became great-grandfather to legendary silent film star, Charlie Chaplin. Despite falling on harder times, Righam's wood-carving reputation earned him a place in history when nearby Chapel Lane was renamed Ringham Road.

Although the original intentions and principles upon which the Ipswich & Suffolk Freehold Land Society were based: to create 'forty shilling freeholders' – giving the ordinary man the chance to buy enough land to entitle him to vote, inevitably businessmen and speculators found ways of increasing their balotted allocations of land and plots changed hands, sometimes from the outset. The 1879 F.L.S. map related to our Rosehill case study page, although strictly speaking just outside the original California area, indicates that the plot on which the branch library was eventually built was sold early. It was not alone.

Much of the information on this page has been drawn from the unpublished research of the California development by Hilary Platts, to whom our thanks.

Ipswich Borough's 'Character Area'
Delving into the Ipswich Borough Council website, one finds a clutch of colourful publications about 'character areas'. The California one (the link is below) has lots of illustrations, particularly a collection of details of garden railings, brickwork etc. worthy of this very website... Two period views are well worth a look: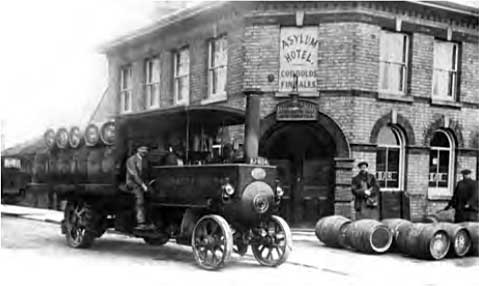 Above: The Asylum Hotel – names were brutally frank in them days – at 389 Foxhall Road, near to the Borough Asylum (later St Clement's Hospital). This public house on the corner of Parliament and Freehold Roads dates to the late 19th century and was renamed The Heathlands in the 1920s. Today it is a supermarket. The blind window above the attractive, arched corner entrance bears the words: 'ASYLUM HOTEL - COBBOLDS FINE ALES', with an unreadable curved iron nameplate behind the lamp.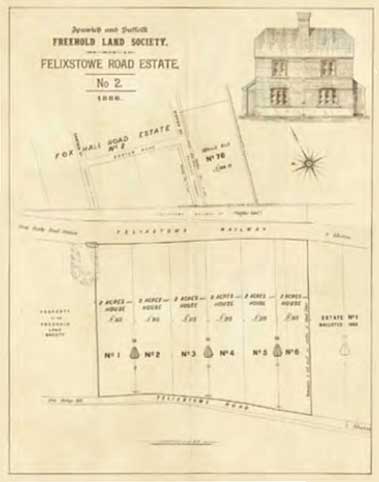 The Freehold Land Society illustration and map above shows the 'Garden Farms' which were a feature of some FLS developments. The houses were built within two acre plots facing Foxhall Road and Felixstowe Road. The smallholding plots have since been redeveloped, but a handful of the semi-detached houses survive shown on our Felixstowe Roads FLS houses page. Interestingly, the map of California as defined in this Borough document is larger than the area originally established by the FLS.
[The Borough's 'California Character Area' can be found at: https://www.ipswich.gov.uk/sites/default/files/icd62_-_urban_charaacter_study_spd_california_area.pdf]

Related pages:
House name plaque examples: Alston Road; Bramford Road; Cauldwell Hall Road; Cavendish Street; Marlborough Road; Rosehill area;
Ipswich & Suffolk Freehold Land Society (F.L.S.); Rosehill case study;
Street index; Origins of street names in Ipswich; Streets named after slavery abolitionists.
Dated buildings list; Dated buildings examples;
Named buildings list; Named (& sometimes dated) buildings examples.
Street nameplate examples; Brickyards






Home

Please email any comments and contributions by clicking here.
©2004 Copyright throughout the Ipswich Historic Lettering site: Borin Van Loon
No reproduction of text or images without express written permission