'Kossuth Cottage' Freehold Road



14 and 16 Freehold Road
Not far from The Lion's Head on Cauldwell Hall Road, lies 'Kossuth Cottage', now numbers 14 and 16 Freehold Road. It stands in a still sizeable garden on the corner of Kemball Street.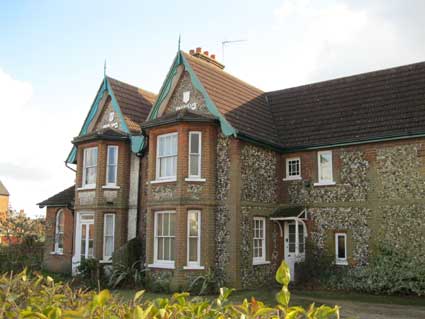 The building is notable for its size, its double gable with bay windows and its unknapped flint walls with brickwork detailing. Until October 1850 there was a levy on bricks making them expensive. This is ironic considering the people owning plots in the 'brick fields' nearby where brick earth was dug and bricks baked: hence the Brickmaker's Arm public house at the junction of Spring Road and Howard Street, not far from the open workings in Bloomfield Street which caused the drop in the land behind the houses to the east which can still be seen today. Due to the levy early houses were built of flint rubble with bricks reserved for corners, window and door dressings and chimneys. A few of these flint houses remain in the 21st century including the short terraces at Nos. 173-177 Cauldwell Hall Road and Nos. 91-13 Cowper Street.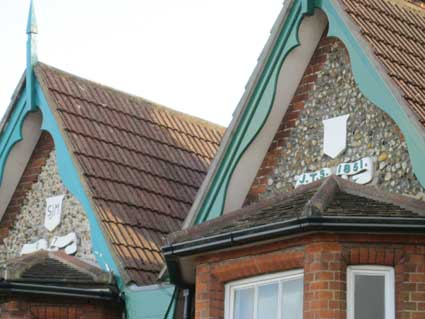 The scroll below the blank shield at the top of the right gable bears the characters:


'J.T.S. ... 1851'

This stands for the original owner: John Trigg Scrivener, an early plot holder in the

California

estate and an ironmonger in the town. He owned land leading down to Cauldwell Hall Road and on one of the plots the

Lion's Head

public house was built. He named the house 'Kossuth Cottage' which is a reference to the exiled Hungarian leader who was touring and speaking in England at the time (see below). Early in the 20th century it was renamed 'Heath Cottage'. Built in the year of the Great Exhibition in the Crystal Palace in St James' Park, London, the neighbouring gable has somewhat contradictory inscriptions:

'SJM [on the shield]

0 ... 7 [on the scroll beneath]'

It is tempting to think that when the name of the house changed, the left gable was built as an addition to the house. The initials could be those of the builder, or the new owner and it is interesting that only two numerals are use to convey '1907' given the size of the scrolls.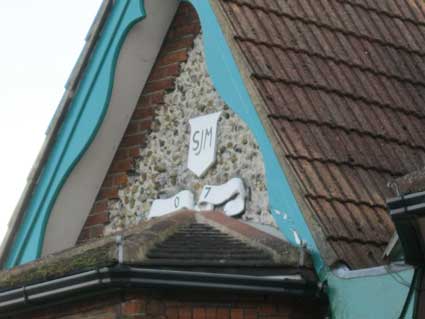 Lajos Kossuth

(1802-1894) was born in Monok, Hungary. A lawyer with radical political views, he was constantly in trouble with the authorities and in 1837 was imprisoned for publishing attacks on the government. After being released in 1840 Kossuth became editor of the

Pesti Hirlap

. Elected to the Hungarian Diet, Kossuth became the leader of the extreme liberals and after the French Revolution of 1848 demanded an independent government for Hungary. When Austria and Hungary went to war at the end of 1848 Kossuth became provisional governor of the country. The following year Kossuth declared Hungary's independence with himself as president. Hungary managed to repulse the Austrian Army but the regime collapsed when Russia joined the war. Kossuth fled to Turkey where he was made a prisoner until being released in September, 1851. Later that year he moved to the United States where he joined a group of Hungarian political refugees who had established the community of New Buda in Decatur County, Iowa. Over the next few years Kossuth also lived in England and Italy.

In England, after three and a half decades of continuous and accelerating progress, peace thinking faced four setbacks from the autumn of 1851 onwards, caused by both domestic and international factors. The first was Kossuth's tour of Britain in October and November 1851(the year in which the house was built and presumably why the name was chosen), which produced an intense disagreement between Richard Cobden (3.6.1804 – 2.4.1865) and the peace society over the extent to which it was possible to back the Hungarian nationalist leader without compromising the doctrine of non-intervention. The second was Louis Napoleon's coup d'état of 2 December 1851, which was followed by an invasion scare, the fall of Lord John Russell's government on February 21, 1852, and eventual passing by his Conservative successor of a Militia Act. The third was Napoleon's seemingly ominous adoption of the title Emperor Napoleon III in December 1852, which renewed the defence panic. The fourth was the deterioration of the Eastern Question, which dimmed prospects for a second national peace conference at Edinburgh on 12—13 October 1853 and led the following March to Britain's involvement in the Crimean War.

In 2017, the houses at 14 and 16 Freehold Road are not Listed, but can be found on the Borough's Local List (see Links).

Just down the road is the decoratively dated building ('AD 1900') which has for some years been a corner grocer's shop, it can be found on our Roundwood Road/dated buildings page.

Thanks to librarian and local historian Hilary Platts whose unpublished research on the California area of Ipswich and the Ipswich & Suffolk Freehold Land Society has been most helpful and an early inspiration for this website project.

Our page on the California estate has more information about these early flint-built houses and further developments by the Freehold Land Society.





Home

Please email any comments and contributions by clicking here.

Search Ipswich Historic Lettering


©2004 Copyright throughout the Ipswich Historic Lettering site: Borin Van Loon
No reproduction of text or images without express written permission