We have yet to find out what 'G.D.G.' stands for; probably the builder's initials?. See also
Nethaniah Almshouses
further up this thoroughfare.
Industrial Villa, 33-35 Dillwyn Street

'INDUSTRIAL
VILLA
1870'

Perhaps the ultimate, bald, bleak name for a home (or group of homes) in Dillwyn Street (see streets named after
Slavery abolitionists
). As we see elsewhere, house and building names sometimes resonate with significance, or are just pleasant. This one stands out in Ipswich. One wonders if 'Industrial Villa' might relate to the St Matthew's Industrial Home for Girls set up by Samuel Belcher Chapman (see the 'Chapman Lane' entry in
Street name derivations
), but there is no evidence of this.
Plantation House, 11-13 Burlington Road

'PLANTATION
A.D.1872
HOUSE'

A grand, asymmetrical semi. There are different male heads (Dickens and Shakespeare, confirmed by Dr John Blatchly) on the keystones of the curved front door arches of the two houses. It was designed by R.T. Orr. The smaller house to the right was intended for the servants of the inhabitants next door.

The capitals on either side of the gable, their mouldings differing in design, are worth a look, too: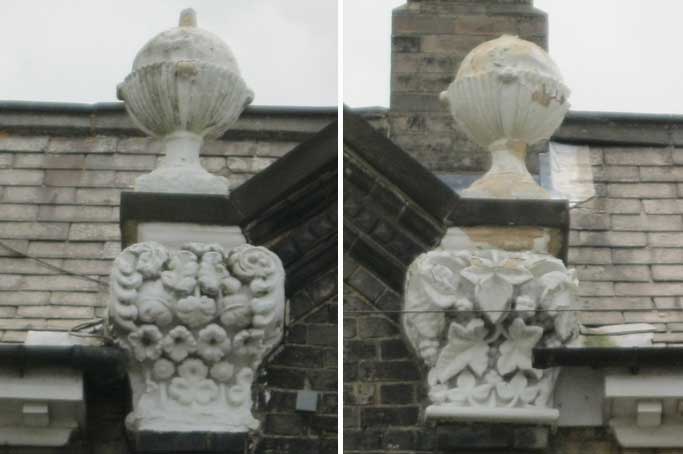 Plantation House is visible to the left in the photograph below. The road opposite is Stevenson Road. A possible source for this road name (and for nearby Dalton Road) is given on our
Slavery abolitionists
page with an 1867 map.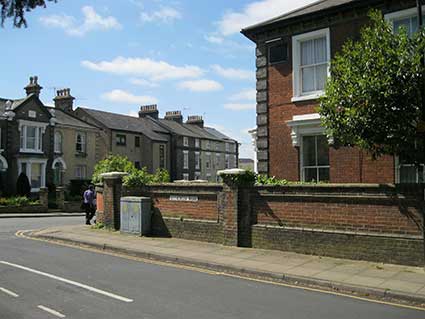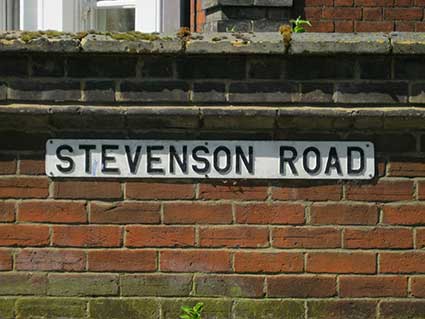 2015 images
Hollanden House, 9 Burlington Road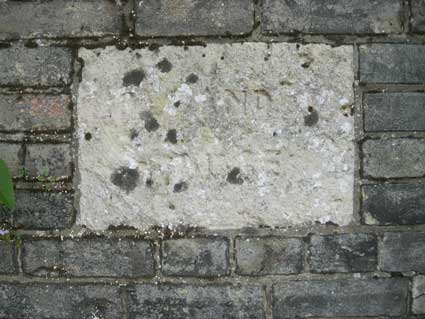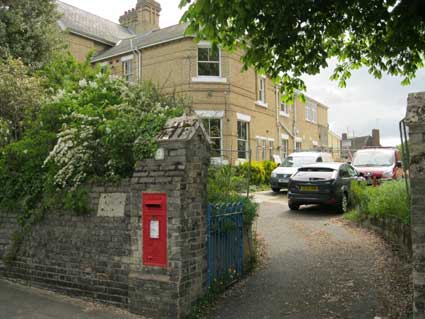 2014 images
The eroded stone block next to the postal wall box at No. 9 has misleading shadows and algae. 'Holland House'?... [
UPDATE
19.8.2014: " 'HOLLANDEN HOUSE' is the full text of the plaque on No 9. Best wishes, John Blatchly.
Our thanks to John; 'Holland House' never seemed quite right.
]
Paget Villas, 4 Paget Road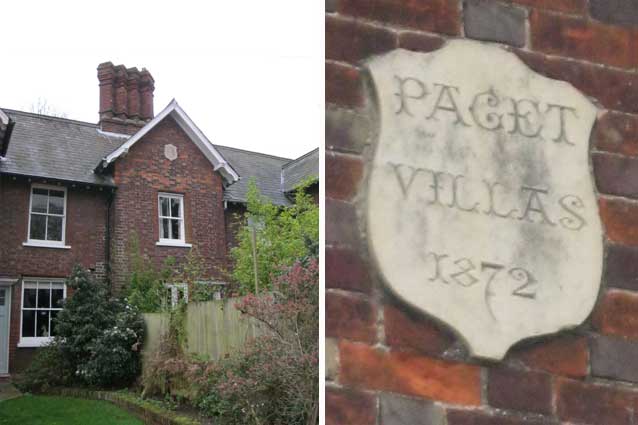 2014 images
A remarkably decorative letterform here, with curlicues and a blissful flourish on the downstroke of the '7'. All packaged in a shield-shaped tablet, giving a faux-medieval feel:
'PAGET
VILLAS
1872'

Salisbury Terrace, 375-7 Woodbridge Road
Photographs courtesy Steve Girling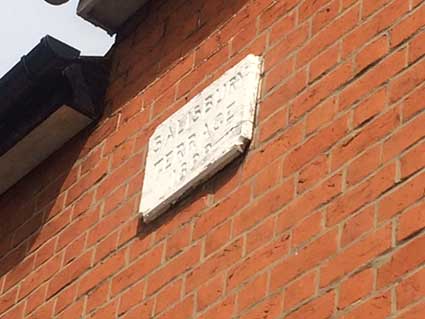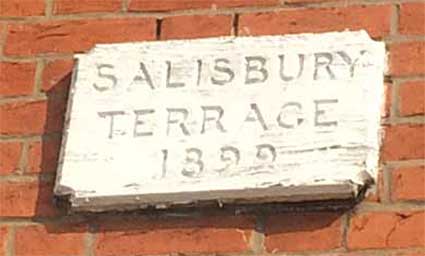 'SALISBURY
TERRACE
1899'

'Thought these photos may be of interest to you, they are of a house nameplate on a house where I used to live along Woodbridge Rd near the junction with Khartoum Rd.
Nearly 30 years ago I thought the stone with the name of the terrace on it was coming away from the wall, but on closer inspection (on a ladder !) I discovered that "SALISBURY TERRACE 1899 " was not in fact stone but wood ! And what I thought was stone coming away from the wall was paint lifting away from the wood so it was duly primed, undercoated and gloss painted and it's still there today.
In some paperwork for the house there is a Conveyance dated 25th March 1898 between Edward Fison and William Grayston. Kind regards, Steve Girling.'
Thanks to Steve for this unexpected architectural feature – they must have forgotten to incorporated the 'stone' plaque.
'Tumbricane', 66 Belstead Road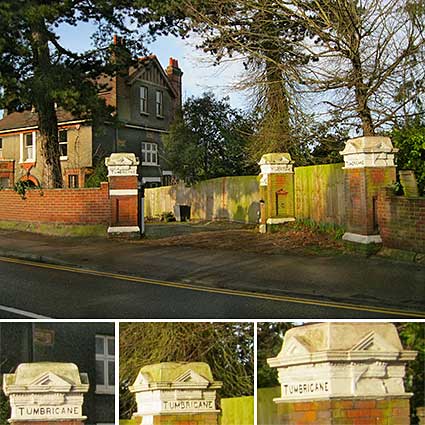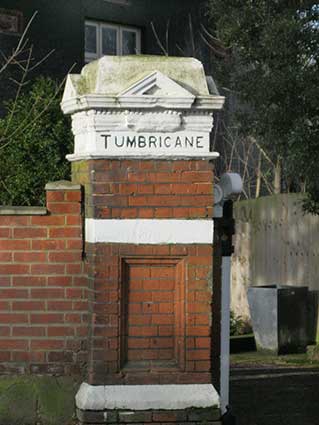 2016 images
One brick pillar with grand white capstone to the south-west and no fewer than three to the nort-east mark this thought-provokingly named house. In itself, perhaps the building is not that special, but almost everyone who travels down Belstead Road knows 'Tumbricane'. The following explains the name.
[
UPDATE
27.4.2017: 'Our property is Tumbricane on Belstead Road. The house number is 66. There is no number 64 on the road.
After extensive research, we have arrived at the conclusion that the property was named after a castle ruin in the architect's place of birth in County Tipperary in Ireland. There is a village called Borrisokane, where outside is situated a castle ruin named Tumbricane. As the architect and owner hailed from this village, we consider this the most likely origin for the name.
This is not the original property. Our home was built during the 1920s, but the original Tumbricane, of which the gate, driveway and pillars are original, was built during the 1890s, and we believe a catastrophic event must have occurred for it to have disappeared by the First World War. It was a vast grand mansion, of which I have photographs, and we cannot understand why it only stood for a maximum of twenty years. This is the next step in my research.
Many thanks and kind regards, Louise Booker.'
Our grateful thanks to Louise for solving this little mystery
and for the story and image of the house.
]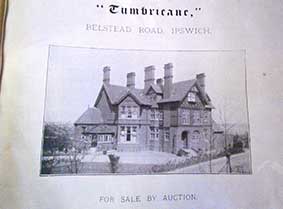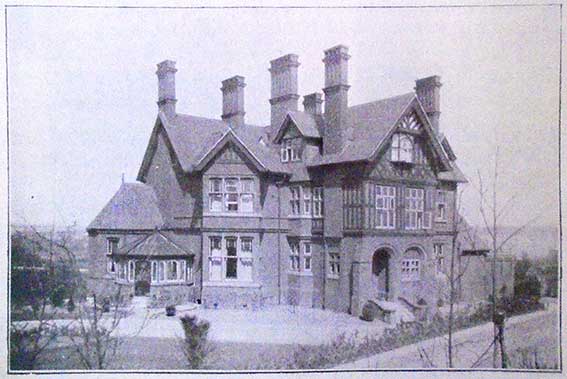 Above photograph courtesy Louise Booker
What a fine mansion it was.