More Almshouses also The Red House & The Moat


Nethaniah, Over Stoke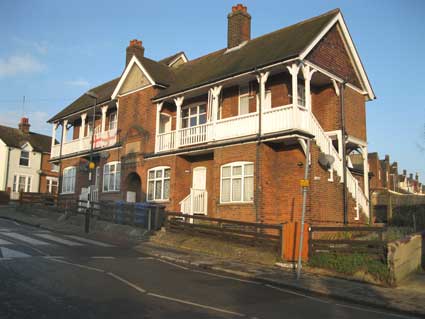 2013 images
Fronting Luther Road, just uphill from when it changes from Station Street, and on the corner of Martin Road we find the distinctive almshouses with external staircases and balconies. The two stone tablets set above the central archway tell the story.

'NETHANIAH HOME FOR THE AGED
Erected from funds collected by the
Rev. R.E. WILLIS PASTOR OF
STOKE GREEN CHAPEL
As a home for those connected therewith
THIS STONE WAS LAID ON THE 20 OCT 1890
By MRS. W.F. PAUL'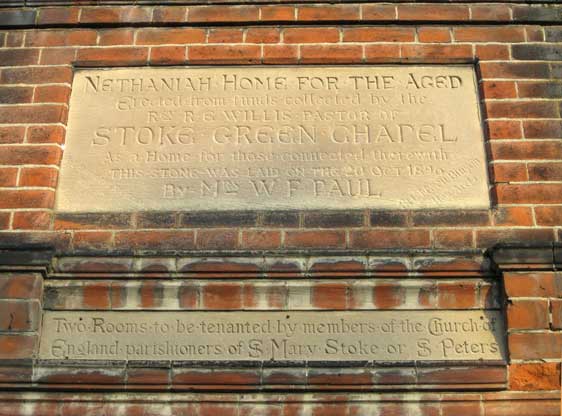 Mrs W.F. Paul, who laid the memorial tablet in 1890 was married to the founder of the 'Wm Paul Tenements Trust' the name of which appears on a number of Ipswich buildings (see below).
Each word in the upper inscription is separated from its neighbour by a 'decimal point'. Tucked away in the corners of the plaque are the names:


'R L EVERETT & R GREEN
Hon Secs'


'Brightwen Binyon
Hon Archt'


These are carved obliquely at the lower corners, almost as if they were an afterthought. The small characters have suffered from weathering and even on the enhancements below are fugitive. The local architect, Brightwen Binyon (1846-1905), is most famous in Ipswich for the Corn Exchange, but whose work includes Burlington Road Baptist Church, Westbridge Infants School (71-76 London Road, 1874) and Smart Street School.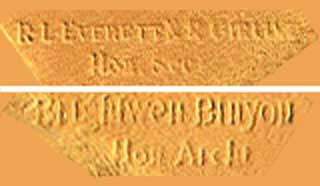 The lower tablet seems to be later (again there is an inter-word 'decimal point'):


'Two Rooms to be tenanted by members of the Church of

England parishioners of S

T

Mary Stoke or S

T

Peters'

Home

Please email any comments and contributions by clicking here.

Search Ipswich Historic Lettering


©2004 Copyright throughout the Ipswich Historic Lettering site: Borin Van Loon
No reproduction of text or images without express written permission