Inside Cranfield's



Actually, it is now the DanceEast Jerwood DanceHouse (no time for inter-word spacing for these dancers). The DanceHouse is situated in The Mill, on the former Cranfields Mill site. Inside the foyer, not far from the famous tutu chandelier, is an old sack. But what a sack!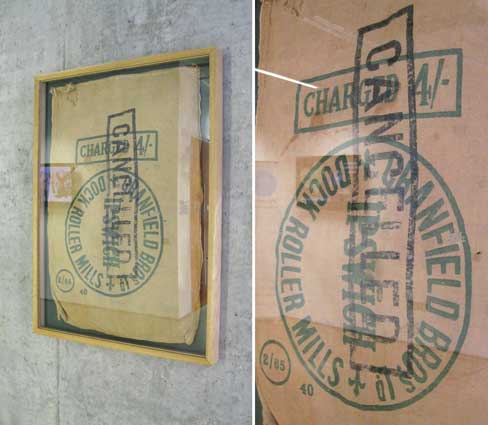 Nicely framed, this relic of the busy days of milling at Cranfield Brothers' displays the following lettering in two coloured inks:


'CHARGED 4/-
CRANFIELD BROS. LD.
IPSWICH
+ DOCK ROLLER MILLS +
2/65 40
CANCELLED'



These photographs from the Ipswich Maritime Trust display in the Custom House show, below left, 'Cranfield's Dock Roller Mills, 1958. Loading sacks of flour at the site of today's IMT Window Museum (original photograph: Stuart Grimwade)'. Below right: another lettered sack:


'THIS SACK IS THE PROPERTY OF
CORNFIELD BROS. LTD.
DOCK ROLLER MILLS
IPSWICH
TO BE USED FOR WHEAT ONLY 8/55'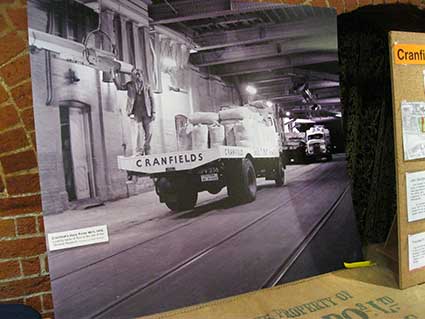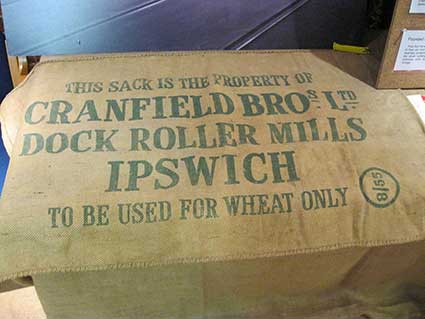 For an image of the stump of 'Cranfields Flour Mill' which has been preserved (unfinished) opposite St Mary-At-The-Quay Church see The Mill page.
See our More almshouses page for a little more about the good works of Lillian Cranfield, widow of the founder of the company.

For more images of these buildings and of the northern quays during the 2005/6 Waterfront demolition and clearances see our Waterfront regeneration page.





Home

Please email any comments and contributions by clicking here.
©2004 Copyright throughout the Ipswich Historic Lettering site: Borin Van Loon
No reproduction of text or images without express written permission