The Changing Dock
The black and white photograph was purchased from the Ipswich Transport Museum many years ago. The vantage point is from beneath the Doric collonade of Paul's maltings, next door to the Old Customs House. Depicting a wet day with the double track tramway lines curving away towards Cliff Quay, it is not clear when this photograph was taken, but we could hazard the 1960s, some time before the Maritime Ipswich festival when the building was used as a makeshift museum. Just visible is the lettering 'R & W PAUL LTD.' on the corrugated iron cladding facing the water, much later removed and the whole maltings refurbished for Contship Ltd and currently Aston Graham Solicitors. The central shaft rises out of sight. The Isaac Lord maltings can be seen further down the quay, then a sloping roofed extension and the John Good warehouse. In the distance is the Eastern Counties Farmers high concrete silo to the right; this farming co-operative established a compound feed mill on the site in 1954. The University College Suffolk building now stands on the site.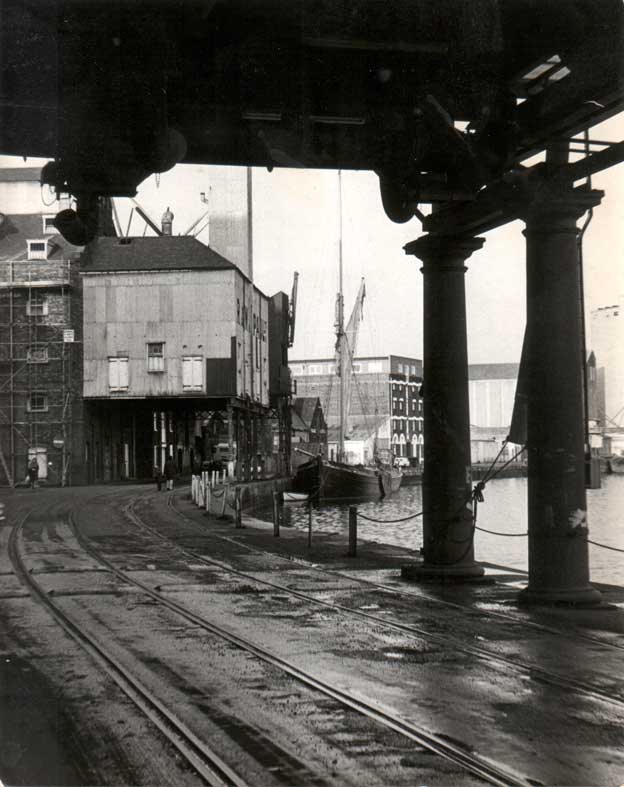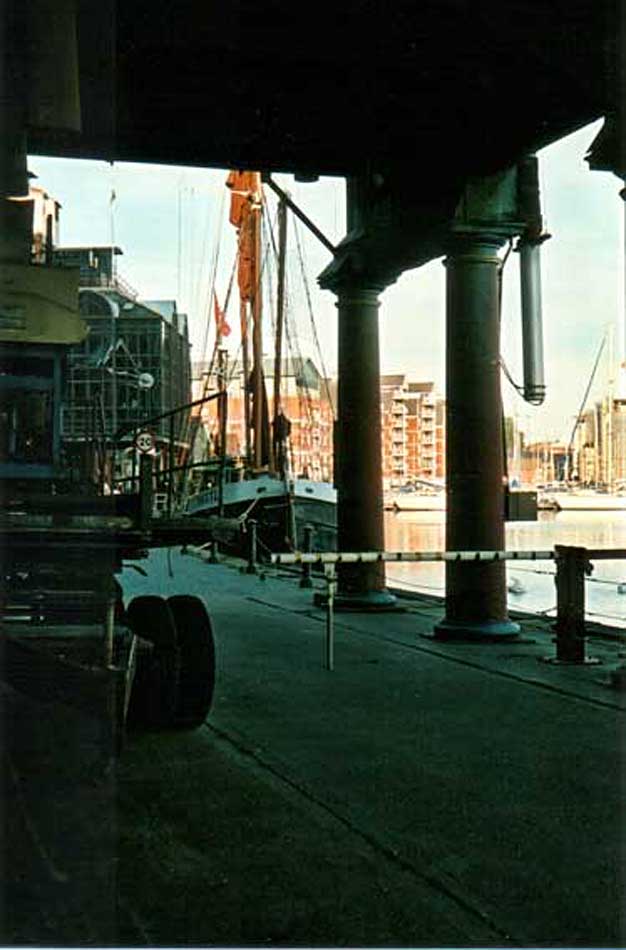 2004 images
You can see the glass and steel version of the building on the 2004 colour photograph, behind the wheeled crane in the foreground. A sailing barge used as a restaurant is moored in front of the Customs House.
More detail can be seen on the close-up (below); as far as we can see the brick and stone warehouse further down the quay (now the Salthouse Harbour Hotel) doesn't at this time bear the lettering 'John Good & Sons (G.C.B.) Ltd'. This may help to date the monochrome photograph more accurately. The Waterfront Regeneration Scheme resulted in the complete demolition of the silo beneath which these photographs were taken; only the columns remained. This is now the area outside the quayside Pizza Express.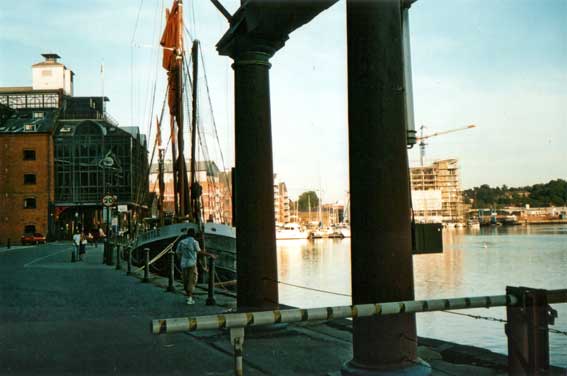 Gosh, look.... open water in the Wet Dock! The Isaac Lord dockside buildings are visible above the deck of the barge and further down The Salthouse Harbour Hotel (formerly John Good warehouse). The new apartment blocks are partially obscured by the central pillar. The pillar to the right obscures some of the new Neptune Quay block being built on Coprolite Street. The gap between the apartment developments on Neptune Dock awaits the new Suffolk University (completed 2008).




Home

Please email any comments and contributions by clicking here.


©2004 Copyright throughout the Ipswich Historic Lettering site: Borin Van Loon
No reproduction of text or images without express written permission