Bistro on the Quay



The Bistro on the Quay, 3 Wherry Quay bears another of the oval plaques cast by Crane Co. for the Maritime Ipswich Festival in 1982. It is the former Salt Office, served by Salthouse Street, which warehoused and traded in salt. These are also known as Christies warehouse.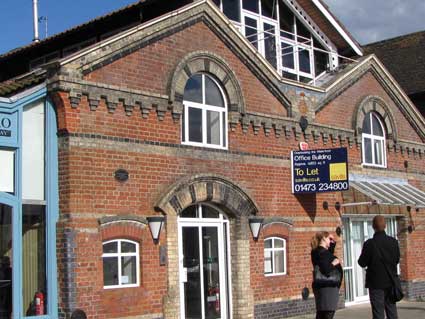 Photographs courtesy Tony Marsden 2014


'MARITIME IPSWICH 1982

WAREHOUSE DESIGNED BY

H.R. PALMER

ENGINEER OF THE WET DOCK

1839-42

IPSWICH SOCIETY TRAIL ... CAST BY CRANE LTD'

[

UPDATE

20.7.2016:

However

, Bob Malster, historian of all things maritime (see various titles in the

Reading list

) tells us that this plaque is misleading. He has seen the architect's plans for the building and they were dated 1886! Given that the Wet Dock was opened in January 1842, this is quite a disparity.]

Henry Palmer

When Henry Palmer designed the Wet Dock, cutting off a section of the Orwell by damming it top and bottom and forming the New Cut to carry the waters of the Gipping to the sea, he proposed the construction of a continuous quay all the way along the north and east sides of the Dock. In fact for reasons of economy the quay was cut short on the east side at what was then known as the Ballast Wharf (see our

Wet Dock map

), and from there to the lower dam there was merely a slope into the water. Even in later times there were only timber stages at the far end.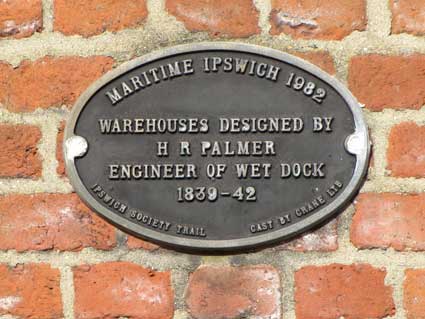 Henry Robinson Palmer (1795-1844) was a British engineer who designed the first monorail system and invented corrugated iron. From 1816, on finishing his apprenticeship, Palmer was engaged by the great civil engineer Thomas Telford and worked for him for ten years on a large number of road and canal surveys and associated designs. In 1826 he was appointed resident engineer to the London docks where, over the next nine years, he designed and executed the Eastern Dock, with the associated warehousing, entrance locks, bridges, and other works. Around 1835 he moved to Westminster as a consulting engineer and was involved in numerous surveys for projected railways, and the design and construction of several docks and harbours, including those at Port Talbot, Ipswich, Penzance, and Neath. He carried out the original surveys for the South Eastern Railway, assisted by P. W. Barlow, and would have executed the scheme but ill health intervened. His original surveys for a Kentish railway dated from the time he was associated with Telford.

Other examples of these Ipswich Society's Maritime Ipswich plaques can be found on The Sailor's Rest, The Custom House, Isaac Lord at 80 Fore Street, The Old Neptune Inn at 86 Fore Street, Thomas Eldred's house at 97 Fore Street, The Captains' Houses in Grimwade Street, The Bull Inn, Tooley Court and Isaac's on the quayside.





Please email any comments and contributions by clicking here.
©2004 Copyright throughout the Ipswich Historic Lettering site: Borin Van Loon
No reproduction of text or images without express written permission