The building next door to the Bistro on the Quay, 5 Wherry Quay, bears an oval plaque cast by Crane Co. for the Maritime Ipswich Festival in 1982. It is the former Salt Office, served by Salthouse Street, which warehoused and traded in salt. It is also known as Christies warehouse (or 'The Christies'). Ipswich was an important salt port, bringing in the product of 'salines' on the west coast of France where seawater was evaporated in the warm summer sun. Salt was an important condiment for flavouring bland Tudor food and used as a preservative of fish, meats and other foodstuffs. One notable merchant involved in the trade was Henry Tooley whose bequest founded the Tooley Almshouses.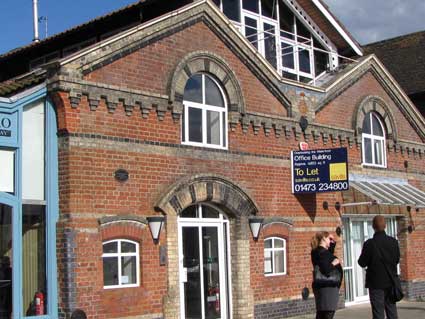 Photographs courtesy Tony Marsden 2014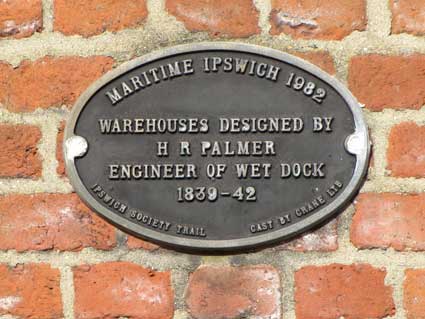 Henry Robinson Palmer (1795-1844) was a British engineer who designed the first monorail system and invented corrugated iron. From 1816, on finishing his apprenticeship, Palmer was engaged by the great civil engineer Thomas Telford and worked for him for ten years on a large number of road and canal surveys and associated designs. In 1826 he was appointed resident engineer to the London docks where, over the next nine years, he designed and executed the Eastern Dock, with the associated warehousing, entrance locks, bridges, and other works. Around 1835 he moved to Westminster as a consulting engineer and was involved in numerous surveys for projected railways, and the design and construction of several docks and harbours, including those at Port Talbot, Ipswich, Penzance, and Neath. He carried out the original surveys for the South Eastern Railway, assisted by P. W. Barlow, and would have executed the scheme but ill health intervened. His original surveys for a Kentish railway dated from the time he was associated with Telford.

See our plaques page for the full set of ten Ipswich Society 'Maritime Ipswich 1982' plaques.
In 2017 The Ipswich Society (see Links) published a complete reworking of the original 1982

Ipswich Maritime Trail

, copies are available at the Ipswich Tourist Information Centre at £2.00 each. The full colour booklet includes a useful map of the Wet Dock area and the trail encompasses all ten IMT '82 plaques.