Laying the foundation stone of the lock to the Wet Dock, Ipswich, 1839



The drawing and naive lettering came from the pen of Henry Davy.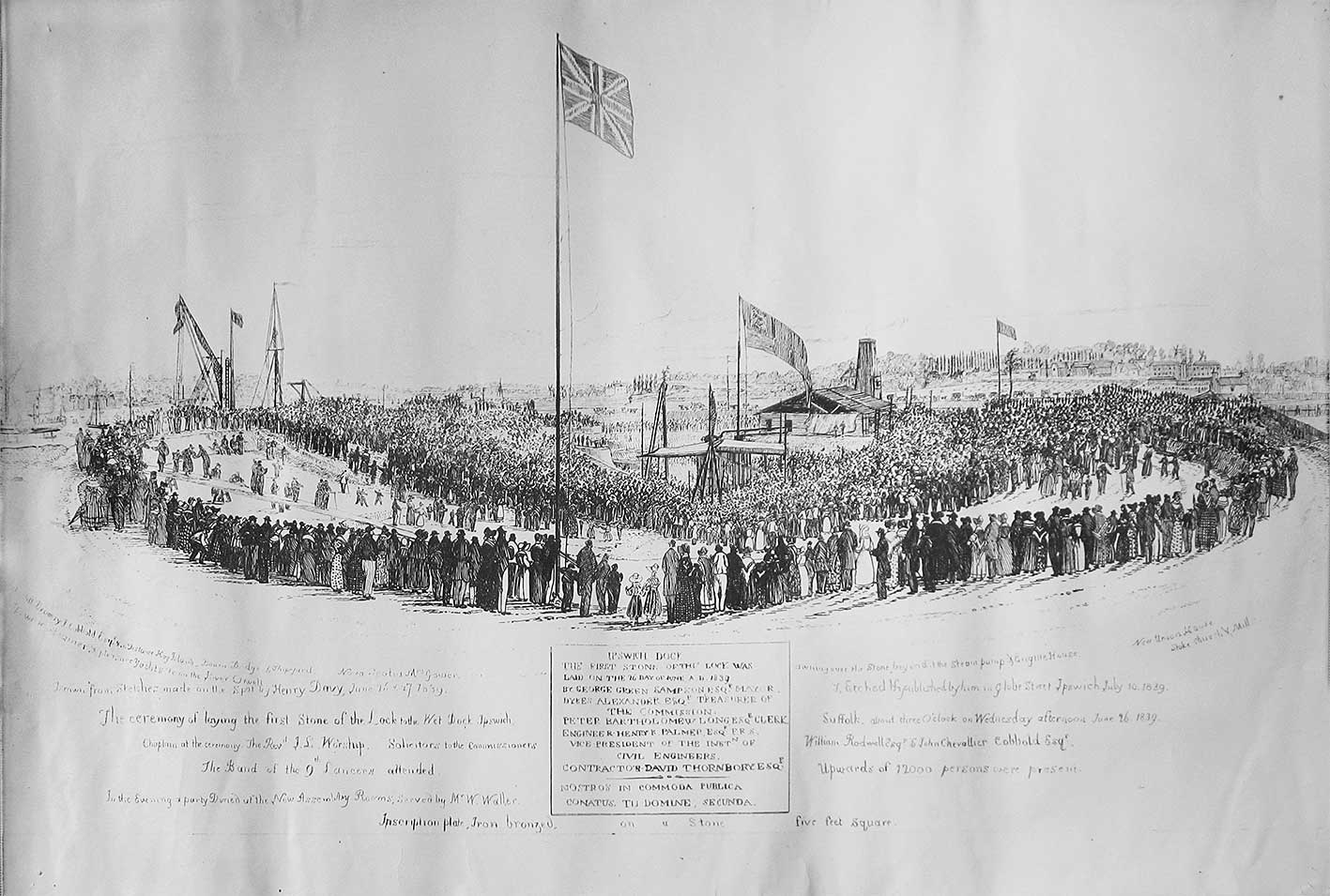 The captions read from left to right, either side of the rectangle:

'Drawn from sketches made on the spot by Henry Davy, June 26 & 27, 1839 ... I[?], Etched & published by him in Globe Street Ipswich July 10, 1839.
The ceremony of laying the first Stone of the Lock to the Wet Dock, Ipswich ... Suffolk, about three O'clock on Wednesday afternoon June 26, 1839.
Chaplain at the ceremony, the Revd. I.L. Worship. Solicitors to the Commissioners ... William Rodwell Esqr. & John Chevallier Cobbold Esqr.
The Band of the 9th Lancers attended. ... Upwards of 1200 persons were present.
In the Evening a party Dined at the New Assembly Rooms, Served by Mr. W. Waller.'

In the central rectangle:



'IPSWICH DOCK
THE FIRST STONE OF THE LOCK WAS
LAID ON THE 26 DAY OF JUNE A.D. 1839
BY GEORGE GREEN SAMPSON ESQR. MAYOR.
DYKES ALEXANDER ESQR. TREASURER OF
THE COMMISSION.
PETER BARTHOLOMEW LONG ESQR. CLERK.
ENGINEER - HENRY PALMER ESQR. F.R.S.
VICE-PRESIDENT OF THE INSTN. OF
CIVIL ENGINEERS.
CONTRACTOR - DAVID THORNBORY ESQR.
– - –
NOSTROS IN COMMODE PUBLICA
CONNATUS. TU DOMINE, SECUNDA.
Inscription plate, Iron bronzed, on a Stone five feet square.'



And curving round the illustration in smaller lettering (with the detail referred to):

The Cliff Brewery, J. Cobbold Esqr. In distance Hog Island*, Bourne Bridge & Shipyard. Nova Scotia House, Mrs Gower
[*usually referred to as 'Hog Highland']
Ipswich Steamers & pleasure Yachts on the River Orwell.
awning over the Stone beyond the Steam pump & Engine House.
New Union House
Stoke Church & Mills.



The Cliff Brewery is very sketchily rendered in the left background, but Nova Scotia House in the central detail (presumably after the death of Richard Hall Gower±, 1768–1833) is clearer and attributed to 'Mrs Gower'; the New Union Workhouse (otherwise St Peter's Workhouse) is shown at the centre of the last detail with Stoke windmills behind and, presumably, the tower of St Mary-at-Stoke Church rising to the right. ±See our Street name derivations page for more on Gower and the street named after him.

Note that the central awning and flag marking the foundation stone in the illustration is the site of the original lock on the west side of the Wet Dock which opened onto New Cut. This is now blocked up, although traces of it can still be seen, to be replaced by the lock to the south – officially opened on 27 July 1881 – which is used today. See the Wet Dock map page for maps over time of the area.

Related pages:
The Question Mark
Christie's warehouse
Bridge Street
Burton Son & Sanders / Paul's
College Street
Coprolite Street
Cranfield's Flour Mill
Custom House
Trinity House buoy
Edward Fison Ltd
Ground-level dockside furniture on: 'The island', the northern quays and Ransome's Orwell Works
Ipswich Whaling Station?
Isaac Lord
Neptune Inn clock, garden and interior
Isaac Lord 2
The Island
John Good and Sons
Merchant seamen's memorial
The Mill
Nova Scotia House
New Cut East
Quay nameplates
R&W Paul malting company
Ransomes
Steam Packet Hotel
Stoke Bridge(s)
Waterfront Regeneration Scheme
Wolsey's Gate
A chance to compare Wet Dock 1970s with 2004
Wet Dock maps
Outside the Wet Dock
Windmills in the Borough of Ipswich



Home

Please email any comments and contributions by clicking here.

Search Ipswich Historic Lettering


©2004 Copyright throughout the Ipswich Historic Lettering site: Borin Van Loon
No reproduction of text or images without express written permission