Wharf and quay names: the new blue nameplates, 2021



Early in 2021, blue street nameplates started to appear around the Wet Dock. This was an initiative by the Ipswich Maritime Trust working closely with Ipswich Borough Council to mark the correct names of quays and streets around the Wet Dock. On a cold misty morning in February 2021, these photographs were taken. There are no blue nameplates on the Stoke side of the Wet Dock.
Working from Stoke Bridge down towards the lock, the first blue nameplate changes not only the colour, but the name shown on the earlier plate it replaces.



St. Peters Wharf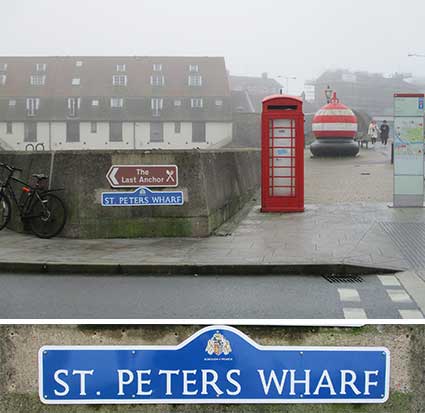 2021 images
See our Stoke Bridge page for the earlier 'St. Peters Dock' nameplate. Continuation of the controversial use of the full stop after the contraction for 'Saint' [citation:

The Oxford English Dictionary

].



New Cut East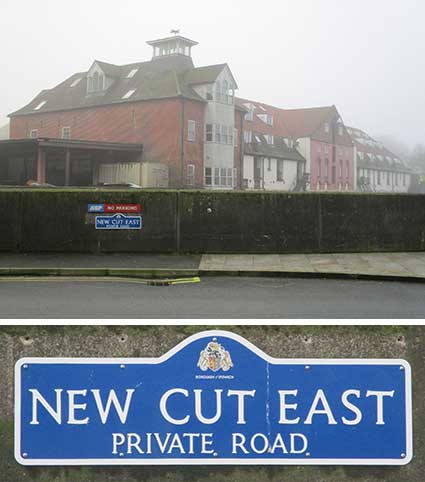 This is probably the first such nameplate since the one shown on our New Cut East page.



Albion Wharf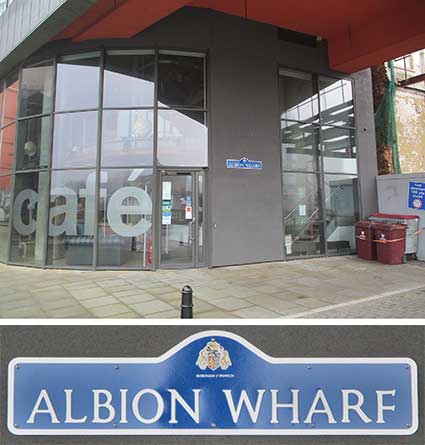 Just across from the New Cut East nameplate is the first for Albion Wharf., attached to the Dance East/Jerwood Dancehouse building.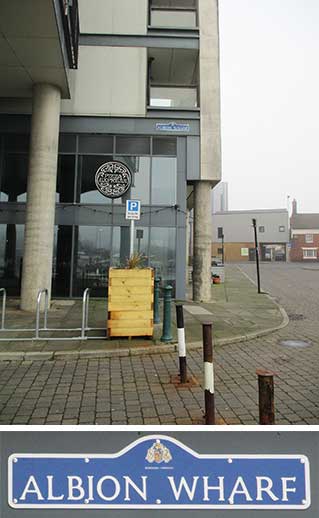 Albion Wharf reaches all the way from Foundry Road down to Pizza Express. This nameplate is set quite high because of the glazed frontage.

The main omission here is Common Quay (from the Custom House to Wherry Lane), which has been known by this name for over a thousand years. Older quays such as Common Quay cannot be formally recognised by Ipswich Borough Council because this isn't a street in the Post Office register of Ipswich streets, so it cannot have a street name or street nameplates. Apparently any sign, even of a different colour, showing the name 'Common Quay' must not resemble a street nameplate in any way.



Wherry Quay/Neptune Quay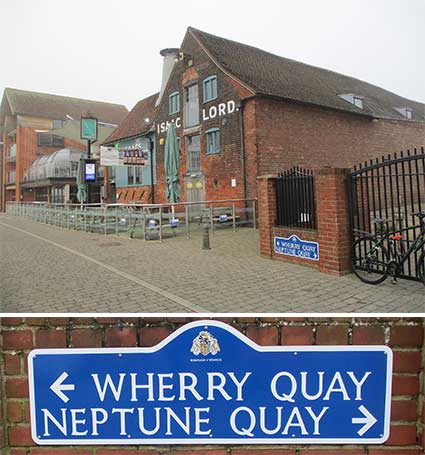 We couldn't find a nameplate at Wherry Lane, but the double nameplate on the wall of the Salthouse Hotel car park shows the dividing line between Wherry Quay and Neptune Quay.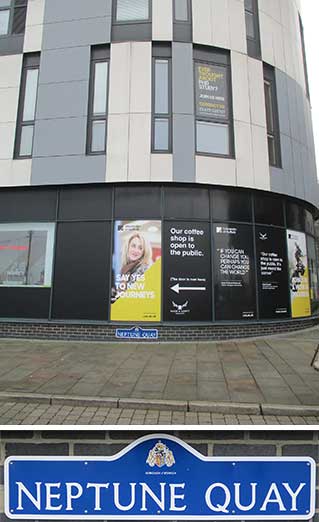 The second Neptune Quay plate is attached to the curving wall of the University of Suffolk Waterfront Building on the corner of Coprolite Street.



Patteson Road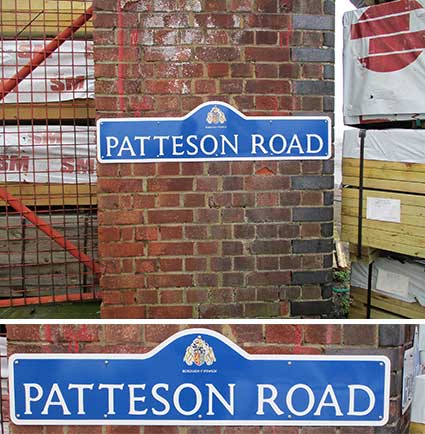 Photographed on one of the fortnightly cargo deliveries by ship carrying timber to the Anglo-Norden site (hence the blockage shown above right), the Patteson Road plate is paired with one for Helena Road – only just visible in the close-up. This is, as far as we know, the only regular shipped cargo delivery to the Wet Dock in the 21st century.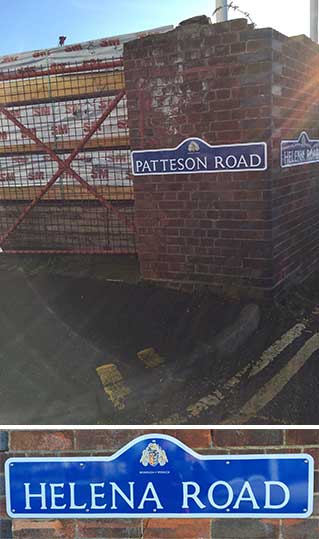 Above: both nameplates in one shot, with added sun glare.



Helena Road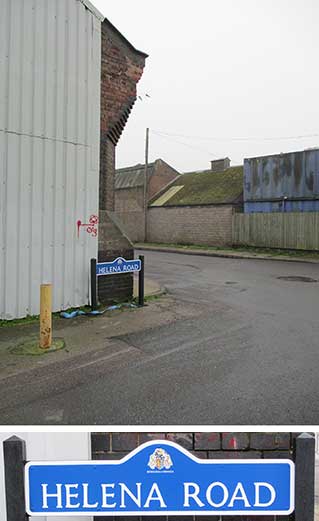 'Helena Road' is a little recognised name for the stretch of the quay running south from Patteson to Ship Launch Roads. It is shown on the 1867 map (on our Ransomes site page) as 'Marine Promenade' – continuing the tree-lined Promenade if the Island site, connected by the footway over the lock (then accessible to the public). It is 'Eagle Wharf' on several Wet Dock maps shown on our Wet Dock map page. It is 'Helena Road'

just

readable on a 1904 map on our Bourne Park page. A more easily readablemap of the same vintage is shown on page 8 of the IMT Occasional Paper No. 1: Quays & wharves of Ipswich.
See our Street name derivations page for the interesting source of this name.



Ship Launch Road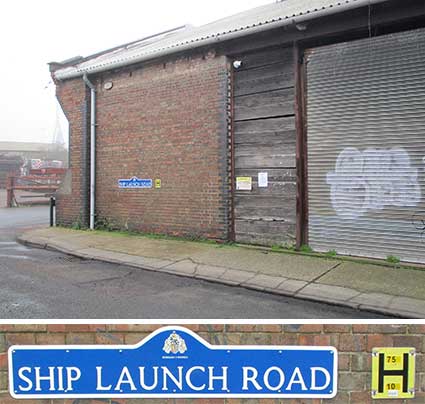 Perhaps surprisingly, little 'ol Ship Launch Road has its own blue nameplate at this 'very industrial' corner of the Wet Dock. The name evokes the large number of shipyards which existed at various times all around the Ipswich docks and beyond. The traces of a ship launch can be seen nearby – just outside the lock gates and the yard which built

S.B. Victor

in 1895, a barge which has become a talisman of Ipswich shipping at its berth on Common Quay, in front of the Custom House.

See also our Street nameplates page.

Related pages:
The Question Mark
Christie's warehouse
Bridge Street
Burton Son & Sanders / Paul's
College Street
Coprolite Street
Cranfield's Flour Mill
Custom House
Trinity House buoy
Edward Fison Ltd
Ground-level dockside furniture on: 'The island', the northern quays and Ransome's Orwell Works
Ipswich Whaling Station?
Isaac Lord
Neptune Inn clock, garden and interior
Isaac Lord 2
The Island
John Good and Sons
Merchant seamen's memorial
The Mill
Nova Scotia House
New Cut East
R&W Paul malting company
Ransomes
Steam Packet Hotel
Stoke Bridge(s)
Waterfront Regeneration Scheme
Wolsey's Gate
A chance to compare Wet Dock 1970s with 2004
Wet Dock maps
Davy's illustration of the laying of the Wet Dock lock foundation stone, 1839
Outside the Wet Dock




Home

Please email any comments and contributions by clicking here.

Search Ipswich Historic Lettering


©2004 Copyright throughout the Ipswich Historic Lettering site: Borin Van Loon
No reproduction of text or images without express written permission