Merchant seaman's memorial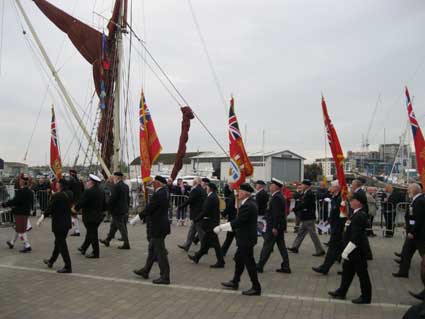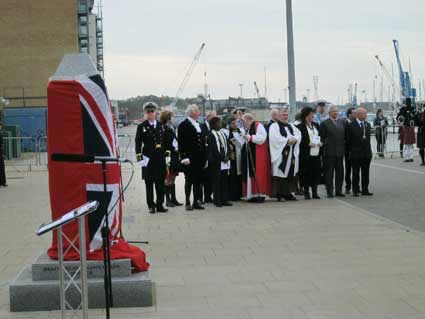 2014 images
MNA Merchant seamen's memorial, Orwell Quay, Ipswich, 13 April 2014. Colours, uniforms, gauntlets with a sailing barge and the Public Warehouse on the Island in the background. The enrobed memorial with a phalanx of VIPs with Cliff Quay and one of the Babcock cranes in the background.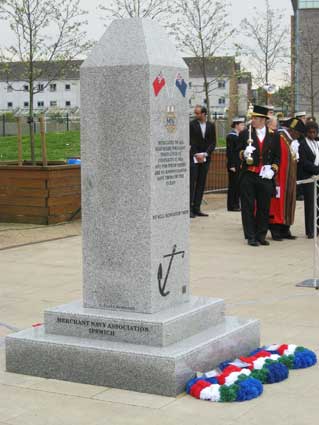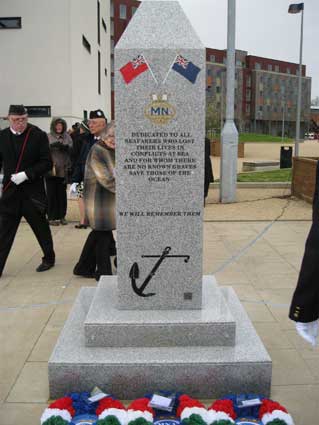 'MN
DEDICATED TO ALL
SEAFARERS WHO LOST
THEIR LIVES IN
CONFLICTS AT SEA
AND FOR WHOM THERE
ARE NO KNOWN GRAVES
SAVE THOSE OF THE
OCEAN
WE WILL REMEMBER THEM'
Sunday, April 13, 2014: Lord Tollemache, Lord Lieutenant of Suffolk, unveiled the three-ton granite memorial, put in place on Orwell Quay after a year-long £13,000 fundraising campaign by the Ipswich branch of the Merchant Navy Association (MNA). It is the first time Ipswich, with its rich merchant navy history stretching back more than 1,000 years, has had a memorial dedicated to the merchant seamen who lost their lives at sea in wartime, often taking part in dangerous missions to bring food and other necessary cargo home to Britain. During World War II alone, nearly twice as many merchant seafarers lost their lives at sea as Royal Navy seamen. A gap in our history is filled by this modest but important monument.

Below: July 2014 and with a (perhaps) appropriate naval vessel in the background.

'LOST TO THE
CRUEL SEA, WHICH WAS
MADE EVEN
MORE CRUEL BY MAN'
This poignant text below the compass rose evoke the name of the corvet at the centre of the novel
The Cruel Sea
by Nicholas Montserrat. We assume that this is not a quotation and that the use of 'cruel sea' comes from the Montserrat novel title; the story which dealt with such power with the futility of war and the perils of the convoys.



'MN
DEDICATED TO ALL
SEAFARERS WHO LOST
THEIR LIVES IN
CONFLICTS AT SEA
AND FOR WHOM THERE
ARE NO KNOWN GRAVES
SAVE THOSE OF THE
OCEAN'

'A. Clarke Memorials
MERCHANT NAVY ASSOCIATION
IPSWICH'



Related pages:
The Question Mark
Christie's warehouse
Bridge Street
Burton Son & Sanders / Paul's
College Street
Coprolite Street
Cranfield's Flour Mill
Custom House
Trinity House buoy
Edward Fison Ltd
Ground-level dockside furniture on: 'The island', the northern quays and Ransome's Orwell Works
Ipswich Whaling Station?
Isaac Lord
Neptune Inn clock, garden and interior
Isaac Lord 2
The Island
John Good and Sons
The Mill
Nova Scotia House
New Cut East
Quay nameplates
R&W Paul malting company
Ransomes
Steam Packet Hotel
Stoke Bridge(s)
Waterfront Regeneration Scheme
Wolsey's Gate
A chance to compare Wet Dock 1970s with 2004
Wet Dock maps
Davy's illustration of the laying of the Wet Dock lock foundation stone, 1839
Outside the Wet Dock




Search Ipswich Historic Lettering

©2004

Copyright throughout the Ipswich Historic Lettering site: Borin Van Loon No reproduction of text or images without express written permission